Looking for all the amazing things to do in San Luis Obispo, California? We got you. After our California beach wedding we decided to hit the road and do a mini honeymoon and romantic getaway up on a beautiful Central California road trip.
San Luis Obispo, California is a beautiful stop along the famous Highway 1 at the halfway point on a drive from San Francisco to Los Angeles. Full of beautiful and dramatic coastal views, historic sites and architecture, sprawling vineyards and wine country, and nearby some of the cutest beach towns in California, this is a perfect getaway whether you're passing through on a California coast road trip or looking for a beautiful escape to stay for a few days and unwind exploring around the beauty of San Luis Obispo and San Luis Obispo County.
From outdoor adventures, incredible coastal views, historic landmarks, wine tasting, and town hopping, here are all of our picks for all the best things to do in San Luis Obispo and San Luis Obispo County in California.
And if you want to sound like a local you can call it "San Louie" or "SLO".
What to Do in San Luis Obispo & Nearby
1. Hearst Castle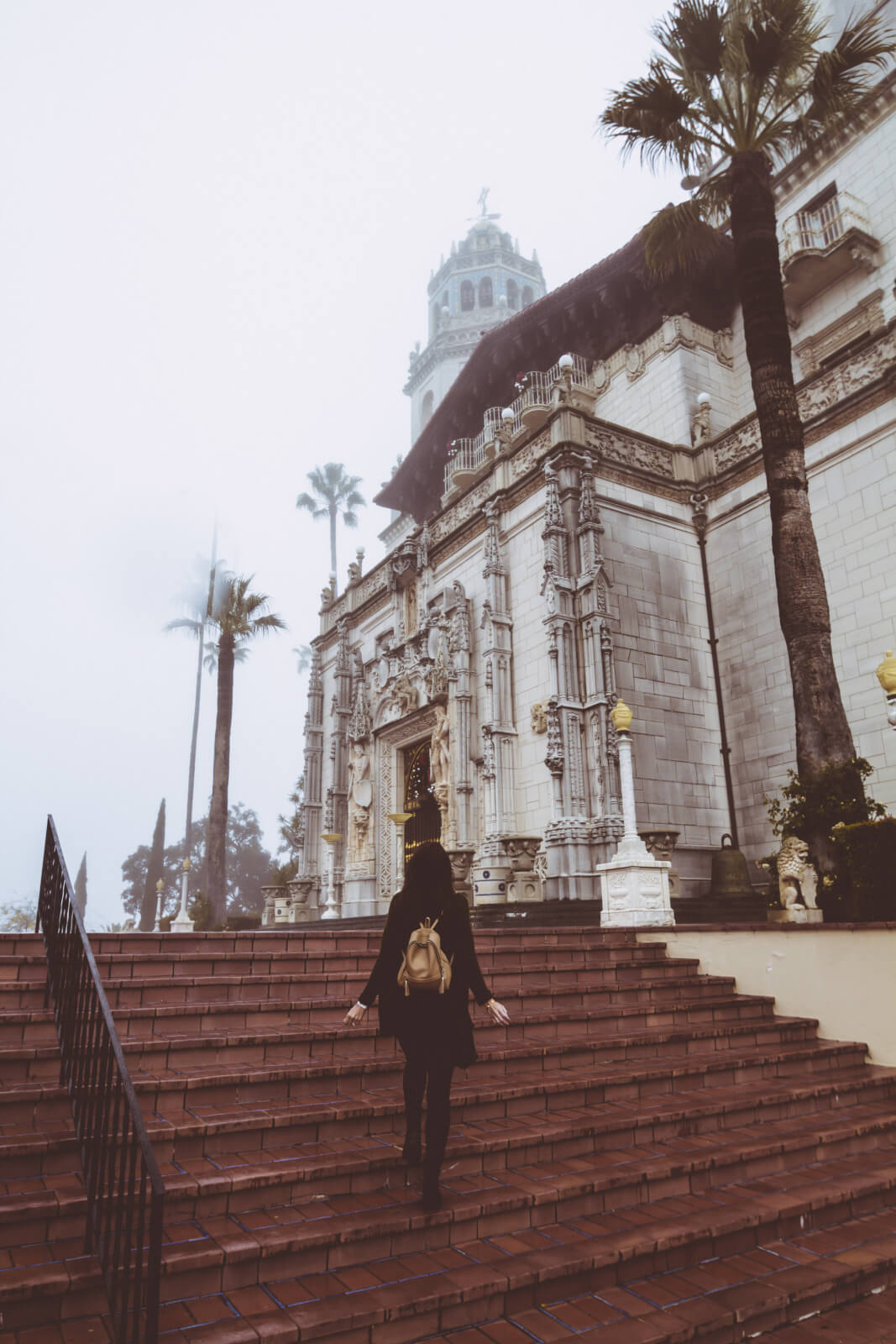 Hands down, one of the best things to do in San Luis Obispo County (around 40 miles north of San Luis Obispo town) in San Simeon is the historic landmark and home to newspaper tycoon William Hearst at Hearst Castle.
Hearst Castle, now a museum open to the public to visit via guided tour, was once one of the many homes of William Randolph Hearst. With the help of architect Julia Morgan, Hearst was able to create what was known as La Cuesta Encantada, meaning "the enchanted hill." And an enchanted hill it was!
Set on 40,000 acres, this massive estate took years to build starting construction in 1919 and finishing in 1947 included a zoo, gorgeous indoor and outdoor pools like you've never seen before (and probably never will again), and 115 immaculate rooms that make up this 68,500 square foot mansion that famously hosted guests like huge political figures like Winston Churchill and Calvin Coolidge to the biggest stars in Hollywood at the time like Charlie Chaplin, Buster Keaton, Cary Grant, Clark Gable, and Jean Harlow to name just a few of the many notable people who were entertained by Hearst.
I could honestly go on and on about Hearst Castle, I've been a few times and each trip was as fascinating as the last. To visit you'll have to book one of their daily tours. There are several to choose from so we recommend doing a little research to see which one covers the things that most interest you.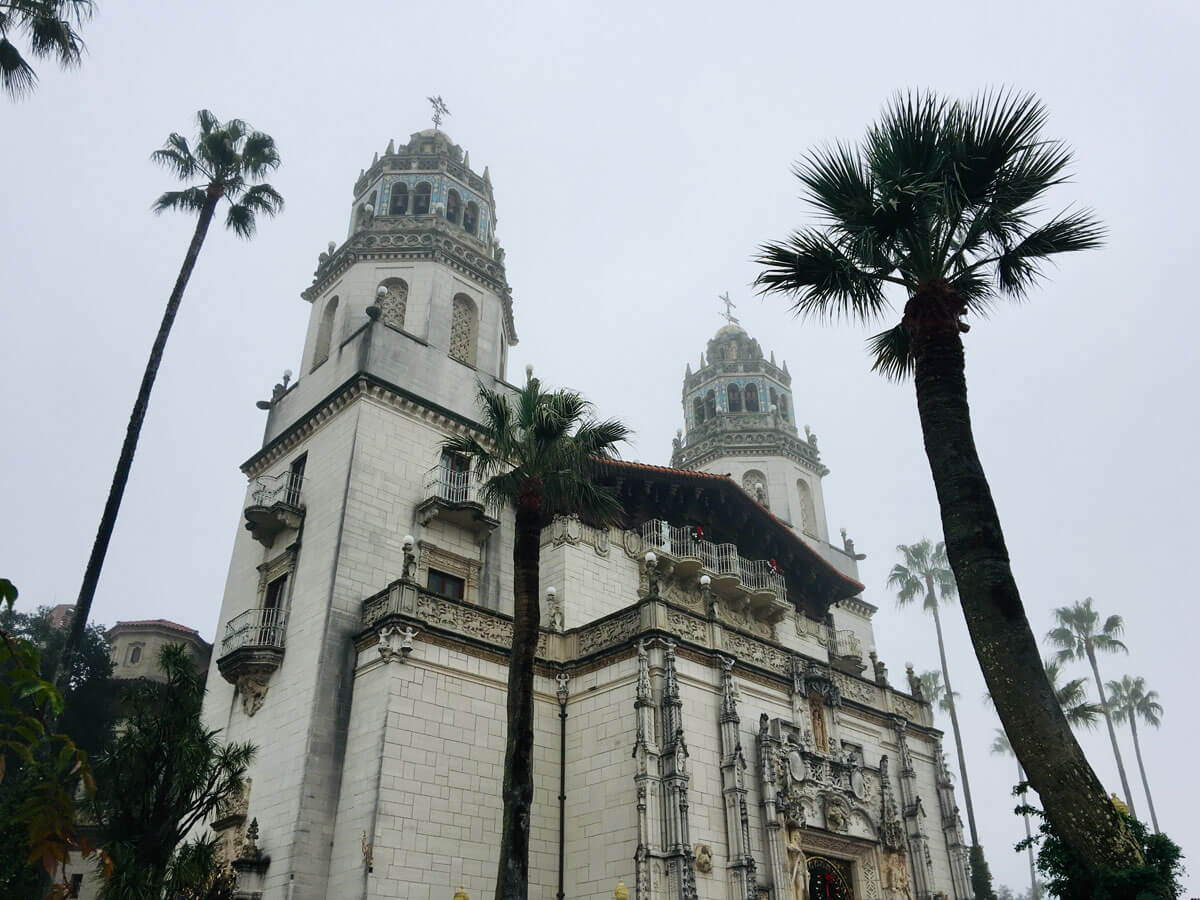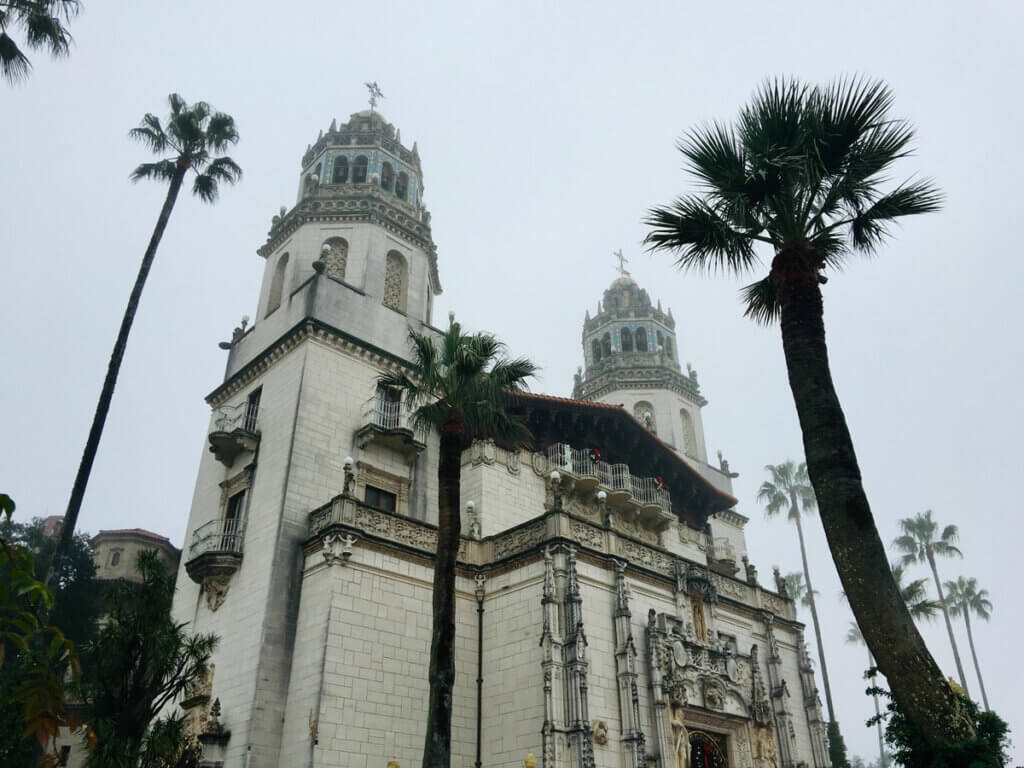 If you're looking for a recommendation, we recommend the Cottages & Kitchens tour to see the incredible pools or the Grand Rooms tour if it's your first visit. They also have holiday-themed tours that might be worth checking out if you're visiting this time of year.
Most tours are just over an hour long, so it is possible to book more than one if this San Luis Obispo attraction piques your interest the more!
And since you're in the heart of Central California's wine country, you can plan to do a wine tasting at Hearst Ranch Winery before or after your tour!
Also, as you're driving around San Simeon, pay attention as you might see some zebra randomly frolicking through the fields along the road. These are the descendants of the zebra that were a part of Hearst's private zoo (which was the world's largest private zoo).
There are over 120 zebra to this day (the rest of the zoo was dismantled in the 1930s when Hearst had some financial troubles) and they freely roam on 83,000 acres, so if you do get lucky enough to be in the same area as them, you're not seeing things, there are zebra!
Hearst Castle Tips:
2. Mission San Luis Obispo de Tolosa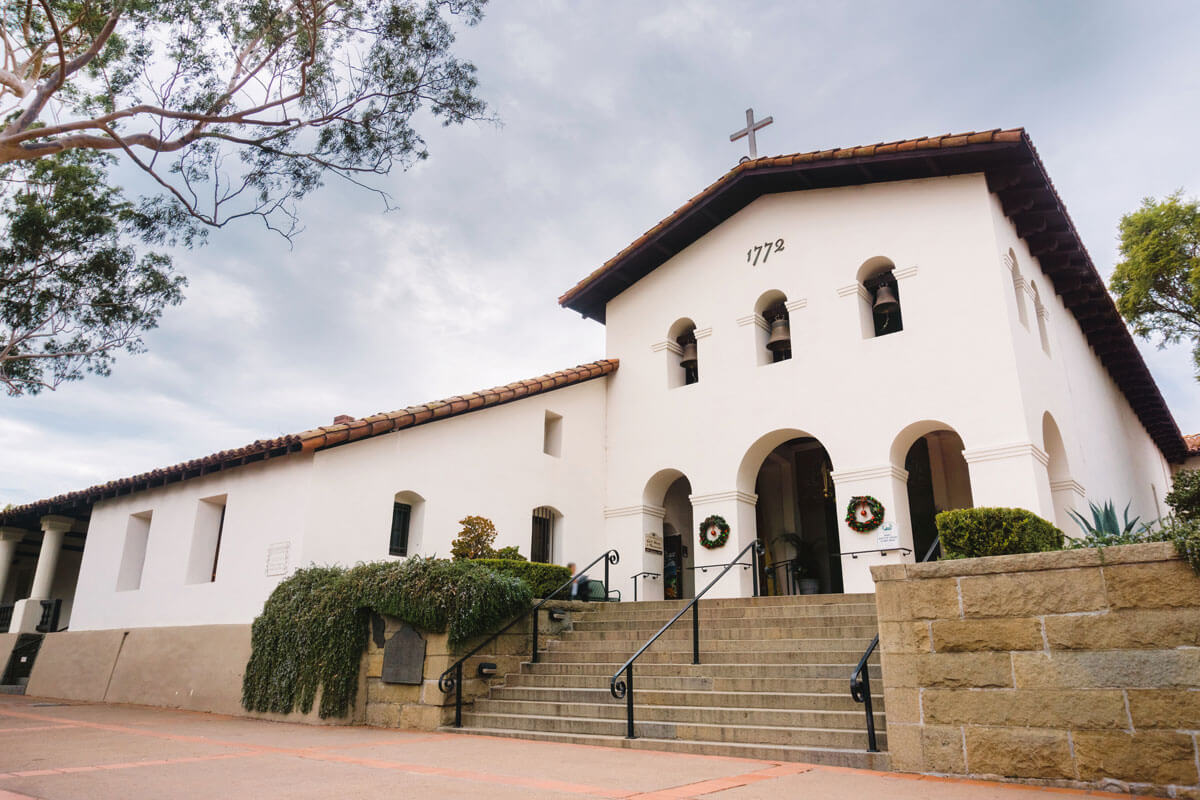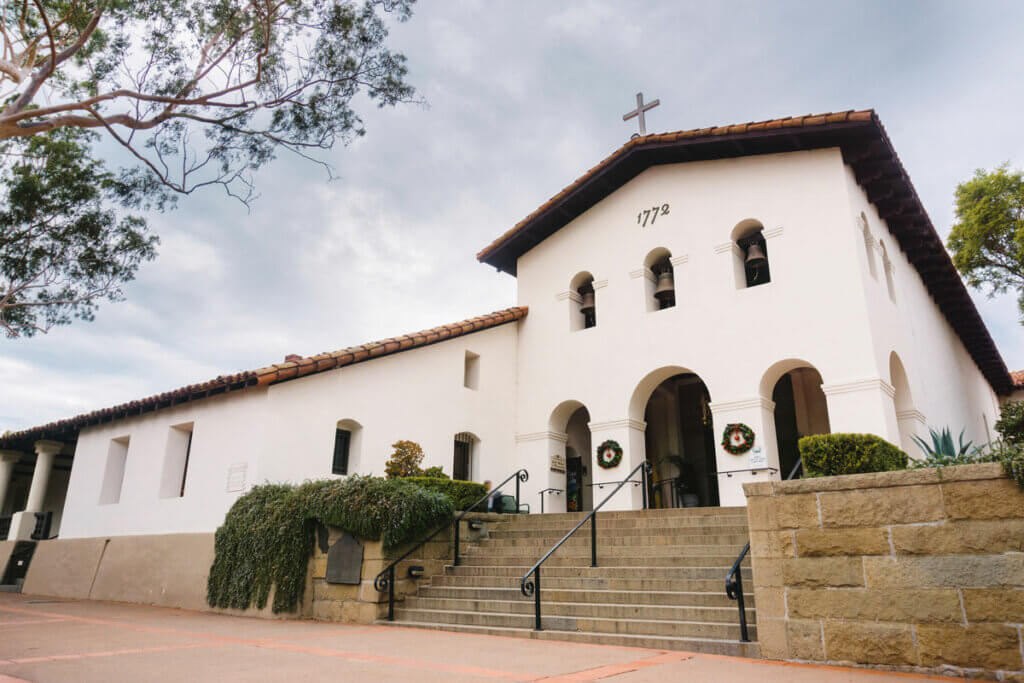 Visiting Mission San Luis Obispo de Tolosa is what to do in San Luis Obispo if you're wanting to learn more about the history of California missions from Spanish colonization here in the 18th century.
Founded in 1772 by Father Junipero Serra this was the fifth of 21 missions in California. The mission was also used as the first jail and courthouse in San Luis Obispo county too, but much later on.
The purpose of the missions was to increase Spain's reach throughout the world, and spread Catholicism to Native Americans in California through colonization and planned to enslave Native Americans for labor. Native Americans fought back against European colonization and successfully set the mission ablaze during construction.
Throughout the next several decades, varying factors contributed to the decline of the missions, and ultimately the missions were preserved as historical landmarks after changing hands of ownership a few times including the Rancho period from 1834 – 1849 and the California statehood from 1850 to present day where it was back in the hands of the Catholic church.
Visitors can enjoy the museum and gift shop or join a group or docent-led tour.
Mission San Luis Obispo Tips:
751 Palm St, San Luis Obispo, CA 93401
There are daily masses at 7 AM & 12:10 PM, and several weekend masses
3. Pismo Beach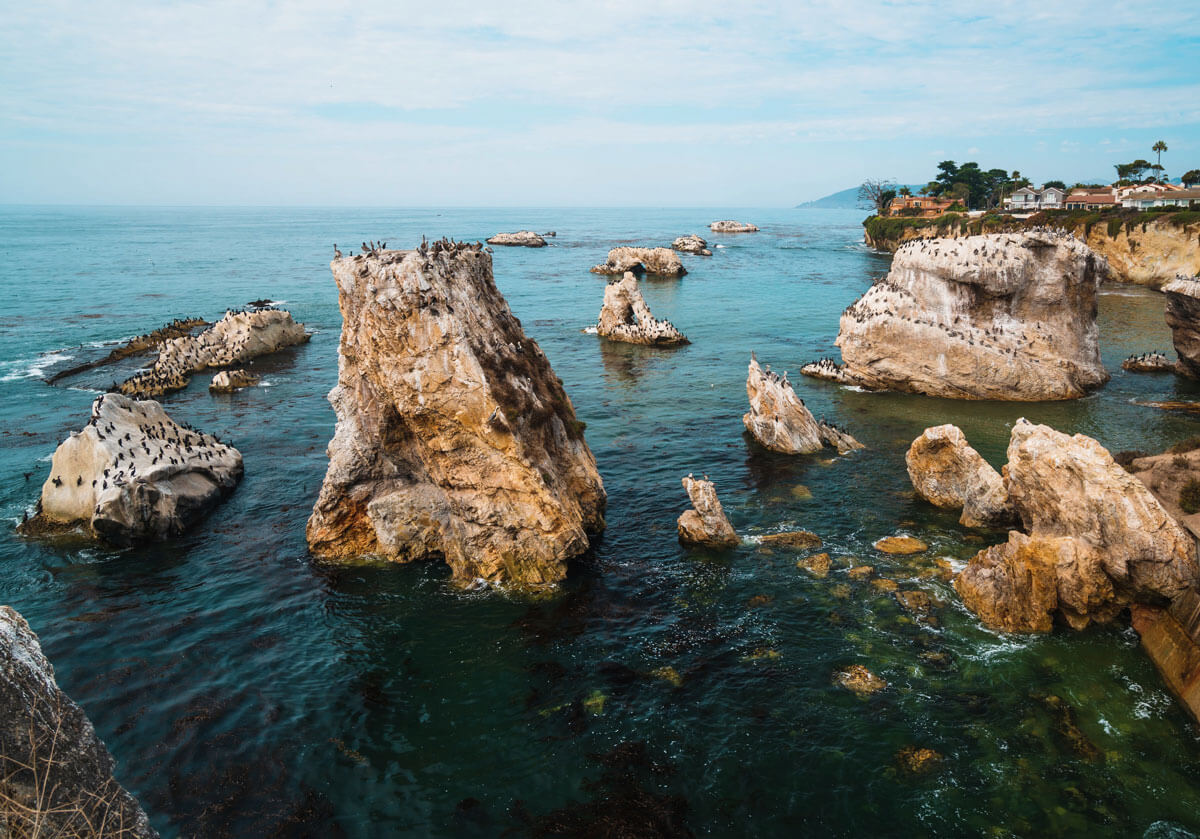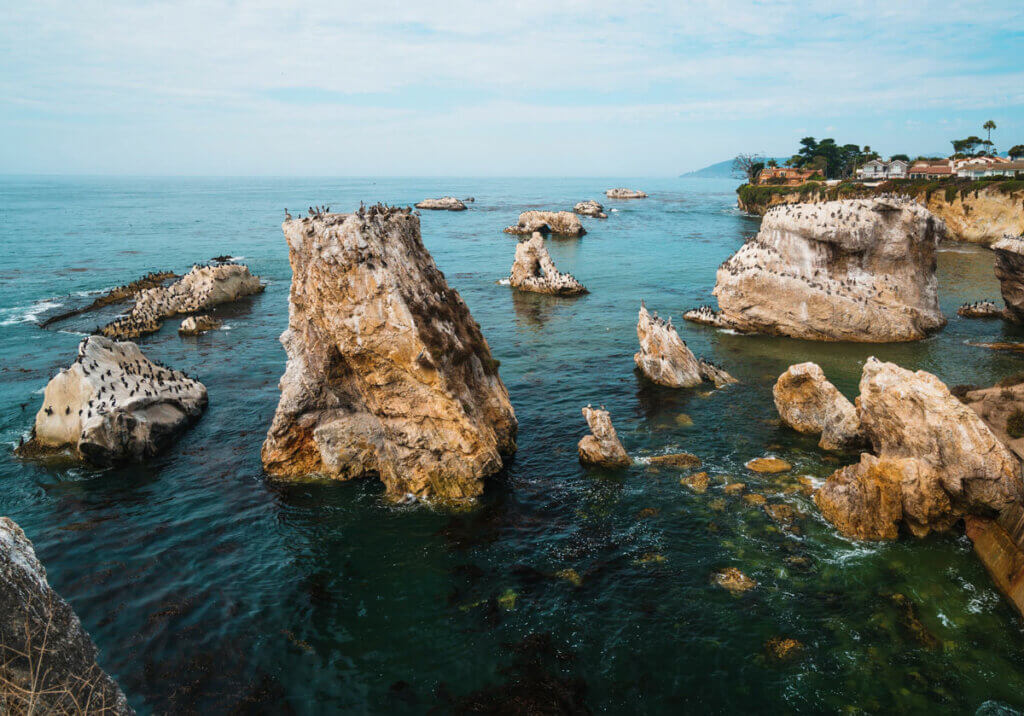 Just a 15-minute drive from San Luis Obispo, California is the beautiful coastal town of Pismo Beach. Also known for its wineries, and beaches, and being on the path of migration for over 10,000 Monarch butterflies annually, this is absolutely one of the best things to do near San Luis Obispo (in San Luis Obispo County).
If you're visiting during the months of November through February, you'll want to visit Monarch Butterfly Grove to witness the migration of the monarchs.
Another cool place, pictured above, is Dinosaurs Cave Park which offers dramatic coastal views from its trails and overlooks.
Also, did you know that Pismo Beach is the Clam Capital of the world? You'll want to hit up one of the famous seafood restaurants in Pismo Beach for clams (and oysters!). Check out Pismo Fish & Chips or Ada's Fish House for the local delicacies from the ocean.
There are also an ample amount of shops, restaurants, and cafes in Pismo Beach and a visit here while exploring San Luis Obispo wouldn't be complete without visiting the Pismo Beach Pier and Promenade.
4. Oceano Dunes Natural Preserve State Park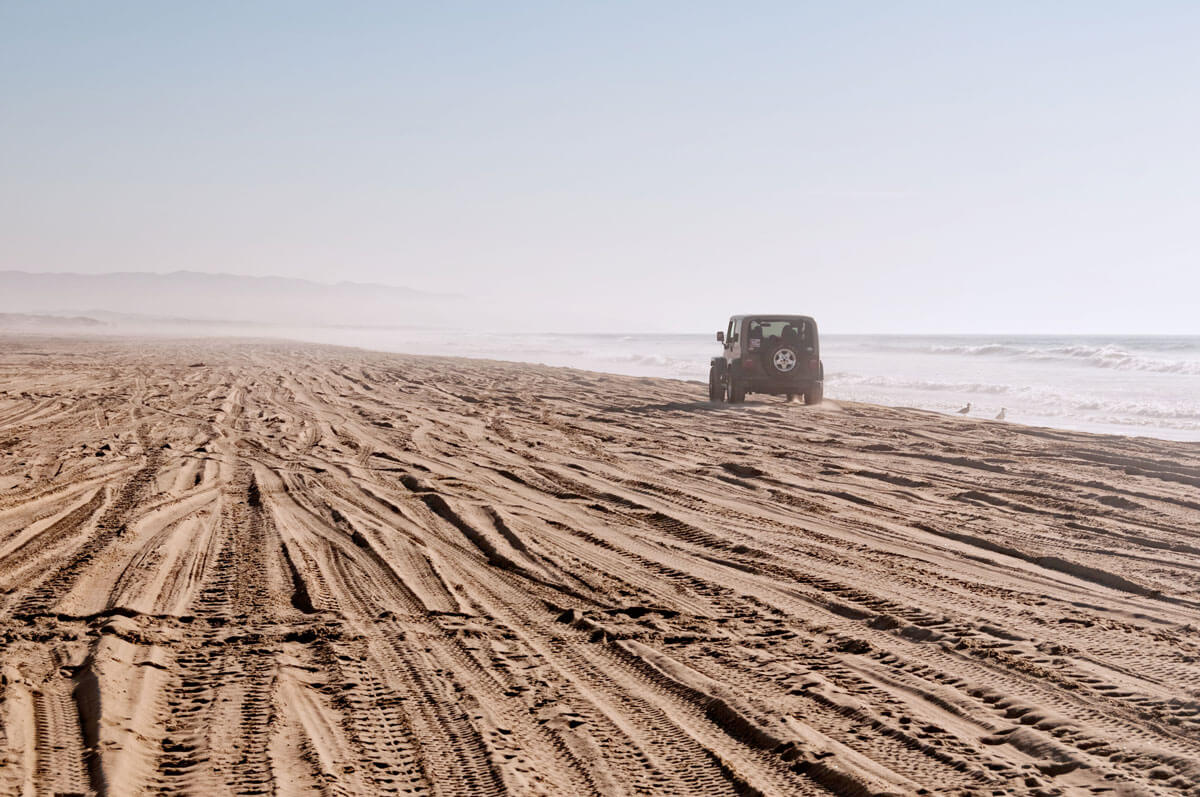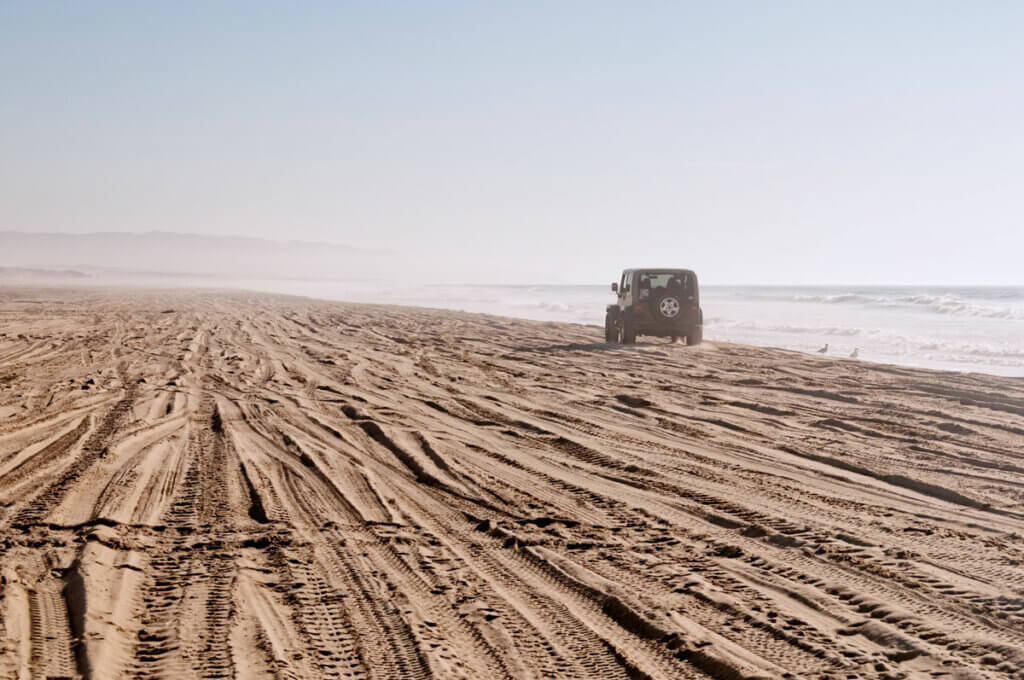 One of the coolest things to do in San Luis Obispo County near Pismo Beach visit the Oceano Dunes Natural Preserve State Park. It's here where you can drive your car on the sand and beach!
This is one of the only beaches in California that allows the public to drive on its 8 miles of driveable sand dunes. And if you're into camping or have a camper, you can do that here as well.
For thrill-seekers, you can rent an ATV or dune buggy here and also ride around the sand dunes. It's recommended that your vehicle have all-wheel drive or 4-wheel drive if you're planning to self-drive. If you don't want to risk anything and driving on sand makes you nervous, you can join a fun hummer or jeep tour where a guide takes you around on the dunes!
5. Guadalupe Nipomo Dunes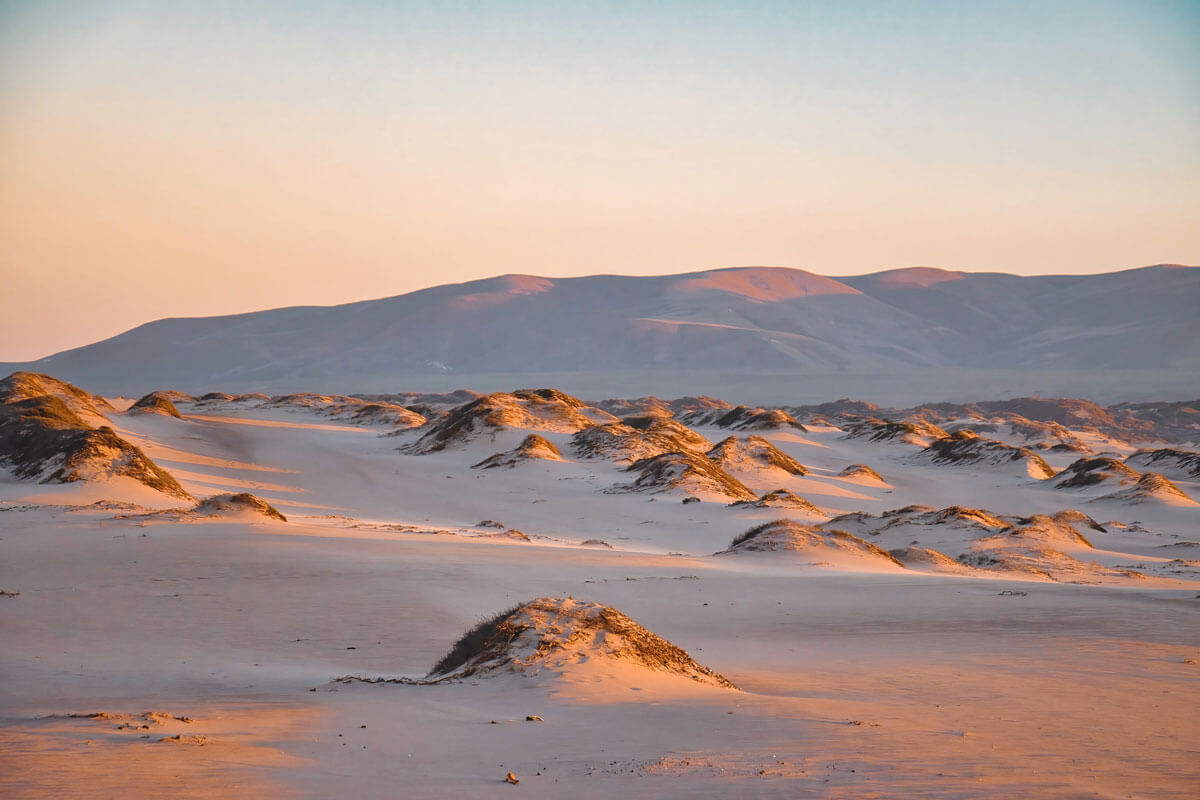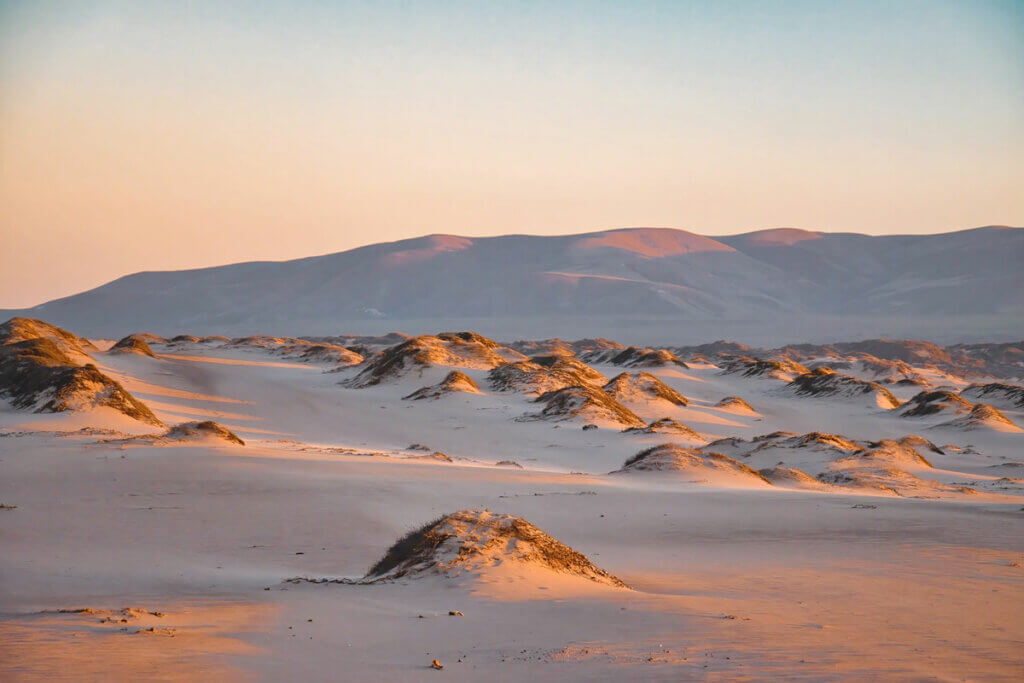 As far as nature goes, the Guadalupe Nipomo Dunes is one of most famous things to do in San Luis Obispo and the surrounding area. Why? These sand dunes were once a set of the movie The Ten Commandments whose set was buried on site. Years later people were discovering what they thought were ancient Egyptian artifacts, turns out it was just the movie set!
Another fun fact, these sand dunes were also filming locations for Hidalgo, Sideways, and Pirates of the Caribbean: At World's End.
Today you can visit and enjoy camping or off-roading through the largest sand dunes south of San Francisco that make up 18-miles along the coast and are both in San Luis Obispo and Santa Barbara counties!
Here you can enjoy sand dune hiking, fishing, and the area is known for being a great area for bird watching!
1965 Guadalupe Street, Guadalupe, CA 93434 (Visitor Center where you can get more information on where to go once you're here and plan your visit)
6. Morro Bay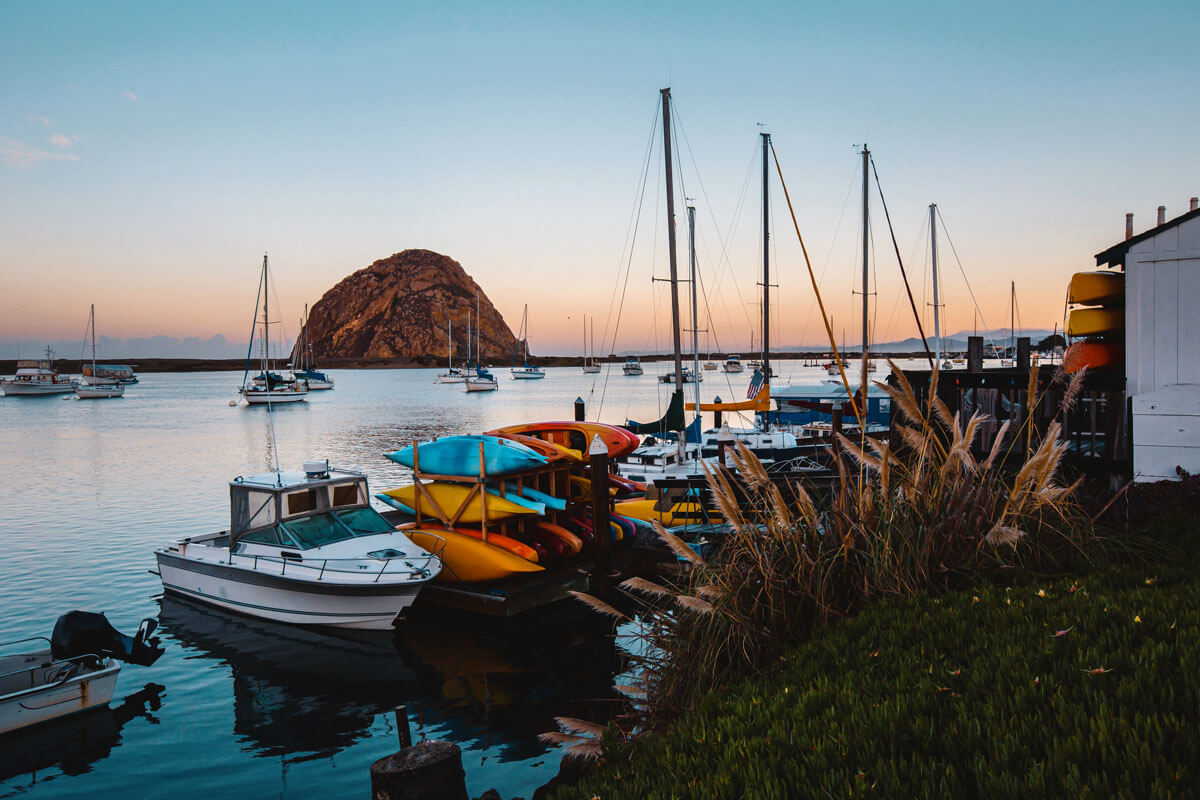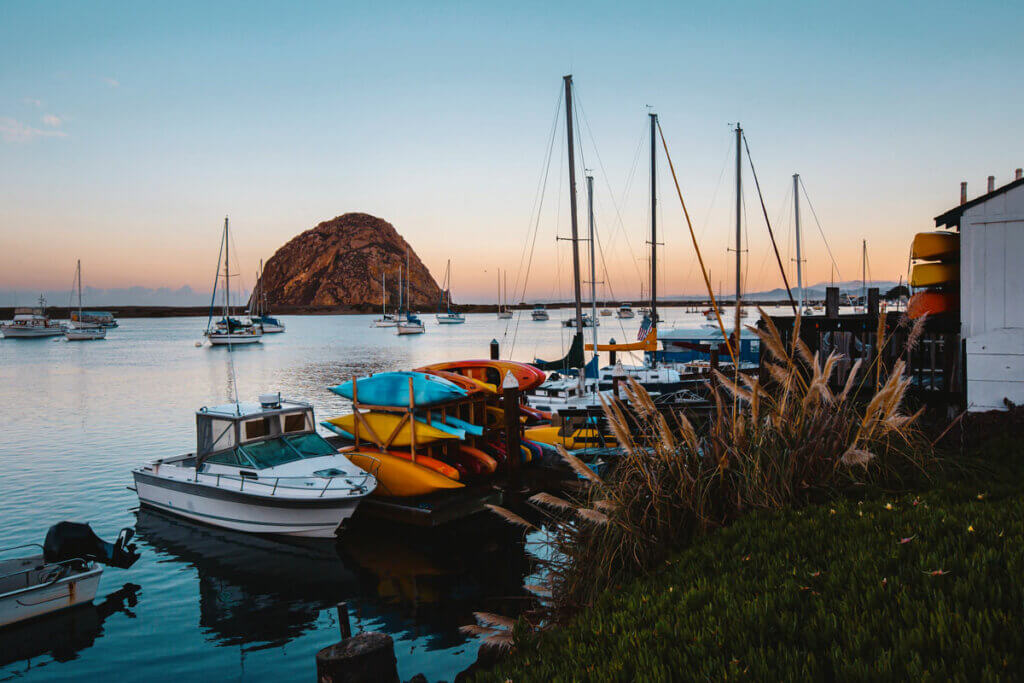 One of the absolutel best things to do in San Luis Obispo is drive 15 minutes to the coast and visit the beautiful Morro Bay. The dramatic volcanic rock that juts out of the water here is a volcanic plug, one of the 13 in the area and is estimated to be 23 million years old!
The indigenous Chumash and Salinan people who lived along the California coast for over 11,000 years considered this to be a sacred site. Today it is a protected site as the endagered peregrine falcons reside here and the area surrounding it is also marine protected terrirotry.
Take in the views of this majestic natural feature from Morro Rock Beach, there are also opportunities for kayaking and paddle boarding with views.
If you're looking for more outdoor activities, you can head to Morro Bay State Park for birdwatching, fishing, or hiking along the saltwater marsh which also has camping opportunities.
7. Cayucos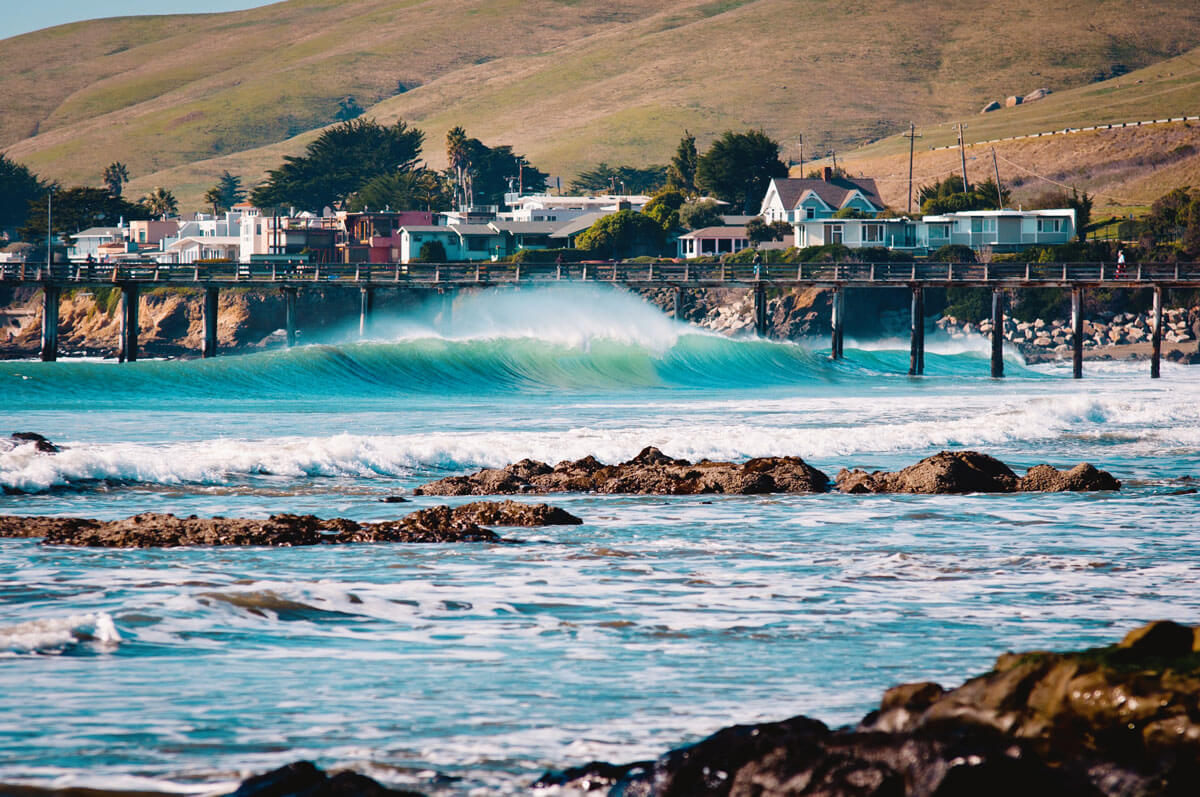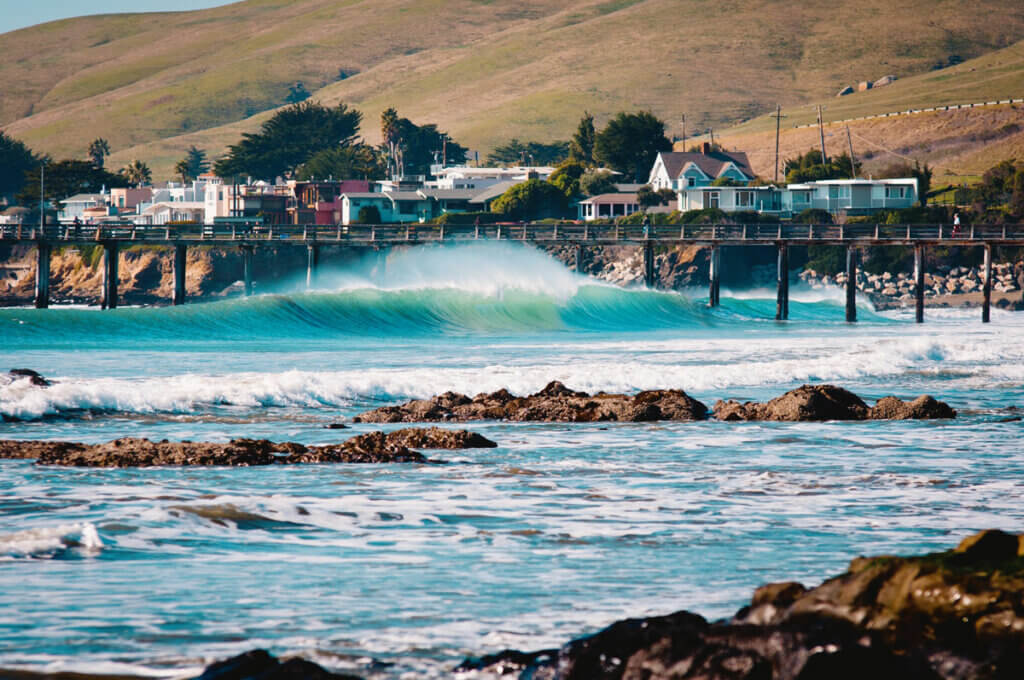 Another great stop along the Central California coast and just a short drive from downtown San Luis Obispo is the small coastal town of Cayucos. Situated on Estero Bay, Cayucos is known for it's great surf, pier, and 6-mile white sandy beach.
Not to be missed, be sure to catch the view from the Cayucos Pier and if you're lucky you may even spot a whale. For more beautiful views, head to Estero Bluffs State Park which has a few trails if you're up for a hike.
In town you'll want toenjoy the fresh catch of the day from Schooner's, grab a pie at Sea Shanty Resaturant, or do some antique shopping!
8. Los Padres National Forest
This massive 1.75 milliona acre national forest runs all the way up the central coast of California to Big Sur coast from Ventura all the way up to Monterey.
The scenic forest also is a mountainous area and has gorgeous wildflowers, waterfalls, and hiking. It's a bit surreal how much area this national forest encompasses, and when you're looking for what to do in San Luis Obispo and the area around it you can check out the Big Falls Hike which rewards visitors with three hidden waterfalls in a wooded canyon trail that's near Arroyo Grande in the Santa Lucia Wilderness section of the forest known for it's rugged landscape.
The trail is relatively easy until you get to the third waterfall, where there are a few short steep climbs. Once you get to the Big Falls Hike trailhead, it's only a 1.5 mile hike. However, you'll need a high clearance (8″ or higher off the ground, not a car) vehicle with 4WD to cross the creeks to access the trailhead, which is not recommended when water levels are higher.
Alternatively, you can hike this section which will be a much lengthier hike. We recommend reading more about recent visits on All Trails to determine recent conditions before visiting.
Also, it's best to check before visiting to ensure this section of Los Padres National Forest is open through the months of June through November as this area is prone to wildfires and sections of the national forest at risk during fire season are closed for safety.
9. Surfing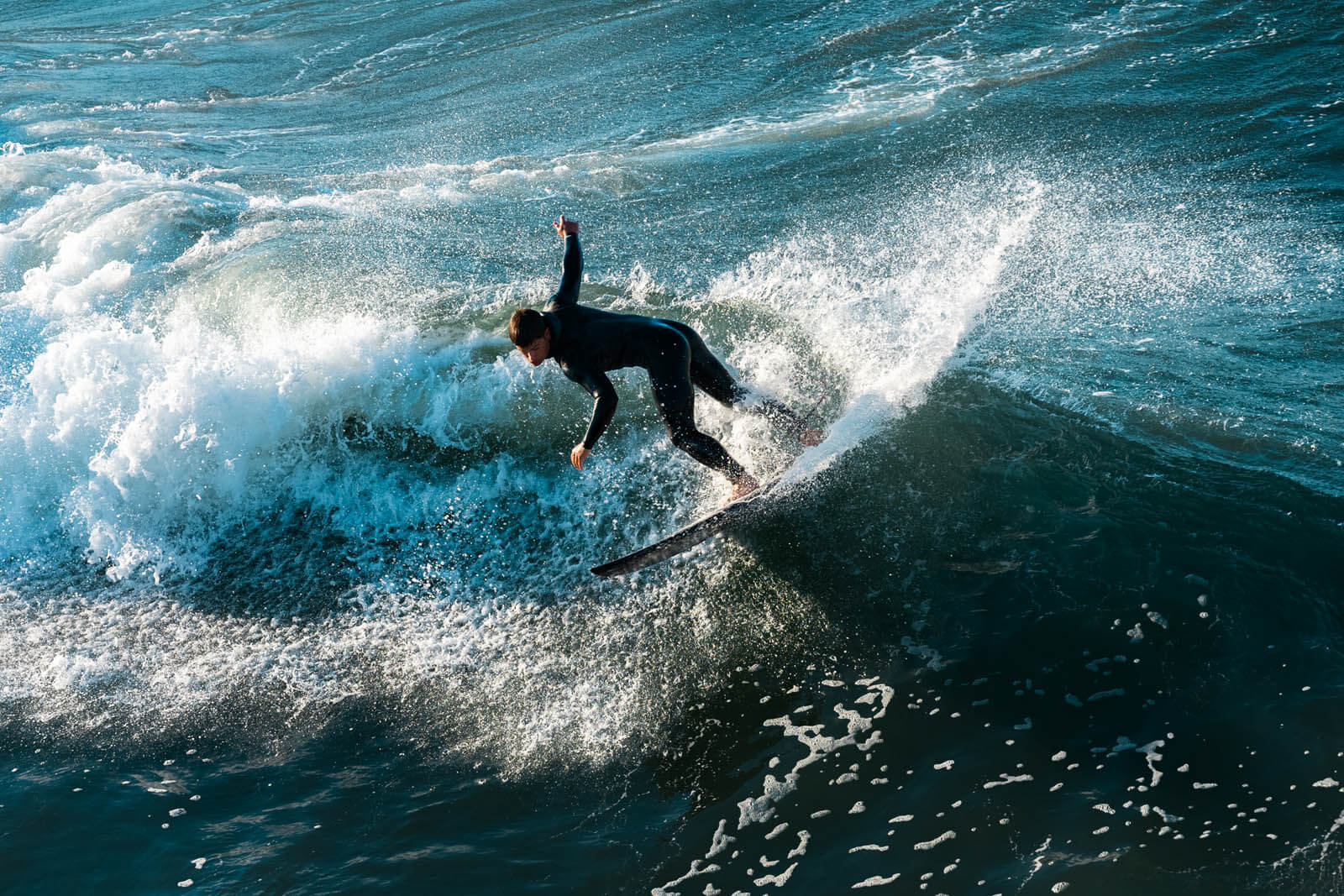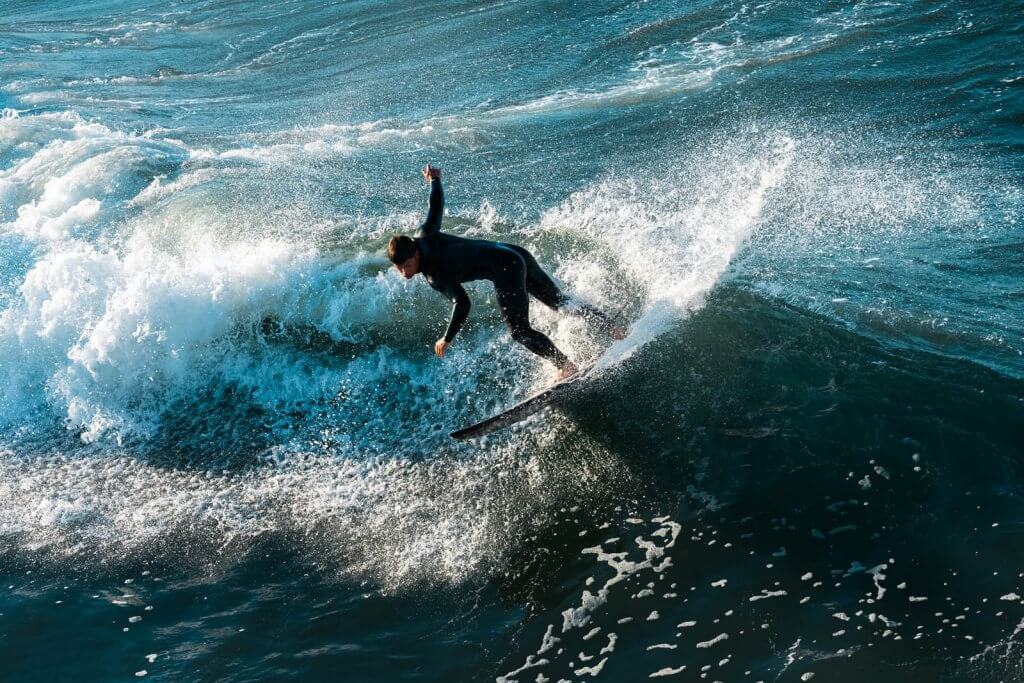 Calling all surfers, this is what to do in San Luis Obispo for you! Central California is home to some of the best surfing in the country. The rugged coastline here offers many great surfing spots without the crowds of the famous Southern California beaches known for surfing.
You can find many quiet areas along the San Luis Obispo county coastline, but the most well-known spots for surfing include Morro Bay, Pismo Beach, and Cayucos. The beaches at Montana Oro State Park also have great surfing.
Check out Surfline before your visit to check the swell for planning and surfing in San Luis Obispo. And if you're a bit of a newcomer and want a local to show you around or you just want to learn, consider taking a surfing lesson from Central Coast Surf School. They provide group lessons with boards and wetsuits or if you're traveling light and want to go on your own, they do offer just board and wetsuit rentals too.
10. Horseback Riding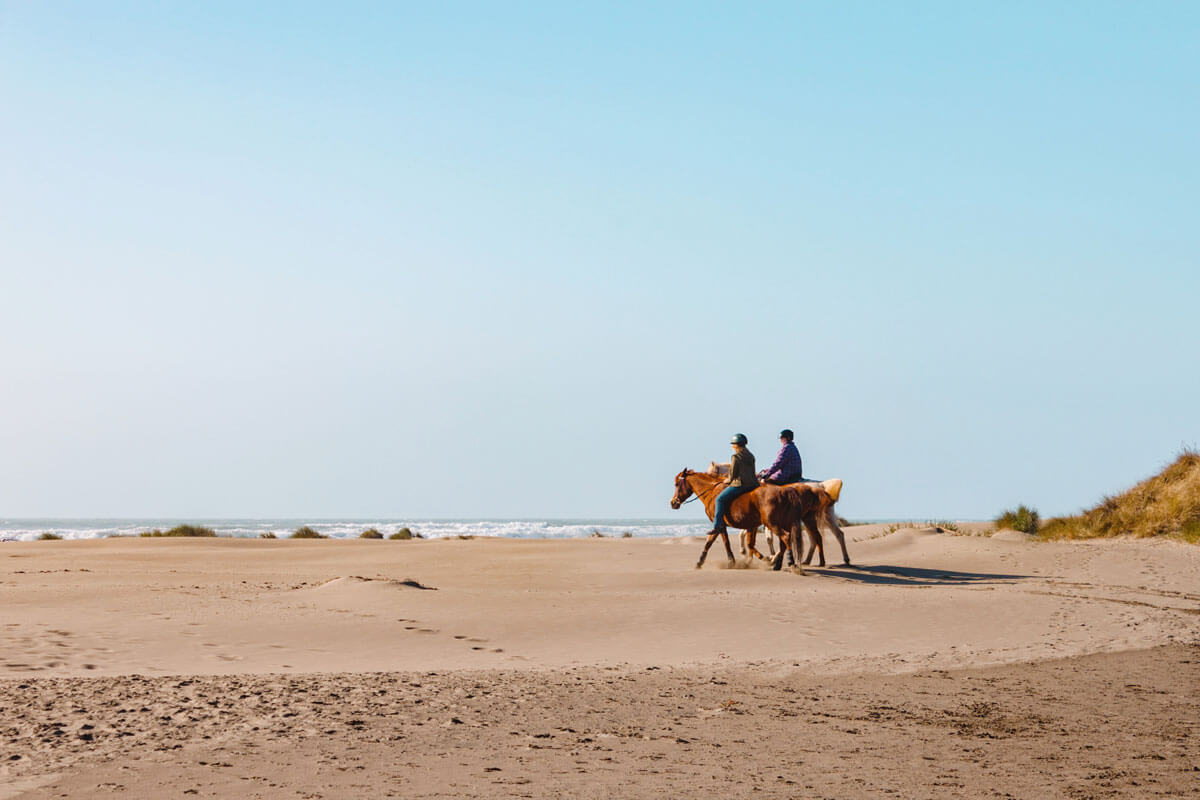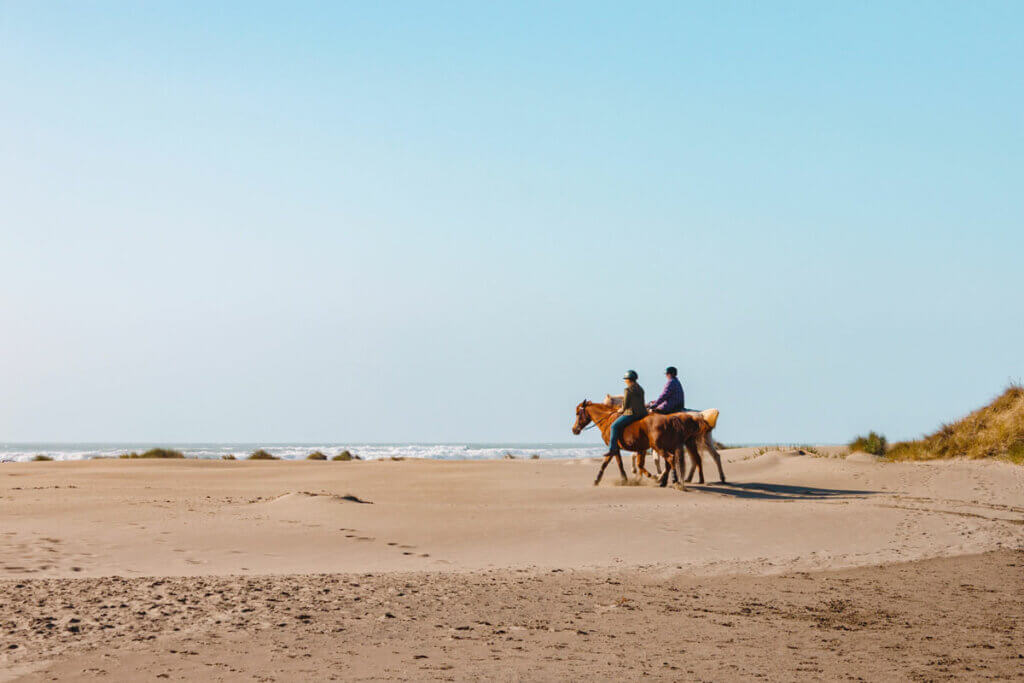 If you're looking to enjoy more of the scenic things to do in San Luis Obispo and the surrounding area in the county, you will want to look into the various horseback riding options. From horseback riding in the rolling hills of the scenic Central California landscape to horseback riding in the sand dunes and along the beach, there are plenty of places to enjoy the ride and views on horseback.
A few of the amazing places you can go horseback riding are at the Madonna Inn Trails, Outback Trail Rides at Morro Bay, Pacific Dunes Ranch at Pismo Beach, and Work Family Guest Ranch in Paso Robles.
11. Ziplining & Tours at Santa Margarita Ranch
This is what to do in San Luis Obispo for thrill-seekers! Get the ultimate view of Paso Robles wine country and SLO country from high in the sky while ziplining! Margarita Adventures offers six ziplines that go through the valleys, forests, and vineyards.
If you're nervous take the edge off by having a glass of wine at Santa Margarita Ranch before zipping through the sky! Or join their special ziplining and wine tasting tour that includes 5 wine tastings, cheese, and of course, ziplining!
If ziplining isn't your thing but the rest of your travel companions want to go, Margarita Adventures also offers nature tours with a naturalist ranging from foraging tours to bald eagle viewing tours.
12. Wine Tasting in Edna Valley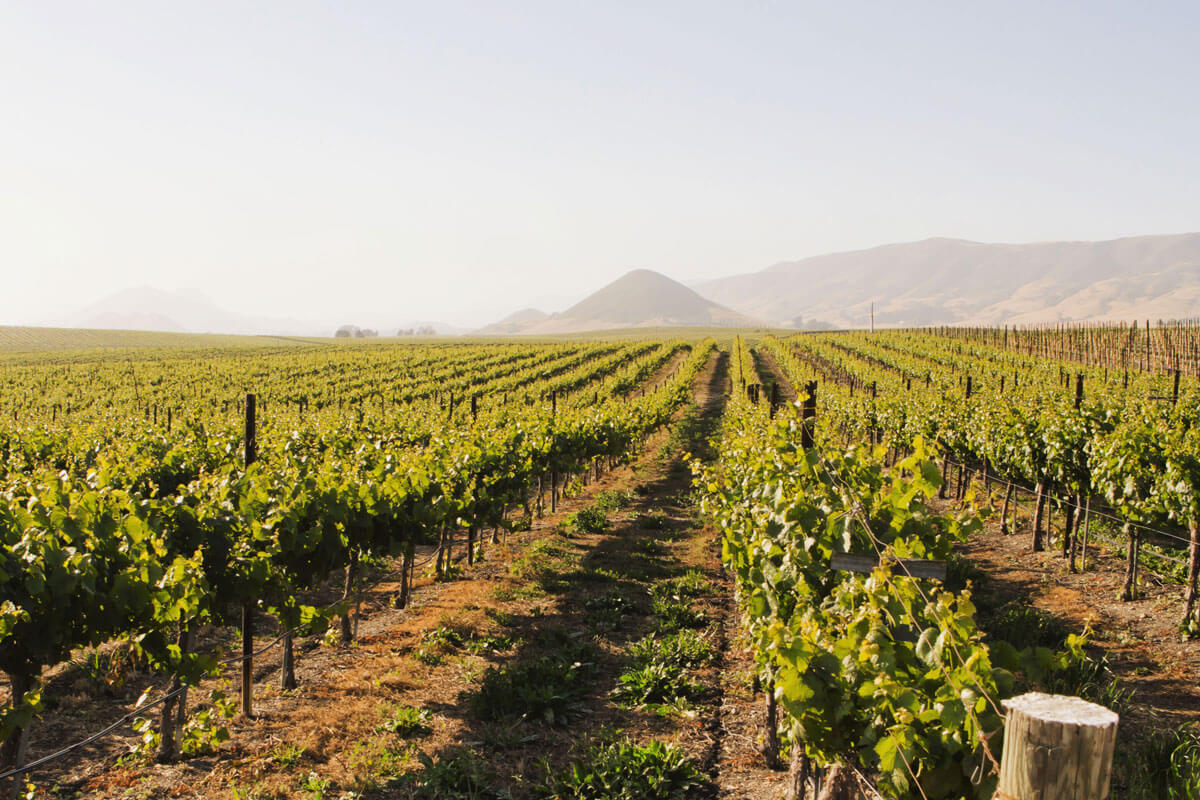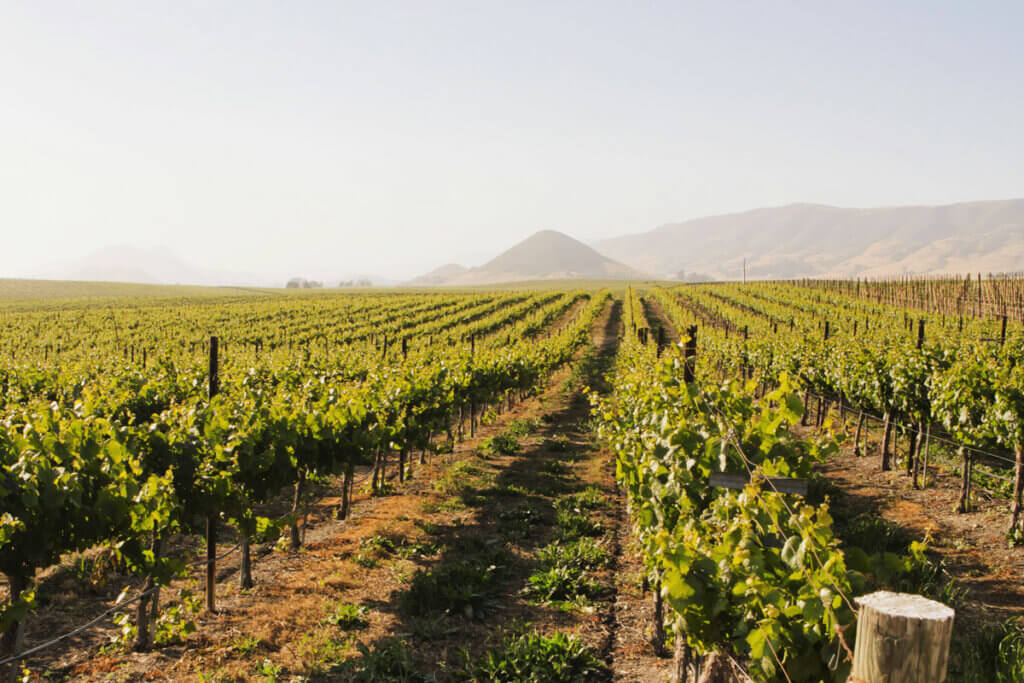 A quintessential Central California experience and one of the best things to do in San Luis Obsipo is take advantage of being in the heart of wine country. Only a 10-minute drive from downtown San Luis Obispo, California is Edna Valley.
The grapes that thrive in this wine country were originally introduced by Spanish missionaries, which now has it's own Edna Valley AVA and is a sub-region of the Central Coast AVA. Edna Valley has nearly 30 wineries and is known for their excellent Pinot Noir, Chardonnay, and Syrah wines.
It's easy to spend an entire day hopping from tasting room to tasting room at the beautiful vineyards and wine estates of the area. And if you're looking for a unique way to wine taste around Edna Valley you can have a personal driver take you to wineries in this private sidecar wine tour with wine tastings!
A few of our favorite Edna Valley wineries included Wolff Vineyards, Biddle Ranch Vineyard House & Tasting Room, Edna Valley Vineyard, Tolosa Winery, and Chamisal Vineyards.
Fun Fact: as you're driving around Edna Valley you'll notice more volcanic plugs, Edna Valley Vineyard offers an incredible view by the way! There are actually several volcanic mountains in the area, known as the Nine Sisters found between Morro Bay and San Luis Obispo, California.
13. Paso Robles Wine Tasting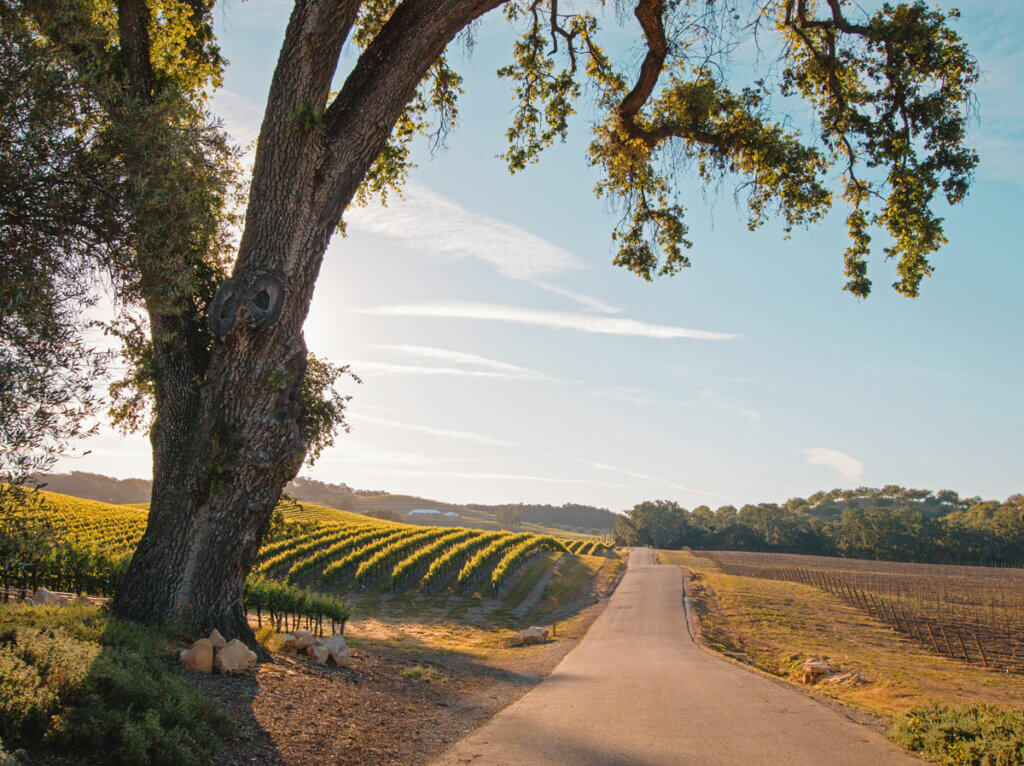 San Luis Obispo has not one, but two wine countries within it's area. Edna Valley is the smaller of the two, and Paso Robles wine country has over 200 wineries and known for their excellent Cabernet Sauvignon and Bordeaux-style red blends.
Paso Robles is considered to have the most ideal and perfect climate for winemaking, which is why you can find so many great wineries here.
This area has become very popular with wine tasting, so if you have your heart set on visiting specific wineries in Paso Robles, make a tasting reservation at those. However, there are SO many wineries that if you decide to wing it, you probably can – we didn't have a problem in 2016 but that was a few years ago now.
There are many highly acclaimed wineries like DAOU, Hearst Ranch Winery (a perfect time to tie in a visit to Hearst Castle if you visit the San Simeon location too, they also have a Paso Robles tasting room), Tablas Creek Vineyard, and Tobin James Cellars to name a few.
Better yet, just about all the wineries in Paso Robles offer stunning views too.
Don't want to drive? Don't worry there are services where you can hire a designated driver for your own vehicle for the day who will take you from winery to winery. Or you can join a hop on and hop off wine tasting tour around Paso Robles!
14. Bubble Gum Alley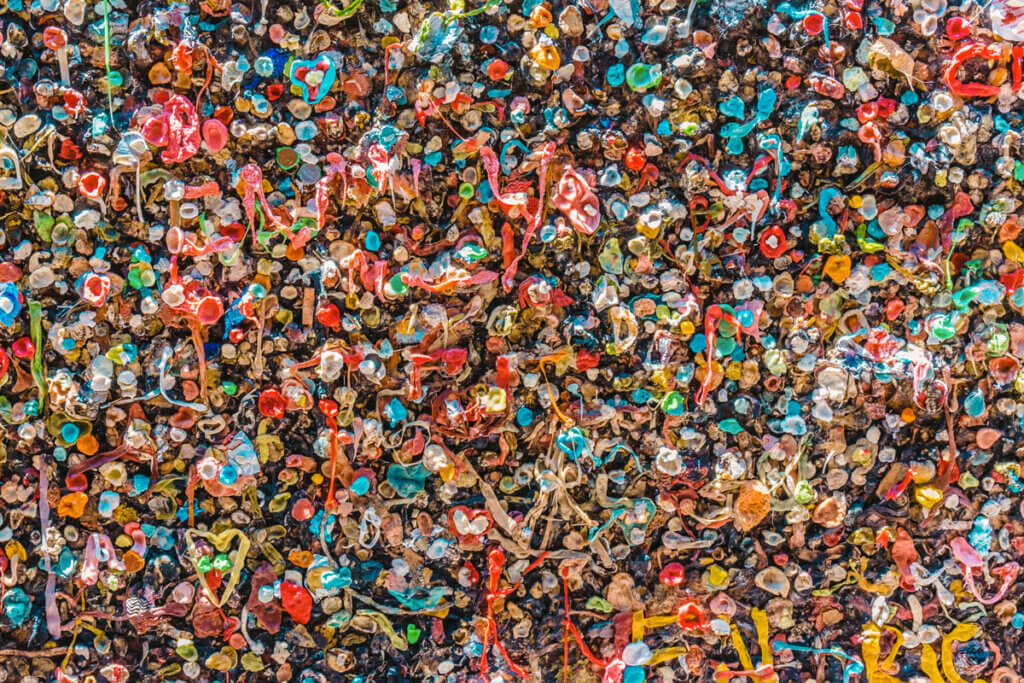 More of a quirky thing to do in San Luis Obispo and a bit gross is Bubble Gum Alley in downtown San Luis Obispo. This socially accepted form of vandalism is a hotspot for passersby to add their mark to the town's famous wall. Just be careful not to lose your balance and touch all that ABC gum!
Tucked away in a narrow passageway and alley, this has become an actual tourist hotspot and even has signs pointing you for where to go. Don't forget to bring your own gum, or if you forget they have a little spot you can pick up some right here!
733.5 Higuera St, San Luis Obispo, CA 93401
15. Food Tour in Downtown San Luis Obispo
The best way to explore downtown San Luis Obispo is by eating your way through it! This 3-hour Downtown San Luis Obispo tour includes stops where you can try signature Calfornia style barbecue (IYKYK about tri tip steak!), local and fresh seafood, desserts, and of course drinks!
Or you can head uptown in San Luis Obispo to the trendy Mojo District for this Taste of SLO Mojo District Food Tour, this tour focuses on some of the best culinary spots in SLO and you'll try everything from local seafood to Thai dishes.
And while you're in Downtown San Luis Obispo, take advantage of all the great shops and explore what this beautiful town has to offer. This is also a great time to tie in a visit to the San Luis Obispo Mission too.
16. Sunset Drive-In Theater
Looking for one of the best things to do in San Luis Obispo at night? Enjoy some evening entertainment by going to one of the few remaining drive-in movie theaters left in America! Drive up for a double feature of Hollywood's latest blockbuster movies and grab some popcorn for the car.
Be sure to also enjoy the retro intermission videos in between movies as well. There aren't too many of these theaters left, so be sure to experience them while they last!
Don't forget to start your car's engine throughout the movie to prevent the battery from dying! If you do manage to kill your battery, the friendly snack stand staff can get you out of a bind with her jumper cables! (Can you tell this happened to us?).
Visit Sunset Drive-In's Facebook page for their latest showings.
255 Elks Ln, San Luis Obispo, CA 93401
17. Driving Along Highway 1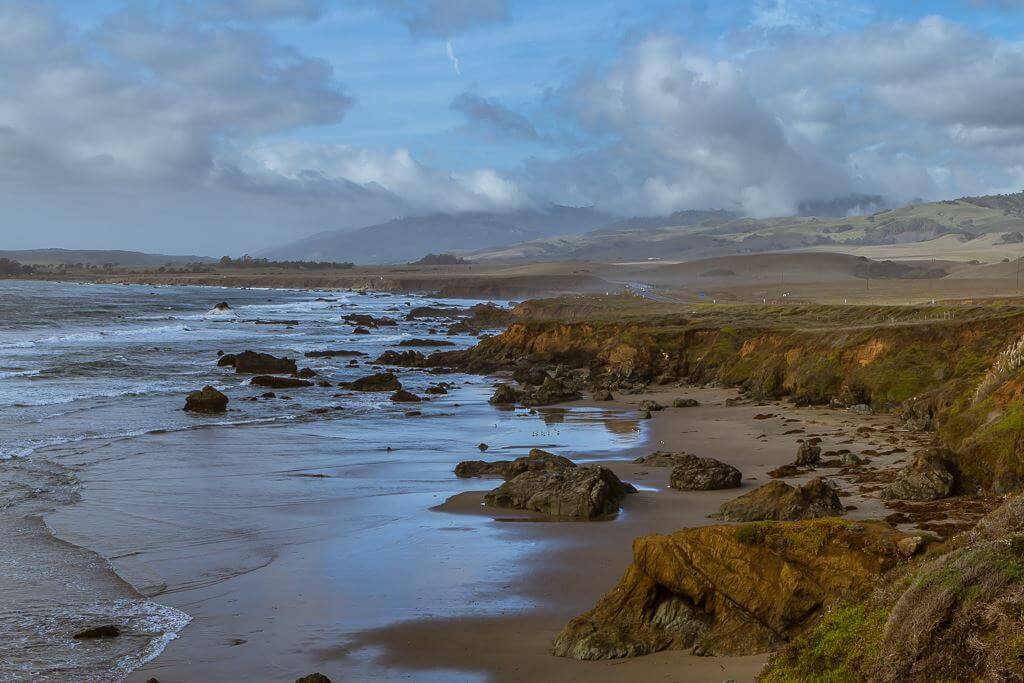 Our favorite thing to do in San Luis Obispo was the drive along Highway 1 or the PCH! Driving along the highway and seeing nothing but gorgeous rolling green hills and the ocean on the other side is a real treat.
Even if you're not planning a getaway enjoying all the awesome things to do in San Luis Obispo, this drive alone is a great day trip from Los Angeles.
One of the most scenic sections of Highway 1 in the San Luis Obispo area was around Hearst Castle and Morro Rock. But if I'm being honest, it all was incredible scenic.
18. SLO County Farmers' Markets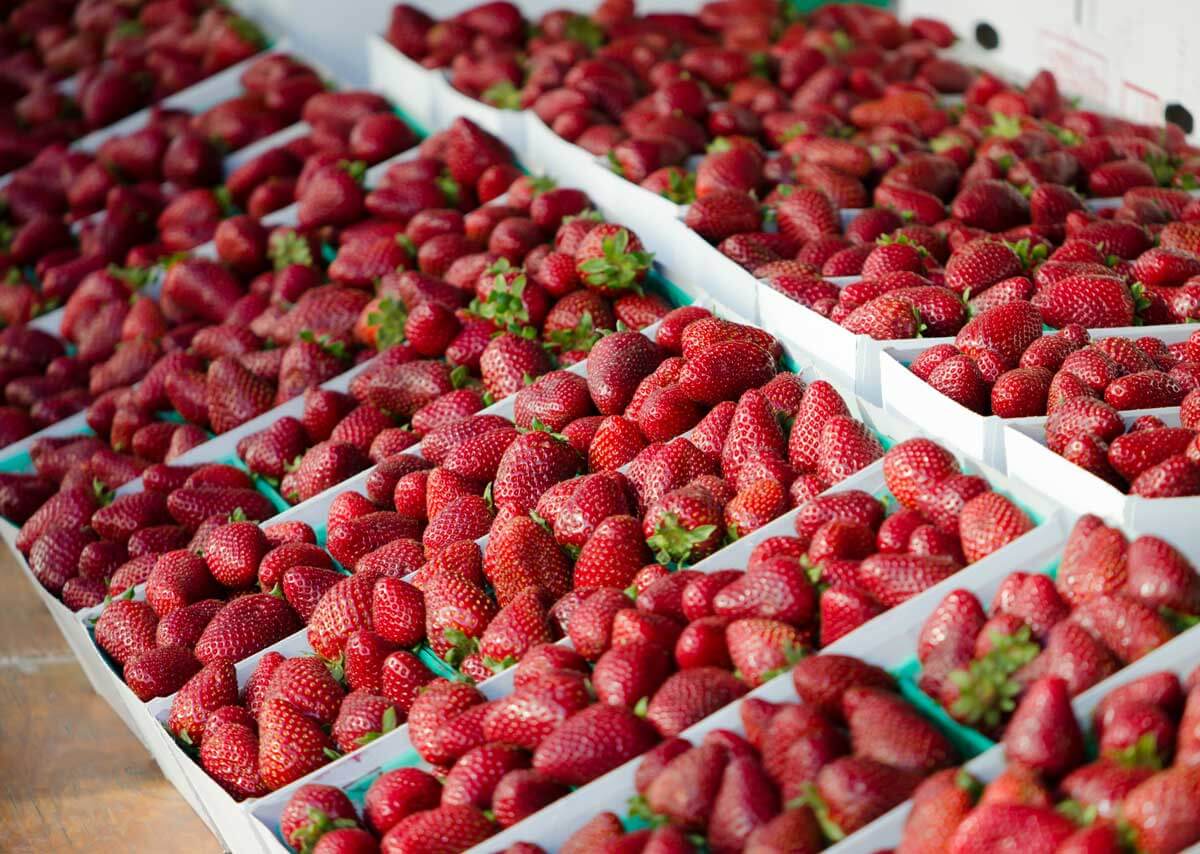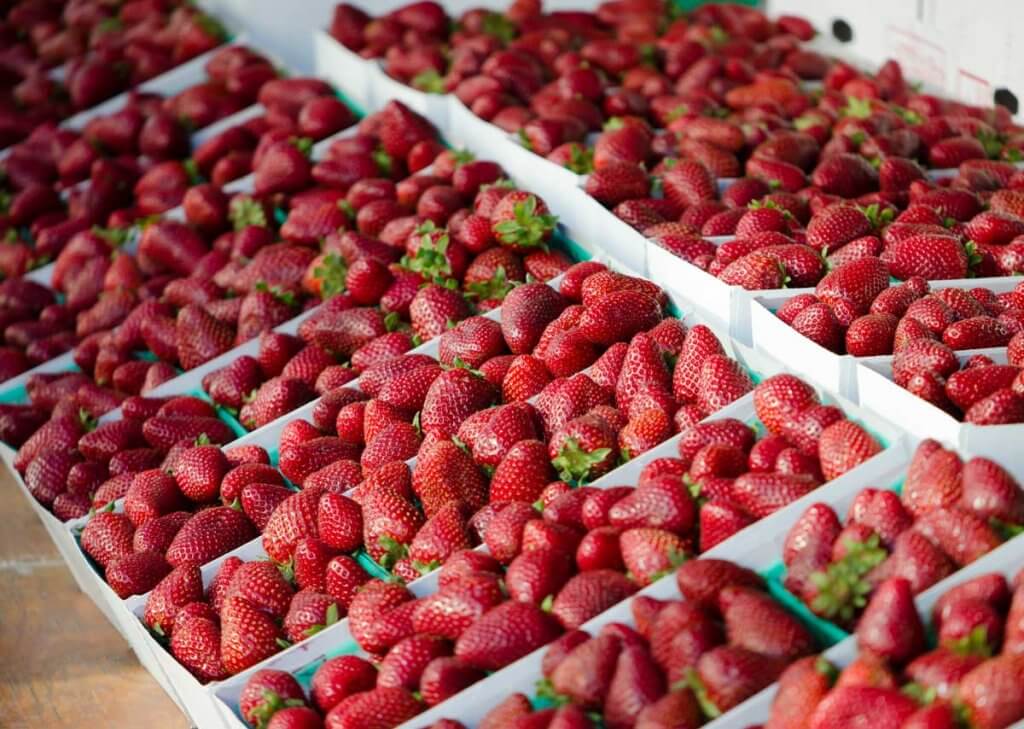 California produce is famous, and the Farmers' Markets of SLO are one of the top San Luis Obispo attractions.
There are a few different farmers markets in San Luis Obispo County year-round with seasonal produce. You can visit the SLO County Farmers website to see what's in season during your visit.
The Arroyo Grande Farmers' Market is held on Wednesdays at the Smart and Final Parking lot from 8:30 AM – 11 AM. (also on Saturdays, see below)
The Morro Bay Farmers' Market is held on Thursdays at the Spencers Market Parking Lot from 2 PM to 4 PM.
And on Saturdays you can find the SLO Saturday Farmers' Market at World Market Parking Lot from 8 AM to 10:45 AM and Arroyo Grande Farmers' Market at the Village Swinging Bridge Parking Lot from 12 PM to 2:30 PM.
In addition to locally grown produce and locally made produces, there are also food vendors on site too so you can snack around!
19. Montaña de Oro State Park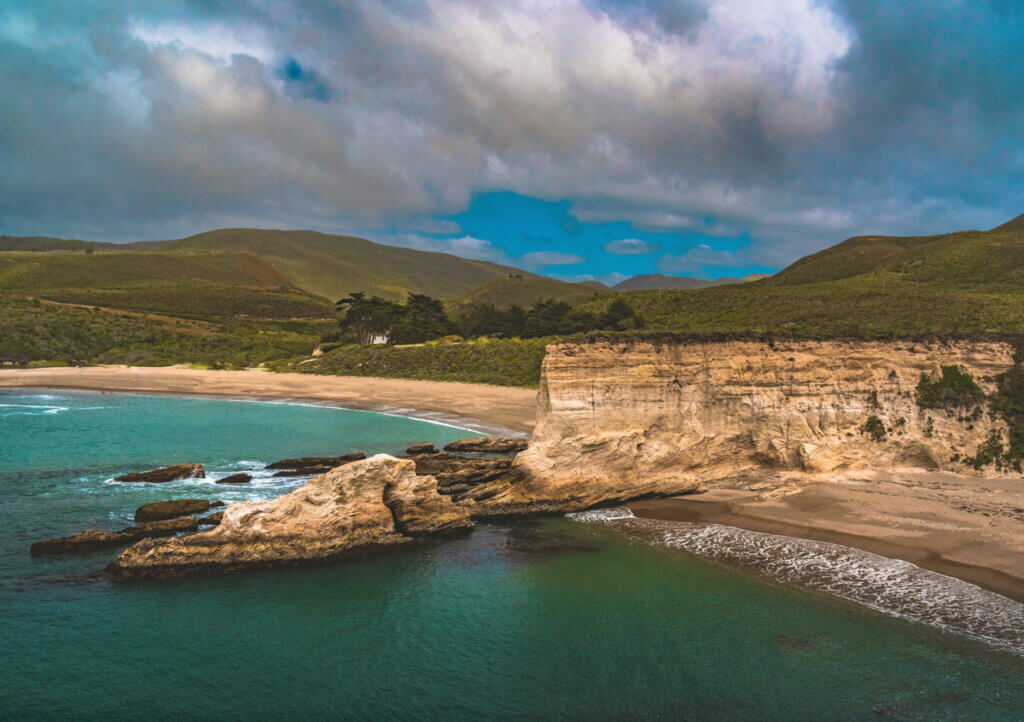 There's no shortage of natural San Luis Obispo attractions and Montaña de Oro State Park is no exception. This coastal state park features rugged coastline, secluded beaches, streams, dunes, hills, canyons, coastsal planes, and Valencia Peak.
Valencia Peak soars at 1,347 feet and is the second highest peak in the state park. This is one of the most popular hikes too offering incredible views of Cayucos and Morro Bay. The hike is 4.4 miles in and out and starts at Spooner's Cove. This is a moderate to challenging hike because of loose rocks and steep climbs towards the end, if you're wanting something a bit easier you can walk along the Bluff Trail.
Speaking of Spooner's Cove, that's a great beach which is a great place to swim, sunbathe, or launch a kayak. Plus there's a parking area, restrooms, and picnic benches here too.
20. San Luis Obispo Botanical Garden
For more outdoor things to do in San Luis Obispo check out the SLO Botanical Garden set in the lush, rolling hills of El Chorro Regional Park.
Their gardens and plant collections include those of the Mediterranean-climate zones of California, Australia, South Africa, and Chile. There are also themed gardens. One of the most interesting is the Fire Side Garden which features a collection of plants that are resistant to wildfires, which are common in this part of California.
They also do Nature Nights where the gardens are illuminated at night and they have special programming, wine tasting, and fun for the whole family. You're free to explore the grounds on your own as you please or if you want you can join a docent-led tour.
21. Avila Valley Barn
One of the best family friendly San Luis Obispo activities is visiting Avila Valley Barn, a family-owned farm that offers fresh produce, locally made baked goods like pies, ice cream from the Sweet Shoppe, barbecue the Chicken Shack and Smoke Shop, a farm animals you can feed and pet, and hay rides.
The gift store here is worth the visit alone! Especially if you're looking to pick up any gifts for anyone (or yourself). During the holidays they have Santa and other fun events including Christmas trees!
If you're visiting in the fall you can expect all kinds of autumn fun including hay rides, pumpkins, and freshly made apple cider donuts.
Some of the activities are seasonal here, but they are open year-round with limited hours/opening during winter. It's best to check before your visit to see when they're open.
22. Avila Beach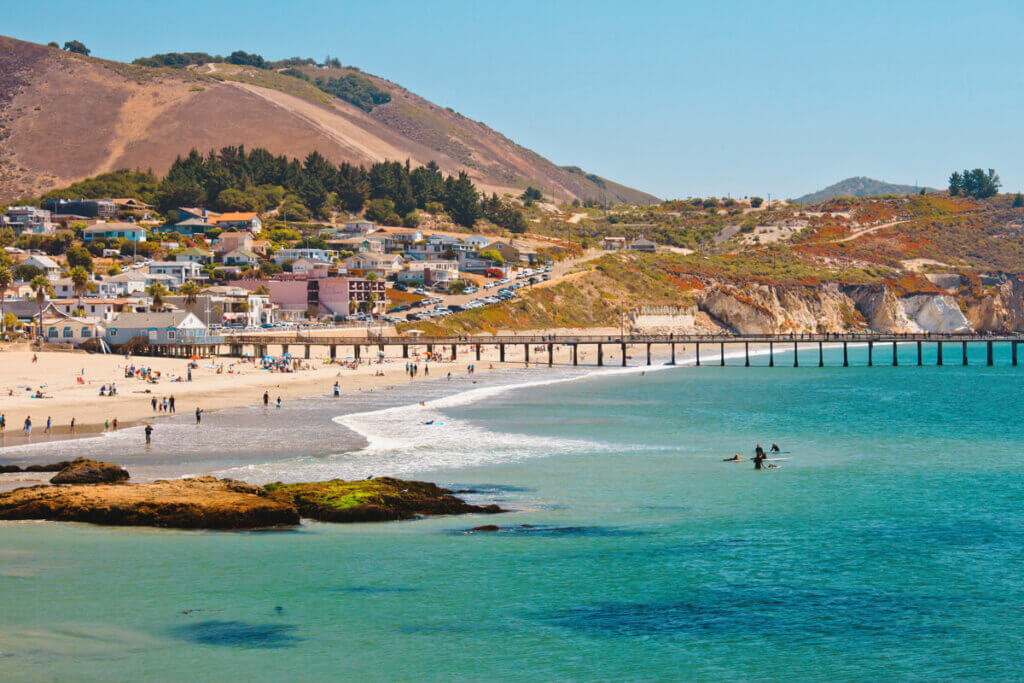 Another great town to visit along the coast in San Luis Obispo County and close to downtown San Luis Obispo is Avila Beach.
This oceanfront town is a vacation destination all in of itself or a great day trip from San Luis Obispo. With golf courses, spas, beaches, a pretty pier, whale watching, shopping, and the Central Coast Aquarium to name a few things to do here.
For a bit of R&R plan a visit to Avila Beach Hot Springs, this family-friendly spot has heated pools fed from the natural mineral hot springs discovered here nearly a century ago. There is also a restaurant on site and an arcade for the kids.
During your visit make sure to check out and tour the Point San Luis Lighthouse, which was established in 1890 and operated for nearly a century.
23. Arroyo Grande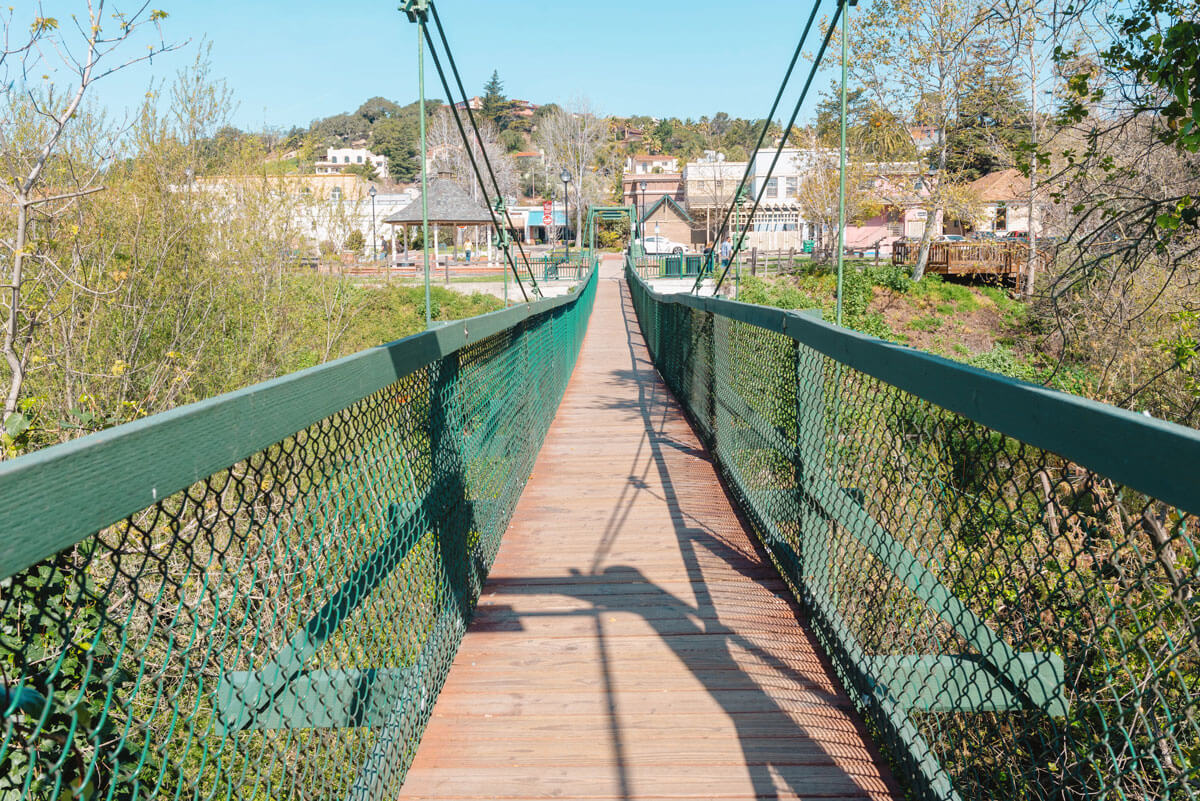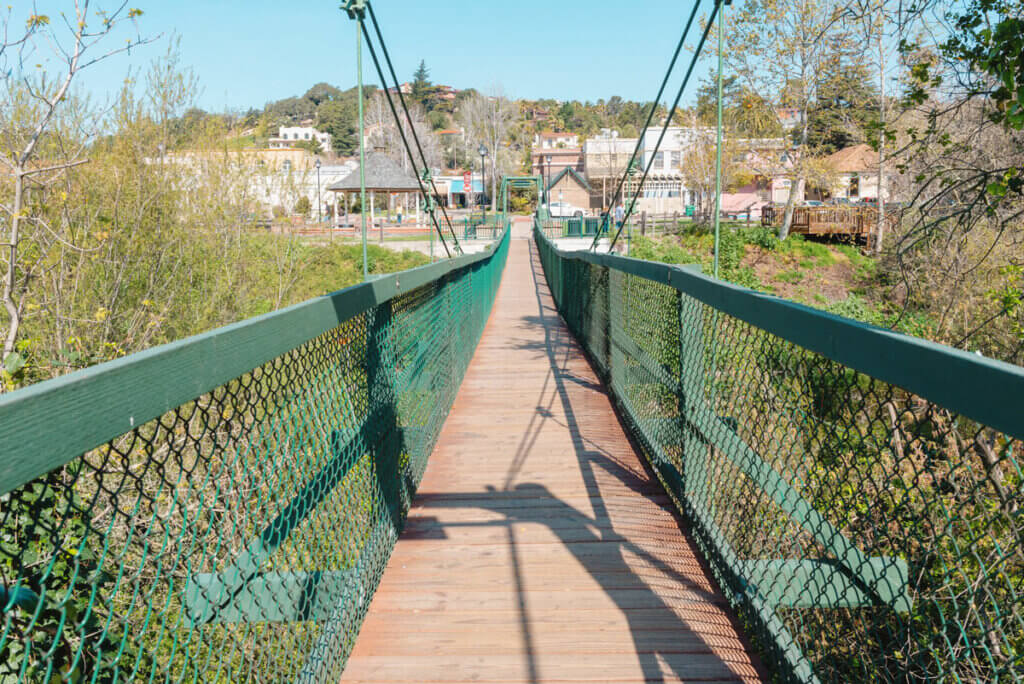 Another one of the best things to do in San Luis Obispo is visit and explore what Arroyo Grande has to offer! This charming Central California destination has shopping, free-roaming chickens, historic sites, a swinging bridge, and some great restaurant options.
Take a walk across the Arroyo Grande Swinging Bridge with the creek rushing below you. This is one of the few existing bridges of this kind in the state and dates back to 1875, this is a popular attraction to check out when you're here.
Head to Heritage Square Park for a few historic sites like 19th century Heritage House, the single room Santa Manuela Schoolhouse that dates back to 1901, and IOOF Historic Hall where the International Order of Odd Fellows (haha, seriously it's a real thing!) used to meet to name a few highlights.
Be sure to stroll all the shops, glance at the murals, try some local wine, or grab a bite to eat while you're in town.
24. Stay at Madonna Inn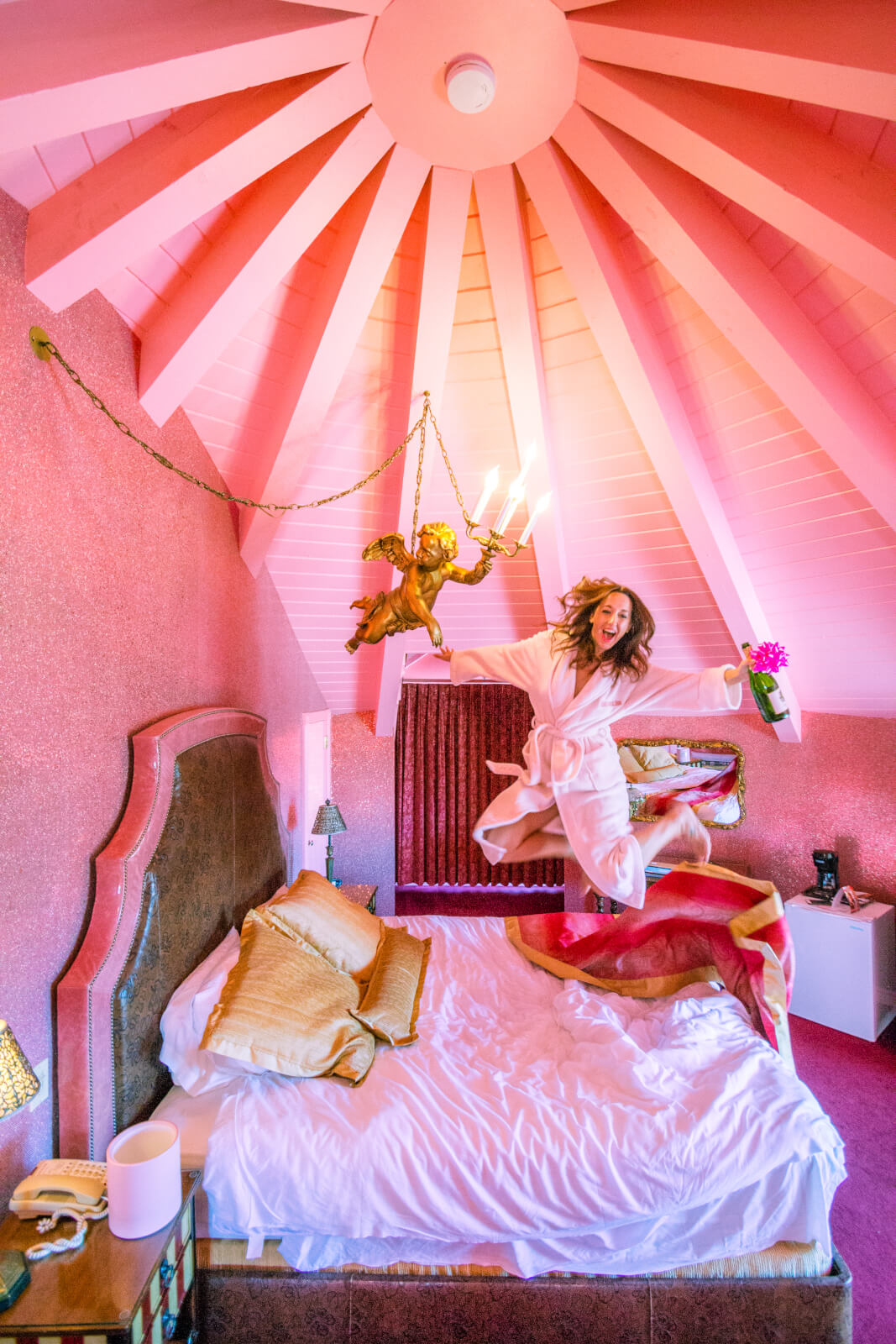 I saved the best for last. Probably one of favorite things to do in San Luis Obispo would be staying at the iconic Madonna Inn. Even if you don't end up staying in one of their fun themed-rooms, it's worth stopping here for a slice of their famous cake (or a whole cake!) or meal in their pink dining room.
This world-famous hotel opened in 1958 by Alex and Phyllis Madonna. What made and still makes this hotel famous are the 110 themed rooms, popular cakes from their bakery, and over the top usage of pink all over the hotel from some of it's themed rooms, the dining room, the cakes, and even tennis courts!
The Madonna Inn has hosted famous guests over the years and is no stranger to appearing in photo shoots. While each room is uniquely designed and different, you'll find many pink-themed rooms, rooms that have a 'cave theme' and are built in the rocks here – the showers are especially cool in these, rooms that have a western theme, and other fun colored rooms.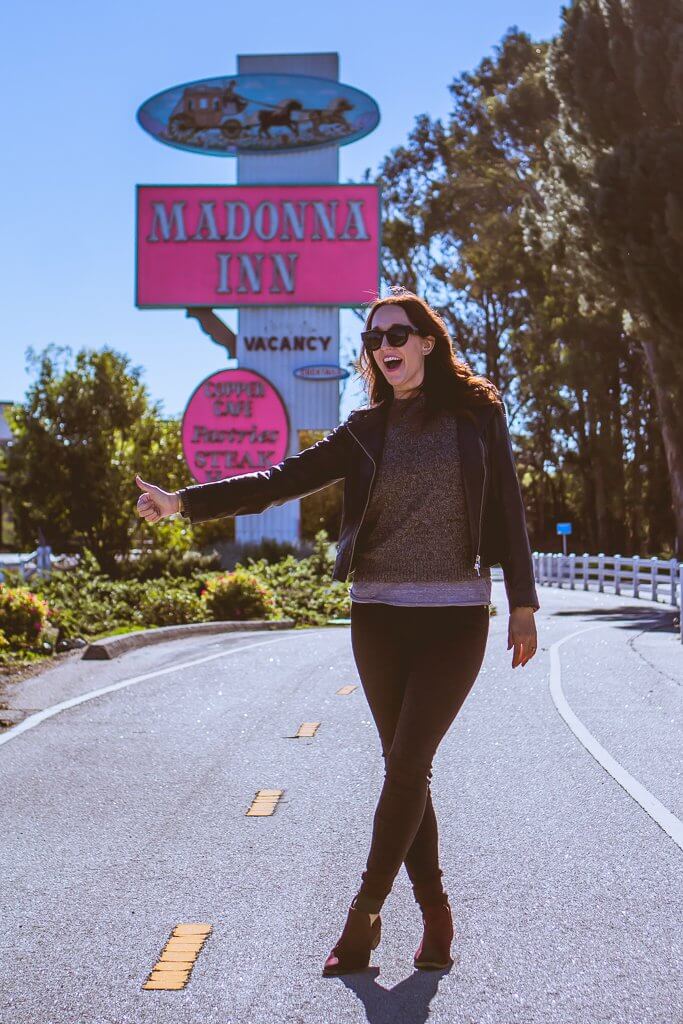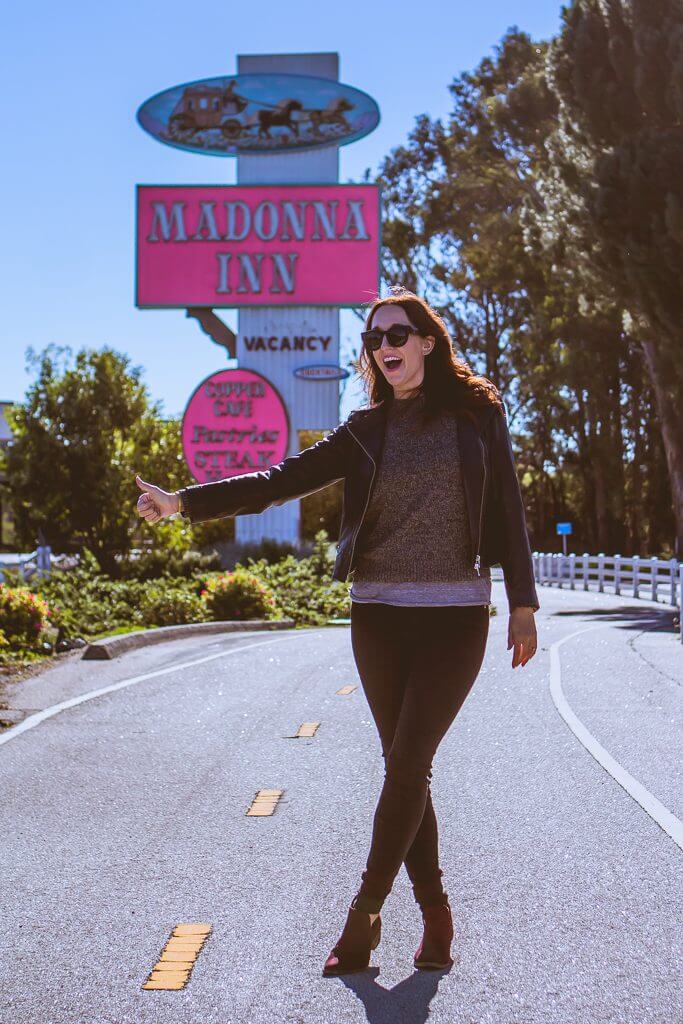 We stayed in the Carin Room during our honeymoon road trip and it was covered with pink glittery wallpaper and fun pink accents.
I've also stayed in the Old Mill Room in the past, this room features a minature water mill in between the two beds in the room so you can listen to water trickling all night! It also has a mural painted by an artist who did the animation for Disney's Snow White.
Each room is truly unique and different at the Madonna Inn and we highly recommend making this San Luis Obispo attraction a part of your stay by booking a room here. Don't miss the pink dining room (you can even pick up one of the signature Madonna Inn goblets they use in the dining room in the gift shop), try their famous cake that people have gone to jail over (seriously), or take advantage of their ameneties like their pink tennis court, pool, and hot tub!
Whether you're just stopping by for a bite to eat in their dining room or spending the night in one of their themed rooms, the Madonna Inn is worth a stop and a look around!
Book Now | Read Trip Advisor Reviews
---
What is San Luis Obispo known for?
San Luis Obispo, California is known for its vineyards, dramatic coastline, historic sites like the 18th-century Spanish missionary, Mission San Luis Obispo de Tolosa and Hearst Castle, wine tasting, outdoor adventures, volcanic mountains known as the Nine Sisters, and charming Central California coastal towns. San Luis Obispo has even been called America's Happiest City.
Is San Luis Obispo worth visiting?
San Luis Obispo is definetely worth visiting, this is one of the most beautiful areas in Central California that has vineyards, great wine tasting, a dramatic coastline, hiking, surfing, historic sites, volcanic mountains, and beautiful towns to visit.
How to spend a day in San Luis Obispo?
There are so many things to do in San Luis Obispo aka SLO, but if you only have a day in San Luis Obispo you will want to drive along the scenic Highway 1, visit vineyards and wineries in Edna Valley or Paso Robles, and visit a historic site like Mission San Luis Obispo or Hearst Castle in San Simeon.
---
Things to do in San Luis Obispo Summary:
Hearst Castle
Mission San Luis Obispo del Tolosa
Pismo Beach
Oceano Dunes Natural Preserve State Park
Guadalupe Nipomo Dunes
Morro Bay
Cayucos
Los Padres National Forest
Surfing
Horseback Riding
Ziplining
Wine Tasting in Edna Valley
Paso Robles Wine Tasting
Bubblegum Alley
Food Tour in Downtown San Luis Obispo
Sunset Drive-In Theater
Driving Along Highway 1
SLO County Farmers' Markets
Montaña de Oro State Park
San Luis Obispo Botanical Garden
Avila Valley Barn
Avila Beach
Arroyo Grande
Stay at Madonna Inn
---
Enjoyed this guide for what to do in San Luis Obispo, California and San Luis Obispo County? Bookmark for later or share the love below on Pinterest!