Looking for the perfect winter vacation? One of the best on the East Coast is a Catskills winter getaway located just outside of New York City making it an easy escape for city dwellers like us but boasts enough wonderful things to do in the Catskills in winter that its a popular destination for the Northeast US.
This scenic mountain region in New York has attracted and inspired artists and creatives is the setting of Rip Van Winkle, a classic literary work by Washington Irving (whose home you can visit in Tarrytown in the Hudson Valley), and is an all-season mountain getaway for adventures, explorers, and anyone needing a dose of nature and the great outdoors from the city.
So next time you're looking for a place to beat the winter blues, pack your bags and head to one of the magical luxury resorts or a cozy intimate cabin and enjoy all the wonderful things to do in Catskills in winter, one of the best and most beautiful places for a romantic winter getaway in Upstate New York!
Things to do in Catskills in Winter
Hit the Slopes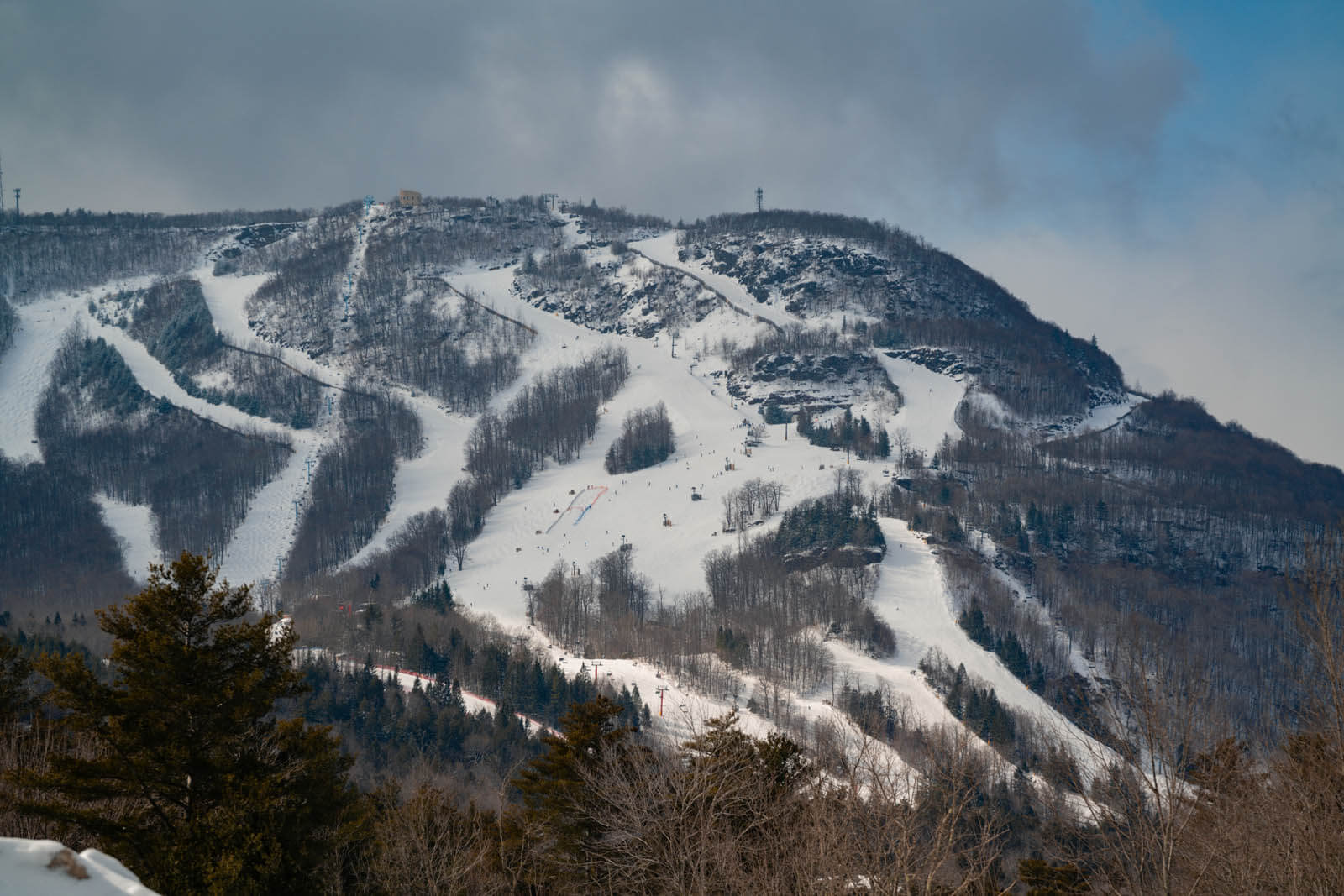 Winter in the Catskills will be incomplete without hitting up the slopes since this area is known to be home to some of the best ski resorts in New York. If you're into snowboarding or skiing, this should be top on your list of things to do in Catskills in winter.
With lots of natural snowfall and a wide variety of mountainous terrain and options for beginners to attend ski lessons at the many winter resorts available, this is the perfect place and time to get your entire family or friends into this exhilarating winter sport or for a great winter staycation.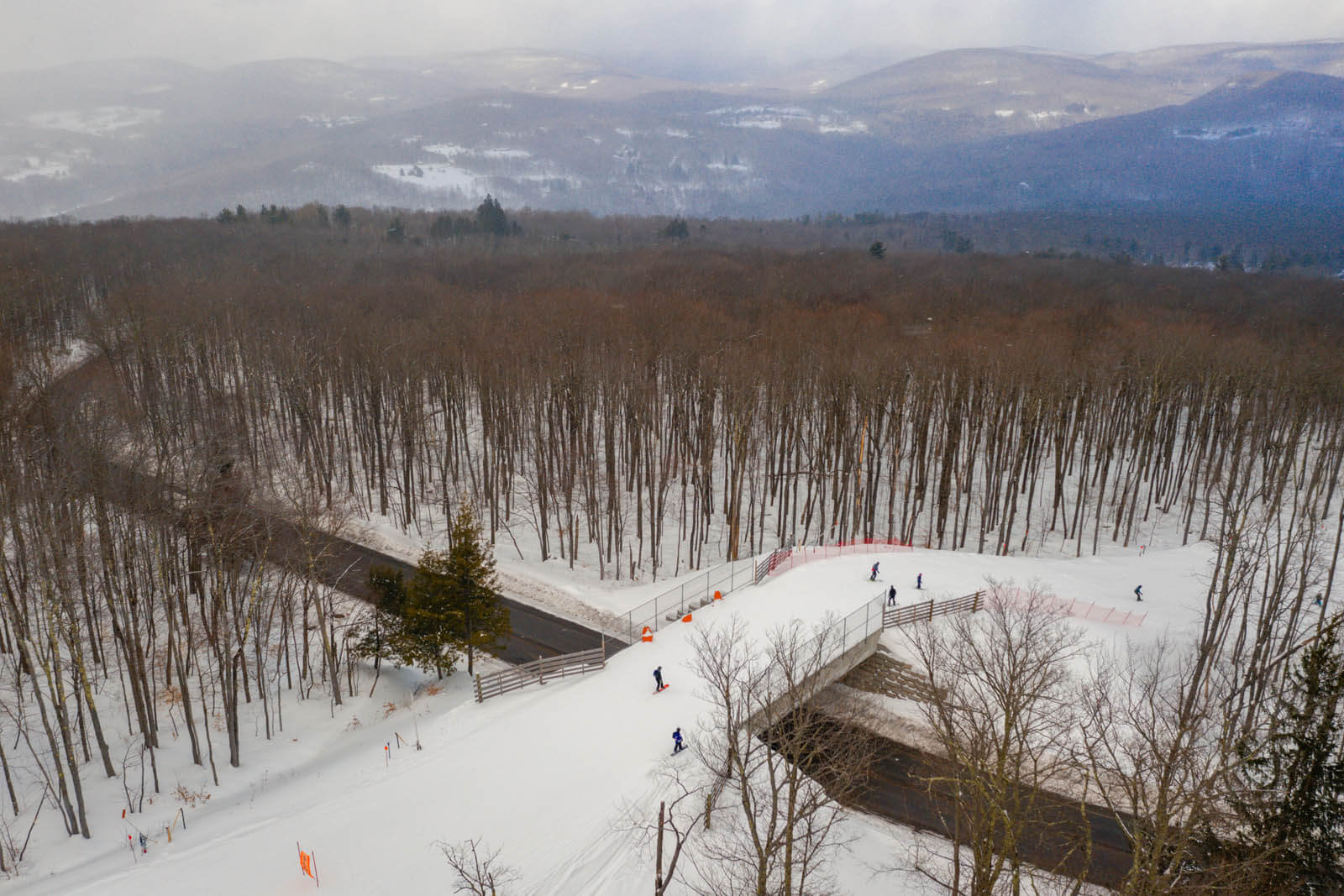 Some of the popular ski resorts in the Catskills are:
Hunter Mountain: This ski resort offers over 3,000 feet of vast mountain terrain and is open to both day and night sessions. You can also explore the trails from above via their year-round zipline. Sounds fun, right?
Belleayre Ski Center: This ski center boasts of the highest skiable peak in the Catskills. It is also one of the few resorts that offer snowcat skiing. With over 50 trails, a brand new gondola, and several parks available for visitors, this ski resort is sure to give you a memorable experience.
Windham Mountain Resort: Check out the new six-passenger, high-speed Doppelmayr lift at this unique mountain resort. Set on a 3,000-foot mountain, the trail that leads down the mountain is a thrilling adventure that both beginner and professional skiers would not want to miss.
If you are interested in participating in cross country skiing, be sure to check out Frost Valley YMCA, Windham Cross Country Ski, and Snowshoeing Center, Delhi College Golf Course, The Catskill Forest Reserve to name a few.
Winter Hikes & Snowshoeing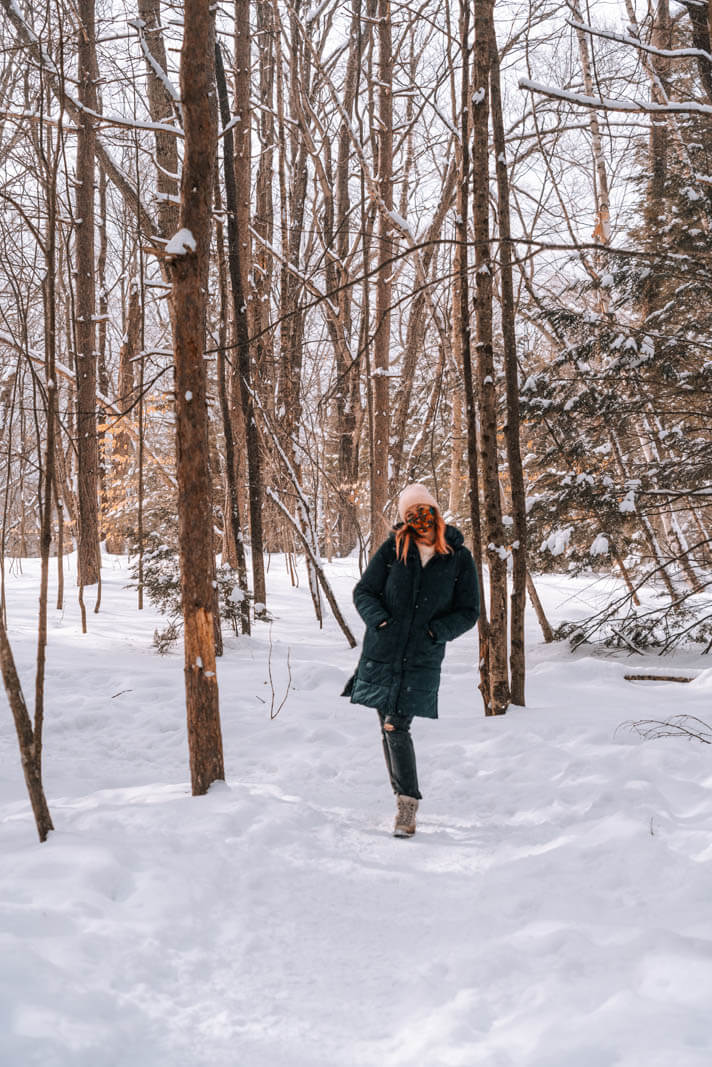 Winter hiking is just as thrilling as hiking in any other season. By now, you are aware of the beauty that is winter in the Catskills, if not then continue on and we will convince you! Merge that with pristine, tree-lined, snow-covered trails, serene nature walks, and countless breathtaking views, and you have the perfect recipe for a thrilling winter hike.
Add winter hiking and snowshoeing to your Catskills winter getaway plans, and you will not regret it. Some of the places you can winter hike and/or snowshoe in the Catskills include:
Willowemoc Wild Forest: With 40 miles of trails, including scenic hills, frosty woods, and vast valleys, this forest trail is definitely a top pick for winter hiking and snowshoeing in the Catskills.
Overlook Mountain: Located in Woodstock, this trail features stunning views of the region as well as ruins of an old mountain house and a fire tower, before or after be sure to check out the Karma Triyana Dharmachakra, a Tibetan Buddhist monastery located across the trailhead to Overlook Mountain.
Hudson Valley Rail Trail: Apart from having great 12-foot wide trails with paved portions that are great for walking, snowshoeing, cross country skiing, and horseback riding, this facility also offers equipment rentals for all outdoor winter activities.
Kaaterskill Falls – One of the most popular natural attractions in the region all seasons and a must add for things to do in the Catskills in winter are a visit to this remarkable two-tier drop of 260 feet, it is the highest of cascading waterfalls in New York State and not only has a viewing platform that's a quick easy hike from the top from the Laurel House Road entrance or a hike past Bastion Falls to the lower falls from the bottom.
Other places you can get snowshoe rentals for winter in the Catskills include Minnewaska State Park Preserve, Mohonk Mountain House, and Frost Valley YMCA.
Snowmobile
Fancy racing your friends on your high power sleds as you zip through crisp white snow and dodge frost trees? Experience this and more when you fire up a snowmobile in the Catskills in winter.
With several designated snowmobiling trails and plenty of amazing sights to see, snowmobiling is the ultimate Catskill winter getaway activity for adrenaline junkies. To join tours, drive through trails and rent snowmobiles, check out Van Winkle Ranch. Located in Hunter, they offer sled rentals and guided tours.
Other cool snowmobile locations include Delaware Valley Ridge Riders, D&D Snowdiggers Inc., Hamden Hill Ridge Riders, Central Catskill Trail Association to name a few!
Snow Tubing
Snow tubing is a fun Catskills winter getaway activity for everyone. It does not require any special skills or equipment. All you need to do is sit in a large, inflated donut and hang on tightly as your slide down snow slopes feeling that cold winter breeze nip at your nose and cheeks.
This is an especially fun activity for kids and families and should be on your list of things to do in the Catskills in winter.
Some top snow tubing and sledding locations in the Catskills include Windham Mountain Avenue Park, Hunter Mountain, Plattekill Mountain, Holiday Mountain Ski, and Fun Park to name a few.
Brewery Hopping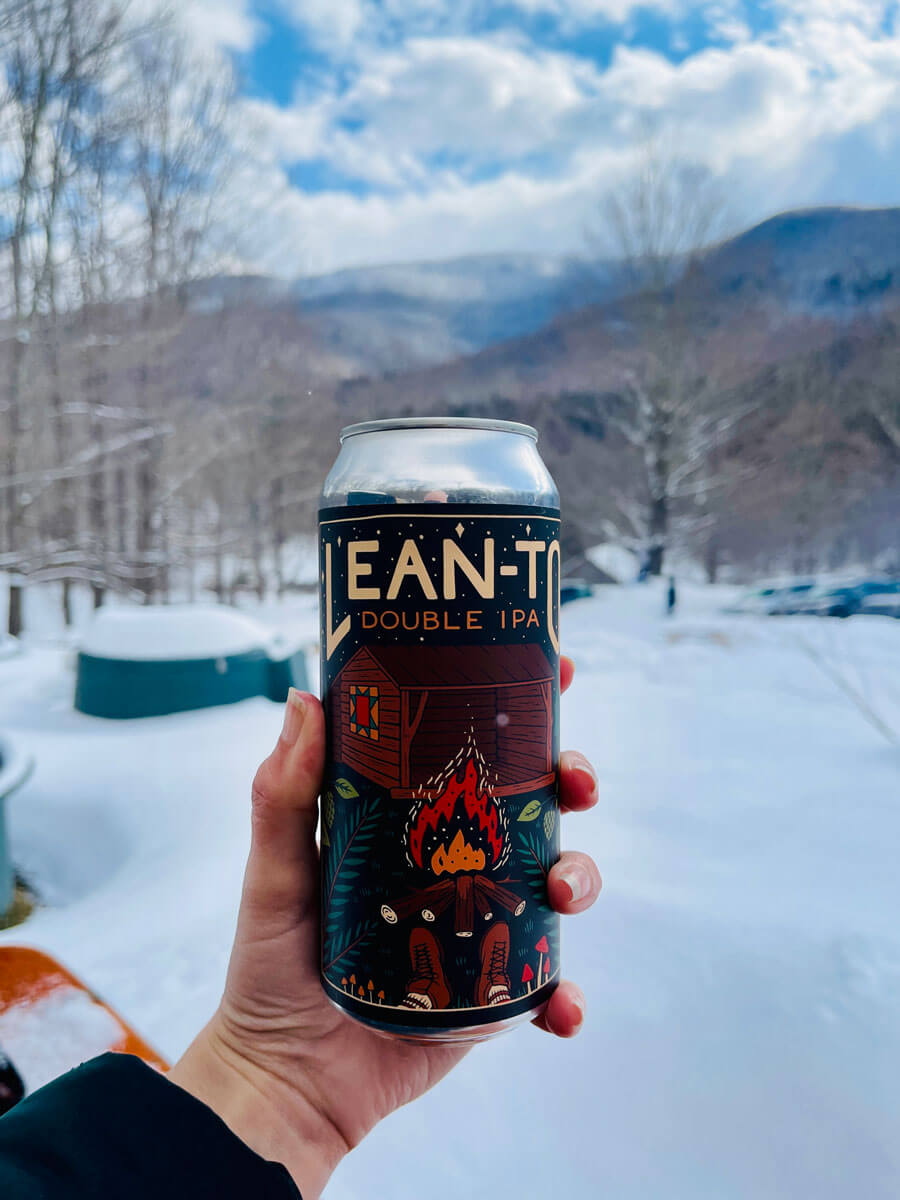 Have you really spent winter in the Catskills if you haven't taken a day or two to visit the top breweries and wineries in the region? Widely known for their great selection of craft beer and widely growing brewery and winery tours, brewery hopping has become a popular Catskills winter getaway activity, one you should not miss out on.
Some top breweries worth visiting are:
Westkill Brewery: Explore this 127-acre family-owned brewery. This historic site retains its people's heritage and produces carefully crafted beer made with locally grown ingredients. Try out their variety of delicious brews made from homegrown cherries, aromatic thymes, and earthy yeast. Their seasonal brews make every experience here unique and special not to mention they have a great location on the side of the mountain.
Woodstock Brewery: This new brewery features an exciting indoor and outdoor venue for guests, delicious food, and lots of beer to be had, we should know we came back 3 times on our Catskills winter getaway! And believe it or not, this is not located in Woodstock but rather Phoenicia, New York!
Hunter Mountain Brewing: Make sure to check out this brewpub. They offer a large selection on tap, including lagers, porters, and stouts. Experience a master brewer along with exquisite meals, daring spirits, and delicious brews.
Catskills Brewing: This brewery practices sustainable brewing, and they make sure to reuse, recycle and re-purpose as much as possible. Stop by at their Livingston Manor taproom and experience the delicious taste and smooth feel of their signature Honest Hardworking Beer.
Roscoe Brewery: Serving a year-round supply of seasonal and yearly brews, Roscoe Brewery also features a tasting room, a tasting bar, lounge area, and a beer garden with a self-serve tap wall. A perfect spot to chill after a fun hike in Roscoe, New York.
If you are a non-beer drinker, you can also check out these top distilleries in the Catskills: Catskill Distilling Co, Hudson Valley Distillers at Germantown, Taconic Distillery at Stanfordville, and Harvest Spirits in Valatie to name just a few.
Shop the Small Towns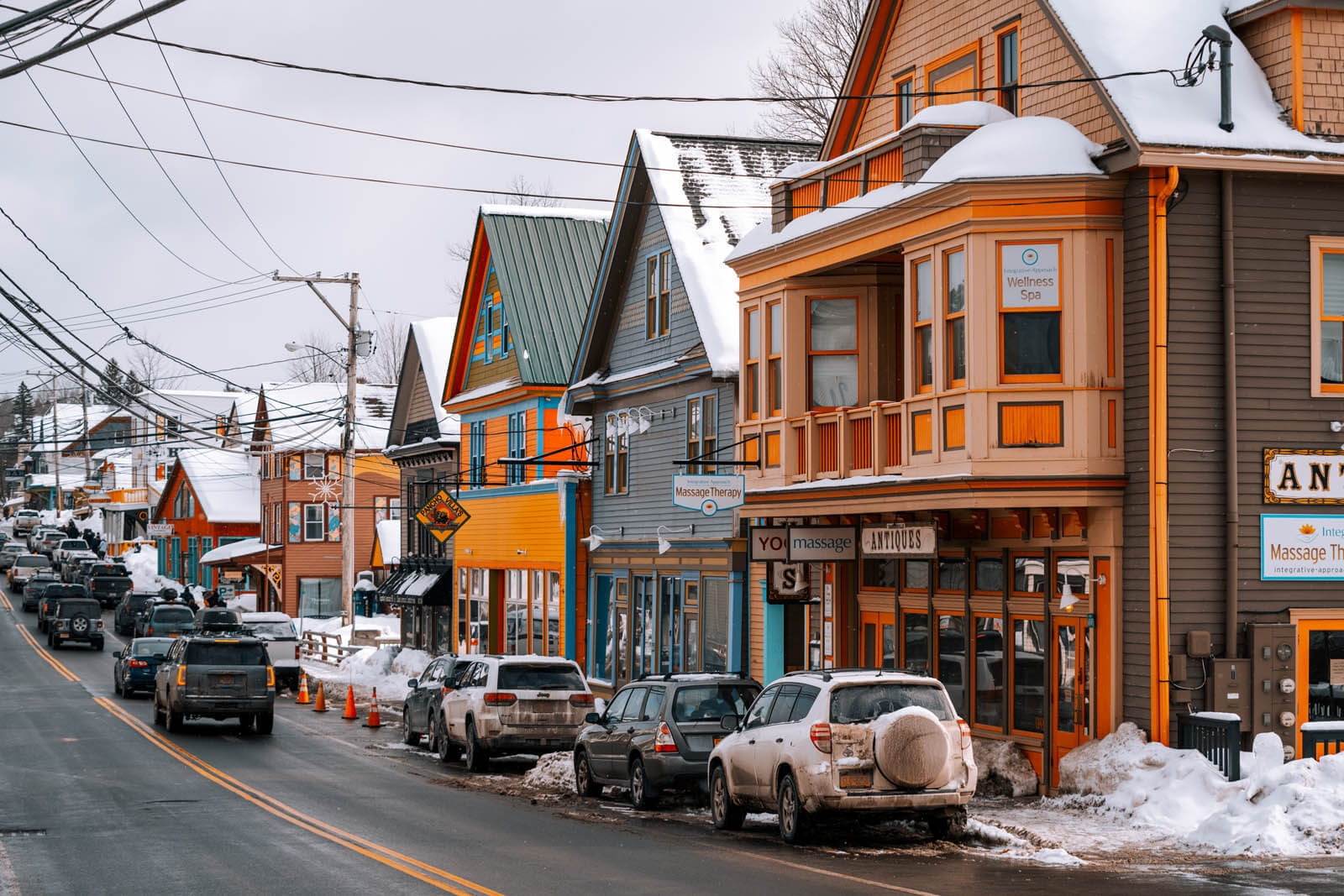 Catskills is home to many unique antique shops, art galleries, and boutiques, so if you plan to spend winter in the Catskills, you should visit a few of them. You'll be surprised at the number of unique finds, all-natural products, gift items, décor items, and local harvest items you will find.
If you happen to drive through the town of Andes on your Catskills winter getaway, make sure to check out some of their really cool antique stores like Santeria Mystica, Kabinett & Kammer for antiques and home décor items, Andes Art & Antiques, Roshan Houshmand Art for rare finds and antique art pieces, Stephanie Charlene Ceramics for dainty, and antique ceramic wares.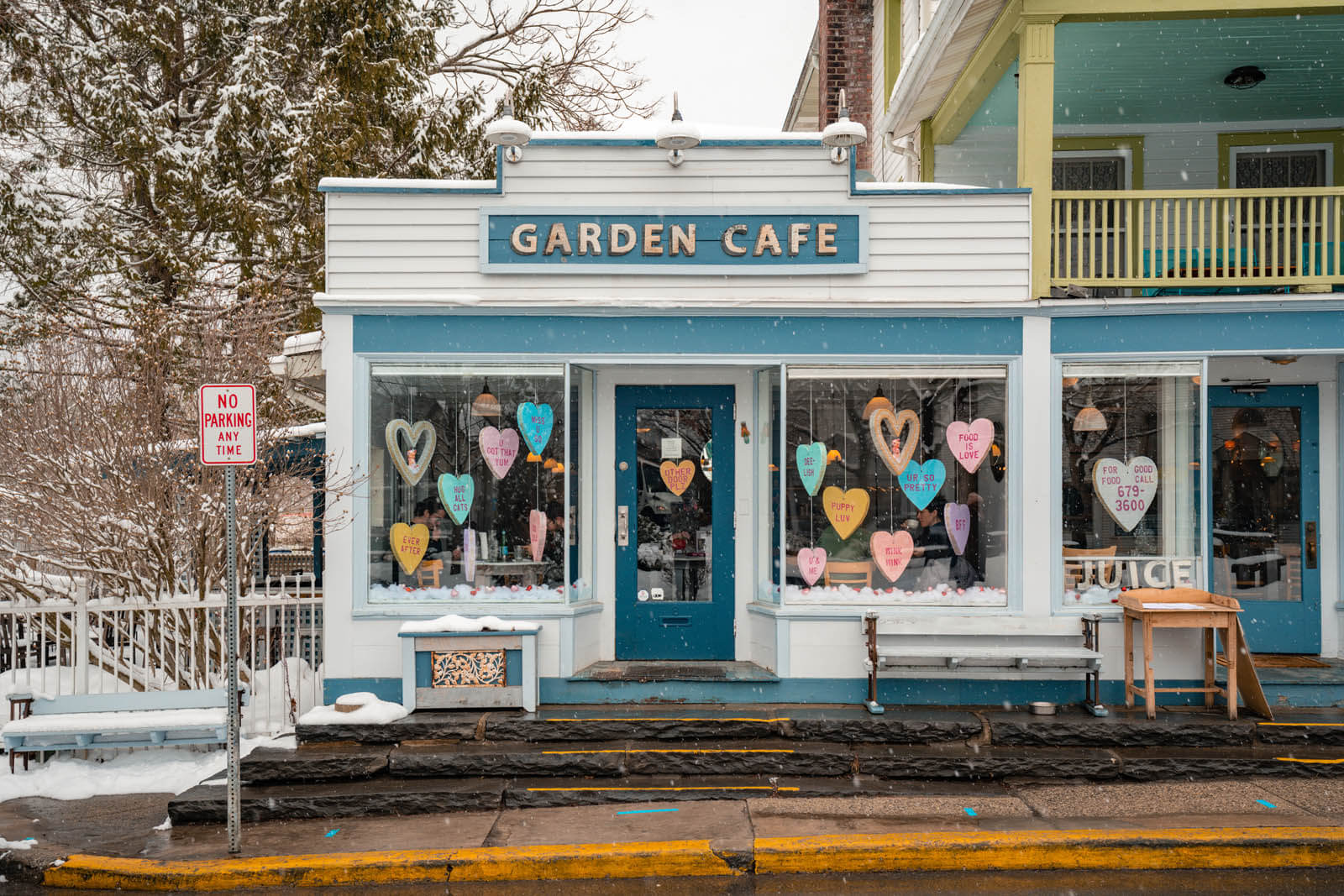 Don't miss the town of Woodstock, a household name as the most famous music festival in history took place near here. You'll find may hippie and free-spirited inspired stores selling Woodstock Music Festival memorabilia and themed products as well as cool art galleries and gift stores.
Tannersville is also a great stop for shopping, this colorful town is not to be missed in general during your Catskills in winter trip as its near Hunter Mountain and offers great antique stores, including the giant Tannersville Antiques & Artisan Center you can't miss with the giant Rip Van Winkle mural on the side of it, and Catskill Mountain Country Store where you can find fun gifts and even dine!
Be sure to check out all our favorite picks for best towns in the Catskills for more ideas!
Ice Skating
Ice skating is a popular winter sport and what best place to explore and enjoy this than the Catskills? This made me extra excited as I've picked up ice skating as my winter hobby in the city.
When planning to explore Catskills in winter, be sure to explore the several indoor and outdoor skating rinks in the area. Many of the public skating rinks allow free access and some even offer casual hockey games.
Some top ice skating rinks in the Catskills are:
Kiwanis Ice Arena: Located in Saugerties, this arena is open from mid-August to early April. The ice rink is about 197 feet long and has full-sized locker rooms, a pro shop, and an office training room for beginners. It is open to the public so feel free to buckle your skates and hit the ice.
Delhi Ice Rink: Located in Sheldon Park, this public ice rink is operated by the town and village of Delhi and features restrooms and a fire pit for warming up. You can rent skates at this location, so you should go here if you do not have your own skates.
Mohonk Mountain House: This is a resort that has an ice rink on its pavilion. This ice rink is available to day visitors and other guests staying at the resort. Skate rentals are available.
Windham Mountain Adventure Park: This park located in Greene County features 120 feet by 60 feet outdoor skating rink. It is also home to several winter activities and offers skate rentals and a warming center.
Relax at a Lodge or Resort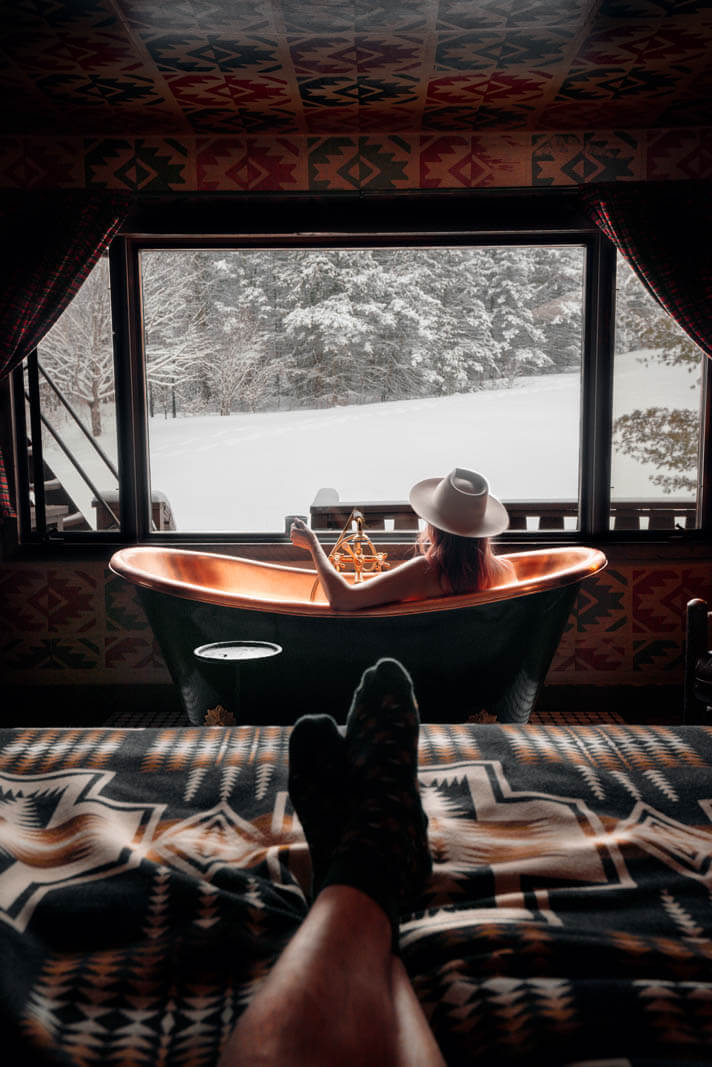 The Catskills serve as a great city escape in the mountains due to its close proximity to New York City and with that, there are an abundance of great accommodation options from rustic and luxury lodges to B&Bs and resorts.
With several amazing options available for you to pick from, it should be one of the first steps in planning your Catskills winter getaway. The Catskills is the perfect location for spending time away from the bustle of the city. So whether you would like to engage in lots of outdoor winter activities or cozy up indoors and soak in hot tubs surrounded by nature, you have come to the right locations.
For more ideas be sure to check out our guide to where to stay in the Catskills for more options.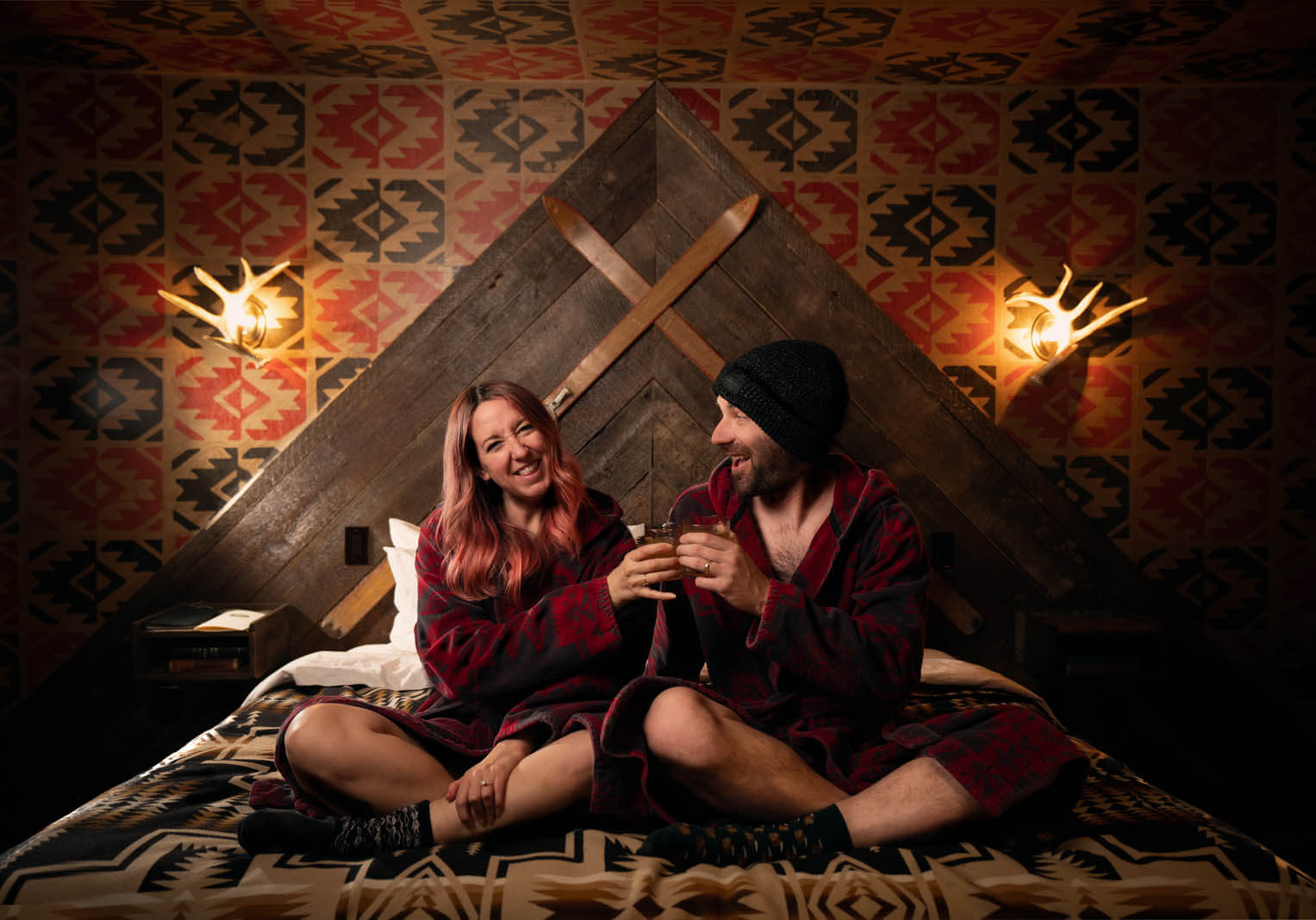 Our top picks for breathtaking, scenic lodges and resorts are:
Urban Cowboy: This lodge is where we stayed and makes for the perfect base to spend a winter in the Catskills getaway. This former Bavarian lodge was owned by the same family for nearly 70 years before retirement, they sold the lodge and its five standalone buildings to the creatives who brought a luxury, curated, wilderness lodge experience. Each room has something special to offer and is individually designed and is what aesthetic dreams are made of not to mention the clawfoot bathtubs next to a fireplace next to the giant windows overlooking the snowy mountains.
Urban Cowboy Lodge is a place to unplug and unwind, rooms have no televisions, instead, bring a little speaker, turn on some tunes and soak in the tub with the view or play one of the board games they lend out, borrow their sleds and snowshoes for some outdoor fun, and unwind with great cocktails and delicious food! 10/10 recommend and we will be hoping to visit again.
Mohonk Mountain Resort: Located in Hudson Valley, this grand resort is surrounded by 40,000 acres of pristine forest and features a luxurious spa, continental farm-to-table dishes, and tastefully decorated historic rooms, suites, and lodges all set in a Victorian castle and one of the most famous mountain resorts in the region. Mohonk Mountain Resort is also a National Historic Landmark.
Emerson Resort & Spa: Featuring spacious accommodations with huge windows and tasteful Victorian decorations, this resort is one of the best places to stay for your Catskills winter getaway. Emerson Resort & Spa is one of the most popular and well-known luxury properties located in Phoenicia. You can also stay in and experience restoration, relaxation and the healing hands of nature in their award-winning spa and don't miss visiting the world's largest kaleidoscope here too! (Non guests can visit as well but have to pay admission)
Kaatskill Mountain Club Lodge at Hunter Mountain: Experience lavish lodging at this location. They offer different accommodation types, including studio apartments, suites, and penthouses. The location of Kaatskill Mountain Lodge is at Hunter Mountain which also has other great amenities like ski-in and ski-out access, a fireplace, steam room, health club, hot tubs, a fitness center, and a spa.
Take a Scenic Drive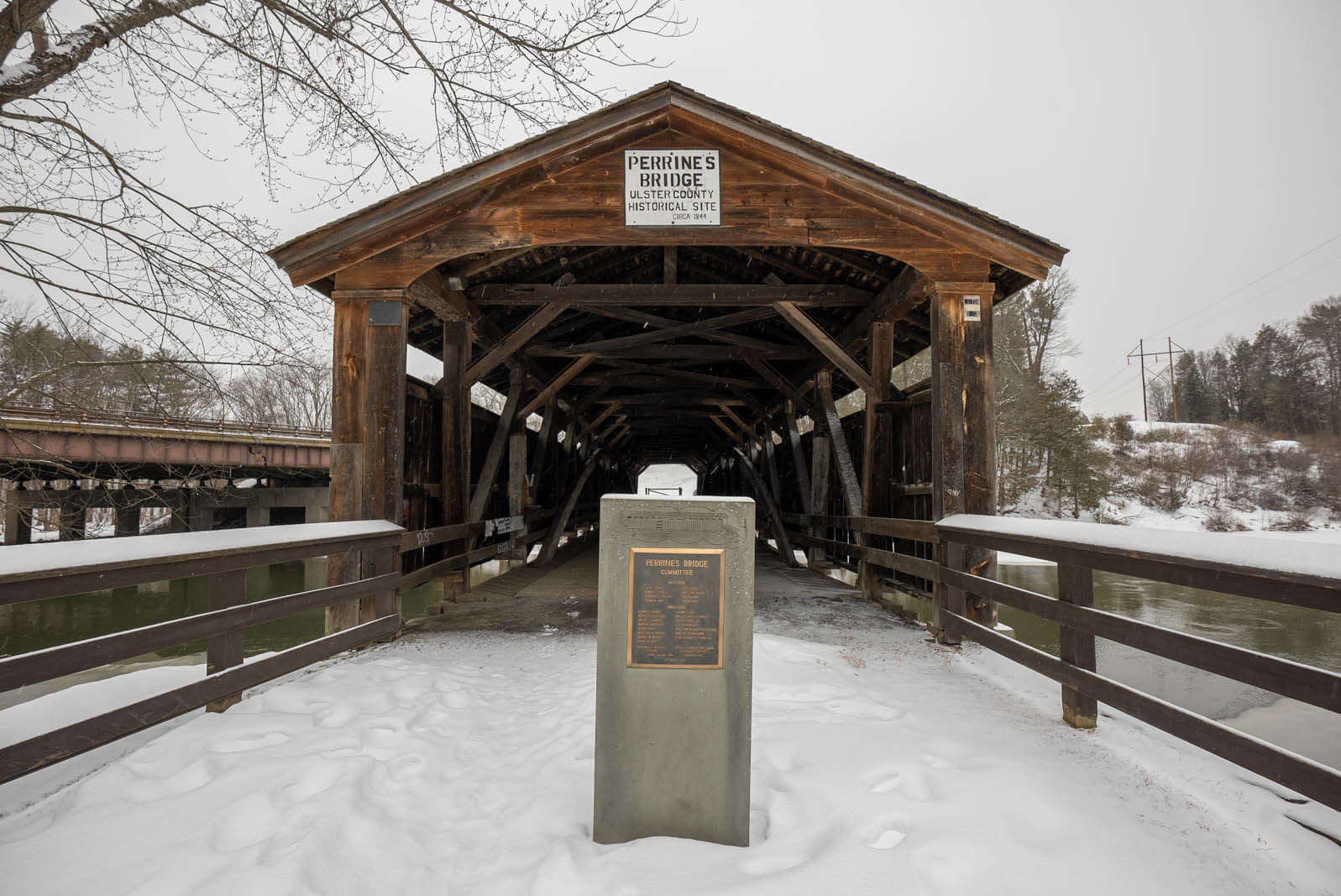 If you are still looking for things to do in the Catskills in winter, you should consider taking a drive through the many scenic routes and enjoying the amazing views. The Catskills boasts of several roadside attractions, including a good number of historic New York covered bridges not to mention the charming, small mountain towns you'll pass through with more shops and things to do!
Some of the really fascinating covered bridges you can drive through or visit include:
Downsville Covered Bridge: One of the six covered bridges in Delaware, this bridge is a perfect location for taking amazing pictures in the winter. It is 174 feet long and runs over the Delaware River. This bridge is the longest covered bridge in New York still in use. You can also pack a picnic basket when visiting this bridge as there is a park with picnic tables just beside it.
Hyde Hall Covered Bridge: This bridge is located near Cooperstown and is the oldest existing covered bridge in the United States. Enjoy the beautiful views of the woods around, and do not forget to take pictures. Also, layer up for the cold weather, and do not forget to pack some snacks and hot drinks for the scenic drive.
Perrine's Covered Bridge: A drive through Catskills in the winter will be even more rewarding with a visit to this historic bridge. Closed to traffic in 1930, it has since become a historic landmark. Visitors will enjoy dramatic valley views as well as the rustic town and historic buildings on the way to this bridge.
If you do plan on taking scenic drives, make sure you're familiar with driving in the snow and watch out for black ice. Most roads are well maintained in the Catskills in winter, but use caution when driving during a snowstorm or flurry.
---
If you're looking for more winter inspiration, check our winter getaway guide to the Adirondack Mountains further upstate New York for more ideas!
Also, the Catskills are not just a winter getaway, check out our guide to Catskills in summer too!
If you liked this post to the best things to do in the Catskills in winter, bookmark for later or share the love below on Pinterest!