There's alot more to South Korea than Seoul. We have put together a list of the 27 best things to do in Korea outside of Seoul. Don't limit yourself to the nation's largest city, you can easily take advantage of the great public transportation this country has to offer and explore more places. Not only is it fairly cheap, but you will have an opportunity to see some magnificent places, whether it be historical, along the countryside, or one of the many gorgeous mountains.
If you want to see more photos or learn more details including how to get to these places make sure you check out the links included for each city.
Booking a trip to Korea? Check out our appendix of where to stay in Korea for each of the cities mentioned below!
Busan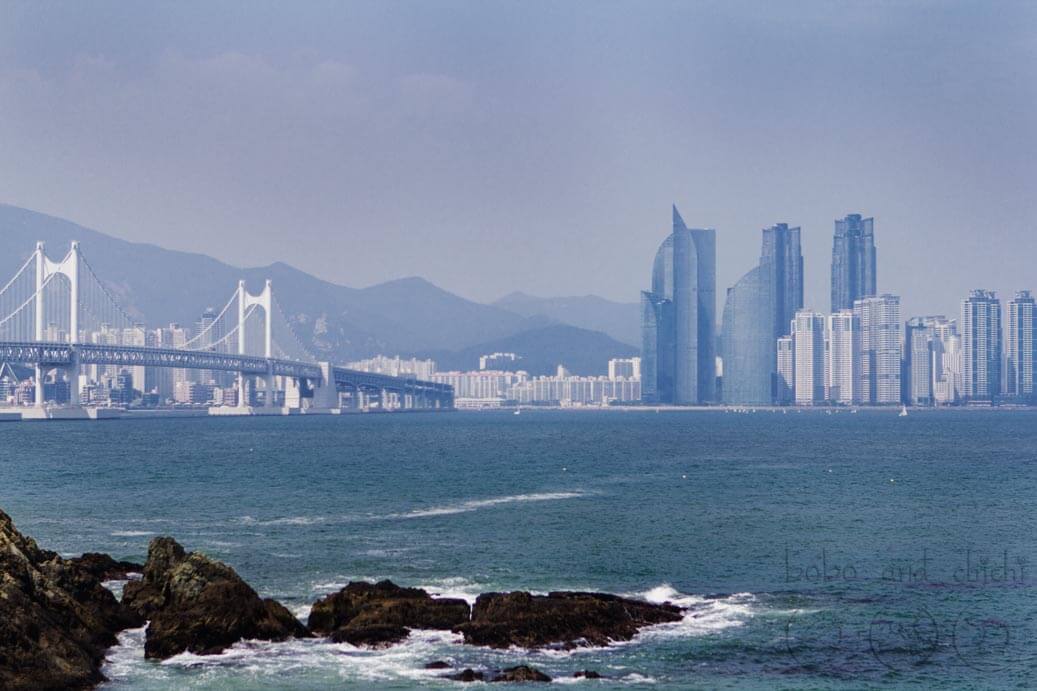 Busan is Korea's second largest city and right on the water. You can check out the cool coastal city by seeing one of it's many temples, the most popular being Haedong Yungungsa temple right on the water.
Explore the fish market and try the local specialty dish Dwaeji Gukbap. There's also a colorful village, beaches, and parks with great views.
Not only does Busan have great beaches, delicious dwaeji gukbap, beautiful temples, but it's got a relaxed vibe and a great night life, making going to Busan one of the best things to do in Korea.
Book a day tour around Busan or a night tour around Busan for a convineient and unforgettable experience!
Pocheon
Northeast of Seoul and a bit more difficult to get around in is the gorgeous mountainous area of Pocheon. Here you can visit
a beautiful rock quarry
, an
amusement park,
and even a penis restaurant. You heard that right,
a penis restaurant!
Check out a day trip to Pocheon including Herb Island and Pocheon Art Valley, you can purchase tickets at a discount here.
Jeonju
Jeonju is famous for their bibimbap and makgeolli. Both are insanely delicious. Trust us and stay in a hanok (traditional Korean home) while visiting. During spring Jeonju has an annual International Film Festival held here.
If you want to see the cultural side of Korea then you should definitely add Jeonju to your list of places to visit in Korea.
Check out this link to see what else there is to do in Jeonju.
Don't have alot of time? You can take a day trip to Jeonju Hanok Village from Seoul with KKday. Purchase your tickets online in advance.
Gapyeong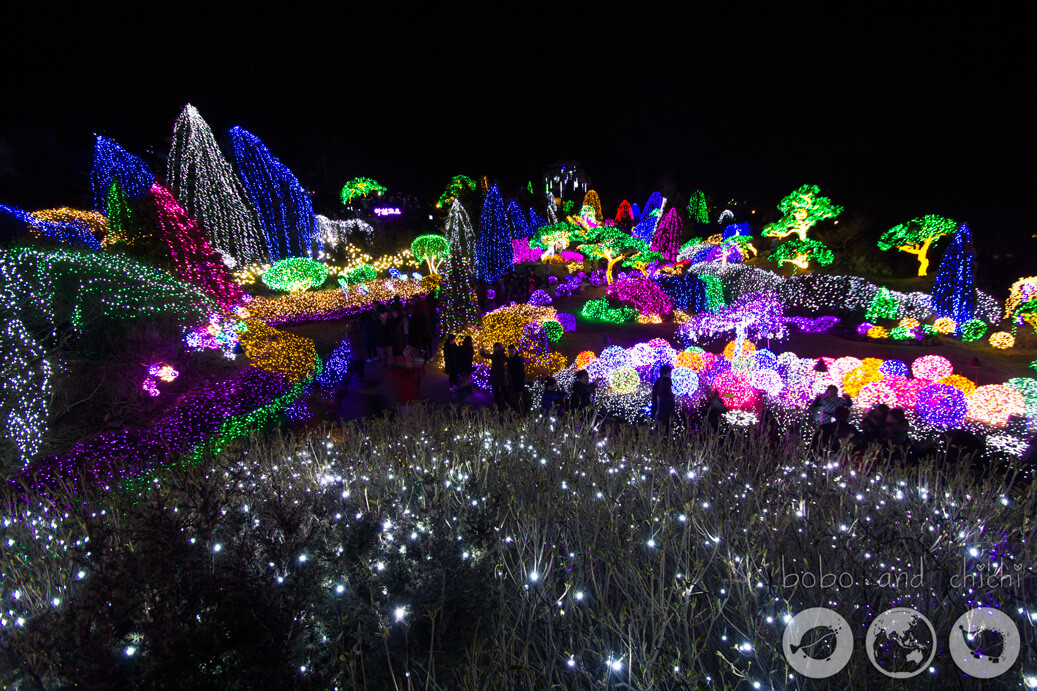 Just outside of Seoul and accessible via Seoul subway. You can try some delicious Dak Galbi (Stirfry Spicy Chicken w/ cheese – our favorite Korean dish!)
The three main attractions here are  Namiseom Island, Garden of Morning Calm, and Le Petit France. Stay the night at one of the many themed pensions, like Cozy Theme Pension where you can sleep in a giant soju bottle or ramen cup!
Take a guided tour to the best spots in the area, Petite France, Garden of Morning Calm, and Nami Island in one day. Purchase your tickets at a discount here.
Ganghwado Island
This island off the coast of Incheon is a great weekend getaway. There are temples to explore, royal headstones, fortress walls, mudflats, purple azalea mountains, and hiking. To find more about Ganghwado check out
this post by the Hedger's Abroad.
Sokcho
This northeast coastal city has a beach, a scenic lake, fresh seafood, a teddy bear farm, and Seoraksan National Park is just a quick bus stop away. We recommend checking out Sokcho and Seoraksan, but you will quickly realize you will need to come back to see more of Seorak!
Seoraksan National Park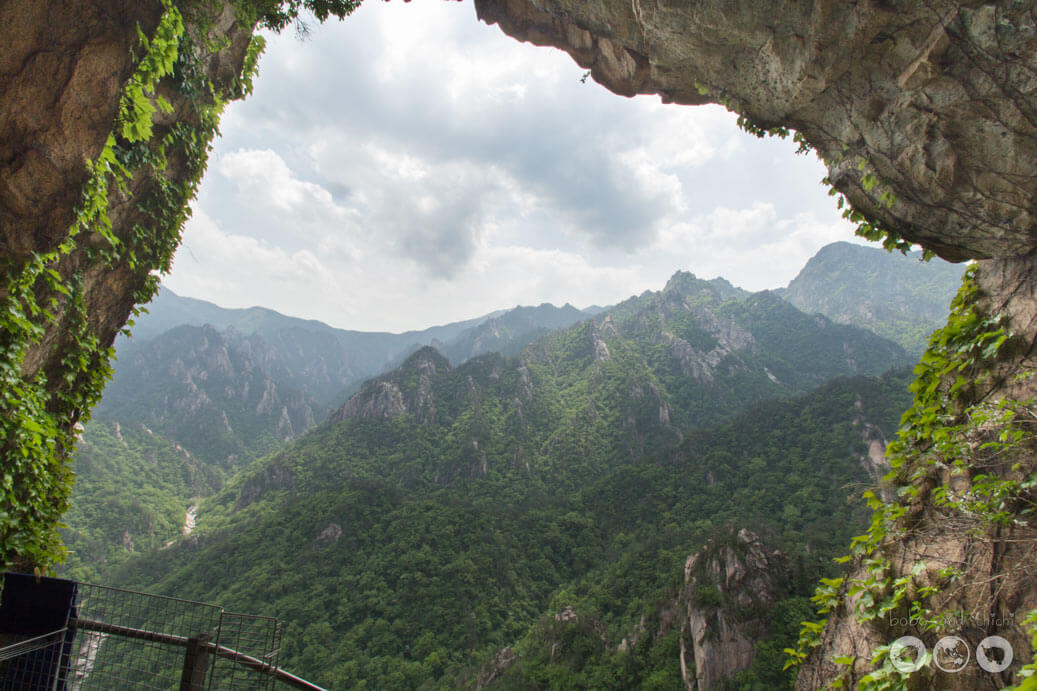 Seoraksan is easily the most beautiful national park in Korea and for that reason alone should be added to your list of things to do in Korea.
A hop skip and jump away from Sokcho. You can make Seorak a quick day trip and take a cable car up to a peak, or spend the weekend selecting one of the many amazing hikes among the karst mountains that this place has to offer. You may turn Seoraksan into many trips throughout the seasons like we have.
If you could only go once. Go during the fall if possible. It's seriously outta control.
One of our favorite seasons to check out Seoraksan is during the changing of the leaves in the fall. You can actually take a day tour from Seoul to Seoraksan in the fall if you're short on time! You can purchase your tickets online here.
Naksan Beach
This beach has to be one of the most underrated beaches in Korea. Not only does
Naksan
have white sand and bright blue water but there is a gorgeous temple overlooking the beach on a cliff.
You can easily get a hotel or bring your own tent and camp right on the beach. The best part is that you can see Seoraksan's mountains in the backdrop.
Hajodae Beach
Hajodae Beach is a quiet beach town that doesn't see too much tourism. The beach is beautiful and has white sand and blue waters. You can easily camp right on the beach with your own tent or stay at a nearby hotel. This is the perfect quiet beach getaway you are looking for.
Muju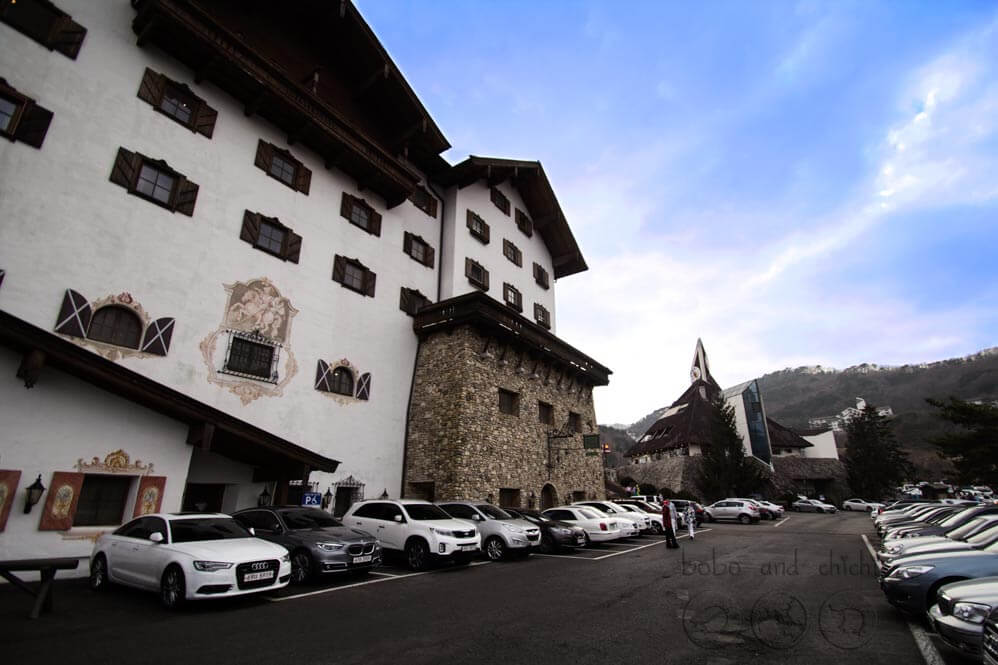 Nestled in the Gucheon-dong Valley in the Deogyusan mountains is the delightfully quaint village of Muju with a ski resort and temples nestled around Deogyusan National Park.
We recommend going in the winter to hit the slopes or coming back in early summer to hit the firefly festival.
Heading to Muju for skiing or snowboarding is at the top of our list for best things to do in Korea during the winter.
Daegu
Located smack in the middle of South Korea, this fourth largest city after Seoul offers ziplining, a hanok village, panoramic city views from atop a mountain, an amusement park, and even a cable car ride.
Pohang
Located on the coast of Eastern Korea you can catch amazing sunrise by the sea near the infamous hand, enjoy fresh local seafood, relax on the beaches, and check out a local Japanese village. To find out more check out this post by Rafiqua Israel Express.
Yeosu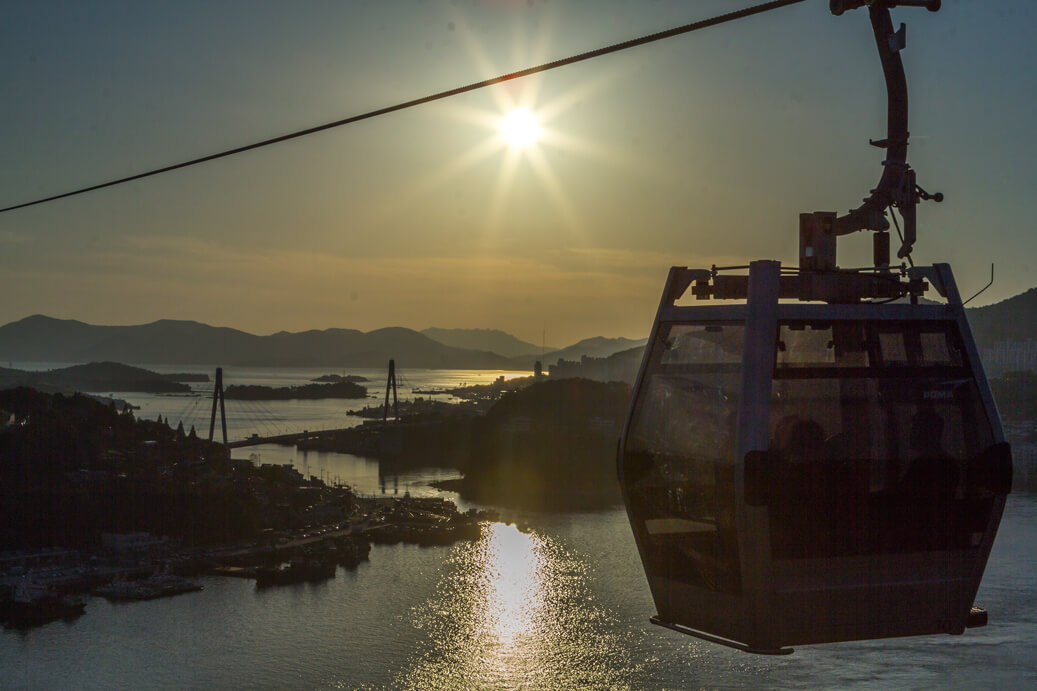 Yeosu is situated on the southern coast of Korea overlooking tons of tiny mountainous islands. You can easily spend a weekend here on the mainland checking out the cable cars (featured above,) the Expo Center, and Dolsan park.
You can also hit up some of the nearby islands for hiking and a quiet, countryside getaway. Check out this post by Hedger's Abroad to learn more about why visiting Yeosu is one of the best things to do in Korea.
Suncheon Bay
Suncheon Bay is located just north of Yeosu and is the perfect place for a sunset. You can check out the observatory, hike, explore the mountains, and just enjoy the stunning views. To find out why this is one of the best things to do read more on
Suncheon Bay check out this link from Hedger's Abroad.
Andong
If you don't make it to Jeonju don't worry you can still experience a traditional homestay in a hanok in Andong.
You can also knock off another UNESCO World Heritage Site at Hahoe Folk Village.
This folk village offers traditional homes with straw roofs. Don't forget to try the stronger soju famous from this area!
[ninja-inline id=14209]
Muuido
A short ferry ride from Incheon rests the island of Muuido. This island is an awesome summer getaway! You can sleep in little huts along the beach for the evening and bbq underneath the stars.
Not to mention there's also hiking to explore! These private rooms are right on the beach and cost no more than $20 making it an easy recommendation as one of the best things to do in Korea outside of Seoul.
Gwangju
Gwangju is great for nature lovers. It offers beautiful hikes at Mudeungsan National Park where you can hike up to interesting hexagonal columns formed in the rocks at the two popular peaks.
You can also visit the May 18 Memorial Park and honor those who lost their lives at the massacre in 1980.
Gyeongju
Check out another one of Korea's UNESCO sites at Bulgulska temple, check out the nearby grotto, visit the famous royal burial mounds, visit the famous Anap Pond, and check out the interesting architecture at Gyeongju Tower. Check out
Life Outside of Texas for a peek at Gyeonju Tower.
Take a day trip to Gyeongju from Busan. You can book your tickets here.
Paju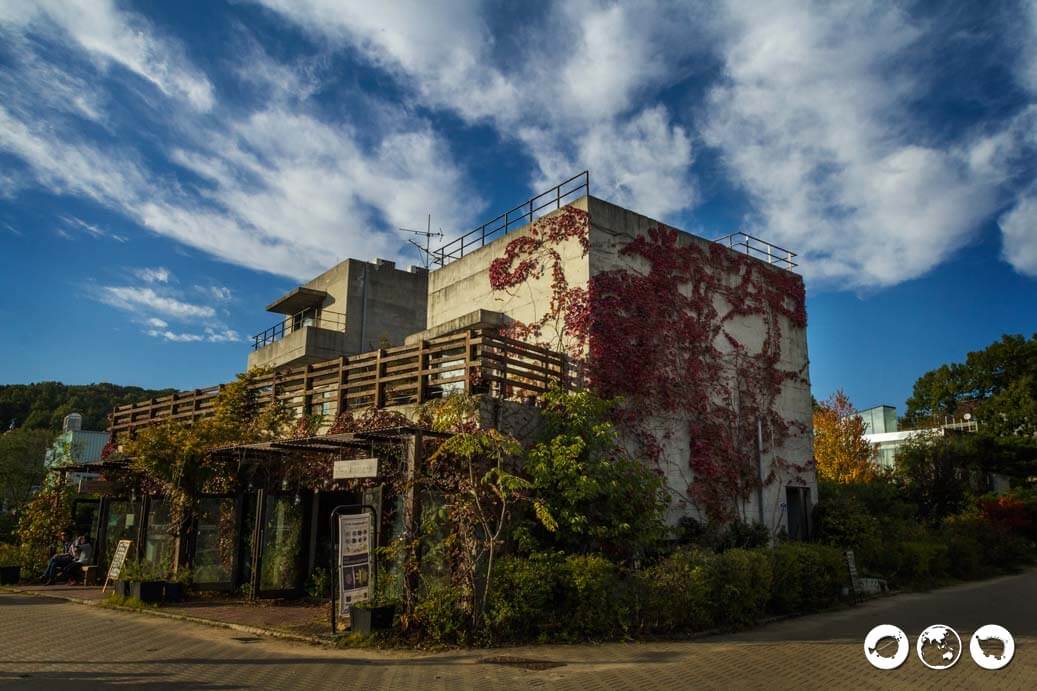 Northwest of Seoul just by the border of North Korea rests Paju. Paju has an observatory that over looks North Korea.  Catch a glimpse inside North Korea via binoculars. A perfect alternative for those who don't wanna do the DMZ tour.
Paju also has an artist community so be sure to stop by Heyri Art Village. It's super cute and offers great food, lots of museums and some fun activities.
When you're down enjoy an ice cold draft beer at the nearby English Village. Where everyone is encouraged to speak English! All the activities in Paju make it one of the best things to do in Korea.
Take a day trip to Paju and visit all the highlights of the area with a tour. You can purchase your tickets at a discount online with KKday.
Namhae
Another island off the south coast of Korea. Opt to stay at a seaside pension during this wonderful weekend getaway. You also can enjoy the art village, beautiful rice terraces, the beach, a German village, and an American village!
To find out more check out this link from Life Outside of Texas!
Do a Temple Stay
One of our favorite recommendations of things to do in Korea is enjoy a peaceful weekend living like a Korean monk during a temple stay.
Most temples in Korea are situated in the mountains and offer a gorgeous view. We did our templestay at Beopjusa Temple in the Sogni mountains, although there really are TONS of other temples to choose from to have this experience. Check out the templestay English website for other locations.
Boseong Tea Fields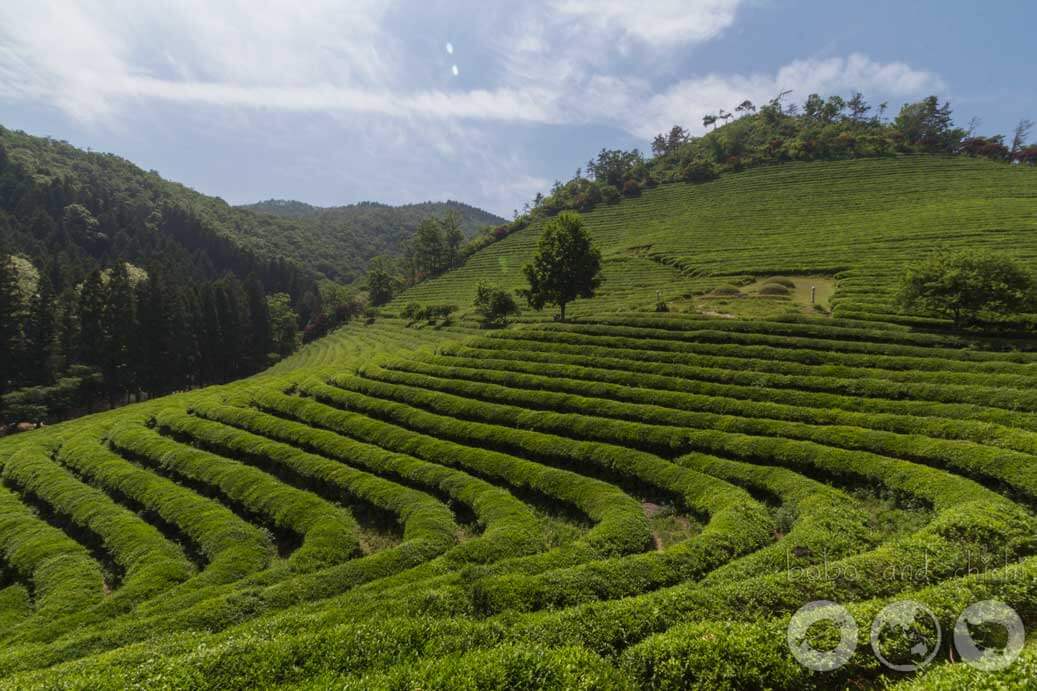 Head down south to the picturesque Boseong tea fields and try green tea and our favorite, green tea ice cream. You can also head to Yulpo Beach from here or Damyang's Bamboo Garden.
Gyeryongsan National Park
Sip on some of the local chestnut makgeolli and hike through the gorgeous mountains of Gyeryongsan. While hiking check out the pagoda, temples, multiple peaks, and waterfall along the way.
End the evening sleeping in Dajeon to cross off another Korean city off your travel list.
Jindo Island
Every year in the spring the island of Jindo off the southern coast of Korea hosts an annual parting of the sea festival.
Korea has crazy tides and every year the sea parts and you can walk on water in this particular area. Stay at a local pension and enjoy the countryside, don't forget to check out the famous Jindo dogs!
Jeju
This list wouldn't be complete without Jeju. Jeju is considered to be the Hawaii of Korea. This volcanic island has plenty to do and is probably best spent on a long weekend trip. Check out the natural beauty this place has to offer by hiking Hallasan (Korea's highest peak) or explore the Olle Trail. Y
ou can check out one of the quirky museums, like the love museum! But the best thing to check out would have to be the natural beauty. Check out this informative post by Grrrl Traveler for a Jeju Travel Guide.
Taebaeksan
Taebaeksan is another gorgeous mountain range on the east coast of Korea. Taebaek is great place to visit in the spring when the azaleas are in full bloom as well in the winter when they hold their annual Ice Festival. 
Asan
Who said you had to go far to enjoy a weekend away? Just outside of Seoul is Asan, famous for Korea's oldest and most famous hot springs.
Soak the weekend away in one of the many hot springs this area has to offer, like Asan Spavis. Don't try to do it in one day like we did, we were rushed the entire time. It's a great place to find a room and enjoy two days at the spa.
Have a place to add to this story? Please let us know in the comments below!
Check out our guide of where to stay in Korea for each of these cities.
[ninja-inline id=14209]
If you liked this post consider sharing it on Pinterest below!
Disclaimer: This page contains affiliate links. By purchasing through the links on Bobo & Chichi you will help us keep the site up and running at no extra cost to you.