After road tripping an entire month through the Czech Republic we fell in love. Besides Prague, which is one of the best cities in the world if you ask us, this country has alot to offer that many overlook. From enchanting castles, storybook villages, to their very own wine country – Czech has got it all.
During our travels we came across some interesting places and put together our cool finds and unique things to do in Czech Republic outside of Prague. We want to show the incredible beauty and character this country has to offer and inspire others to get out and see the other wonderful destinations the Czech Republic has to offer.
Check out our Czech Republic Itinerary for the perfect mapped out trip through this awesome country as well as your Czech Republic travel guide for helpful information and tips you need to know before your trip.
Royal Forest Dam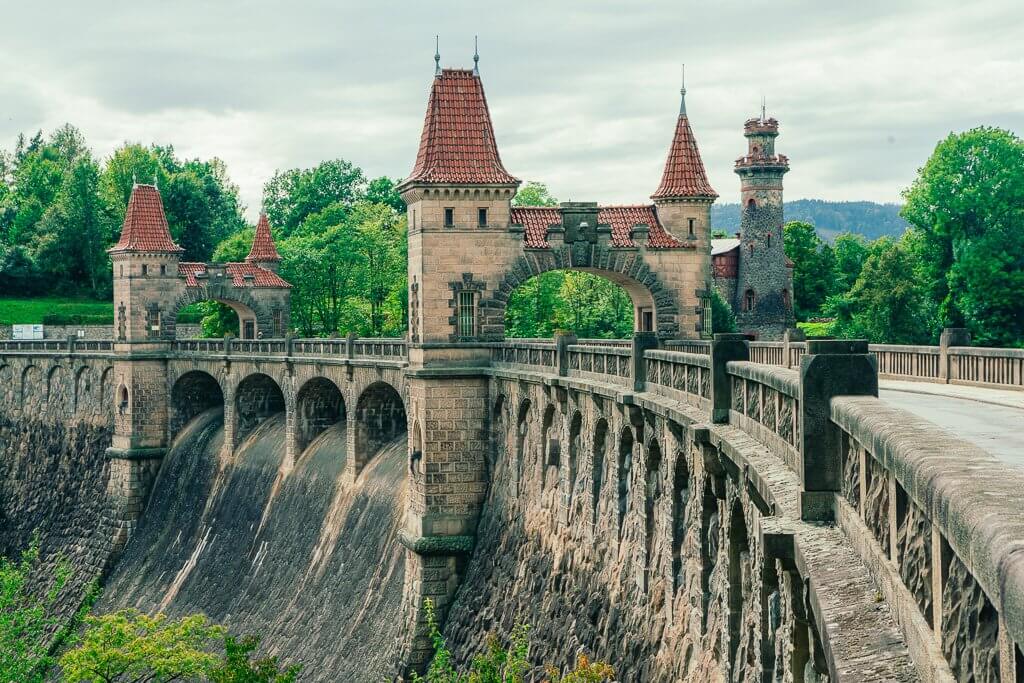 The most beautiful dam in the Czech Republic and possibly one of the most beautiful dam's in the world is one of our favorite cool finds and unique things to do in Czech Republic.
When approaching the dam you may think you're actually approaching a castle with its beautiful towers it almost looks like something in a fantasy out of a childhood storybook.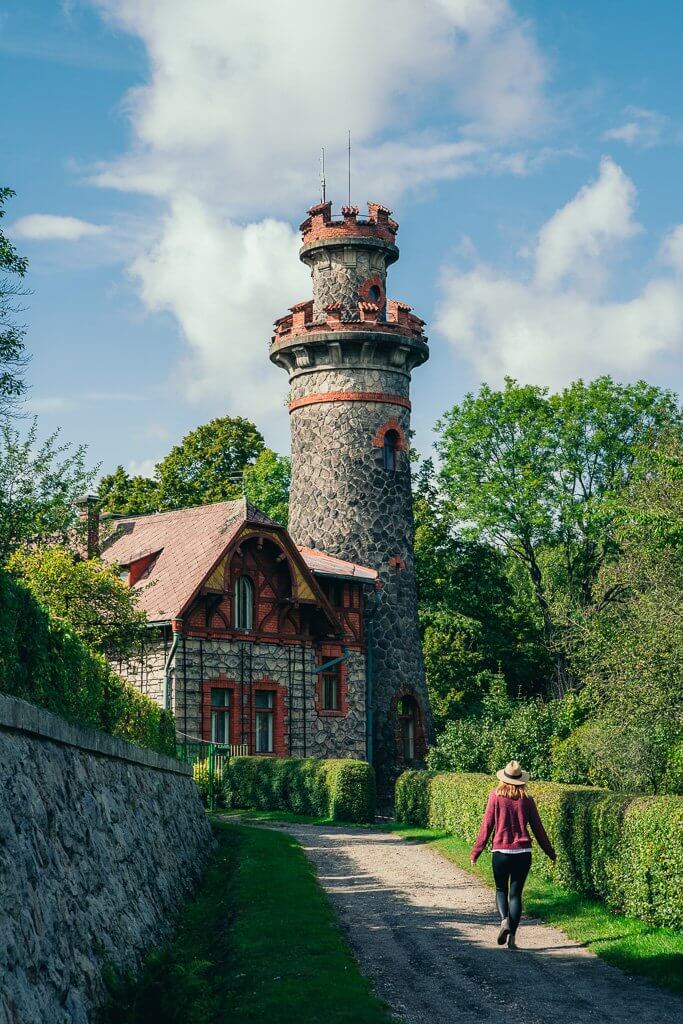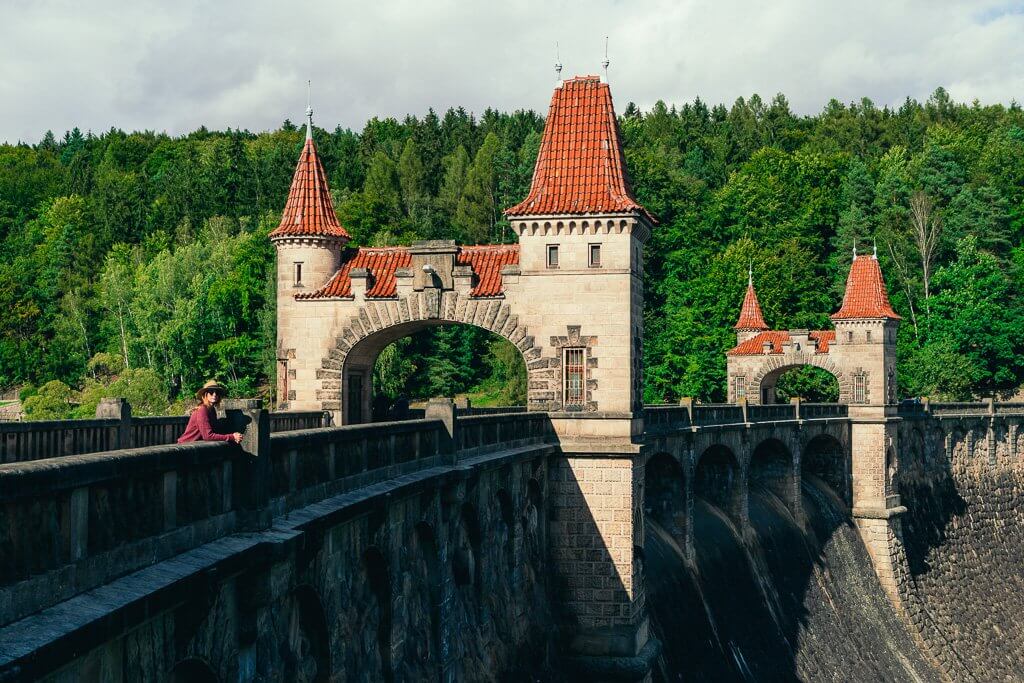 Surrounded by a beautiful forest with walking trails and the Elbe River you have to make a quick stop for this when you're road tripping through the country.
Make sure you have good directions because the Royal Forest dam's access road is rather easy to miss!
Chateau Hradek u Nechanic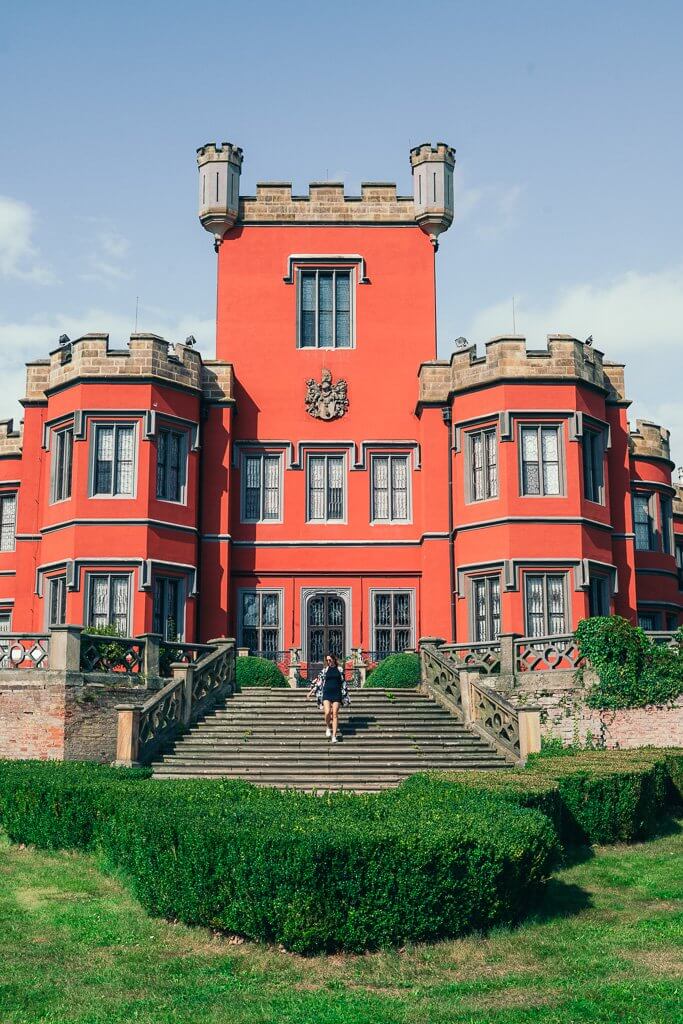 This red castle is not only one of the youngest chateaus in the country but also is set next to a beautiful forest and golf course. Famous for its antique furnishings gathered by Count Harrach mostly from neighboring Austria and also Italy ranging from pieces of furniture to entire ceilings.
However, Count Harrach lost his chateau and it was also used as a military hospital.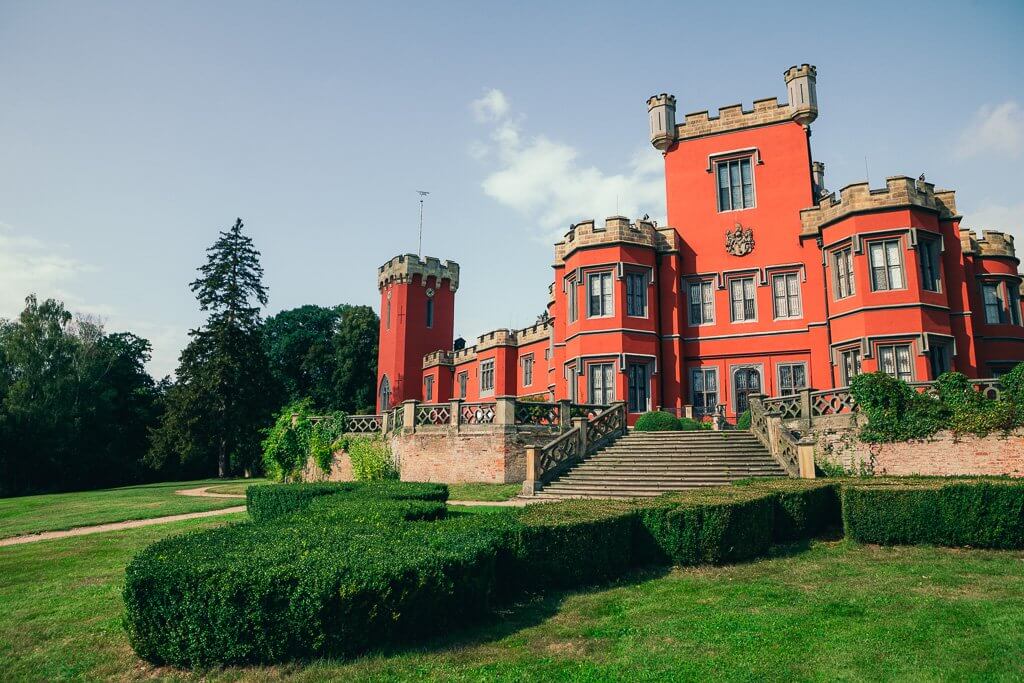 Today you can tour the inside and explore the grounds and admire this red castle and one of the most interesting and unique things to do in Czech Republic.
Prachov Rocks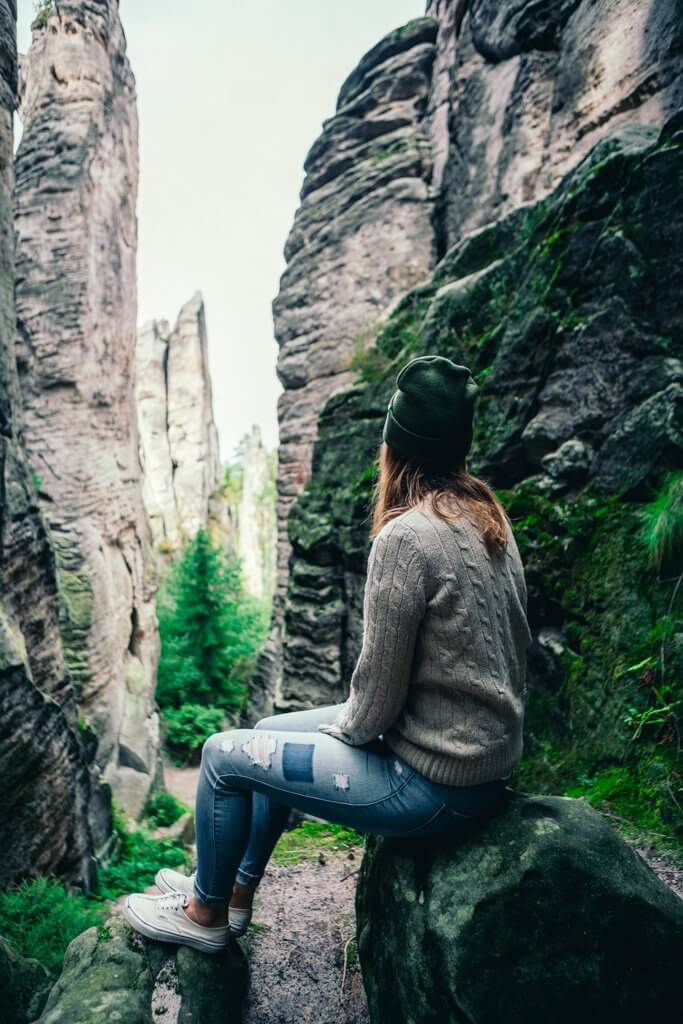 Get lost in the labyrinth of rock towers at Prachov Rocks. Located near Jicin in Bohemian Paradise, these ancient sandstone rock formations almost seem out of this world. We were awestruck by the massive towers and enchanting beauty of the place.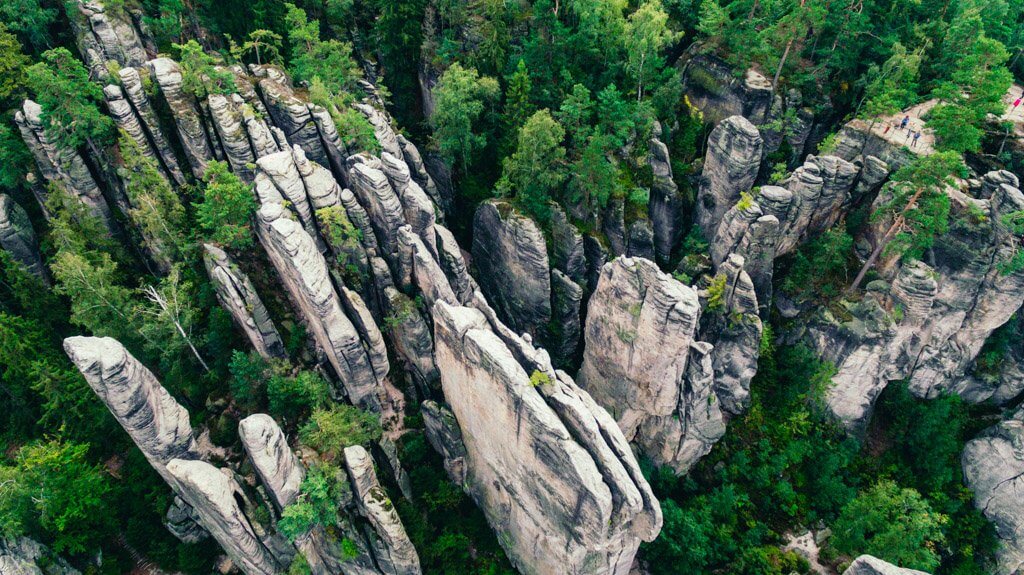 You can easily spend a half of a day exploring the bottom to the tops of these rocks and just taking in the view.
Trosky Castle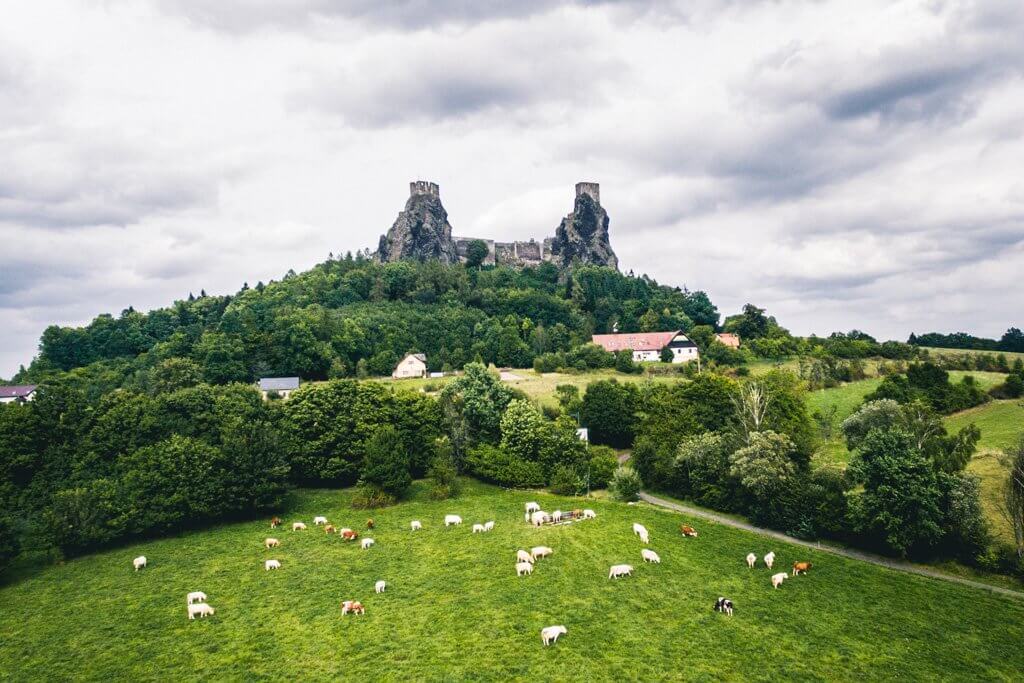 Another amazing find in Bohemian Paradise, Trosky Castle looks like something out of a fantasy film. These castle ruins in Liberec date back to the 14th century and was built on the top of two volcanic plugs!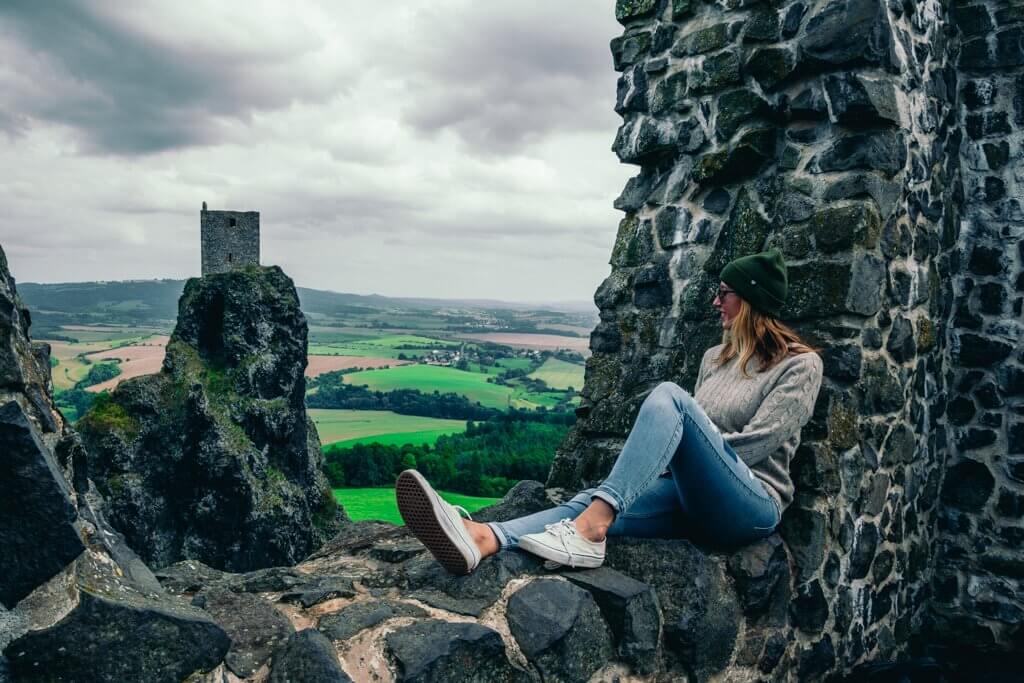 Not only is the castle unique looking but it also offers incredible 360 views of the surrounding area. Be sure to climb both towers, Baba, aka the old woman and Panna, aka Virgin for both of their enchanting views.
Wine Salon in Valtice Chateau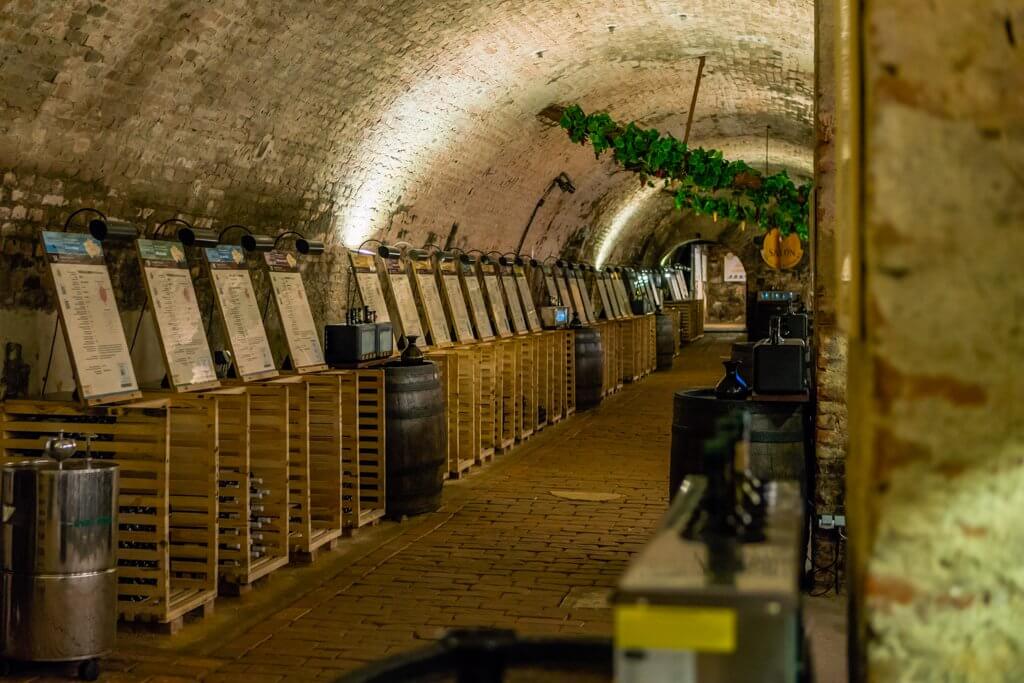 This was one of our favorite finds in Czech Republic mostly because it involved castles, wine, and cheese. It can't get much better than that. After touring the majestic and ornate Valtice Chateau and it's incredible Baroque Theater we made our way to the cellar of the castle for unlimited wine tasting!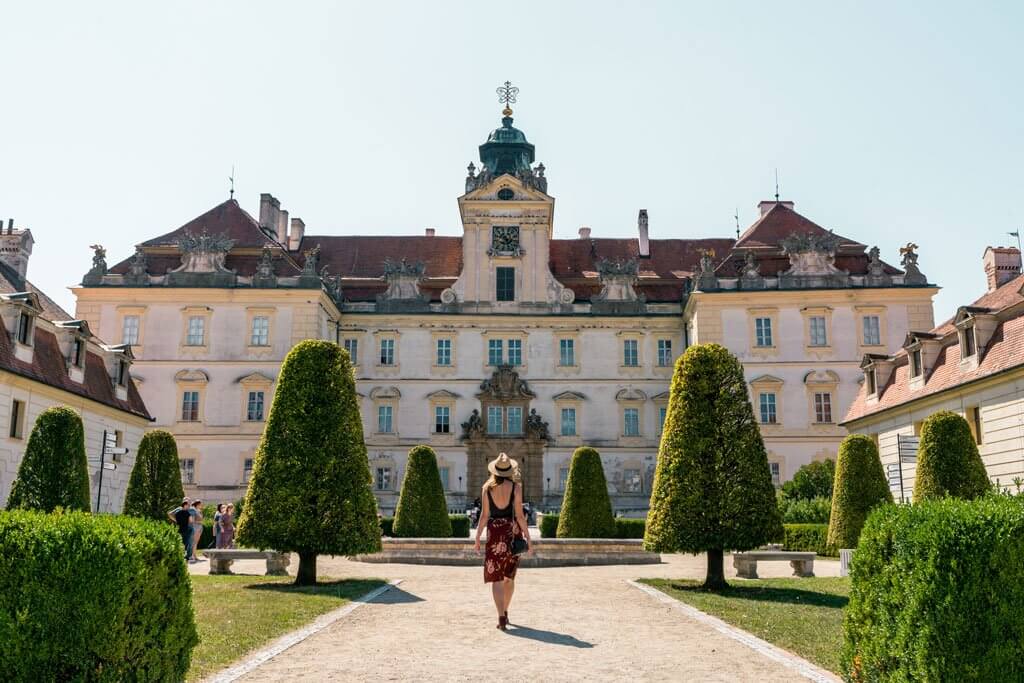 Pick out your cheese and get ready to sample the 100 best wines from Czech Republic. We had no idea that the local wine was going to be so delicious and what better way to find out then having the country's best wine all in one place in the basement of a castle!
As you sip grab a basket so you can easily shop and purchase your favorite wines as you go. This was such an unforgettable experience and we wish we could go here once a week!
Holasovice
If you're looking for an off the beaten path location then look no further than Holasovice. This amazing historical village is a great example of a traditional rural village and also titled as a UNESCO World Heritage site.
The village is surprisingly small and made up of a row of unique Baroque style homes and just a few restaurants.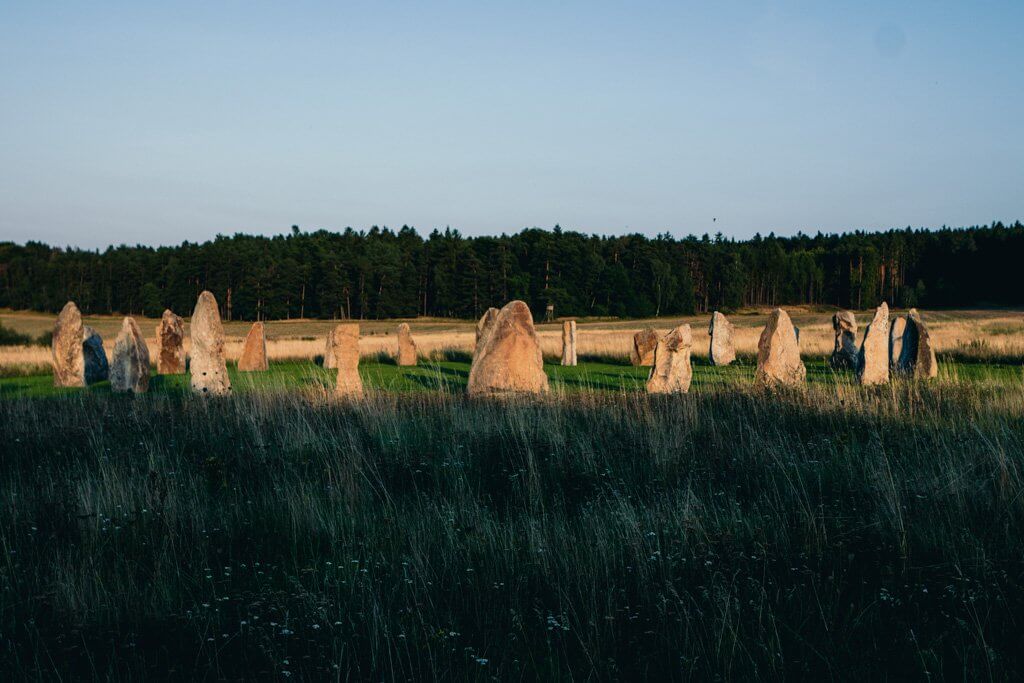 What makes Holasovice even more interesting would be the fact that it has it's very own Stonehenge! Just a few minutes walk from the small downtown you can explore the ancient and mysterious Celtic stone circle in the middle of a field and some other interesting statues like dragons!
Sedlec Ossuary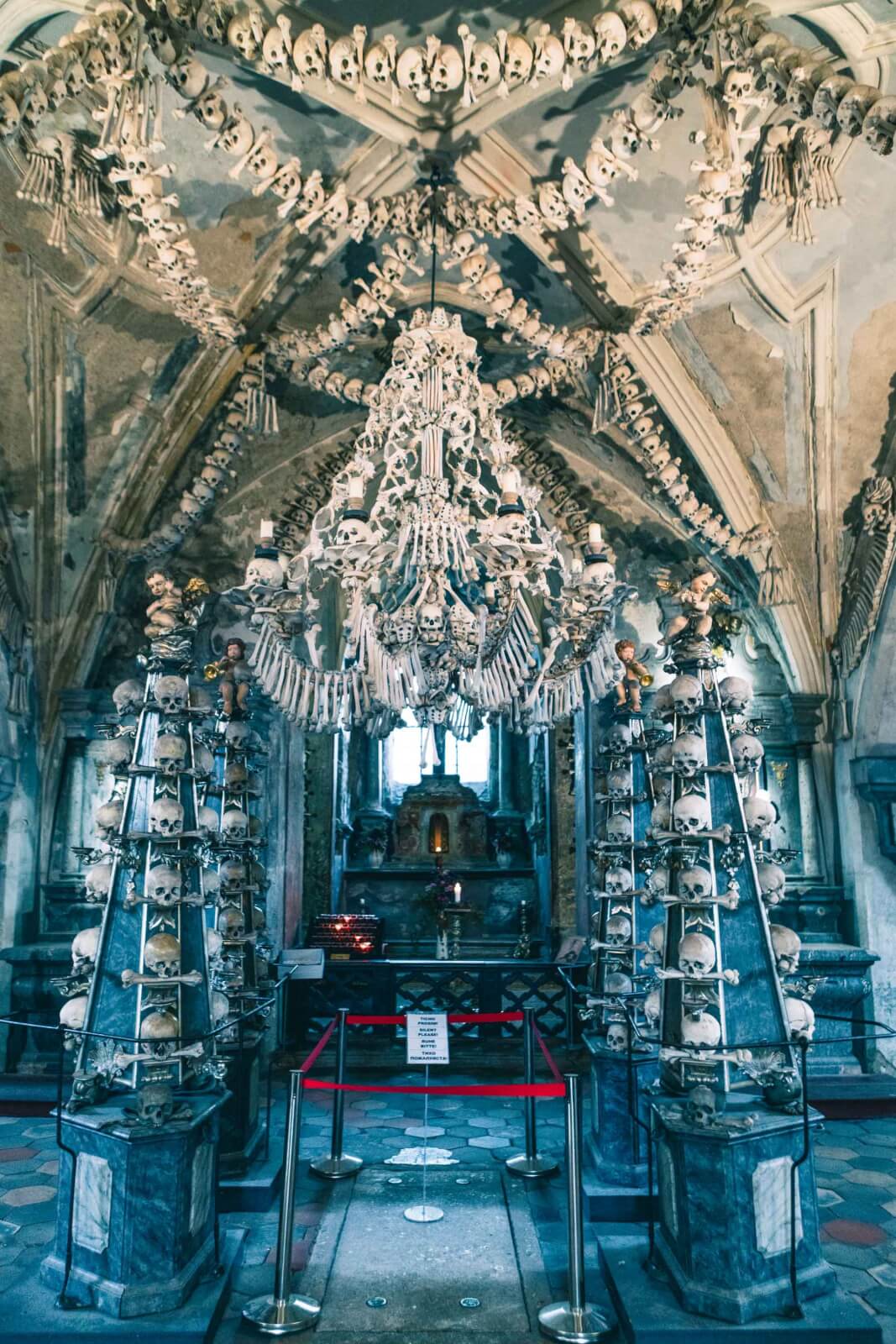 This is one of the more popular unique things to do in the Czech Republic. The Sedlec Ossuary or Bone Cathedral attracts those with a morbid curiosity to them.
The ossuary has the remains of over 60,000 individuals on display in a fashionable, well the most fashionable and artistic way you could display bones. From murals to chandeliers there are bones from ceiling to floor on display and each one is a piece of art.
When the abbot of the monastery returned from Jerusalem he brought back a souvenir, soil from Golgotha. People caught wind of this and suddenly tons of folks from Central Europe wanted to be buried here where the dirt of Golgotha was.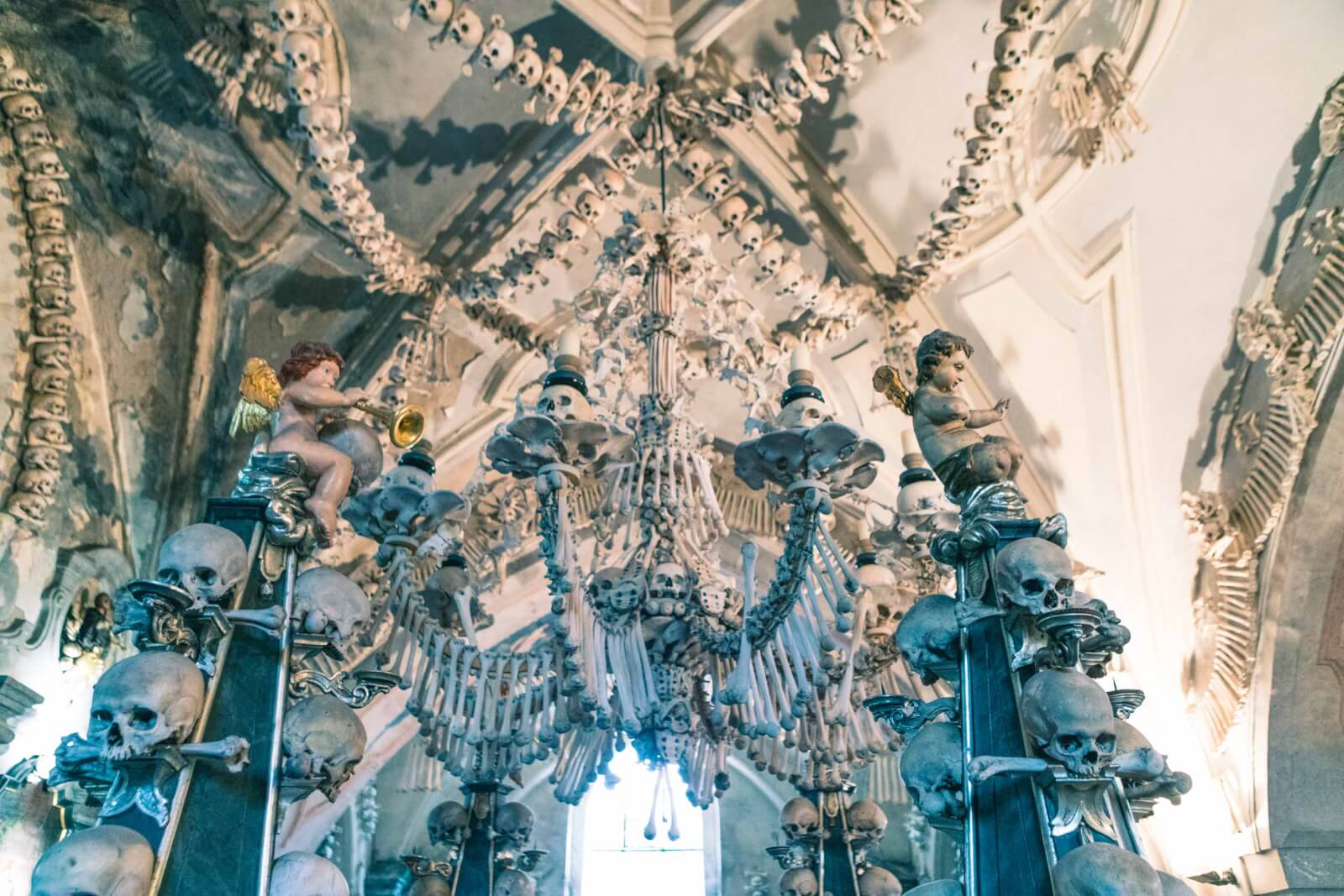 So many people were buried here after the Black Death and Hussite War that space was running low and they had to expand the grave. When this was done it was said a half-blind monk was given the job to relocate bones which he did in giant pyramids and in 1870 the artistic skull chandelier and the Schwarzenberg coat of arms made of bones made their debut.
Besides having a cool bone cathedral, Kutna Hora also has many amazing things to do.
Narnia Rocks
The Narnia Rocks is actually the nickname for Tisa Rocks in Bohemian Switzerland. This area is full of majestic rock towers that are not only fun to explore but offer incredible views and vantage points and are straight out of a fantasy movie!
That's right, Tisa Rocks actually got the nickname Narnia Rocks because the Chronicles of Narnia filmed scenes here!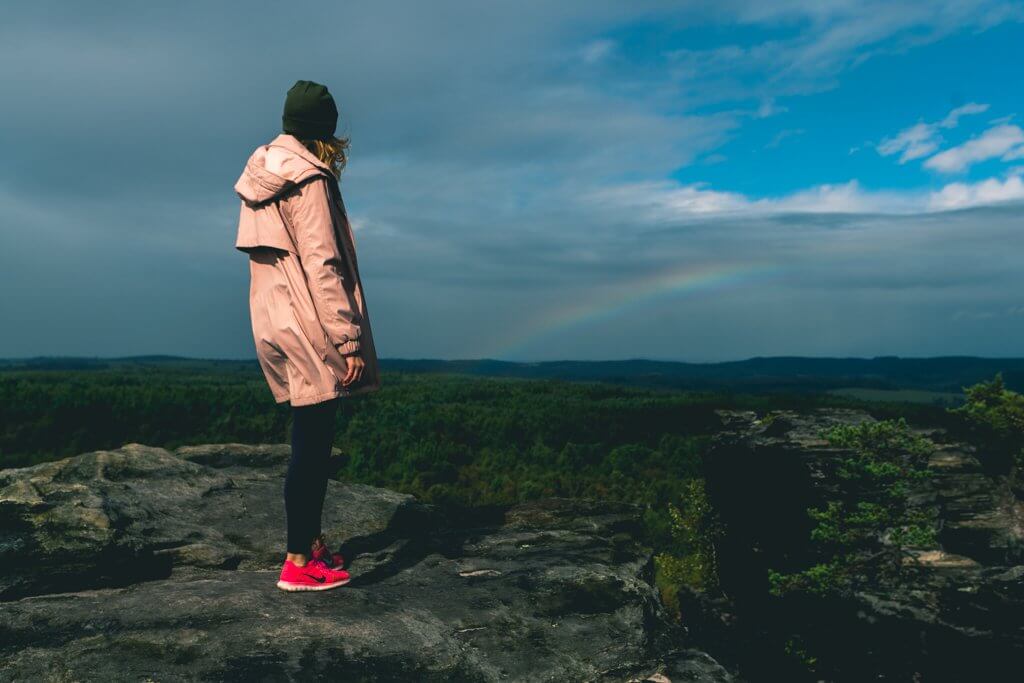 In the actual movie, there was a blanket of snow, we were visiting during the wrong time of year to see that scene but will find a way to make it back to Bohemian Switzerland to see the enchanting beauty here another season.
This is for sure one of the most unique things to do in Czech Republic and worth visiting even if you're not a Narnia fan!
Colonnade de Reistna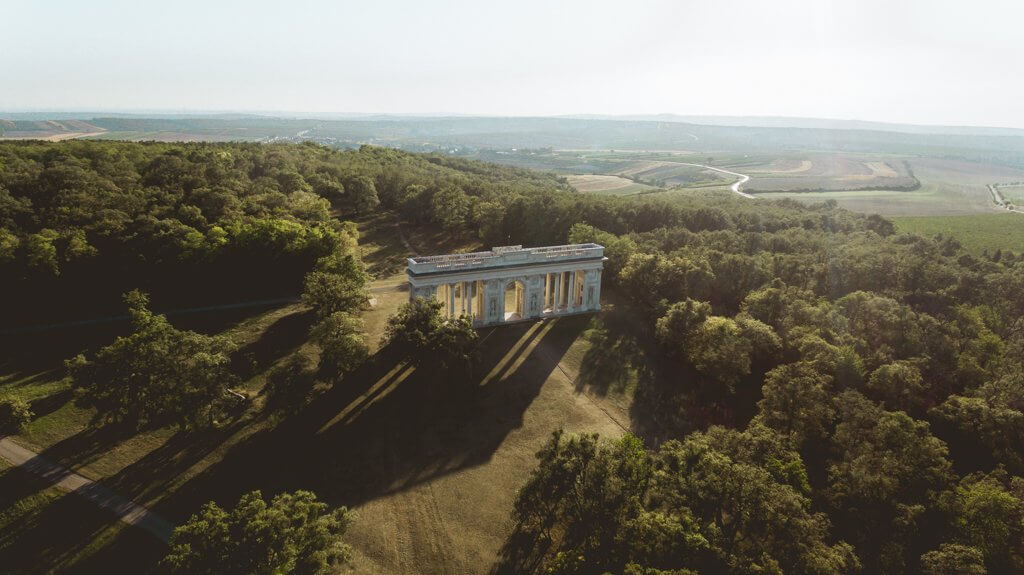 Another cool find and unique thing to do in Czech Republic is visit the Colonnade de Reistna in the heart of Czech's Moravian wine country! Located just a short distance away from the Austrian border, this impressive piece of architecture almost seems like it's in the middle of nowhere.
Surrounded by vineyards and an epic vista overlooking UNESCO World Heritage site Lednice-Valtice complex. There's really no better place in the area that gives a better view!
The classicist colonnade is decorated with figures from mythology and can be enjoyed from the terrace if you arrive before 6 pm!
Telc Underground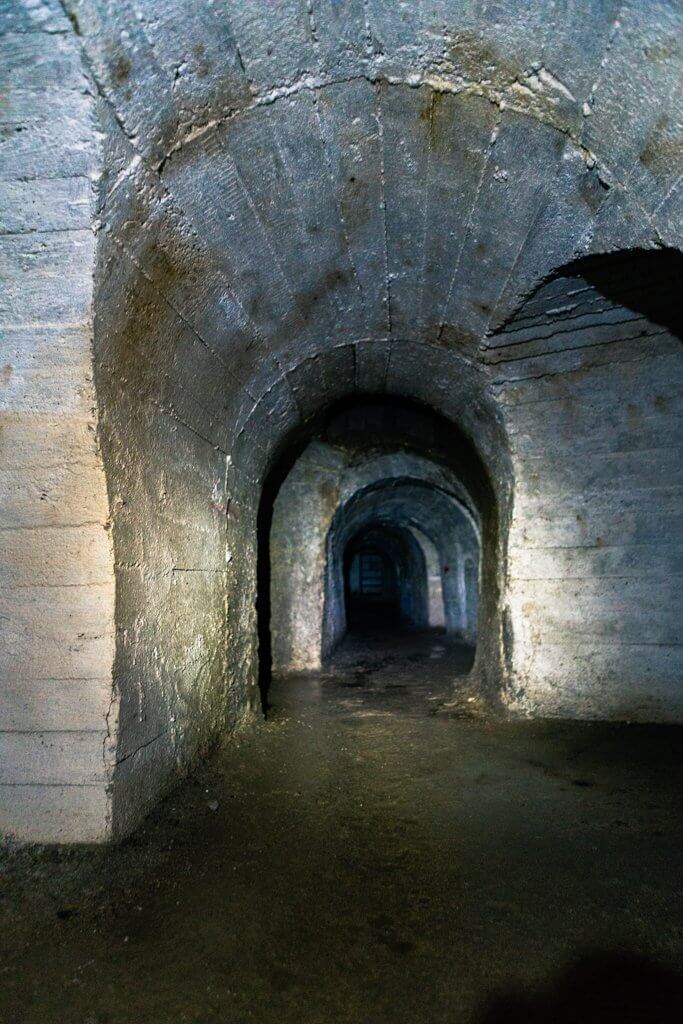 We are going underground for our next cool find and unique thing to do in Czech Republic! Besides having an incredibly picturesque, colorful, storybook town Telc also has an interesting maze of underground tunnels that connect the entire town and all the homes from underground.
The tunnels were built originally as cellars to store and preserve food as well as an escape if there was another tragic fire, those were pretty common and would wipe out entire towns, or to flee an invasion.
Besides being fun to explore around with a headlamp or flash light with a guide you can also enjoy the state of the art interactive exhibit on the underground tunnel system.
Another bonus to checking out this place is that the entire town of Telc is also a UNESCO World Heritage site!
Olomouc Cheese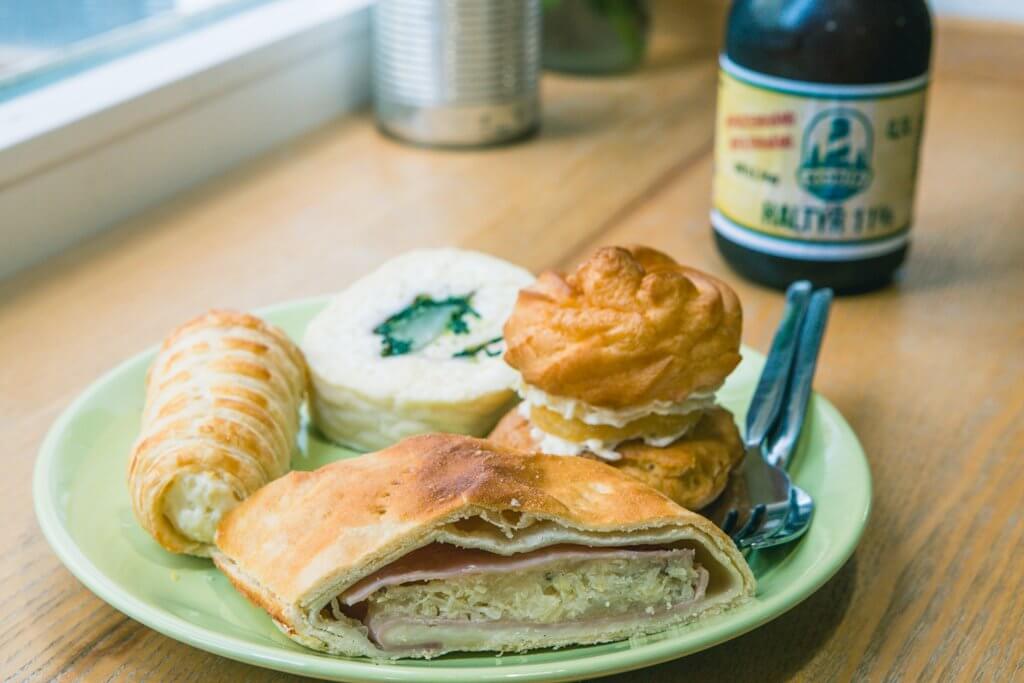 Our next cool find and unique thing to do in Czech Republic is a bit out there. When exploring central Moravia we discovered that the fascinating and beautiful city of Olomouc had it's very own cheese!
We are cheese LOVERS and will jump on any chance to sample or try cheese. Olomouc cheese isn't just any old regular cheese, it has a distinct taste, that some do not like, and is meant to be paired with beer.
Forget wine and cheese parties, you can now have beer and cheese together! The cheese is a specialty in the region and many visitors go out of their way to make sure they try it at least once, which you should too! You can even find vending machines that sell it!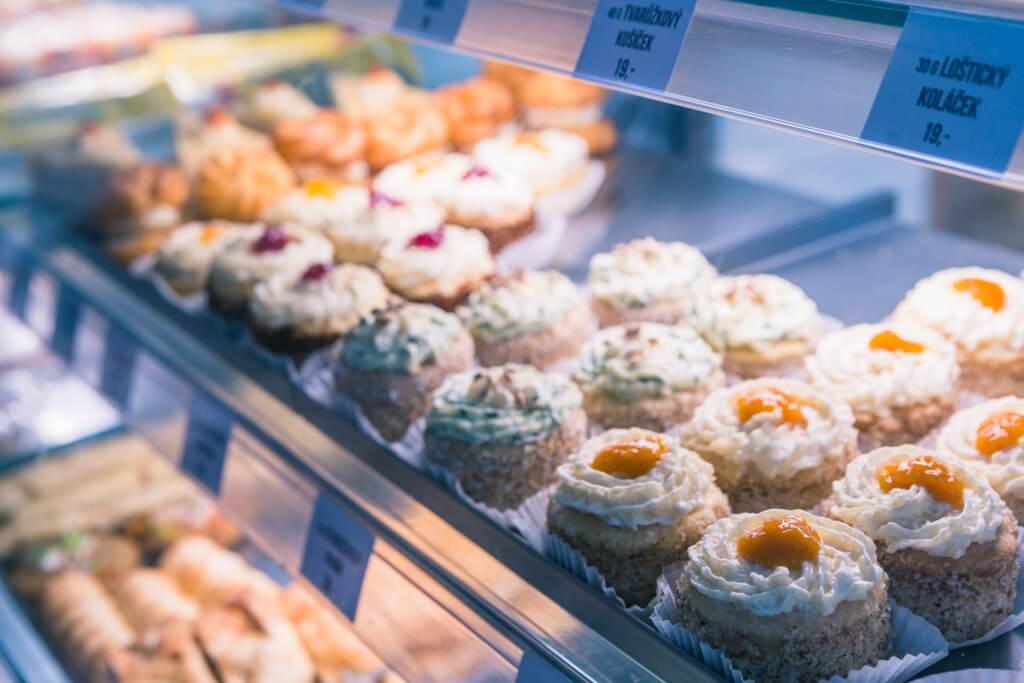 Besides trying the cheese on its own, we recommend going to Tvarůžková cukrárna  to try their different pastries, both sweet and savory featuring Olomouc cheese and you can even get the perfect beer to pair with.
We were so excited because we got to try an unpasteurized beer, which is the freshest beer experience you can have and has a short shelf life, so it's not so easy to find! The beer and cheese did pair extremely well together and is an experience you'll never forget!
Besides having it's very own cheese find out why we loved our time in Olomouc.
Mineral Springs of Karlovy Vary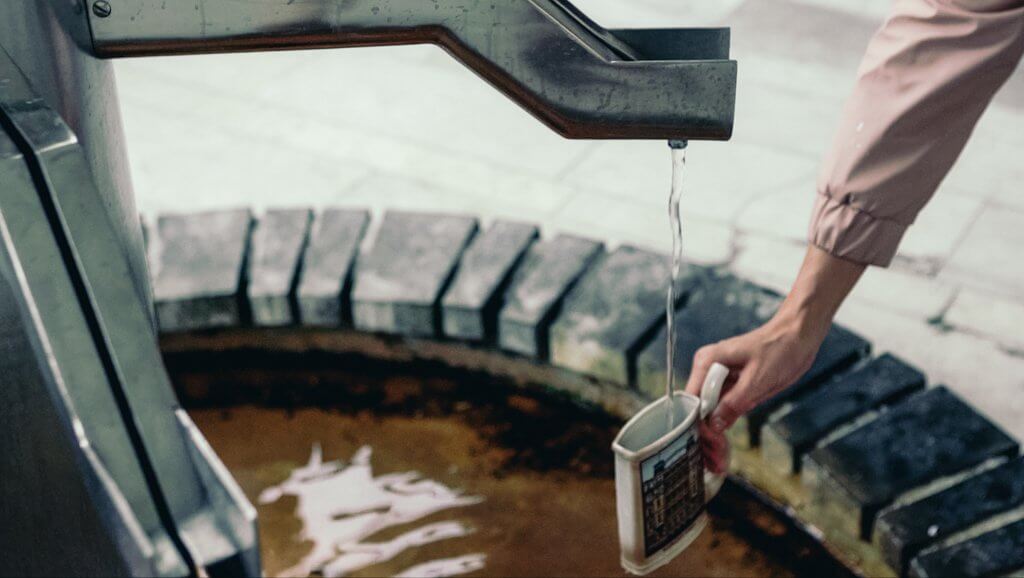 Besides being a gorgeous city, Karlovy Vary offers one of the most unique things to do in Czech Republic that is also great for your health! A city built around mineral springs discovered by Charles IV on a hunting expedition attracts visitors for it's healing and curative waters.
Grab a special cup and visit the five different colonnades where you can try the different waters with different temperatures that all have different health benefits.
The water does have a peculiar taste but is good for you and local doctors even prescribe these healing waters to patients! Some of the health benefits include better digestion, increase metabolism, and help the musculoskeletal system to name a few.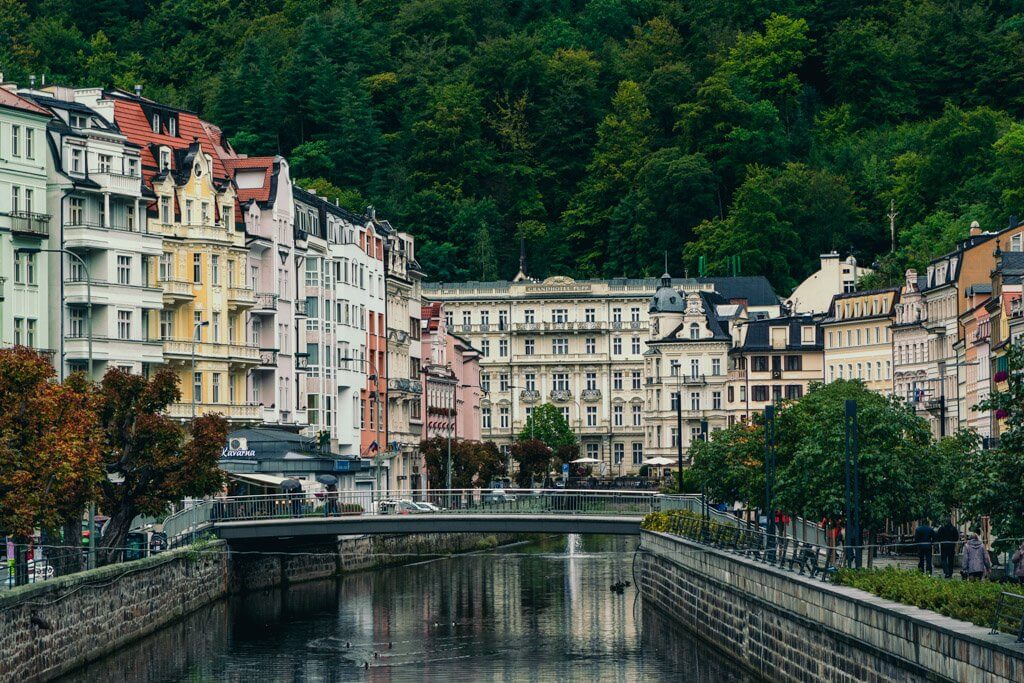 Besides having therapeutic waters to drink you can also enjoy the several spas located in the city and relive scenes from Casino Royale like James Bond!
Coffee & Canyons Tour in Bohemian Switzerland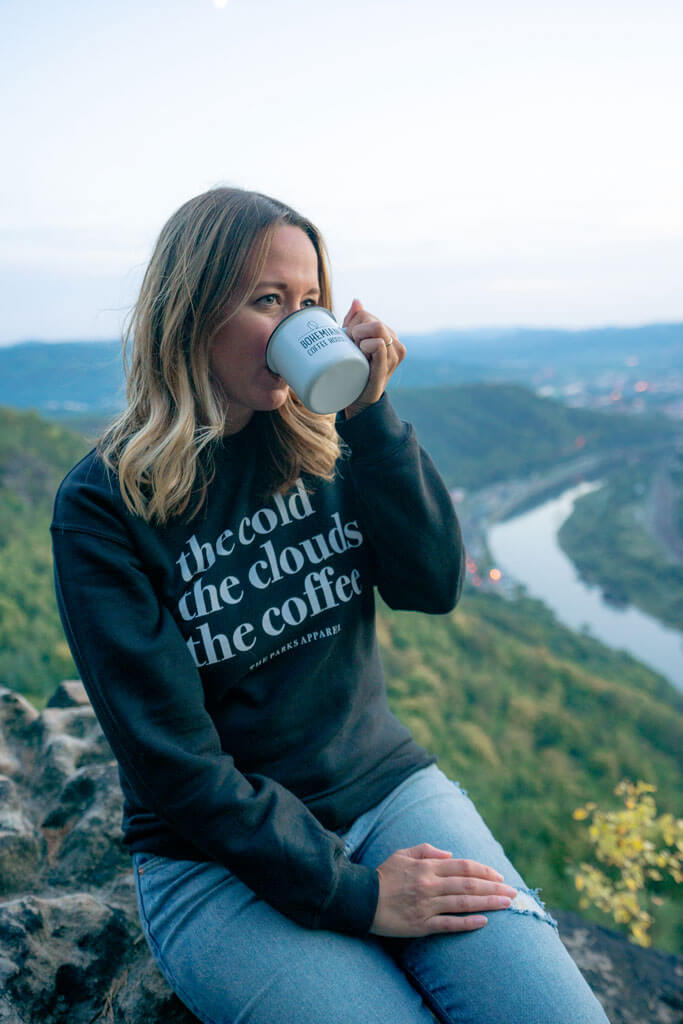 Another one of the most unique things to do in the Czech Republic is witnessing some of the hidden spots in Bohemian Switzerland National Park with the coffee & canyons tour with Northern Hikes.
The tour starts in Prague and takes you two hours north to Bohemian Switzerland National Park, one of the most beautiful places in the entire country. Instead of taking you to the popular tourist spots, your guide will take you to secret canyon viewpoints where you will enjoy a coffee ritual with an epic view with a local coffee roaster from the Bohemian Switzerland area, Bohemian Coffee House.
Your guide has perfected the craft of brewing the perfect cup of coffee and all the meanwhile you have a sweeping view of the countryside without the crowds. We really love supporting businesses who operate with sustainable tourism and this entire tour is based on sustainable tourism dedicated to taking you on off the beaten path for the ultimate unique experience in the Czech Republic.
Slapy Water Resevoir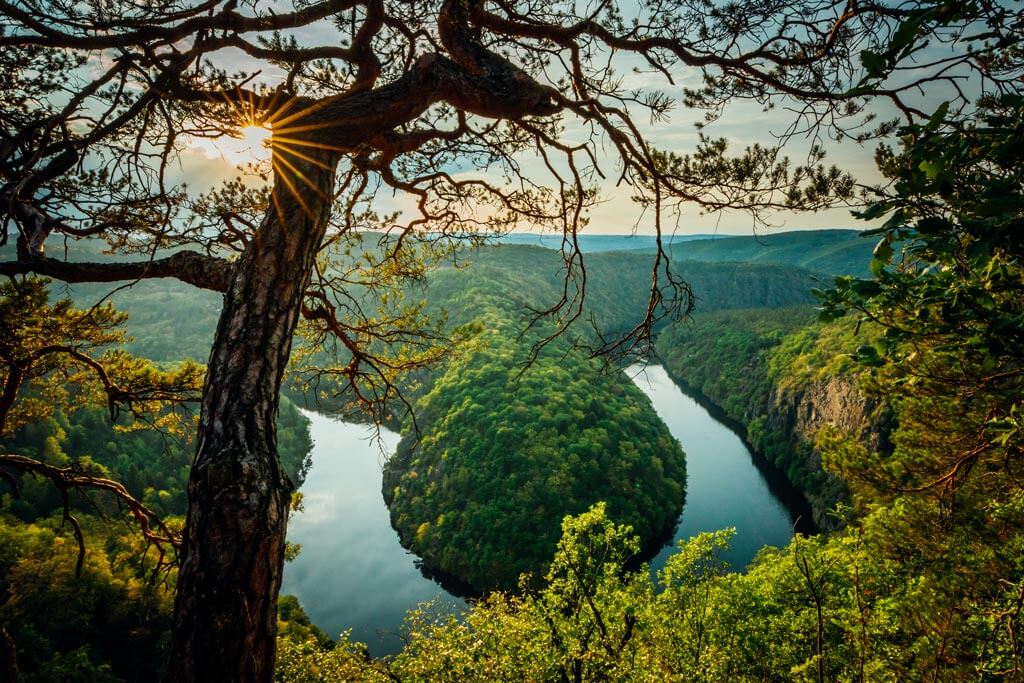 When in Prague do as the locals do, that's not the saying but you get the gist. Situated an hour drive from Prague is the Slapy Water Reservoir, a popular summer escape on the water for locals in Prague to get out of the city.
This gorgeous body of water snakes through the forest and has it's own breathtaking viewpoints and  their own version of "Horseshoe Bend." Connecting to the famous Vltava River this is a popular spot for water sports such as canoeing, stand up paddle boarding, boating, swimming, and camping.
This is not your average touristic site and is one of the most unique things to do in the Czech Republic if you're not a local.
You will want to do this experience with a local like we did with CZ Experience. This tour operator runs through Prague and focuses on custom experiences and itineraries outside of Prague specializing in unique things to do in the Czech Republic for visitors.
Our guide, and owner of this small, independent tour company Honza not only gave us the local experience, but he took us around to the best scenic and photo spots in the area.
---
Want to do ANY of the above unique things to do in the Czech Republic but don't want to plan it on your own or want a personal car service? Check out CZ Experience like we did for the Slapy Water Reservoir.
They will not only plan a custom itinerary and private tour based on what you want but they also have suggested tours of unique things to do in the Czech Republic you can book anytime leaving from Prague.
---
Liked this post about unique things to do in the Czech Republic? Bookmark for later or share the love below on Pinterest!