Check out all the amazing things to do in Encinitas, California the perfect beach getaway in sunny, coastal Southern California! Whether you're enjoying a longer California coastline road trip, like the drive from San Diego to San Francisco or you're looking for one of the best laid-back California beach towns to hang out for an ultimate weekend getaway, this guide will help you pick out what to do in Encinitas.
This guide covers the best beaches, great spots for live entertainment, dining options, outdoor activities, places to splurge on shopping, and all the can't miss things to do in the Encinitas and San Diego area whether you're planning a whole vacation here and around Orange County or making stops on a California coast road trip.
Where is Encinitas, California?
Encinitas, California is a lovely beach city located in San Diego County. The city is a mere 25 miles north of San Diego and about 95 miles from Los Angeles.
Encinitas is incredibly popular amongst surfers and it was actually named to the top 20 best surf towns in the world by National Geographic. Need we say more?
This beach town stretches across six miles of the famous and historic Highway 101, which makes for beautiful views of the Pacific Ocean from almost anywhere in the city. The weather is usually delightful, but there is no such thing as a bad beach day anyway.
There are a few options for getting to Encinitas, the two closest airports are San Diego International Airport (SAN) which is 26-miles south in San Diego and John Wayne Airport (SNA) which is in Orange County to the north of Encinitas around 61 miles away. Personally, John Wayne is an amazing airport if you don't mind the little extra drive because it's small and easy to get in and out of.
Encinitas also is accessible by train, Amtrak has stops at Carlsbad, 10 miles north of Encinitas and Solana Beach, 3 miles south of Encinitas.
When's the best time to visit Encinitas?
San Diego County is known for being sunny and has mild, comfortable temperatures pretty much year-round!
The summers are warm and arid and winters are cool, but comfortable. The temperatures rarely drop below 44 degrees or above 84 degrees and typically are closer to a mild, comfortable 50 – 77 degree weather depending on time of year.
While any time of the year is a great time to visit, July through November are the best months for those comfortable beach days! Keep in mind, if you're not from the West Coast that the Pacific Ocean has cooler temperatures than the Atlantic, so the water is much colder! That's why surfers have different season wet suits, winter suits, and summer suits.
No matter what time of year you visit, Encinitas is the perfect Southern California road trip stop! Now let's surf into our complete guide to all the amazing things to do in Encinitas, California.
What to do in Encinitas, California
San Elijo State Beach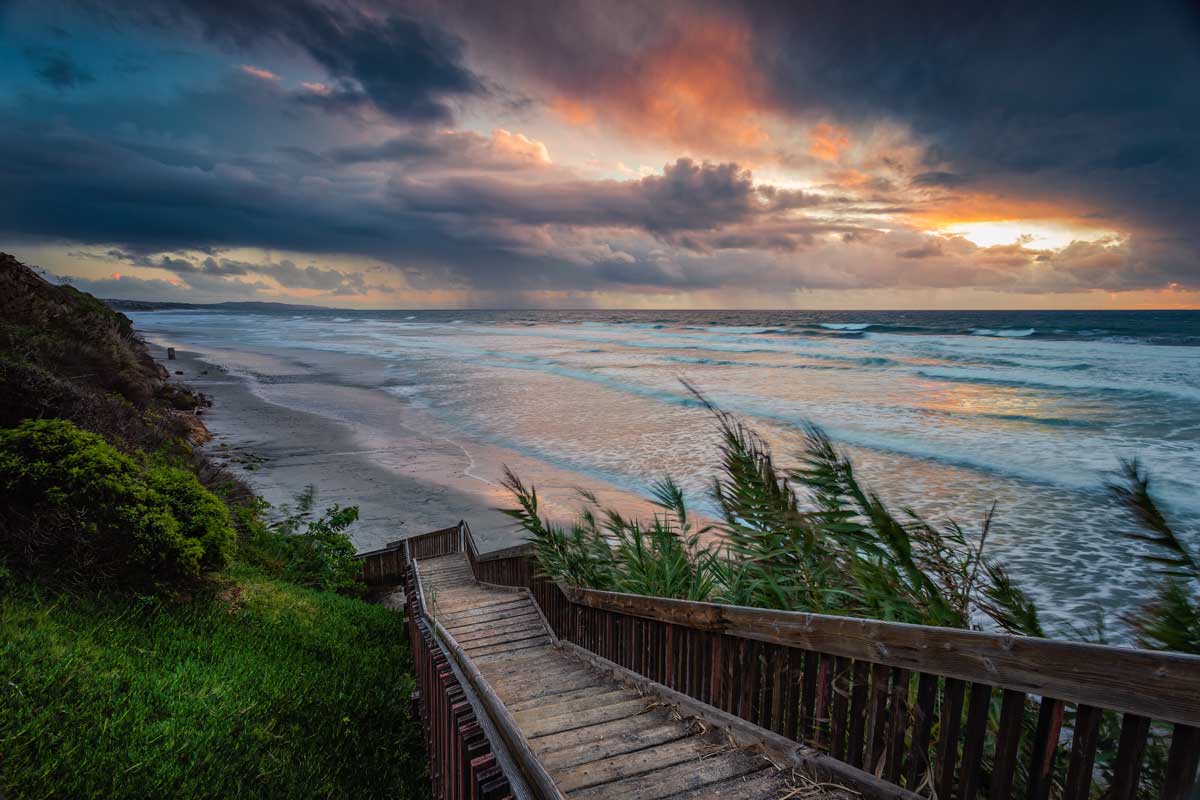 One of the best things to do in Encinitas is making a visit to San Elijo State Beach. This beach is widely known for its camping grounds. Guests can rent out a camping space and spend their entire vacation along the water.
When planning your visit to Encinitas, California, keep in mind these campgrounds are open all year long and the weather in California is usually pretty consistent. It's also never too cold for a beach day of course, but maybe for swimming depending on when you visit as mentioned earlier unless you have a season-specific wet suit!
Guests can enjoy a variety of luxuries and amenities during a visit to the San Elijo Campground. Just to name a few, visitors can have fires in designated fire rings, enjoy alcohol on your campsite only, lifeguards, and a camp store- where guests can purchase, ice, firewood, and even groceries.
There is nothing better than waking up to the gorgeous ocean and the calming sound of waves each morning. And there's no better way to conclude each night on the campsite than a warm bonfire with some s'mores, cozy blankets, and good company.
Visiting the San Elijo Campgrounds is a must when planning a getaway (even if it's a brief one) to Encinitas San Diego.
Moonlight State Beach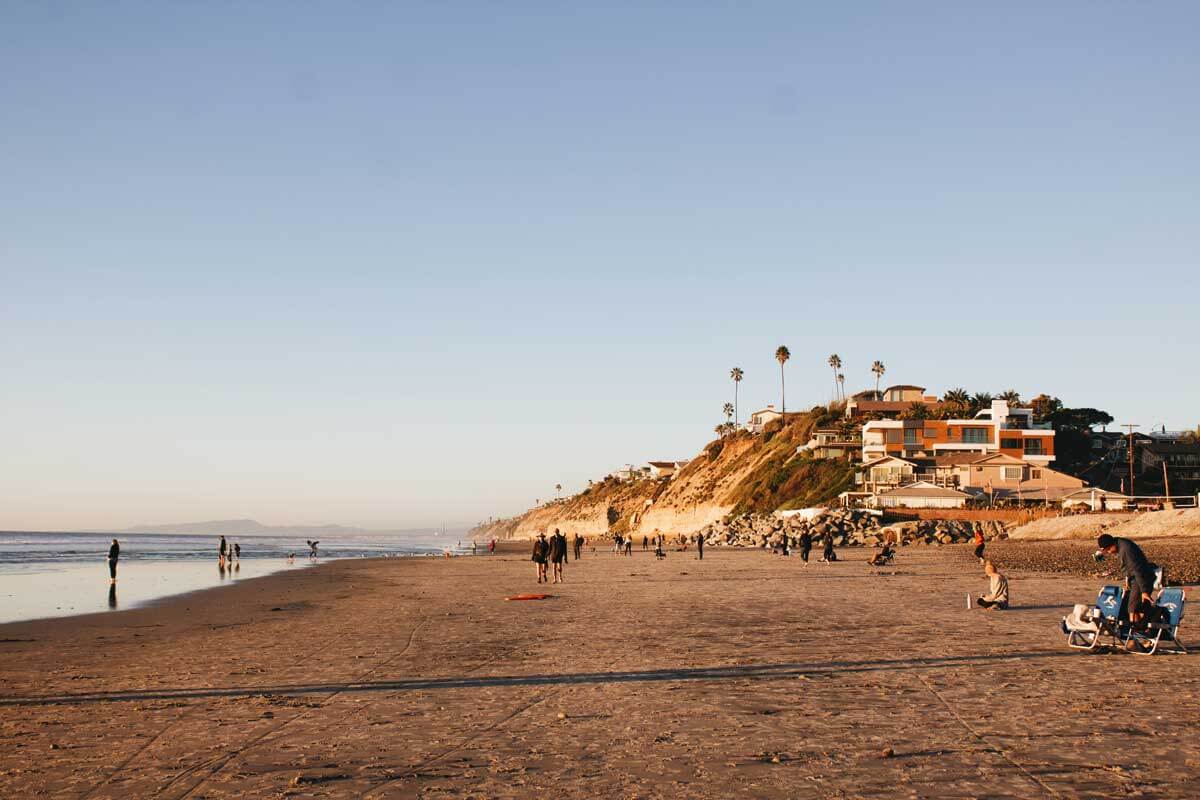 Moonlight Beach is one of the most popular things to do in Encinitas and it also happens to be the main beach located in Encinitas, California. Because Moonlight is the main beach, it is the most family-friendly option and the best beach to visit if you just can't decide among all the beaches.
The beach is equipped with a playground, concessions, restrooms, volleyball courts, lifeguards, and they even allow bonfires here. Bonfires at Moonlight Beach is easily one of the best things to do in Encinitas any time of the year.
Moonlight also offers a large parking lot and it is walking distance from Main Street. This puts you just a couple blocks away from all the shopping and food options you'll need during your visit to Encinitas, California.
San Diego Botanic Garden
What began as a flourishing garden that belonged to Ruth Baird Larabee and Charles Wright Larabee, turned into an incredible attraction donated to San Diego County after the couple's divorce in the 1950s.
Although its potential was not recognized instantly after being donated, founders and a board presidents realized what an amazing gift they had received. In 1970, the Botanic Garden opened to the public, and today it is recognized on a national level as one of the top 10 gardens worth traveling for in America.
The San Diego Botanic Garden is equipped with four miles of walking trails through the 37 acres of beauty. Along the trails, guests can check out any of the 29 different themed gardens.
Keep in mind that the San Diego Botanic Garden requires reservations in advance, they do not accept cash, and they are closed on Mondays and Tuesdays.
Don't miss out on one of the most calming and beautiful things to do in Encinitas.
Leucadia State Beach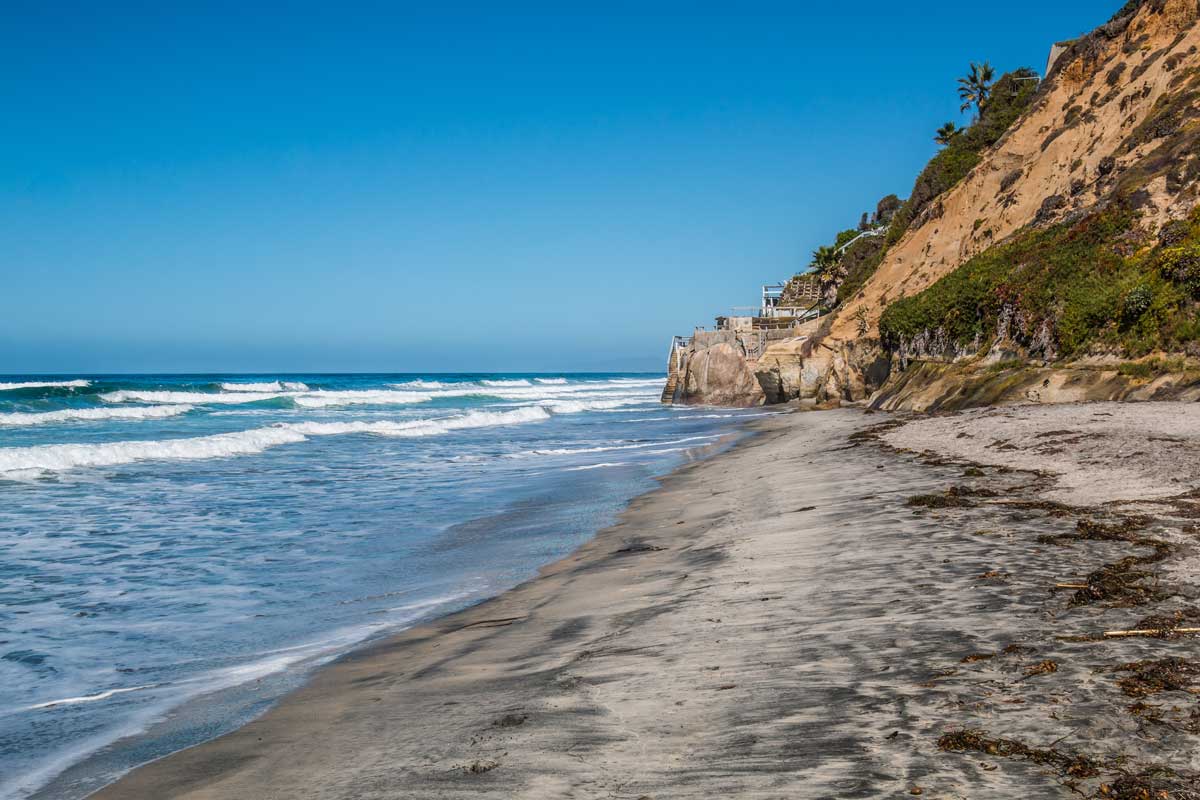 Leucadia State Beach is actually made up of two gorgeous beaches, Grandview and Beacon's. Leucadia State Beach is most commonly referred to as Beacon's by locals, but the breakdown is Grandview being on the north side and Beacon's being on the south end.
Being from California, Grandview has been one of my favorite beaches in Encinitas, California, but Leucadia as a whole is a popular spot among local beachgoers.
Visitors can access this beach via Leucadia Boulevard. Once you arrive, feel free to surf, swim, sunbathe, and even fish at this beach- all some of the best things to do in Encinitas.
Things to keep in mind during your trip to Beacon's:
Small and usually full parking lots- Visitors may struggle to find parking due to the small parking lots. You may need to find a spot along the street or elsewhere. Parking is usually a problem for most Leucadia beachgoers.
High tide- These beaches are very narrow and the high tide can sometimes limit the available space along the sand.
Cardiff State Beach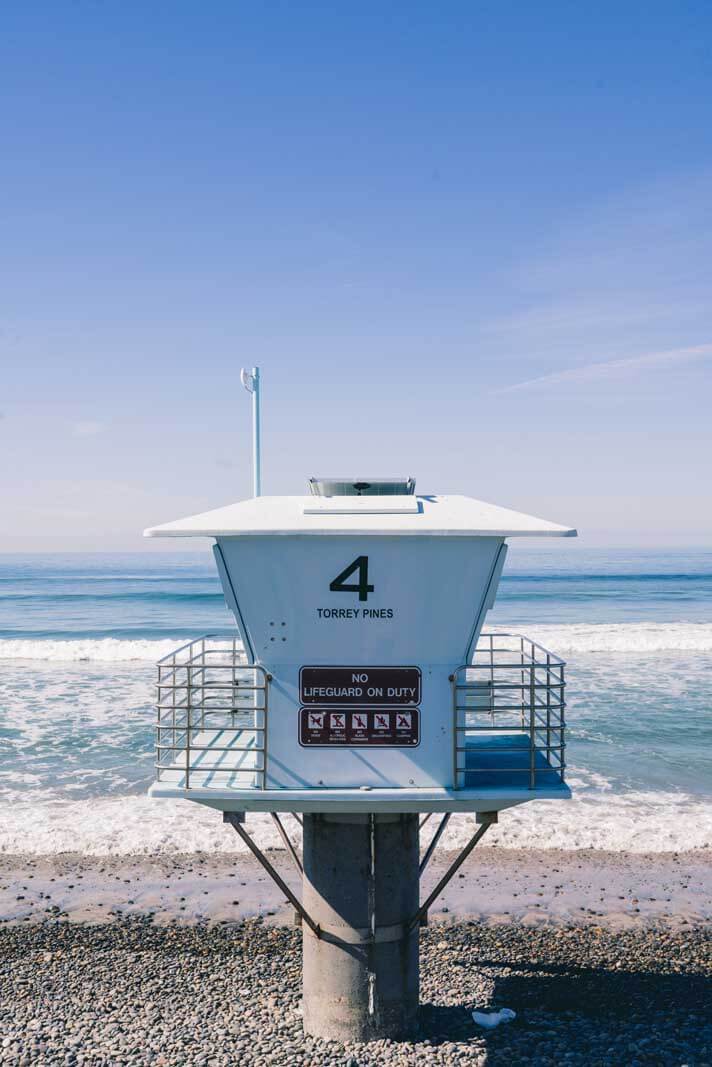 Located right next to San Elijo, Cardiff State Beach definitely one of the most interesting things to do in Encinitas. Due to the lower tide, there are different activities visitors can do at Cardiff compared to the other beaches on this guide.
A few of those things being stand up paddleboarding, searching for starfish and other little sea creatures, checking out some tide pools, and soaking in the peace and quiet. Because Cardiff isn't like the other beaches in Encinitas, California, it tends to be more lowkey and calm.
This is another beach where you may have some complications when it comes to parking, so just keep that in mind! Cardiff State Beach allows dogs on a leash, they have public restrooms in the parking lot, and it's also super close to the San Elijo Lagoon.
Checking out Cardiff State Beach is a must if you're in the Encinitas San Diego area.
Annie's Canyon Trail
Annie's Canyon Trail is a popular hiking trail located near Solana Beach. This hike is a looped route and is just a little over 2 miles long.
This hike is supposed to be friendly for all skill levels, it is definitely not too challenging.
Something about this hike that visitors find the most interesting, is the canyon slot, which is insanely beautiful.
Former visitors will advise to choose wisely when it comes to planning the day of the week or time of day in which you want to visit. Annie's Canyon tends to get very crowded and no one likes to feel rushed with other hikers blazing by when you're just trying to enjoy the scenery.
This hike also features a beautiful lake, and it is dog friendly (on a leash of course). Keep in mind there is limited to no shade along this hike, which makes bringing water and sunscreen even more important!
If you love to get active during your vacations, Annie's Canyon Trail would be a great spot to add to your list of things to do in Encinitas.
Swami's Beach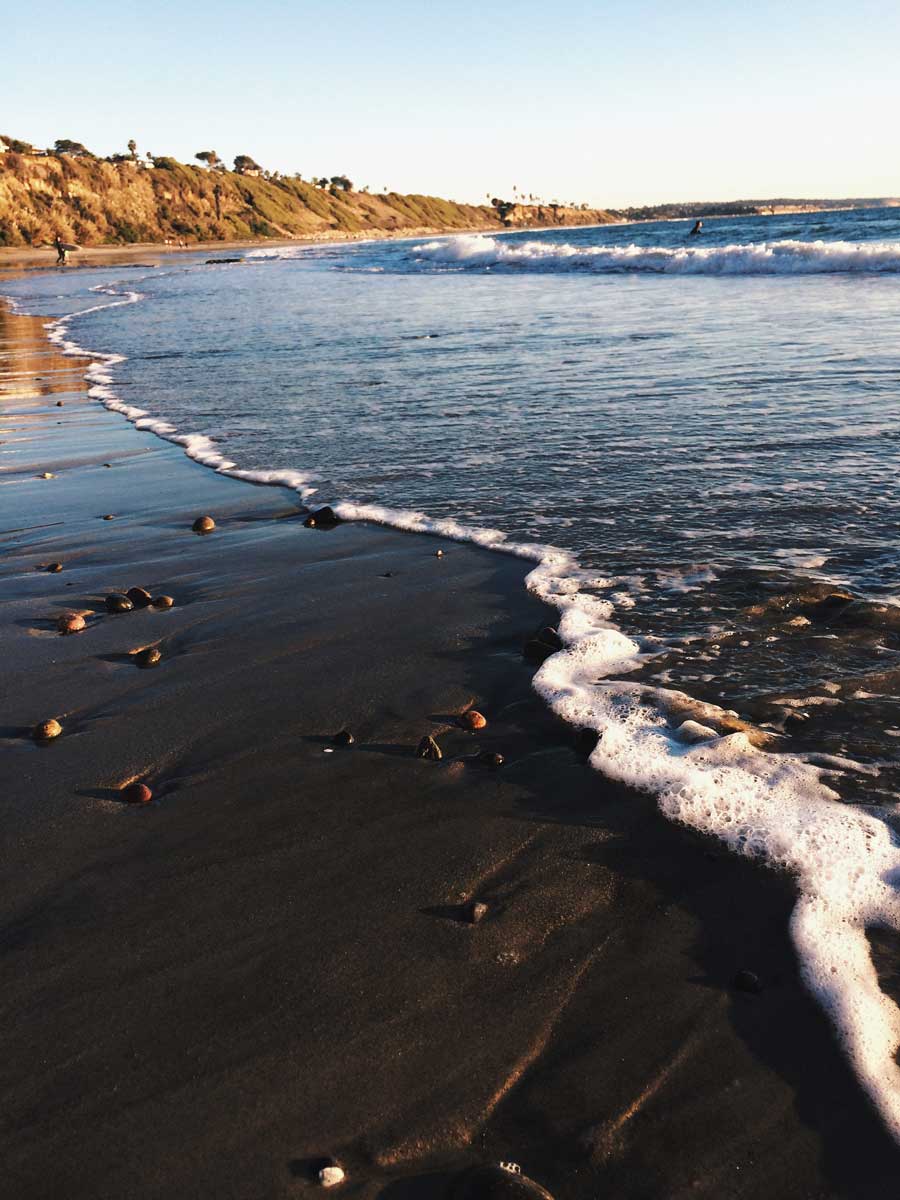 Swami's Beach in Encinitas, California is absolutely my favorite spot in this beautiful beach city. Swami's is known as one of the most popular beach destinations for surfing, which means getting to watch many skilled surfers while taking your beach stroll (that's what I love to do here).
Swami's is easily one of the most beautiful beaches in Southern California. My favorite aspect of this beach is the long staircase leading down to the sand. While some guests might find stairs as an inconvenience, I think it makes for gorgeous photos and gives the beach an "exclusive" vibe.
Once down on the sand, those stairs will definitely be worth it! Swami's also tends to be one of the less crowded beaches in the area. The beach is so expansive that it's easy to be spaced out from other beachgoers.
There is a parking lot here, but I find most of my parking spots along the highway when visiting Swami's. If you get hungry during your beach excursion, check out the numerous cafes just walking distance from this beach.
Self-Realization Fellowship & Meditation Gardens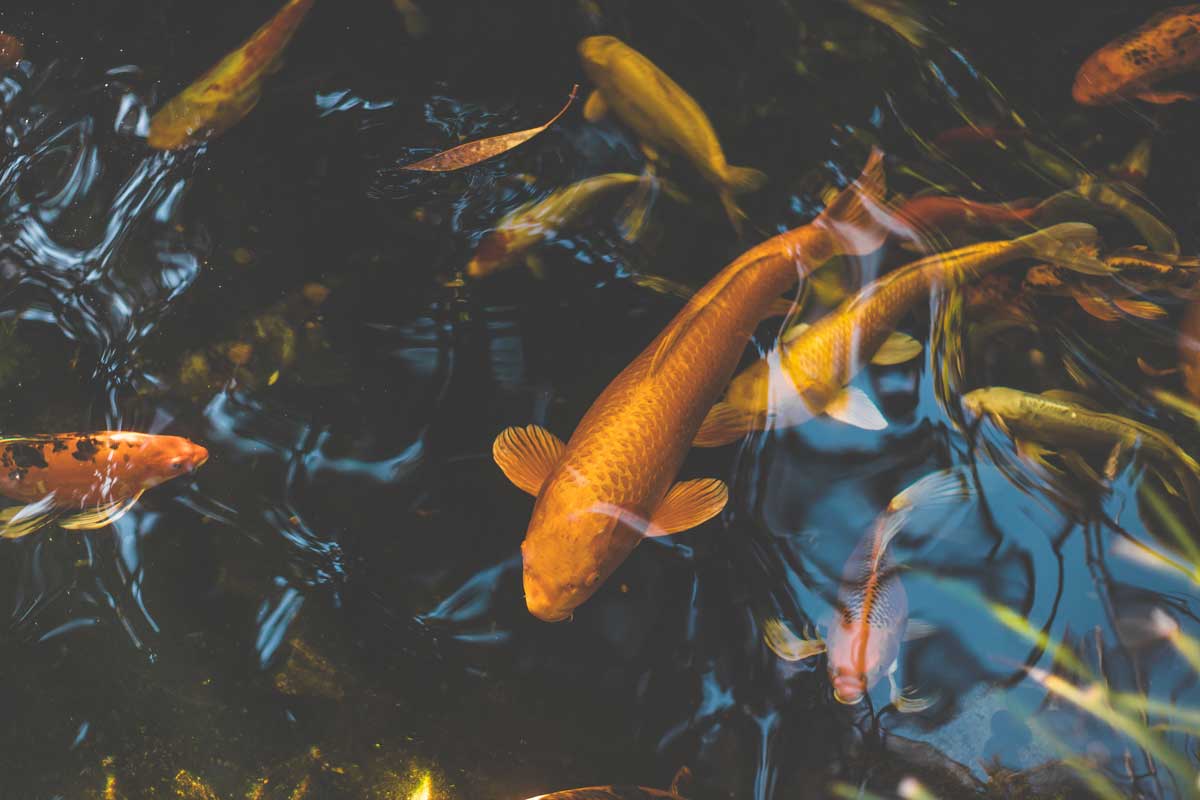 Located in the heart of Encinitas, California, Meditation Gardens is worth adding to your things to do in Encinitas bucket list.
The entire facility in which the Meditation Gardens is located is called the Self Realization Fellowship & Meditation Gardens. The Self-Realization Fellowship was founded by Paramahansa Yogananda back in the 1920s. The original temple that Yogananda designed and used for services eventually became unstable and was removed.
Since 1977, the Encinitas Temple has been used for Yogananda's teachings. Additionally, the J Street Chapel was created in 2012 due to the ever-growing interest in Yogananda.
Back to the gardens! Where the Meditation Gardens are located currently, is where Yogananda's original temple was, luckily the space has been used for something so beautiful!
The Meditation Gardens offers such a unique experience for visitors. Guests can expect spectacular ocean views, an array of vibrant and colorful plants, koi ponds, along with meditation nooks and plenty of spots to stop and pray or soak in the serenity.
The Garden is typically open until 5 PM daily but is closed on Mondays.
Butterfly Farms
Another item you won't want to miss on our list of things to do in Encinitas is definitely Butterfly Farms. Butterfly Farms was founded in 2012, which is completely dedicated to the conversation and research of native butterflies and other pollinators.
During your visit to Butterfly Farms, you can check out what they call, a Vivarium, which is an enclosed butterfly-free flight house. This is where people are able to observe and study the butterflies.
You can observe a variety of different butterflies and Butterfly Farms also offers a 1-hour guided educational tour for those who are interested in learning more about these beautiful creatures.
You can visit the Farm anytime between 10 AM-3 PM April-November, make sure to call for winter hours if you happen to be visiting Encinitas, California outside of that time frame!
La Paloma Theatre
One of the incredible attractions in Encinitas, California is the La Paloma Theatre. This theater is famous for a number of reasons. The two most interesting are that it is San Diego's oldest theater (opened in 1928) and it was one of the first theaters to show "talkie's," which are talking pictures that premiered in 1927!
Visiting La Paloma is one of the more unique things to do in Encinitas and it's absolutely a must for those who love to go to the theatre. They show films from back in the day and even more recent pictures, and there's a great chance they are showing something you'll love.
Keep in mind that La Paloma is cash only and the box office opens 15 minutes prior to each showing. Buying tickets in advance is almost never necessary but sometimes the option is available. Always make sure to check out their showtimes before planning your visit!
Hansen Surfboards Encinitas
In terms of shopping during your visit to Encinitas, California, Hansen's has got you covered. This is my absolute favorite surf shop and it's worth making a pitstop here during your beach getaway.
The history of Hansen's is inspiring to say the least. Don Hansen, the founder of Hansen Surfboards, was from South Dakota and after watching some surf films based in Southern California, he decided to hit the road and hitchhike his way to SoCal.
After pursuing life as a successful surfer, traveling to Hawaii, and meeting plenty of new people, he finally found his forever home for himself and his handcrafted surfboards right here in Encinitas, California.
Eventually, Hansen's transitioned into being a retail business and quickly became popular among tons of beachgoers in San Diego County.
Hansen's carries some of the most reliable and fashionable beach and outerwear brands for men's and women's apparel and footwear, wetsuits, all kinds of surf gear, and even snow gear! You will find a handful of amazing products at Hansen's, so treat yourself to a couple souvenirs!
Better Buzz Coffee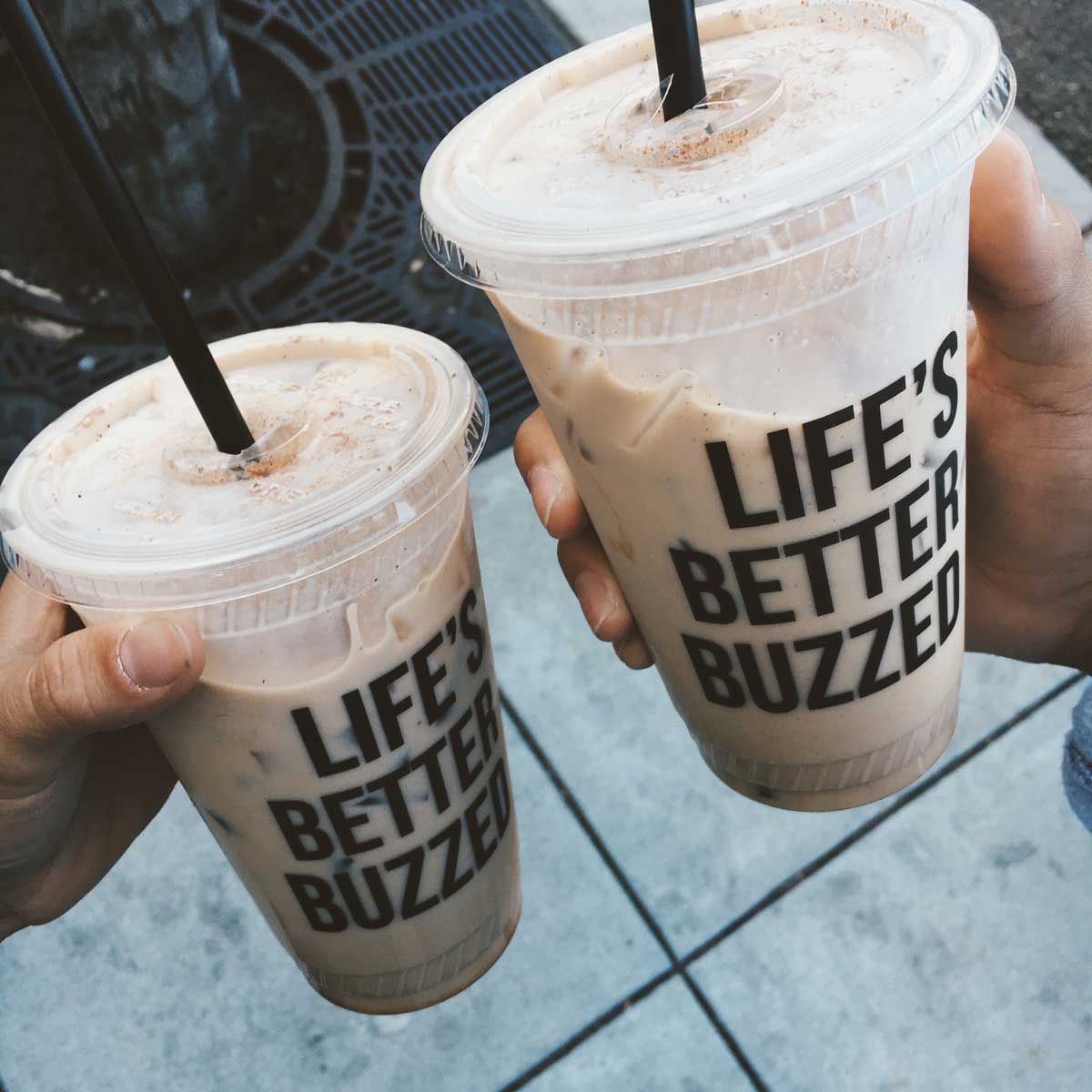 Nothing goes together like the beach and coffee. Better Buzz is a non-negotiable on your list of things to do in Encinitas.
Better Buzz Coffee is a legendary coffee shop chain located only in Southern California and it's hands down one of the most aesthetically pleasing and Instagram-worthy coffee joints I've ever been to.
Better Buzz is known for their incredible handcrafted specialty coffee drinks, I especially love the chai. In addition to the espressos, lattes, and teas, Better Buzz offers savory grilled sandwiches, a variety of sweet smoothies, a few different toast options, and my all-time favorite menu item- açaí bowls (specifically the OG bowl).
This dreamy coffee shop is just a few blocks away from Moonlight Beach, so you can take your açaí and coffee to-go and enjoy it on the beach or stay and soak in all the amazing Better Buzz vibes.
Sambazon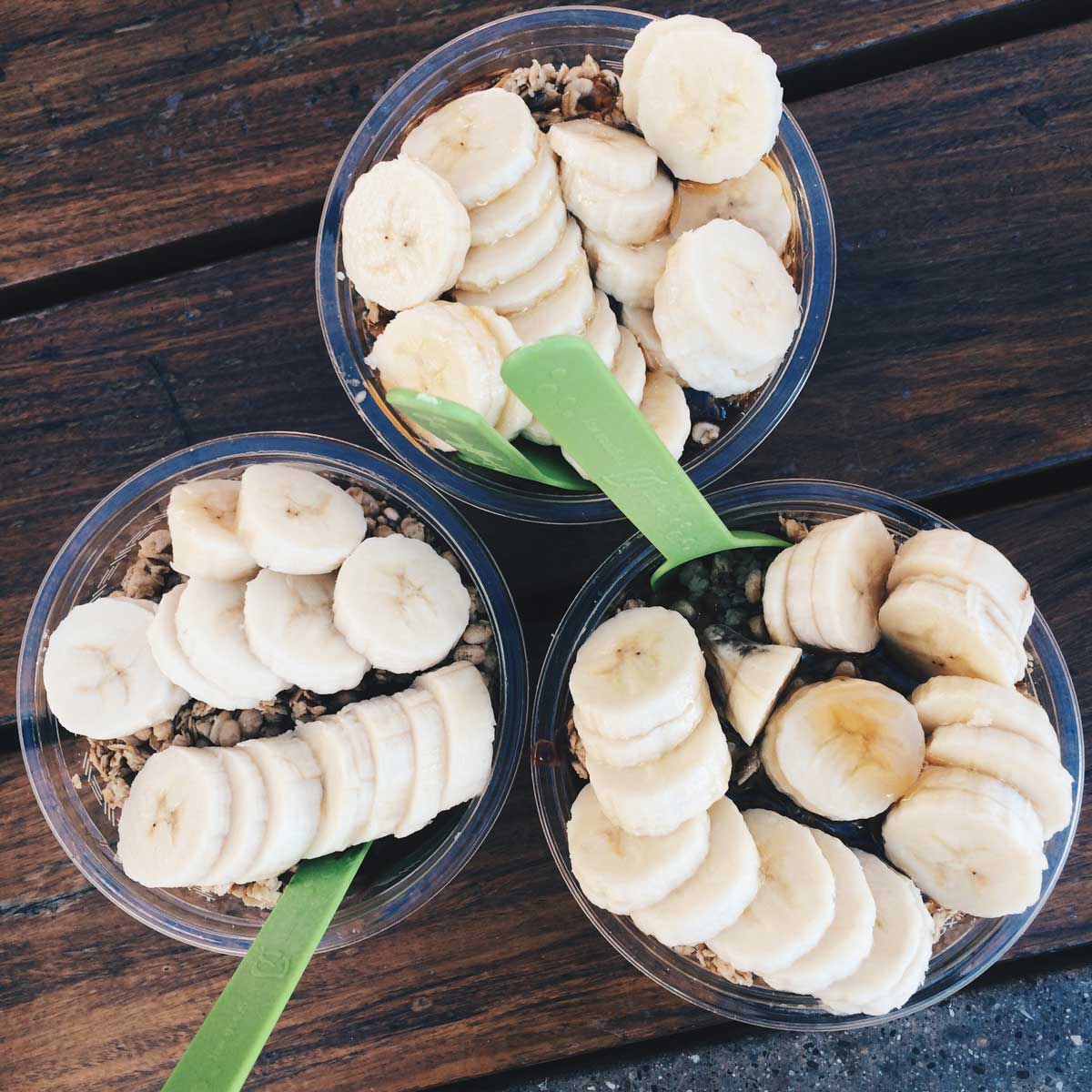 One thing you should know about Californians is that we clearly love our açaí, they are the perfect beach food that's probably why! Sambazon is another incredible spot to snag some refreshing açaí before or after your beautiful Encinitas beach day.
Sambazon is a rustic and boho cafe where visitors can order a variety of açaí bowls, smoothies, coffees, and a number of other Sambazon products.
The cafe itself has such a homey vibe and along with Better Buzz, it's another aesthetically pleasing spot to grab a quick bite or coffee. They offer indoor seating as well as a large outdoor seating area.
Here at Sambazon, you can build your own açaí bowl with all your favorite goodies or order one of their menu favorites! Either way, you will not be disappointed with this Californian delicacy.
Luckily for those who visit, there is no lack of delicious açaí options in Encinitas, California.
Pannikin Coffee & Tea
Serving up some of the best coffee, teas, and bites to eat since 1968, Pannikin is easily one of the best places to eat in Encinitas with some delicious and light breakfast and lunch options.
Guests can choose a variety of coffee drinks, pastries, a number of different bagels, as well as some special items like avocado or Nutella toast.
Additionally, Pannikin has some delectable lunch choices, such as an avocado chicken wrap, Indian chicken curry, caprese salads/sandwiches, quiche, and so much more.
This coffee house specifically stands out for its bright yellow exterior and the fact that it sits right along Highway 101. Encinitas is full of beautiful and Instagram-worthy spots, and Pannikin is absolutely one of them.
While staying in the Encinitas San Diego area, you won't be too far from a Pannikin location, there are 4 locations amidst San Diego. A fun fact about the Pannikin location in Encinitas is that it used to be the historic Santa Fe Railroad Station.
The Besta-Wan Pizza House
While we've covered a few places to grab a light bite or a refreshing açaí bowl, let's dive into some real lunch and dinner options.
Besta-Wan is a restaurant that you absolutely will not want to miss while adventuring in Encinitas.
While this restaurant is incredible based on taste alone, it's a great option if you can't decide what you're in the mood for. Besta-Wan offers their famous pizza, along with American, Italian, and Mexican food dishes. Additionally, Besta-Wan offers gluten free, vegan, and vegetarian dishes.
As if this restaurant couldn't get any better or more interesting, it is also the oldest still existing restaurant in Encinitas, California, operating since 1965. Besta-Wan is a unique and vibrantly decorated restaurant, guaranteed to provide a meal you won't forget!
VG Donut & Bakery
Since 1969, the Mettee family has been serving some of the best baked goods and brewing some of the finest coffee.
When visiting VG, it's guaranteed you will be able to enjoy a freshly baked donut considering they bake fresh batches twice daily.
If you're going the donut route when visiting this sweet shop, there are a wide variety to choose from. From cake donuts, to classic, jelly, old fashioned, and everything in between, VG has got you covered.
VG Donuts also serves many different pastries like cookies and muffins, as well as pies, cupcakes, brownies, and so much more.
Visiting VG donut is a no-brainer when exploring Encinitas, California, especially if you have a sweet tooth! And if you're curious, VG stands for "Very Good," and it definitely lives up to the name.
Leucadia Farmers' Market
If you're a fan of Farmers' Markets, you will definitely love the Leucadia Farmers' Market, which is a reoccurring event every Sunday from 10 AM-2PM.
Like most markets, here, you can find a variety of fresh fruits and veggies, baked goods, meats, seafoods, flowers, and handmade goods from over 75+ different vendors.
Something awesome about the Leucadia Farmers' Market is that it will always take place regardless of bad weather! Rain or shine, you can still get your market on!
If you plan on adding this farmers' market to your list of things to do in Encinitas, the market takes place at 185 Union St, Encinitas, CA 92024.
Juanitas Taco Shop
Another thing to learn about vacationing to beach cities in California is that often times if you find a hole-in-the-wall Mexican food joint, it'll probably be some of the best food you have throughout your entire trip! And this is definitely true about Juanitas in Encinitas, California.
Juanitas has been a staple for tourists and locals the same, it is an absolute must-have when you're in the area.
They have just about everything you could ask for when it comes to a Mexican food menu. The street tacos are always my go-to, but they also offer a number of combination plates, enchiladas, burritos, sides, and much more.
The beaches of Encinitas and Mexican food from Juanitas are a match made in Heaven and it's a combo that should absolutely be added to your bucket list of things to do in Encinitas.
The best thing about eating at Juanitas is that it is open early every morning to at least midnight almost everyday of the week (10 PM close on Fridays).
Encinitas Ranch Golf Course
Sometimes a vacation just isn't complete without a trip to the course, and if this is the case for you or your party, we've got just the place! And truthfully, playing these 18-holes at Encinitas Ranch is an experience unlike any other!
Golfers have a constant view of the gorgeous Pacific Ocean and it is one of very few courses in Southern California with this luxury.
In addition to the fun and forgiving course, golfers can enjoy the Ranch Grill Restaurant, which includes a full bar and cafe. There is also a driving range to get some practice swings in before teeing off!
A trip to Encinitas Ranch is definitely one of the best things to do in the Encinitas San Diego area, especially if you like to stay active during your getaways.
Shopping on the 101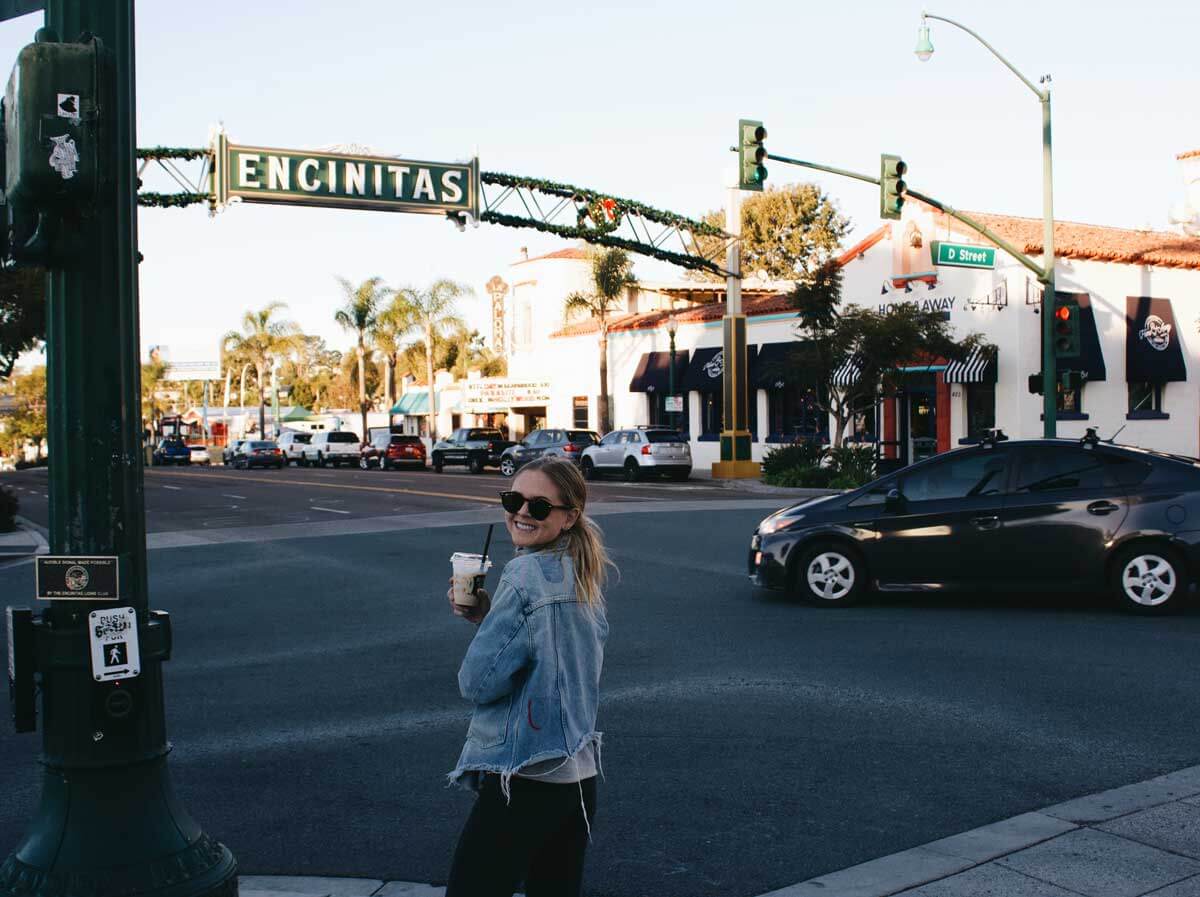 Although I already mentioned my personal favorite place to shop along the 101 in Encinitas, California, which is Hansen's, there are actually over 80 shops and businesses worth poking your head into during your trip.
Downtown Encinitas is jam-packed with some of the best boutiques, health & wellness shops, bookstores, places with excellent home decor, and even a couple shops with the perfect souvenirs to remember your amazing trip by.
Strolling along the 101 is perfectly paired with an iced coffee from Better Buzz, but it's also a great way to kill some time before a dinner reservation.
Don't forget to snap a picture in front of the famous Encinitas sign hanging over Main Street!
Elfin Forest Recreational Reserve
If Annie's Canyon wasn't enough of a challenge for you, you're in luck, because The Elfin Forest Recreational Reserve is 784 acres of beauty that has about 11 miles of hiking, mountain biking, and equestrian trails!
But if you aren't interested in the strenuous activities, you could also plan a day here for a picnic or just soaking in the gorgeous and mountainous views. This reserve is claimed to be one of San Diego County's most precious natural resources and is one of the excellent things to do in Encinitas.
There are a few things to keep in mind though when planning your active day at the Elfin Reserve. Ridesharing could be a good option for transportation to The Reserve because parking is usually very limited. The Reserve opens daily at 8 AM and closes just before sunset, and when there is inclement weather, The Reserve may be closed.
The Reserve also recognizes geocaching if that's something you enjoy doing during your travels!
For more details about the do's and dont's of the Elfin Forest Recreational Reserve, check out their website.
Artifact Books
What's a vacation without a good book to enjoy on the beach? Artifact Books is here to help provide you with all kinds of different books to help you fully indulge in relaxation while visiting Encinitas San Diego.
While shopping at Artifact, you will come across new, used, and even rare books. The store is full of all the books you could ever need- bestsellers, some vintage, rare editions, and even some signed copies.
If you're a true bookworm, they also host events that you may be able to attend during your Encinitas getaway. They've hosted book fairs, release events, and many others!
This little shop known for its great selection and its friendly owners, a trip to Artifact Books will certainly be a pleasant one!
Solterra Winery & Kitchen
Now let's dive back into dining for a moment.
Solterra Winery & Kitchen is a special spot located in Leucadia that is a little different than your traditional wineries. Solterra is a winery where they produce their own magnificent wines from locally sourced grapes just a couple blocks from the beach!
Solterra consists of two buildings, one being the tasting room and the other to be the actual winery, where everything is produced! To learn more about their methods and styles, you can check out their website before planning your visit!
As far as the kitchen part of Solterra goes, they classify themselves as a rustic Mediterranean restaurant. Their menu is carefully curated to create an unbelievable experience for its guests. Although they have seasonal menus, you can count on getting some incredible starters, charcuterie or cheese plates, flatbreads, salads, paella, entrees, and more! YUM!
Of course, you can't forget to add some wine. Solterra offers a short list of white wines and they have red wines ranging from lighter to robust. Additionally they offer their Reserve Wines, which either have received awards or they are a winemaker's top choice! Regardless of what you go with, it'll be the right choice!
To tie the night together perfectly, Solterra usually has live music Friday-Sunday evenings, making this one of the most irresistible things to do in Encinitas.
The Encinitas Boathouses
One of the most unique things to do in Encinitas is getting a firsthand look at the Encinitas Boathouses. The S.S. Encinitas and the S.S. Moonlight are two houses built in the shape of boats, built by Miles Minor Kellogg.
Kellogg was known for his craftiness and ability to turn recycled materials into masterpieces, which is exactly what he did here with these Boathouses back in 1928.
He used recycled lumber from a nightclub that decided to close its doors. He turned the recycled materials into two magnificent boat replicas in a residential neighborhood. Some say it looks as though these houses have washed up from the beach and crashed into the neighborhood.
Luckily for tourists and others who love the Boathouses, they were purchased in 2008 for permanent preservation! Back in the day, these boathouses attracted travelers quite often since they could be seen from Highway 101.
Since the Boathouses are in a residential area, there is plenty of street parking. During your visit, remember to be respectful as the Boathouses are being lived in!
The Bier Garden of Encinitas
Last but absolutely not least, is a wonderful spot to get a refreshing drink and a savory bite to eat.
Just being a couple blocks from the beach, this Bier Garden gives guests an incredible Downtown Encinitas experience. With over 20 beers on tap, which are always rotating, as well as some delicious cocktails and great food to match, how can it get any better than this?
Their menu is crammed full of mouthwatering options, there's practically anything and everything you could possibly be craving. The Bier Garden has a number of starters and flatbreads along with salads, sandwiches, burgers, big plates, and more.
They also have a can't miss weekend brunch menu!
The Bier Garden serves all meals of the day, on the weekdays they're open from 11 AM-12 AM and on the weekends the hours are 10 AM-12 AM. So there is absolutely some space in your itinerary for a scrumptious meal at The Bier Garden of Encinitas.
When adding this to your list of things to do in Encinitas, keep in mind that they do not accept reservations, it's always first come first serve!
Where to Stay in Encinitas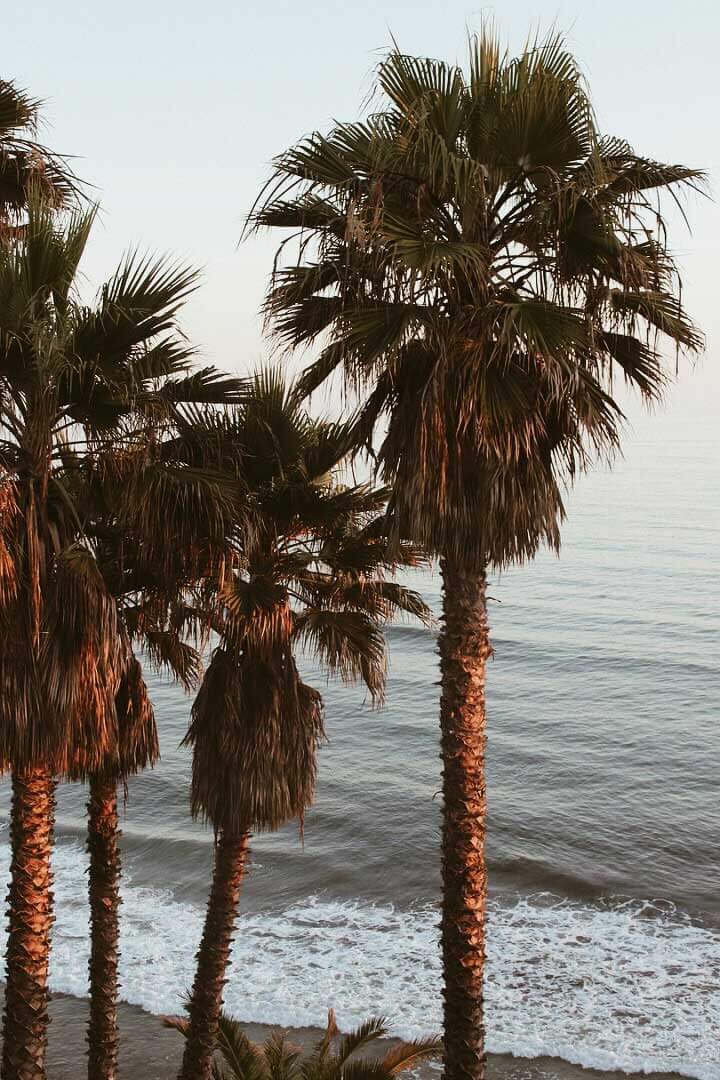 $ Best Western Encinitas Inn & Suites at Moonlight Beach – This is the perfect hotel location for your stay in Encinitas right at Moonlight Beach. The Best Western Encinitas Inn & Suites at Moonlight Beach offer a laid-back property just a short walk to one of the most beautiful beaches in Southern California as well as a gorgeous outdoor pool on site. Book here.
$$ Surfhouse Boutique Hotel – The Surfhouse Boutique Hotel is a cute independent property that offers different sizes of rooms if you're traveling with family or a group located steps away from Leucadia Beach in Encinitas. This laid-back modern beachy hotel also lets guests borrow loaner beach cruiser bikes so getting around is a breeze! Book here.
$$$ Omni La Costa Resort and Spa – Omni La Costa Resort and Spa is one of the best hotels and resorts you can stay at in the Encinitas area in Carlsbad with a gorgeous Spanish-colonial style property on two golf courses with 8 pools, 17 tennis courts, and a world-class spa on site for a luxury getaway. Book here.
Nearby Encinitas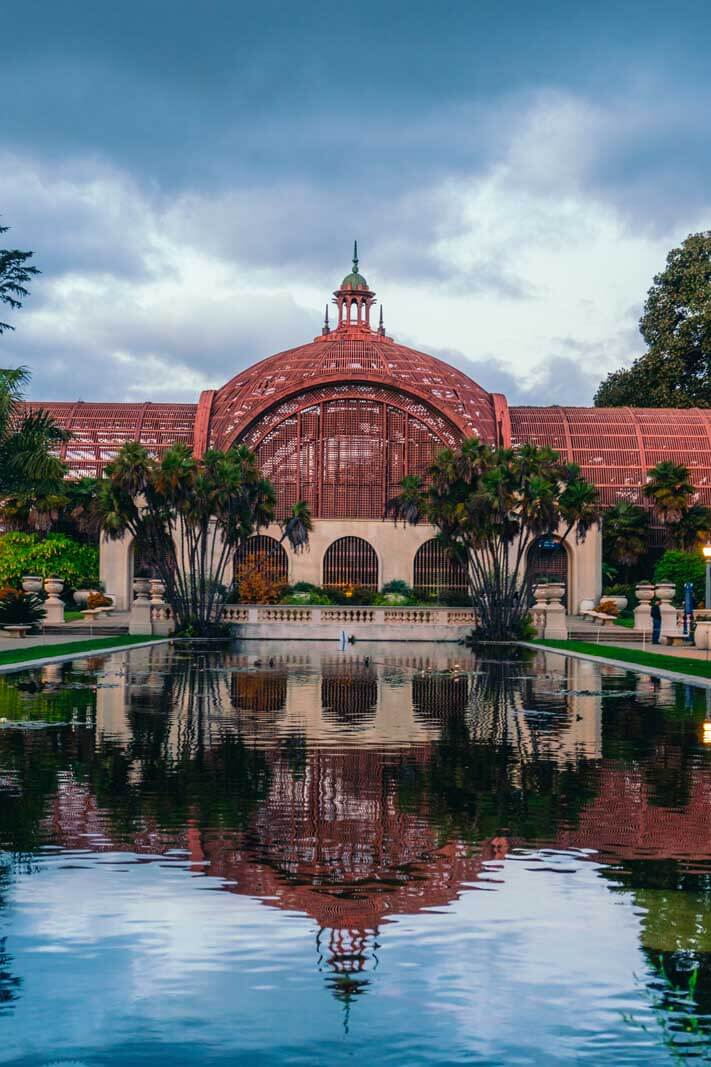 When planning an Encinitas, California getaway you have not only plenty of options for things to do in Encinitas but also the surrounding small beach towns and communities nearby including Solana Beach and Del Mar.
Also, if you haven't explored San Diego you're just a short drive away and can go enjoy all the best things to do in San Diego and return to your quiet, beach getaway in Encinitas.
Be sure to check out our other San Diego guides including a 3 days in San Diego itinerary, things to do in Old Town San Diego, and things to do in Balboa Park for a few ideas!
About the Guest Author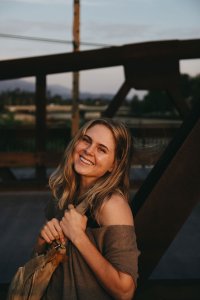 My name is Katie and I am a college student in New York City, but I grew up right here in Southern California and I'm so excited to share my home state with you.
---
---
Enjoyed this guide to the best things to do in Encinitas, California for a perfect getaway? Bookmark for later or share the love below on Pinterest!