Looking to enjoy a Catskills getaway to Roscoe, New York and Livingston Manor, New York? These two small and charming New York towns are packed with outdoor adventures from hiking to water activities as well as a great culinary and craft beverage scene, shopping, and absolutely charming downtowns that are fun to explore.
These two Catskill towns are located around 7 miles from each other and just a short 10-minute drive from town to town which is why we included them together in the same guide since it's easy to explore all the best things to do in both of these destinations in one trip.
Just over a 2 hour drive from New York City, these two towns make for a great escape from the city for short weekend trips to a full-on week-long holiday. Be sure to check our guides to Catskills in the summer and Catskills in the winter to see all the amazing attractions and activities you can enjoy in the area!
Background of Roscoe & Livingston Manor
The towns of Roscoe and Livingston Manor are in the Catskill Mountains located in Sullivan County which have been historically known as an escape for the Brooklyn Jewish community often referred to as the "Borscht Belt," which were upscale mountain resorts and bungalow colonies in the region and was booming with tourism from the Jewish community from the 1920s to 1970s sometimes nicknamed the "Jewish Alps".
The upscale resorts even attracted huge stars of the time including the likes of Duke Ellington, Dean Martin, Louis Armstrong, and comedians like Rodney Dangerfield and Jerry Seinfeld. With big entertainer names like this touring this area, the Sullivan County Catskills became nicknamed the "Hollywood of the East."
Once the Civil Rights Movement really started to pave the way for change, the Jewish community were finally welcomed to more places to vacation beyond their upstate paradise they frequented in the Catskills. And the younger generations who'd visited the Catskills with family were interested in taking a holiday elsewhere.
This was the beginning of the decline of the famous "Borscht Belt" however, there still is a significant population of Hasidic Jewish communities who live up here. This article does a great job explaining the history to present-day connection the Catskills have with the Jewish community.
Other notable events that took place in this area include the most famous music festival of all time. Just a 30-minute drive from Livingston Manor and Roscoe, New York is the site of the Woodstock Music Festival that took place in August of 1969 which attracted 400,000 attendees!
Popular movies and films have been using the Catskills as a backdrop too including one of our favorite shows, Marvelous Mrs. Maisel who filmed scenes at Scott's Family Resort in season 4. The cult classic favorite, Dirty Dancing's storyline was actually set at Grossinger's Catskills resort but they didn't actually film here.
Another noteworthy thing Roscoe and Livingston Manor, New York are known for is being a fly fishing hot spot, specifically for trout which is why Roscoe is nicknamed "Trout Town USA." Because of this, both Livingston Manor and Roscoe, New York are premiere still water angling destinations.
Things to Do in Roscoe New York
Roscoe is a small-town tourist's dream nestled next to Junction Pool in between Beaver Kill and Willowemoc Creek, two of the best fly fishing spots for trout in the country. Whether you're looking for great fly fishing, or other outdoor activities, craft beverages to sample, antiques, shopping, and great food you can find it in this small, historical hamlet!
Of the two towns covered in this getaway guide to the Catskills, Roscoe is the smaller one. Don't let that fool you though, there are plenty of things to do in Roscoe and the surrounding area.
Check out Downtown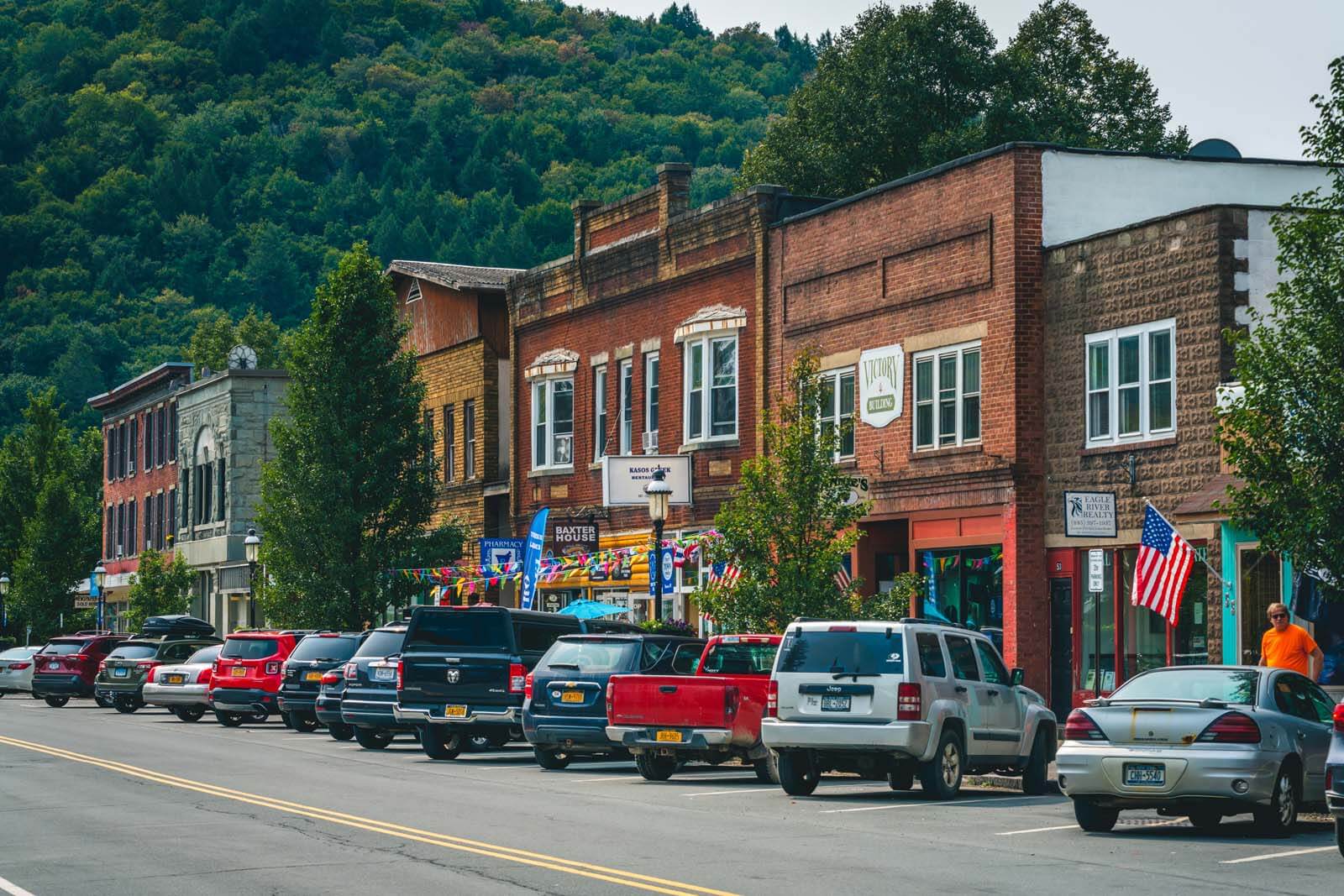 The main road into Roscoe, New York is Stewart Avenue. But don't blink or you'll miss it! On any given morning, you'll find charming brick storefronts and a collection of antique stores along a sleepy street framed by the Roscoe Catskills.
We personally loved the small-town feel here. If you're looking for some of the best attractions to check
Swing by the Roscoe O&W Railway Museum (more on that later). Take a picture outside of the Trout Car on the corner of the street.
Pop in the antique shops and find all your fishing gear at Beaverkill Angler. All your basic needs are along Stewart Avenue. There's even a farmer's market on Sundays if you happen to be here on a weekend.
Do Good Spirits Distillery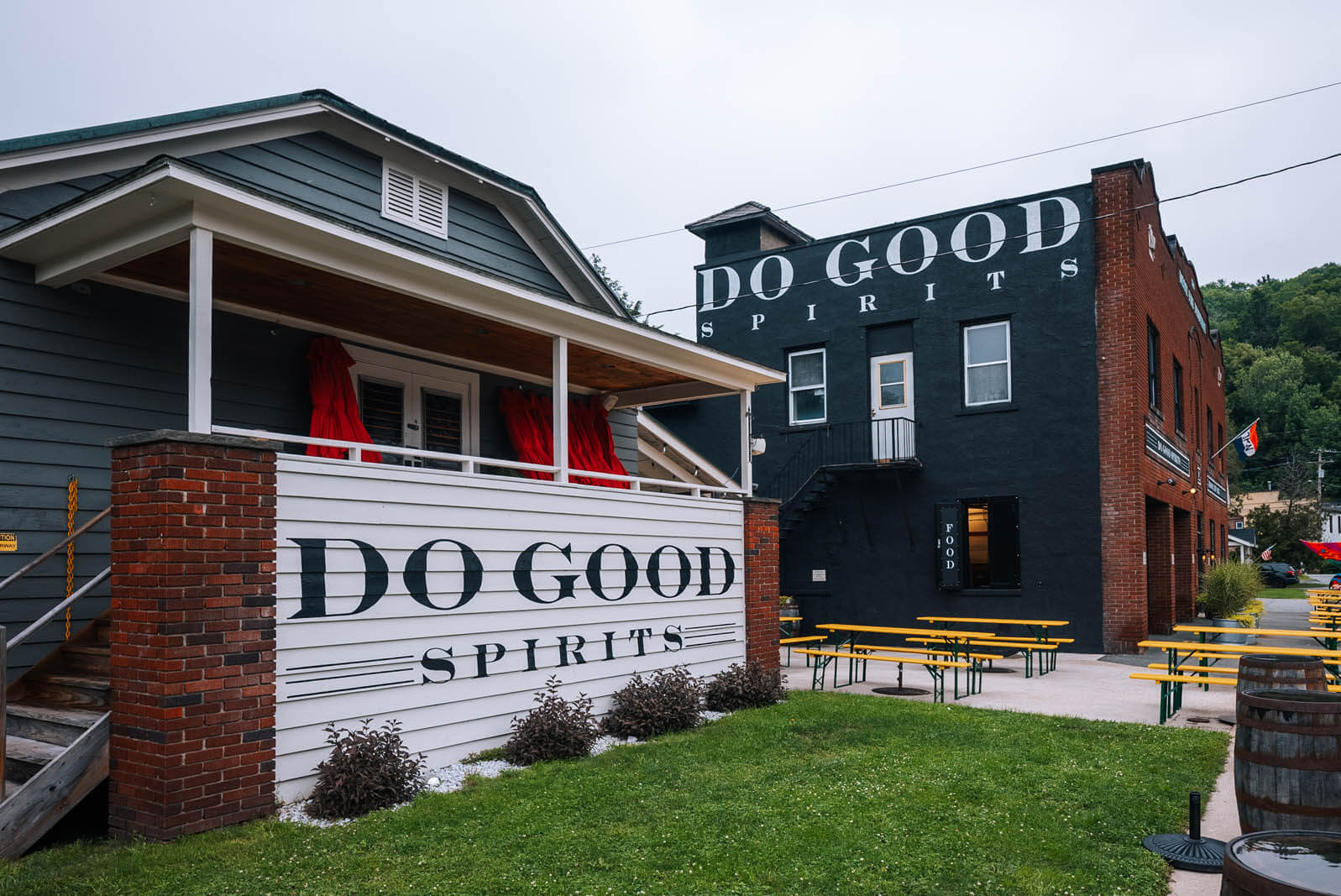 Spend the afternoon at Do Good Spirits while in Roscoe, New York for a sampling of their in-house selection, Prohibition Distillery.
There's always something going on in this beautiful old brick building turned into a distillery and tasting room. If you plan your visit right, you can join a tour of the distillery. We enjoyed a tasting and walked out with a few bottles to bring back home. Their Bootlegger Gin is probably one of our favorites to date.
On the weekends you can have dinner and enjoy a cocktail with live music here too! This is especially fun in the summer as they have a really great outdoor setup.
As mentioned, we recommend the Bootlegger Gin or Beaverkill Bourbon Cream. We have been adding bourbon cream to our coffee on the weekends!
The quality from Prohibition Distillery is impeccable, even down to the beautiful packaging and labels.
Roscoe O&W Railway Museum
You'll notice an old red caboose car at the end of Stewart Avenue. Behind it is a restored "trout car," once used to cart fish from farms in Long Island to restock the popular fishing destination that Roscoe has always been.
For a charitable donation, you can tour both cars. You'll get an important lesson on the history of Roscoe as a vital part of the now-defunct Ontario and Western Railway.
Across the street from the train cars is the beloved O&W Railway Museum. You will not regret spending the afternoon here. Inside you'll find fully operating small-scale train sets and collections of vintage railroad paraphernalia like lanterns and conductor uniforms.
Enjoy exhibits about the history of the Roscoe, Catskills, or find out about taking a self-guided tour through town.
Roscoe Beer Co.
When looking for things to do in Roscoe, consider this brewery in a former firehouse. We are huge fans of craft brews and Roscoe Beer Co. doesn't disappoint and is a fun place to enjoy the atmosphere.
They fully lean into the "Trout Town USA" title and pay homage to the firefighters everywhere with their motif. Enjoy a fresh draft while you watch the brewery work through an observation window or cozy up by the stone fireplace on a chilly day.
In the summer you can enjoy their great outdoor setup and beer garden where there's ample room to sit and enjoy some pub grub and a beer. There's also live music frequently and fun events too including Oktoberfest!
There's quite a variety of draft beers on tap throughout the year, from a dark stout to a sour fruited beer called, "Ohhh You Know." Choose your drink to go with garlic aioli fries or a classic Ruben, just to name a few of the delicious offerings on the food menu.
Fly Fishing in Roscoe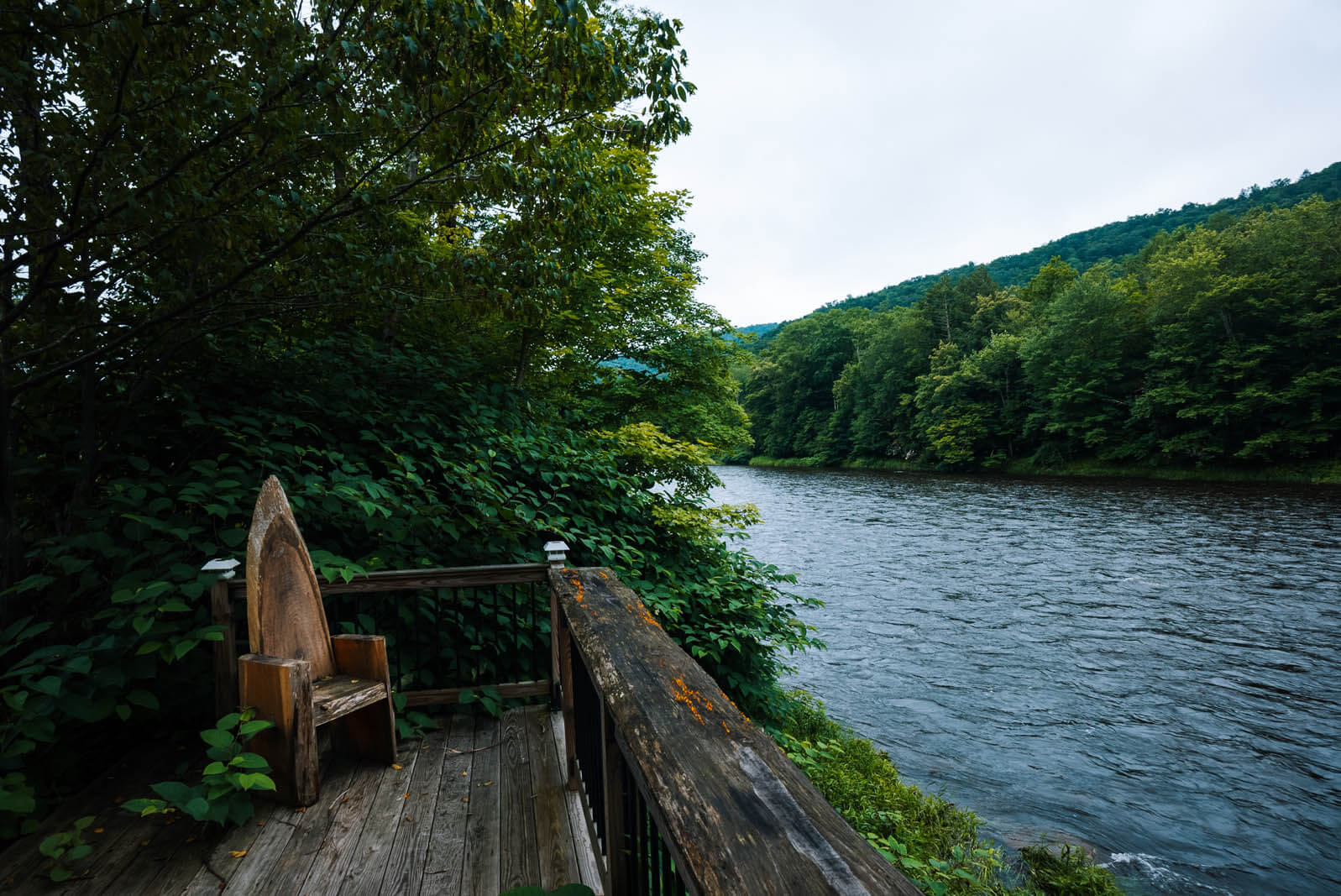 As mentioned earlier, Roscoe, New York is nicknamed "Trout Town, USA," and had a long history as a fly fishing destination., specifically for trout hence the nickname.
Home to the top 5 flyfishing streams in the United States for trout, Roscoe is perfect for both seasoned and novice fly fishermen. Roscoe is filled with great fishing equipment shops that also provide guides and tours.
If you're new or don't have your own gear you can arrange to rent gear or go fly fishing with an expert guide at Baxter House Fly Fishing Outfitters, The Beaverkill Angler, or Trout Town Flies.
All 3 shops offer lessons and equipment for rent or purchase. Guides host seminars and retreats around different themes, including women-only retreats and weekends for experienced fly fishermen. You can plan a custom half-day or overnight trip as well.
If you have your own equipment, you are more than welcome to bring it on your Roscoe Catskills trip. You can purchase a freshwater fishing license online or locally in town. Rent equipment and purchase a fishing license at the RCP Outpost, Roscoe Campsite Store based in the town of Roscoe.
If you stay at Roscoe Campsite Park, which is located along Beaver Kill, they allow guests to flyfish right at your campsite! Otherwise, you have a lot of opportunities and places to go, any of the fishing outfitters and supply stores can also point you to the best spot.
Camp at Roscoe Campsite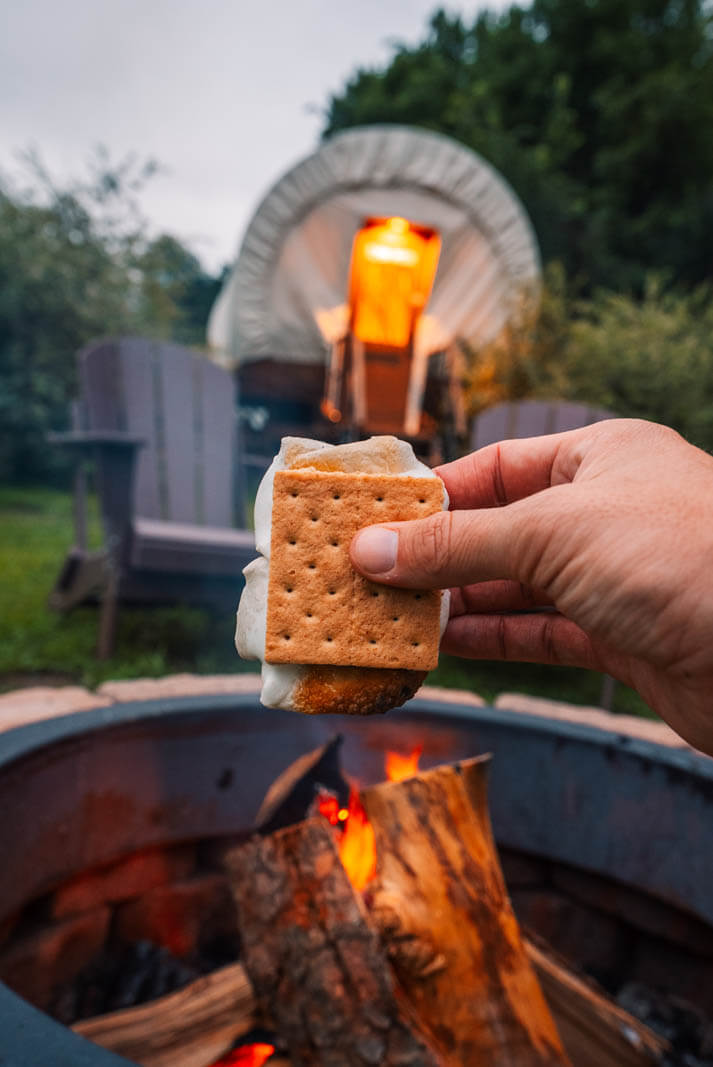 You won't run out of things to do while staying at the Roscoe Campsite Park! For your camping experience, there are plenty of options from creekside cabins, camp and RV sites, to covered wagons!
Have some old-fashion fun while staying in the American history-themed cabins or live luxuriously while glamping in the Conestoga Covered Wagons Outpost located down the road from the main campsite in Cooks Falls.
The waterfront cabins are perfect for anyone who wants to eat, breathe, and sleep while fly fishing as you can just step out from your bed to the Beaver Kill.
Or if you have your own gear or camper, you choose to do some classic camping at their RV and tent sites as well.
We stayed in the covered wagons and they were amazing! There are 5 covered wagons at the outpost which also runs along the Beaver Kill as well, which is perfect to rent out the entire campsite if you're traveling with a group of friends or several family members. Each wagon comes with its own Adirondack chairs, fire pit, and kettle to cook over.
Each wagon also is fully equipped with air conditioning, tvs, fridges, wifi, and are incredibly spacious fitting a twin bunk bed and a king-size bed inside the wagons!
If you stay here, the campsite also provides rentals for kayaks, rafts, and canoes so you can even play on the water. This is sort of an all-in-one spot making a getaway up to the Catskills really easy to have a great time.
Not to mention they have critters too! Check out their alpacas, goats, and chickens! We honestly had a blast here and anytime we come back up to Roscoe in the Catskills we plan on staying here.
Beaverkill Covered Bridge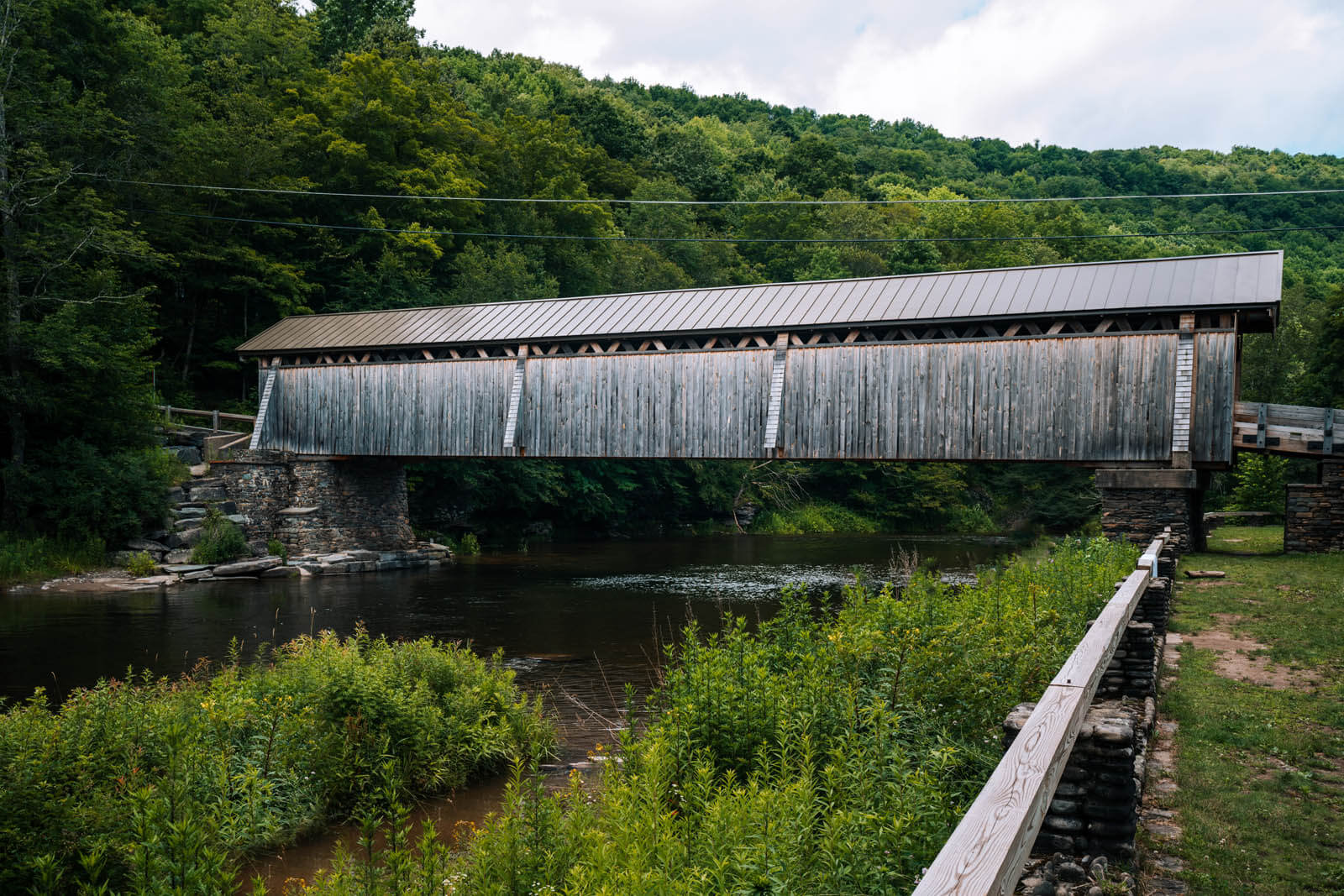 So we have a thing for covered bridges thanks to my mom. There are several amazing covered bridges in New York, one of which is located near Roscoe, New York on Beaver Kill.
Located 7 miles north of both Roscoe and Livingston Manor, New York, the Beaverkill Covered Bridge is one of the oldest surviving covered bridges original to the area. Also called the Conklin Bridge, it's a hidden treasure a little way out of town. You will not regret taking a drive to see it not to mention you can drive over it too!
A landmark beloved by locals, it's been well-maintained over the years. A fine example of early craftsmanship, you have to see it to understand the beauty and intricacy of the woodwork.
It's a beautiful scene over the top of Beaver Kill, where in the summer you can go swimming and picnic along at the tables. No wonder it's a popular flyfishing location with such scenic views!
There's a large, deep pool close to the bridge, making it the perfect spot for fishing.
On your way out, if you take Craigie Clair Road to Route 17, don't miss two of the most unique things to do in the Catskills and hidden gems!
Craig E Clair Castle, aka Dundas Castle, is not open to visitors currently but soon this hidden castle in the mountains will be a hotel/resort! This early 20th century home was designed after a Scottish castle and is shrouded in mystery, you'll have to read our article about the unique things to do in the area to learn more though!
Also right after you get on Route 17 you can find another one of the hidden gems in the area our article mentions, Agloe, a real-life papertown!
Things to do in Livingston Manor
Livingston Manor's earliest history landed it a reputation as the birthplace of flyfishing, settled alongside the Willowemoc Creek. Famous for more of those wooden, handcrafted covered bridges scattered throughout the area, Livingston Manor, New York has much to offer interested visitors.
Of the two towns featured in this Catskills getaway guide, Livingston Manor has a larger downtown and double the population as Roscoe which is still only around 1,000 people.
Again, don't let the size or small population fool you, there are many wonderful things to do in Livingston Manor!
Downtown Livingston Manor New York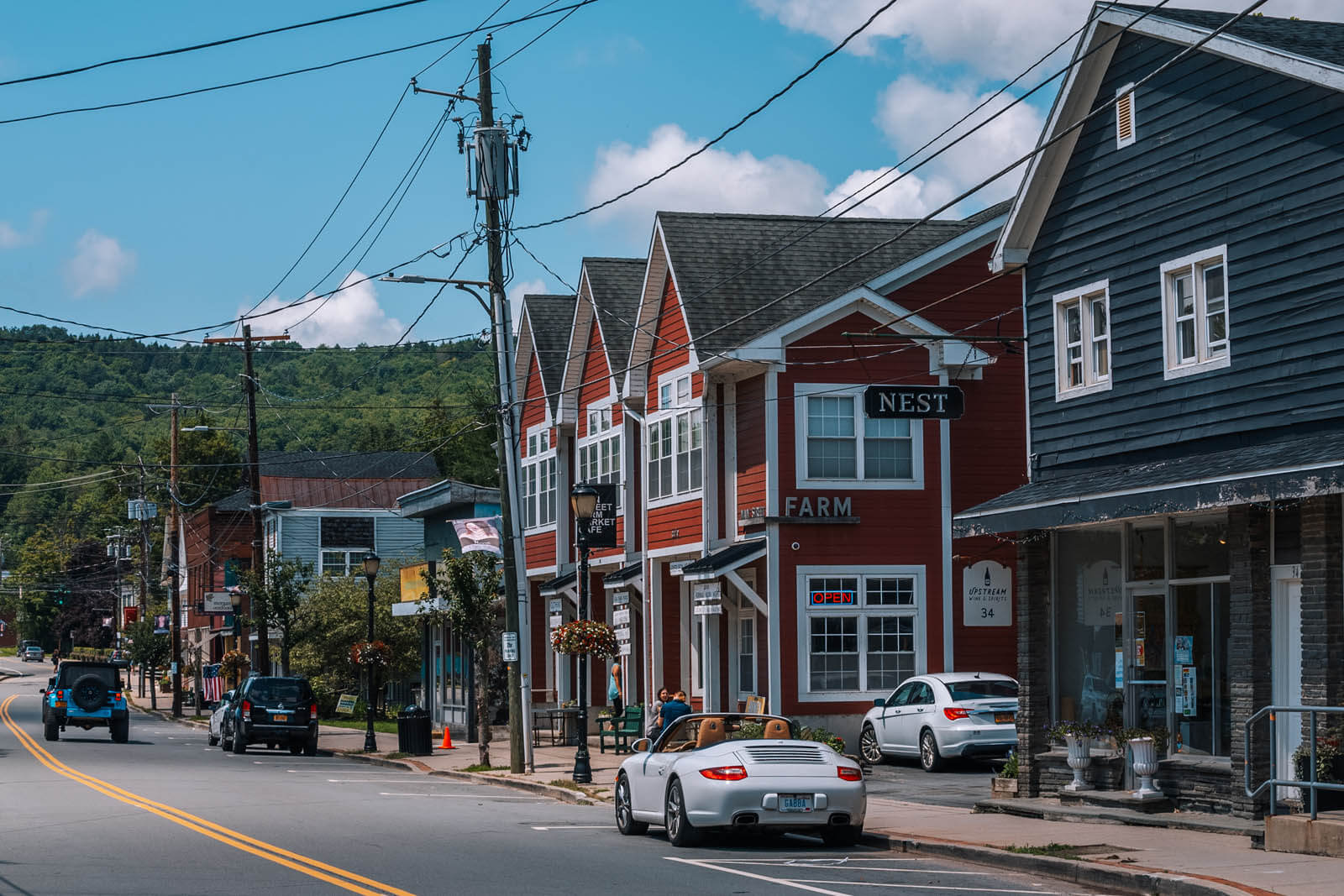 A trip down Main Street provides plenty of things to do, from antique shopping to unique restaurants. Walk along the river after picking up pastries at the Neon Croissant or grab some local pantry items from Main Street Farm. This market and cafe is also a popular breakfast and lunch spot. The food was great, but if you're tight on time it's not as quick of a meal as you might expect so just prepare for the time to move a little slower in this charming local jaunt.
Other great spots to grab a bite to eat include Katskeller who offers wood-fired pizza and has a great outdoor dining set up in the warmer months as well as The Smoke Joint which has great bbq!
Enjoy some second-hand treasure hunting and thrifting at Life Repurposed and explore the antiques at Taylor + Ace.
Take your stroll and turn down Pearl Street will take you to refreshing shopping experiences at places like Concrete + Water and Homestedt. These neighboring shops are night and day. Concrete + Water is a trendy, bright, minimalistic clothing and homeware store with one-of-a-kind finds, the latest fashion, and on-trend designers. Homestedt is a showroom and shop for the Homestedt brand, who among other things hosts cabin rentals in the area.
Check out their deep green interiors, finely curated collection of handcrafted pieces, quality home goods that feel timeless. These neighboring stores both hold odd hours so check before you stop by. It's worth the visit!
More Covered Bridges
What's great about Livingston Manor is that they have several covered bridges in the vicinity you can explore with one even conveniently located close to town.
Willowemoc Creek turns into the Eastern branch of the Delaware River, it many tributaries are home to these historical bridges.
The closest bridge to town is Livingston Manor Covered Bridge, aka Vantran Covered Bridge which dates back to 1860 and is another one of the few covered bridges in the state you can drive across. There's a parking area on the one side so you can hop out and grab a few photos like we did, and if you want to stay a little longer it's quite serene next to the bridge so you can enjoy a little countryside peace and quiet here.
Two other covered bridges within the vicinity of Livingston Manor, New York are the Campbell Covered Bridge and the Downsville Covered Bridge.
No matter the time of year, the bridges make quite the scene. You will be taken back in time as you walk these testaments to late 19th-century woodwork and ingenuity. Read the historical marker, take a picture with the flora and fauna, fall foliage, or snow in the background of the bridges as they are beautiful to visit just about every season.
Arnold House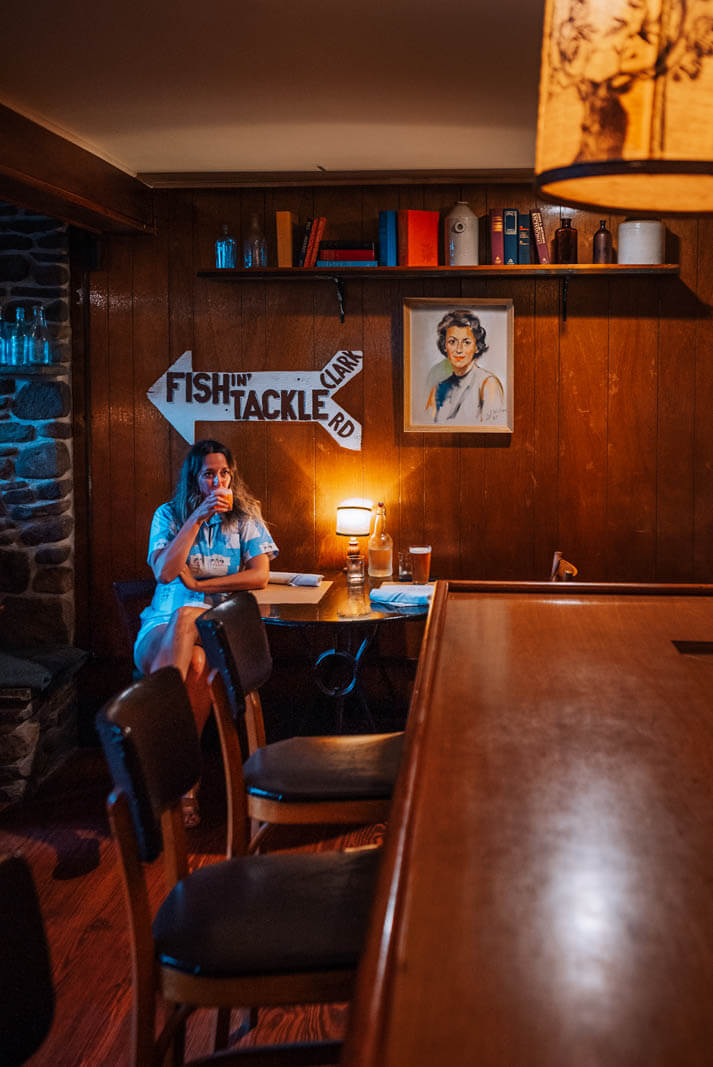 Book a room at the Arnold House, a country getaway nestled into the Shandelee Mountain outside of Livingston Manor, New York. This spacious retreat boasts a spa, a restaurant tavern, and activities going on all year long.
Guests are encouraged to bring their pets, enjoy a nap by the fire, or take a hike in the woods. Explore the gardens and meadows or attend a live musical performance.
Take a gardening workshop in the Pole Barn, enjoy a round of golf on the estate, or spend the morning fly fishing. The Tavern feels lost in time, harkening back to the glory days of Sullivan County summer resorting. Sip a beer over a round of pool or take their delicious food into the gorgeous Greenhouse. The Spa at Arnold House is available by appointment only.
Even if you don't stay here, you should stop by and have a meal at the Arnold House Tavern which is the perfect place to try the local specialty, trout! If you're not a fish person, don't worry they have a full menu of delicious food to try alongside a full bar. I really enjoyed their cocktails personally!
Catskill Brewery
Another one of the best things to do in Livingston Manor, New York is enjoy one of the most popular breweries in the region! People gather all over Wednesdays through Sundays to enjoy their beer garden. This brewery prides itself on their quality brews made of fresh mountain water, and from our own tastebuds we have to agree – it's pretty darn good beer.
Take a tour of the brewery, order food from the selection of the established Catskill Food Truck, or stop by for Comedy Night. Book a tasting or attend live music performances all year long.
Pick up a six-pack or choose from the wide selection on tap at Catskill Brewery. Visitors can opt to stay in one of two beautifully renovated Airbnb cottages hosted by the Homestedt brand and located behind the brewery.
Upward Brewery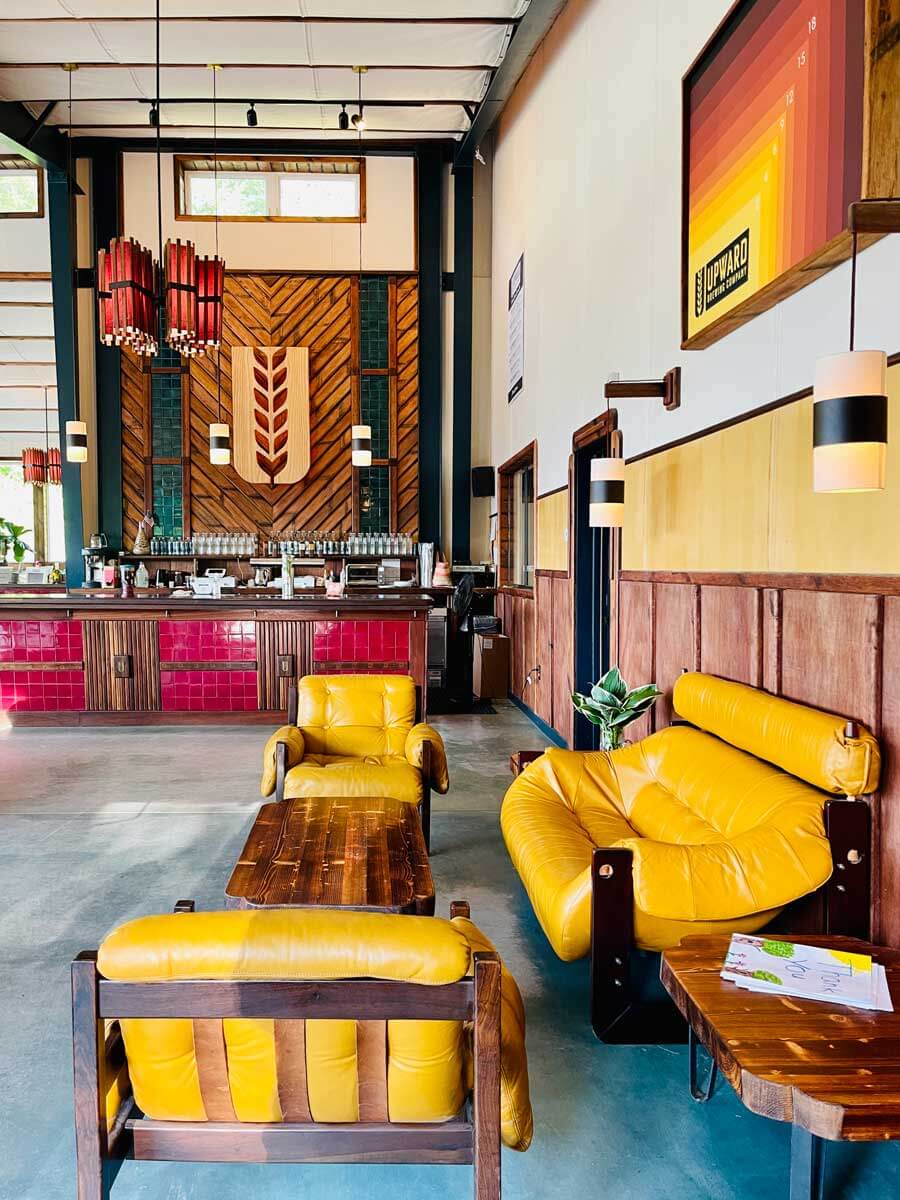 One of the most beautiful New York breweries we've ever been to is this one right here located in Livingston Manor! This Catskills beer hot spot is located on their 120-acre reserve they like to call Beer Mountain.
There's a cool, modern feel everywhere, from the stylish interiors to the minimal, monochromatic can labeling. This ultra-cool brewery and kitchen sits on the edge of a clean, clear pond. At night, the modern box-like building glows from the inside. Guests can enjoy 360-degree views of the 120-acre reserve through floor-to-ceiling windows or outdoor seating.
Book a tour of the brewery or enjoy an almost completely locally-sourced meal at the Upward Kitchen.
In the insanely stylish taproom, relax by the fireplace on a supple leather sofa under warm, glowing chandeliers. When it gets cold outside, they have bonfires, and you can hike the reserve when the weather is good.
Catskill Fly Fishing Museum
A trip to the Livingston Manor Catskills isn't complete without a trip to the Catskill Fly Fishing Museum. Here you can be educated on the history of fly fishing in the area and attend workshops from local fishermen. There's a museum as the name suggests, gallery, gift shop, pavilion, pond, trails, and river access on their 53-acre property.
And if you're into fly fishing, check out their fly fishing hall of fame for the most legendary of the sport!
Waneta Lake
Waneta Lake is located less than 5 miles north of both Roscoe and Livingston Manor, New York. Just south of the Beaverkill Covered Bridge, it's worth a stop while touring the area.
This small reservoir is part of the connected Edgewood Lakes and is part of the Catskill Forest Preserve.
This local secret is generally undisturbed, making for a serene day of fishing on the pier. Take a hike around the lake or enjoy a picnic by the water. There's parking and picnic tables.
If you want to rent a canoe or kayak, you can make arrangements at the Roscoe Campsite in the Park General Store if you're staying here.
Nearby Roscoe & Livingston Manor, New York
If you have time to explore more around the region there are a few other great spots not too far away in the Catskills worth checking out!
Phoenicia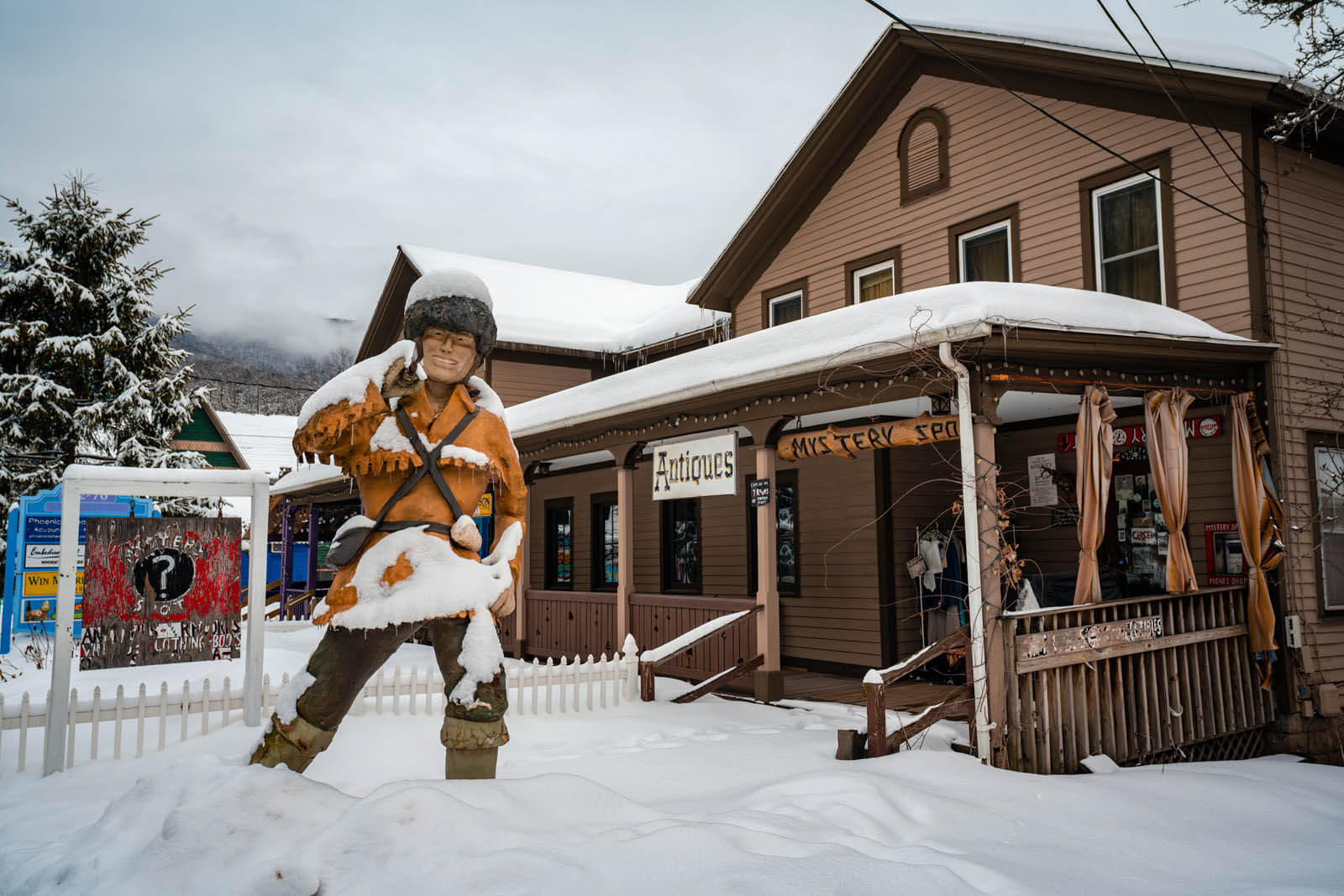 About an hour drive from Livingston Manor and Roscoe, New York you can visit another one of the fun areas to explore in the Catskills. Phoenecia is a picturesque, small town nestled between neighboring valleys and offers more opportunities for outdoor adventures, antique shopping downtown, microbreweries like Woodstock Brewing, and one of the best diners upstate, Phoenicia Diner.
Another fun attraction here includes the world's largest kaleidoscope, located in a 60-foot tall silo on the Emerson Resort and Spa. Inside you can experience the sensory-stimulating "kaleidoshow" set to music and sound.
For more ideas of how to spend your time here, check out our guide on the best things to do in Phoenicia.
Bethel Woods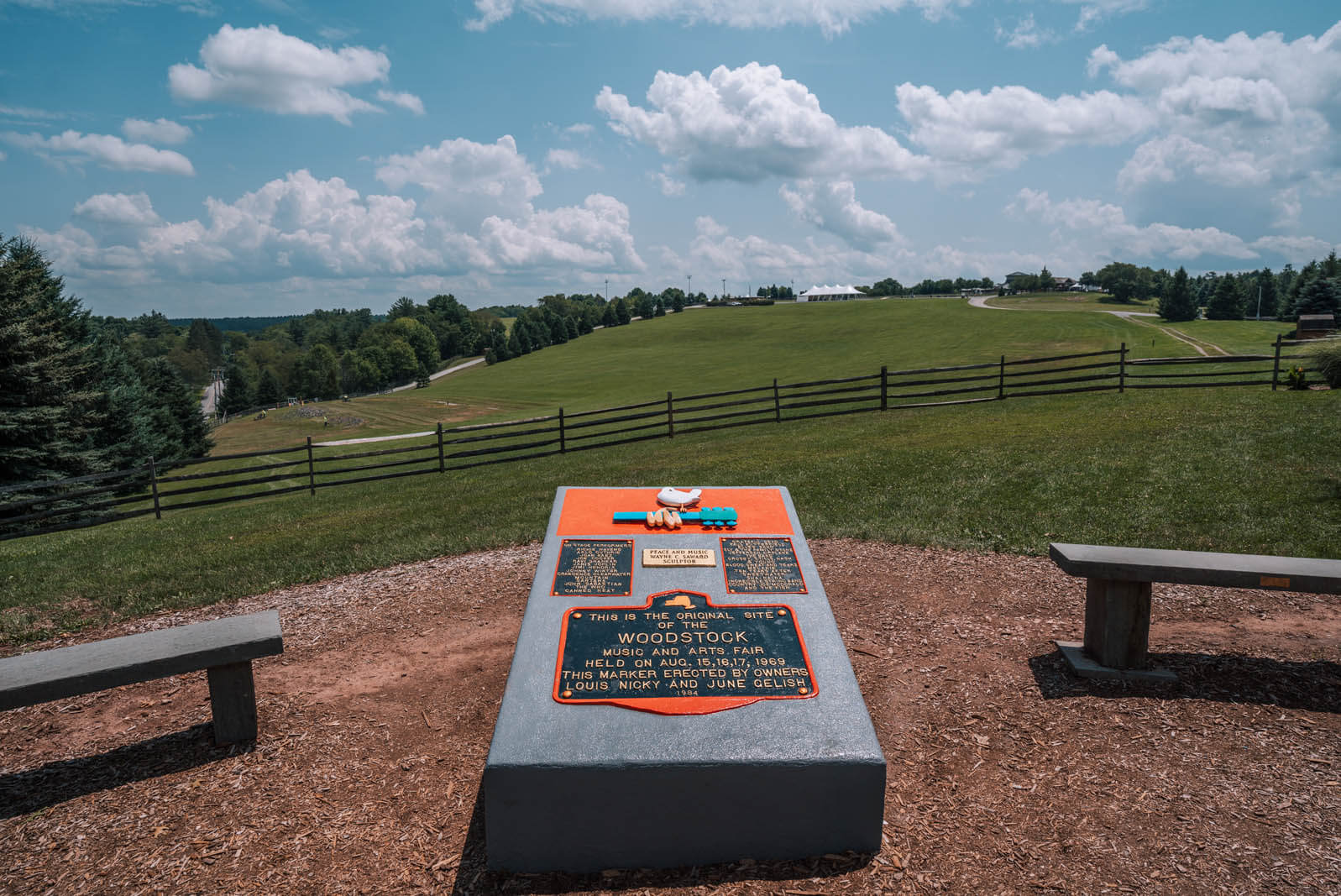 If you want to channel you're inner peace, love, and happiness head to the site of the most legendary music festival on the globe that at its time, was the largest attended music festival in the world.
You can visit the historic site of the 1969 Woodstock Festival at Bethel Woods Center for the Arts, not to be confused with the actual town of Woodstock also in the Catskills.
The museum here is only $5 for admission and you can learn about the historic event that took place here as well as walk around the plot of land at the former dairy farm that was the site of the gathering of roughly 400,000 people who came to listen and celebrate some of the most iconic names in music from Jimi Hendrix, Carlos Santana, Grateful Dead, Janis Joplin, Credence Clearwater Revival, and MANY more.
Narrowsburg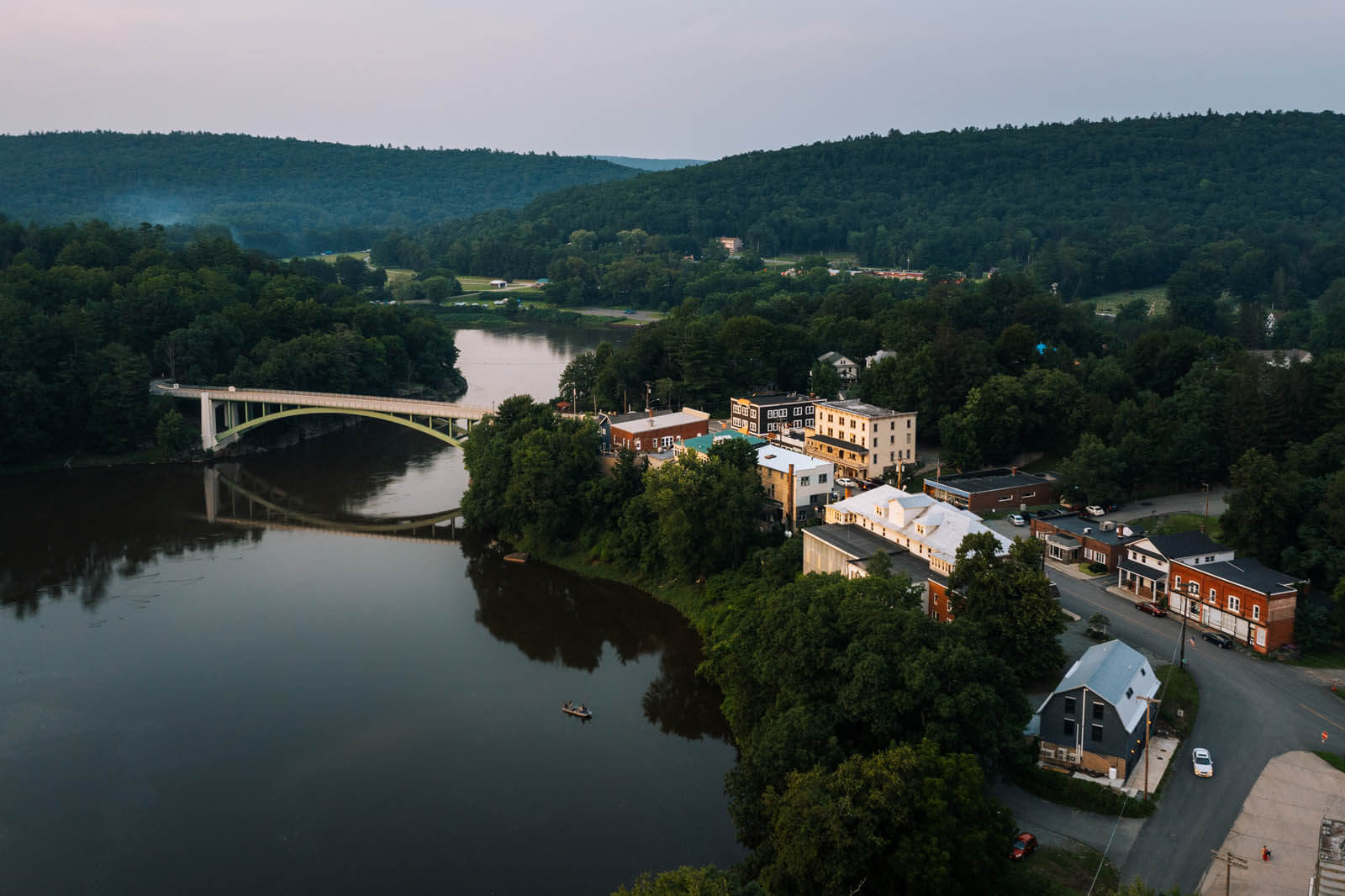 Another great visit during your time in Livingston Manor and Roscoe, Catskills area is the town of Narrowsburg located on the New York and Pennsylvania borders along the scenic Delaware River.
You can find an adorable downtown with a vista overlooking the river below. There are plenty of shops on Main Street, restaurants, and if you're feeling adventurous grab a raft, tube, kayak, or your boat of choice from Lander's River Trips and float down the scenic Delaware River looking for eagles along the way!
---
Enjoyed this guide to all the best things to do in Livingston Manor and Roscoe, New York? Bookmark this guide for later or share the love below on Pinterest!