There are so many charming towns in Germany, pretty towns in Germany, and storybook villages in Germany that are worth adding to your trip!
While this list could never be complete, we did our best to narrow it down to the 10 most charming towns in Germany to visit. Each of these destinations has a plethora of things to do and see and the perfect excuse to plan your next getaway to Germany.
10 Pretty Towns in Germany You Need to Visit
1. Würzburg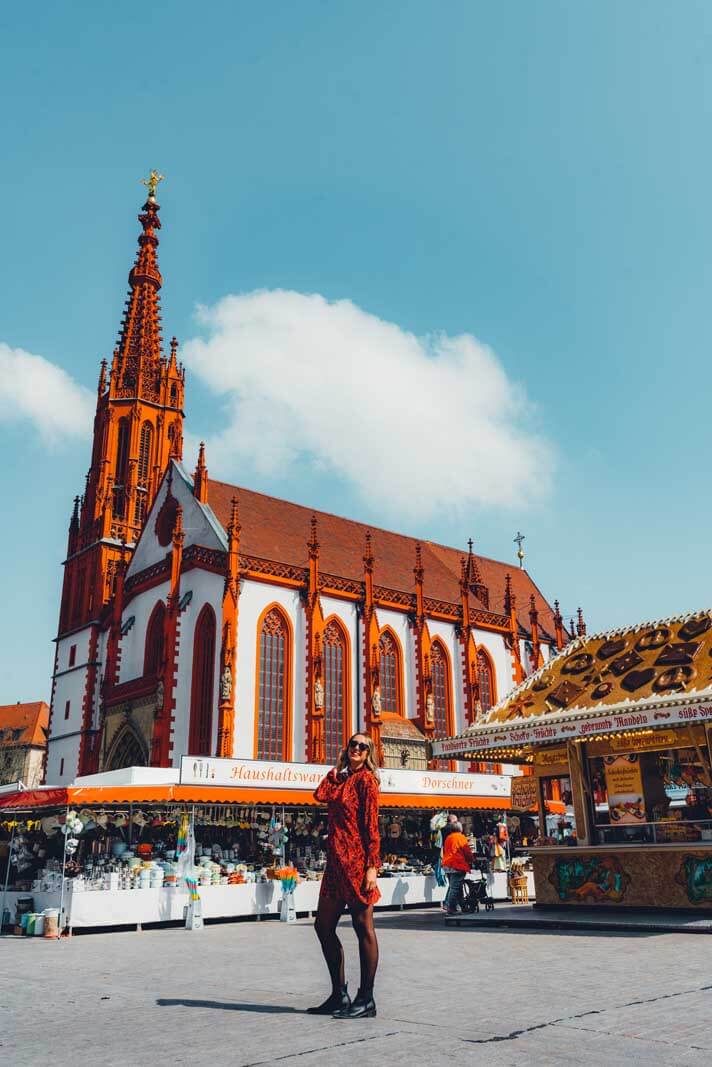 First up, the city of Würzburg is situated in the Northern Bavaria and Franconia regions of Germany. What makes this pretty town in Germany famous are its prestigious wine and vineyards.
As a matter of fact, Franconia is famous for its wine and is a popular destination for wine enthusiasts from all over the world. Besides that, Würzburg has also considered the gateway to Germany's Romantic Road, which you know is full of beautiful small towns in Germany and romantic castles!
The architecture here is reputably elaborate and florid in design, most notably the Residenz Palace, which was built in the 18th century. The palace is full of lavishly decorated rooms, elaborate staircases, and an enormous fresco that was painted by Tiepolo, the Venetian artist.
Art is also very much appreciated in Würzburg, with establishments like the Martin von Wagner Museum storing and displaying more than 6000 beautiful pieces of art from around all Europe.
If you happen to visit in the spring you can attend one of the oldest beer festivals in all of Germany at Kiliani Volksfest, just one of the many incredible things to do in Würzburg that makes it one of the best small towns in Germany.
2. Regensburg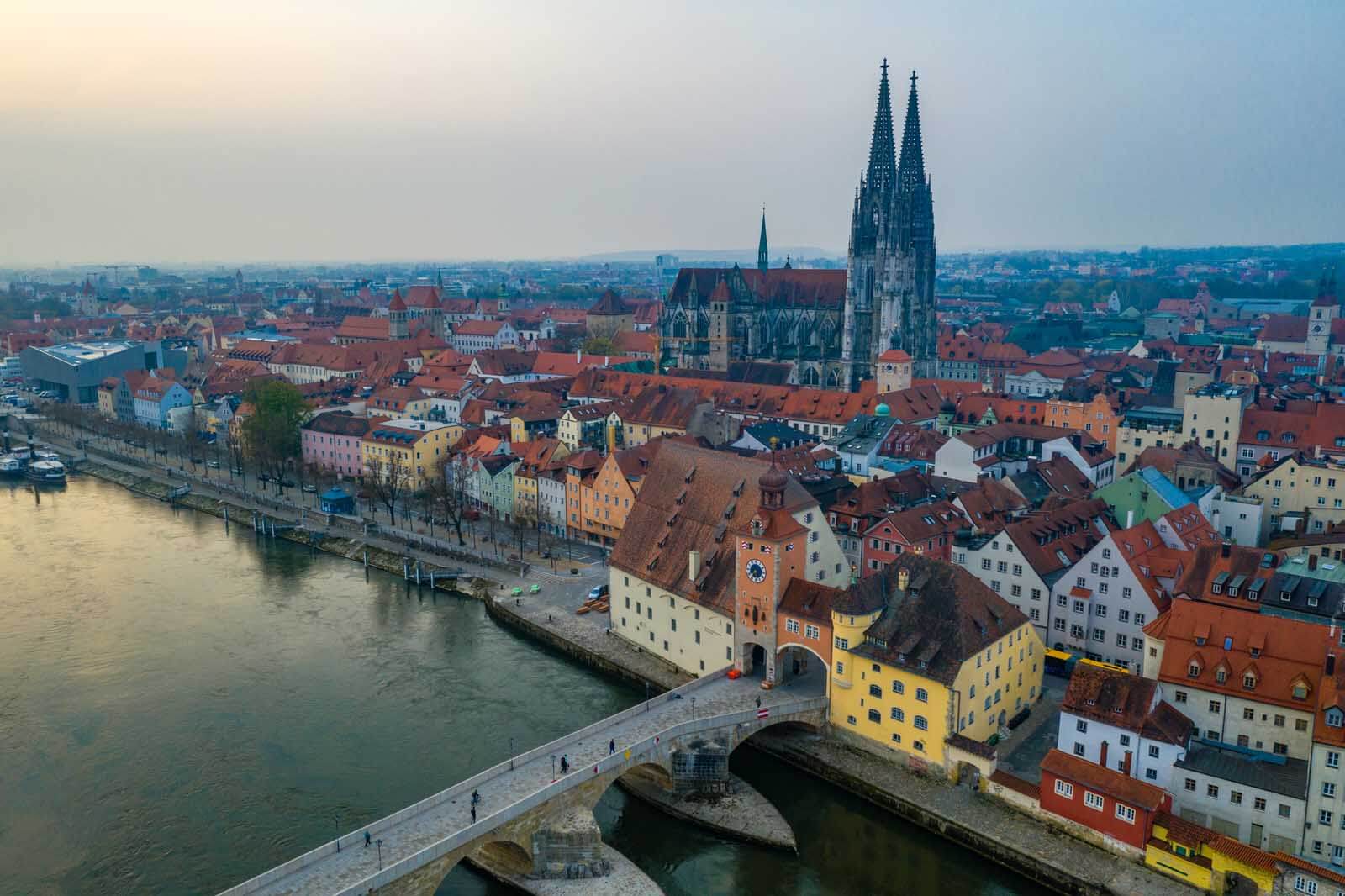 The first capital of Bavaria, Regensburg, is one of the only surviving medieval towns in Germany. You can see traces of Roman history here in Regensburg, Germany as well as a majority of its medieval past. Because of its incredible preservation of medieval stone buildings, Regensburg, Germany has been named a UNESCO World Heritage Site with over 1,200 designated historic protected buildings.
Regensberg was established as far back as two thousand years ago, under the rule of the Romans. Under the Roman Empire, the city's artists and architects became increasingly proficient at their work; going on to build the architectural monuments that are now a UNESCO recognized World Heritage Site as mentioned above.
Take a guided tour where you can learn about the ancient civilization that lived in and built this beautiful medieval town in Germany or wander around the town, eat some Bavarian food with the locals including the oldest operating restaurant in the world, and other amazing things to do in Regensburg.
3. Potsdam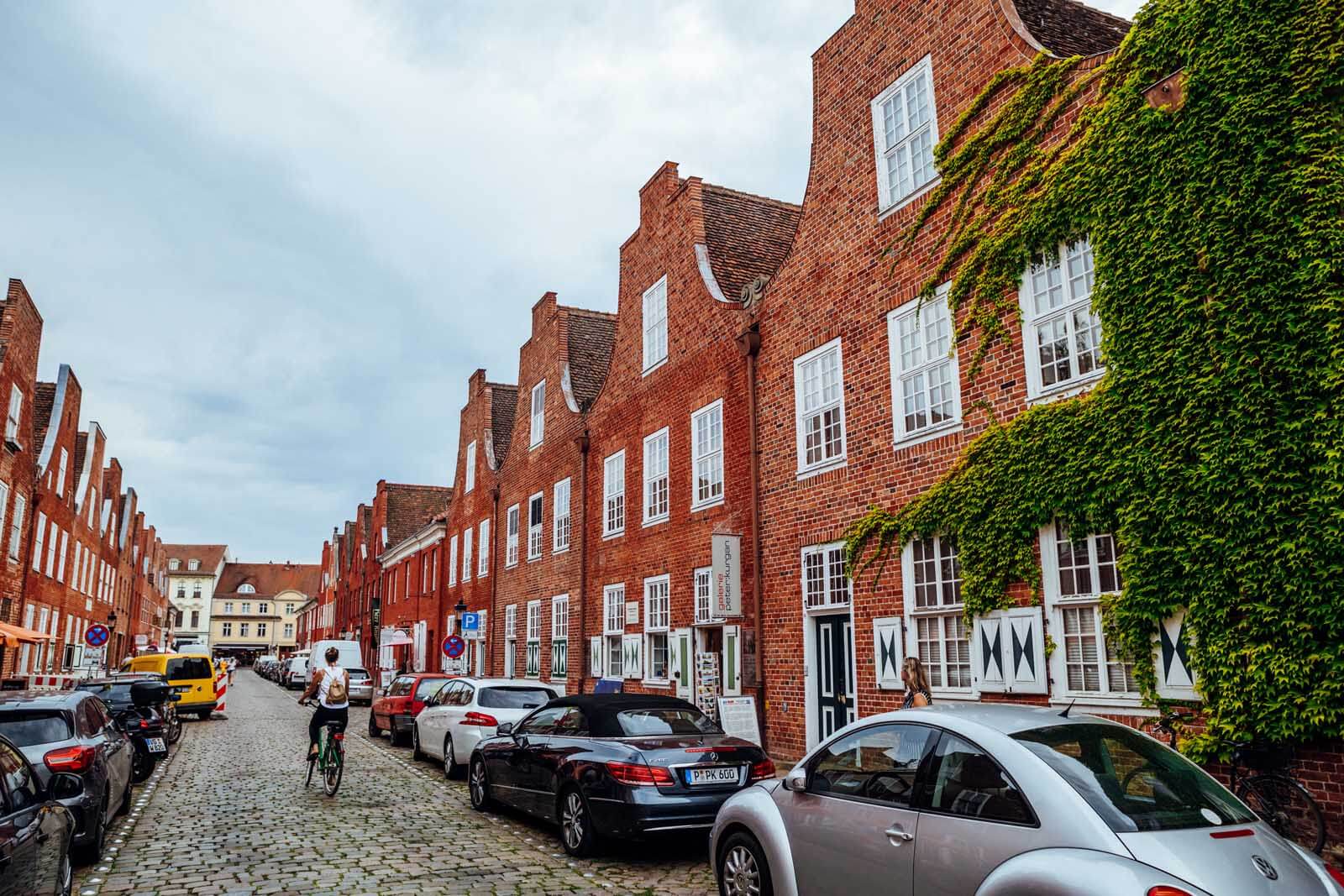 Ahh, one of our favorite places and towns in Germany to visit. Potsdam is a part and capital of the Brandenburg Metropolitan Region just outside bof Berlin. It is a beautiful city, resplendent with palaces, parks, lakes, and many gardens.
Potsdam is another one of the most incredible old towns in Germany, and many of its attractions were constructed between the 18th and 19th centuries.
Famous for its brilliantly designed palaces of Potsdam, there are whopping total 16 in a small area, like the Schloss Sanssouci, which was built to house the Prussian Kings in 1747. Most of the palaces in Potsdam are registered under the UNESCO World Heritage Site and cultural landscape of Potsdam.
Get lost wandering the streets of the Potsdam historic center where you can stroll through the charming Dutch Quarter, the largest outside of the Netherlands, or make your way to the Russian colony where you feel like you've went around the world in just a short walk.
There are tons of great things to do in Potsdam that make it one of our choices for best towns in Germany including being home to Babelsberg; the oldest and largest film studio in Europe. Many famous German movies were made here from propaganda films during Hitler's regime to being Europe's Hollywood today where films like 'Grand Budapest Hotel' and 'Bridge of Spies' were filmed.
4. Rothenburg ob der Tauber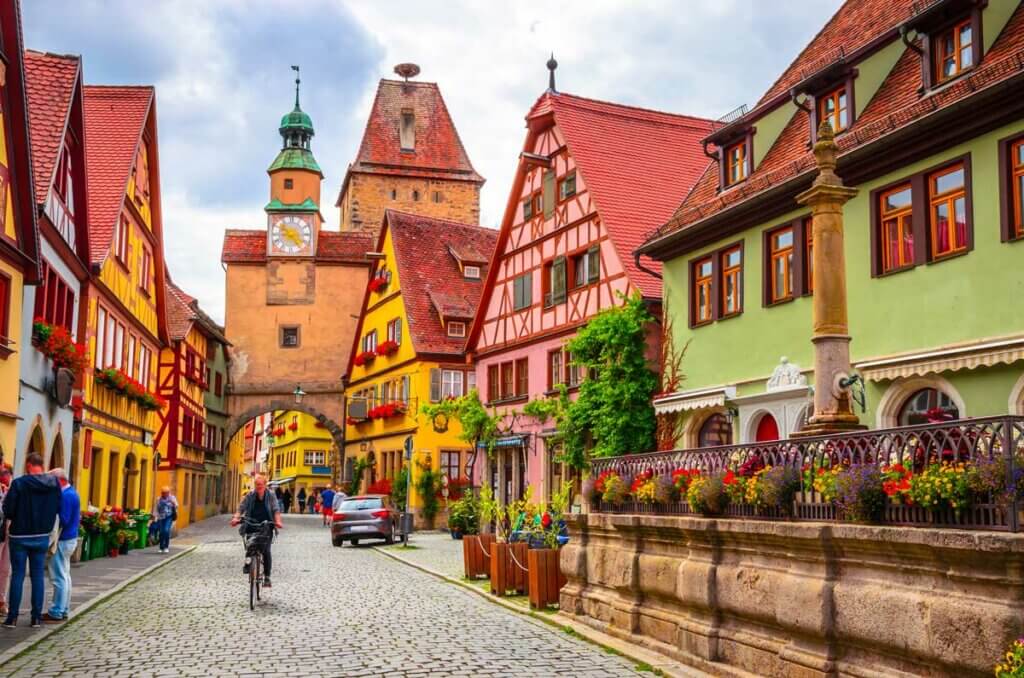 Undoubtedly, one of the most well-preserved medieval towns in Germany, it is said to have been established by the Celts before the first century is Rothenburg ob der Tauber and another pick for the most beautiful small towns in Germany you have to visit.
Rothenburg ob der Tauber is an ancient town in the Franconia region of Bavaria, Germany. It sits on an elevated plain with majestic views looking down at the Tauber River. A visit to this charming city will have you feeling like you are whisked away in a storybook setting; with centuries-old citadels, towers that offer amazing views at the top, and a real night watchman.
If you are wondering where to go in this charming German village, check out places like St James' Church, the Medieval Crime and Justice Museum, and the Georgsbrunnen.
5. Bamberg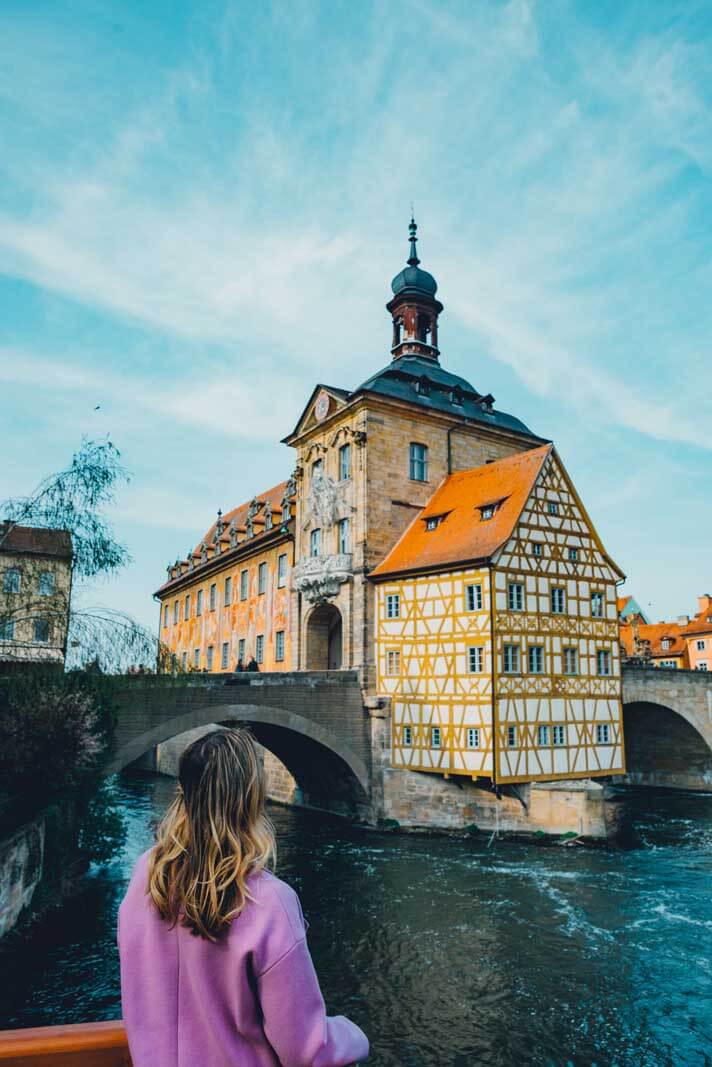 Easily one of the most Disney-esque and charming small towns in Germany is Bamberg. Located in the northern Bavarian region, right on the Regnitz River, the foundation started out as a town that was built on seven hills and on the top of each hill a castle or church was built as a symbol just like Rome.
During the final days of WWII when much of Germany was being bombed, only 2.6% of Bamberg was destroyed which is extremely rare to find making this old town in Germany one of the most amazing you can find. That is how this city is so beautifully preserved in its medieval state and why it has become a protected UNESCO World Heritage Site.
Feel swept away walking through the streets of this charming medieval town in Germany full of gorgeous half-timbered buildings that were built in a variety of colors.
And if you're a beer lover, like us, you will not only be swept away by the charm of this gorgeous German village but also the incredible and world-famous beer scene with some of the oldest and traditional brews in the world. Chances are before you ever came to Bamberg you've tried their world-famous malts used in beers. Bamberg's famous for exporting its malt to breweries all over the world!
6. Lübbenau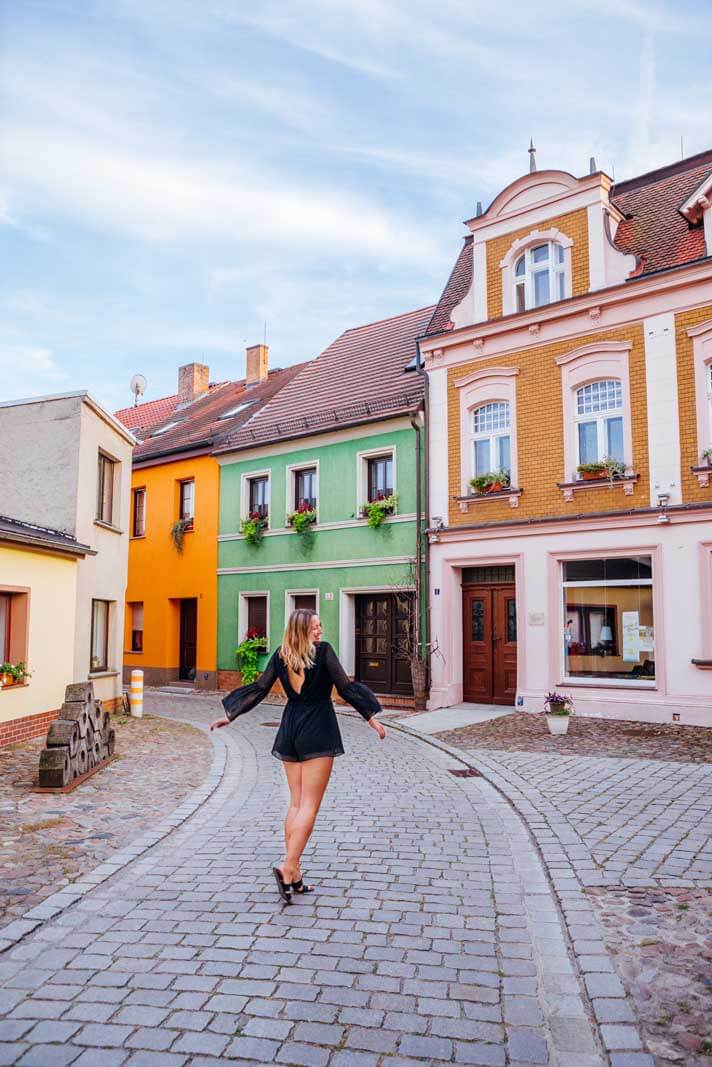 Next up for the most beautiful old towns in Germany is the incredibly charming town of Lübbenau. This is where we were based for part of our trip through Brandenburg and just fell in love at first sight. This historical town has a beautiful town center with colorful facades and little alleys full of more enchanting homes and art installations all over the city from a festival a few years back.
Not only is it small, but it is also one of the oldest towns in Germany, having been in existence since the 8th or 9th century. Lübbenau is popularly known as the door to the Spreewald – a UNESCO World Heritage Site and a lush and beautiful biosphere reserve that the Spree River runs through.
The Spree Forest is just one of the many things that Lübbenau offers including being famous for their beloved gherkin! There are lots of places to explore in the city, from the marina to the castle and things to do like going cycling or taking boat rides to enjoy the town's scenery – or trying all the different gherkins from all the different vendors, the local specialty.
7. Bayreuth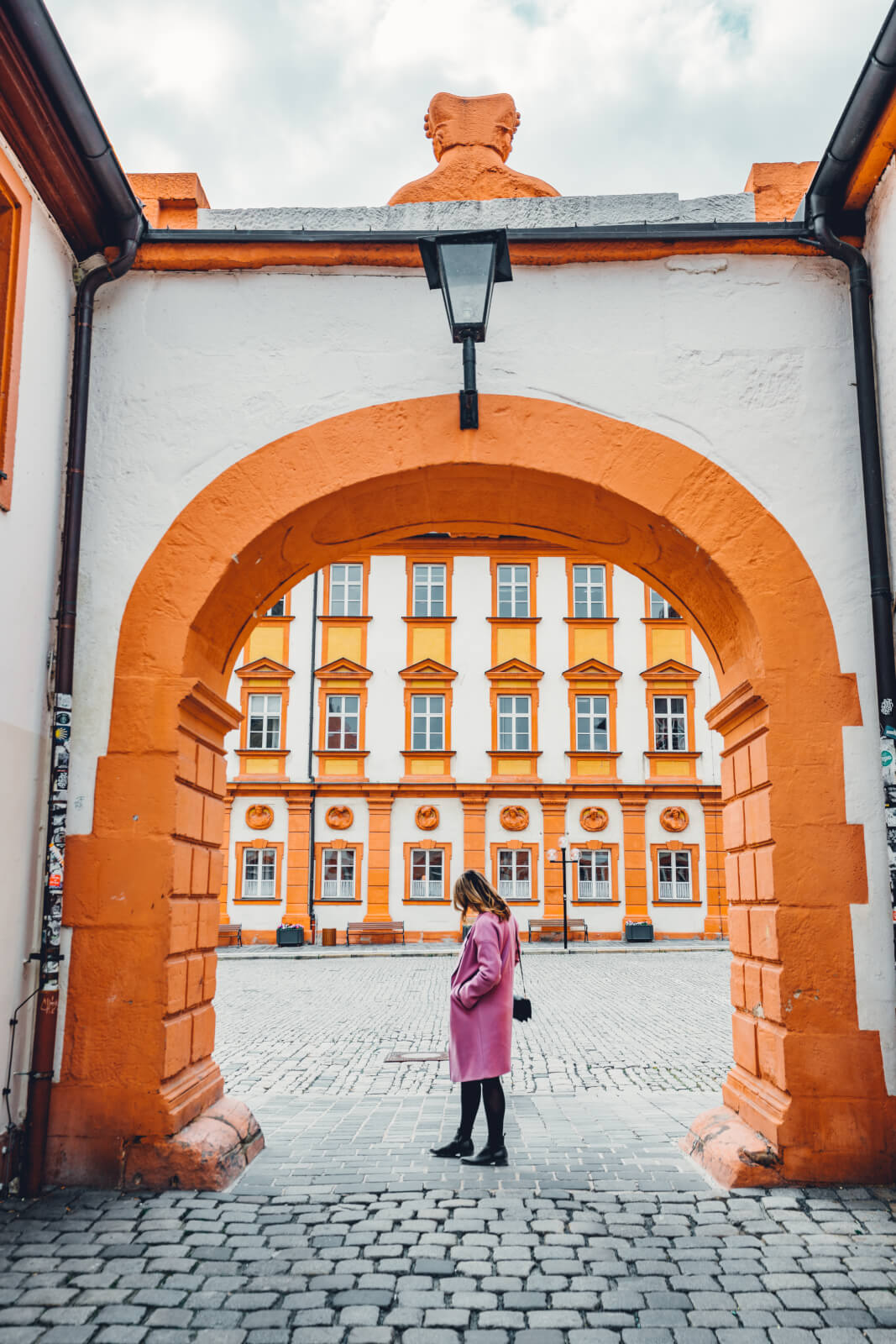 Get lost in Bayreuth, located in the northern-Bavaria region and considered the capital of Upper Franconia. Set on the Red Main River in the middle of the Fichtelgebirge and the Franconian Jura mountains, you can enjoy all the amazing things to do in Bayreuth and the surrounding area as there's no shortage of beautiful sites to visit.
Bayreuth dates back to the year of 1194 and in the early 21st century and year after year this amazing town in Germany is famous for bringing people from all over the world to celebrate and attend the annual Bayreuth Festival where operas are held to honor the famous German composer Richard Wagner who was attracted to the city by the gorgeous Bayreuth Opera House.
He built his own Festival House where he spent the rest of his career solely performing at and is where the festival is held today and is one of the biggest attractions for tourists to Bayreuth.
Prepare to wander through this picturesque little town and experience the beautiful attractions it holds, like the Bayreuth Eremitage; filled with baroque buildings, luxuriant gardens, and graceful fountains.
Also, take the chance to enjoy the beer scene; visit local bars and make a pilgrimage to the most comprehensive beer museum in the world: Maisel's Beer Adventure World.
8. Monschau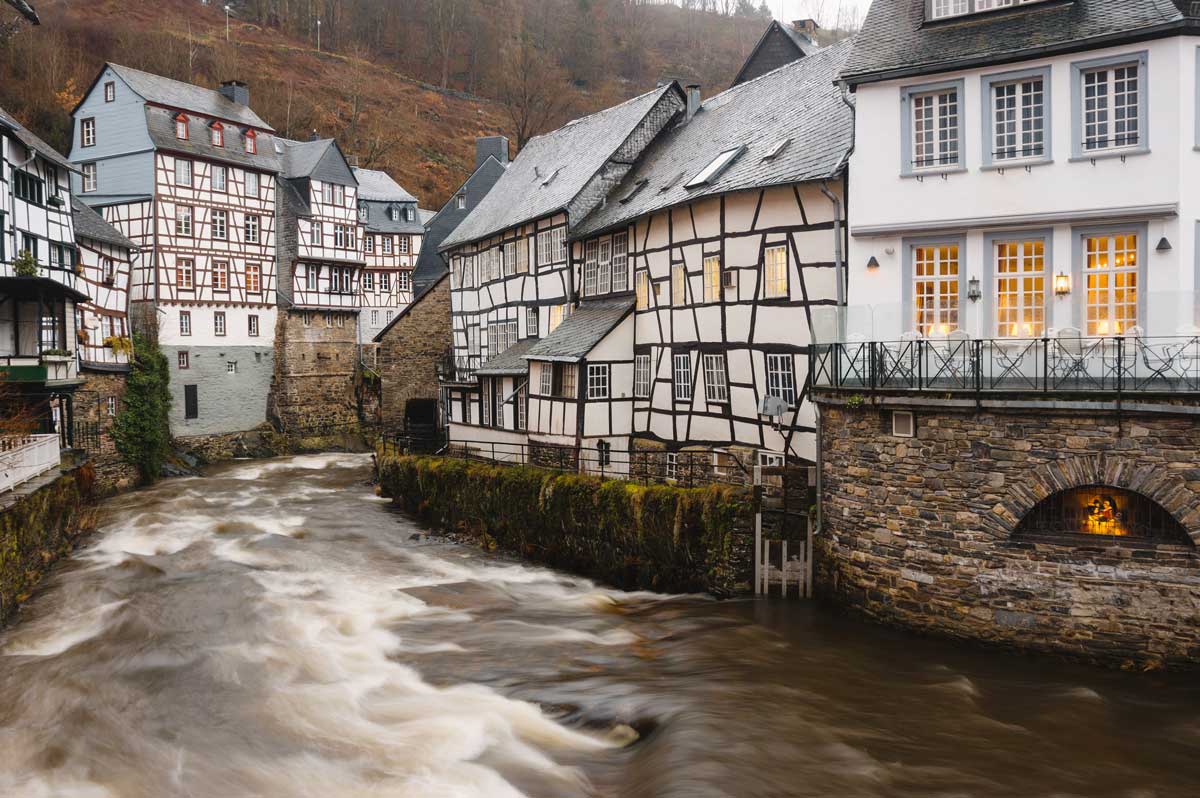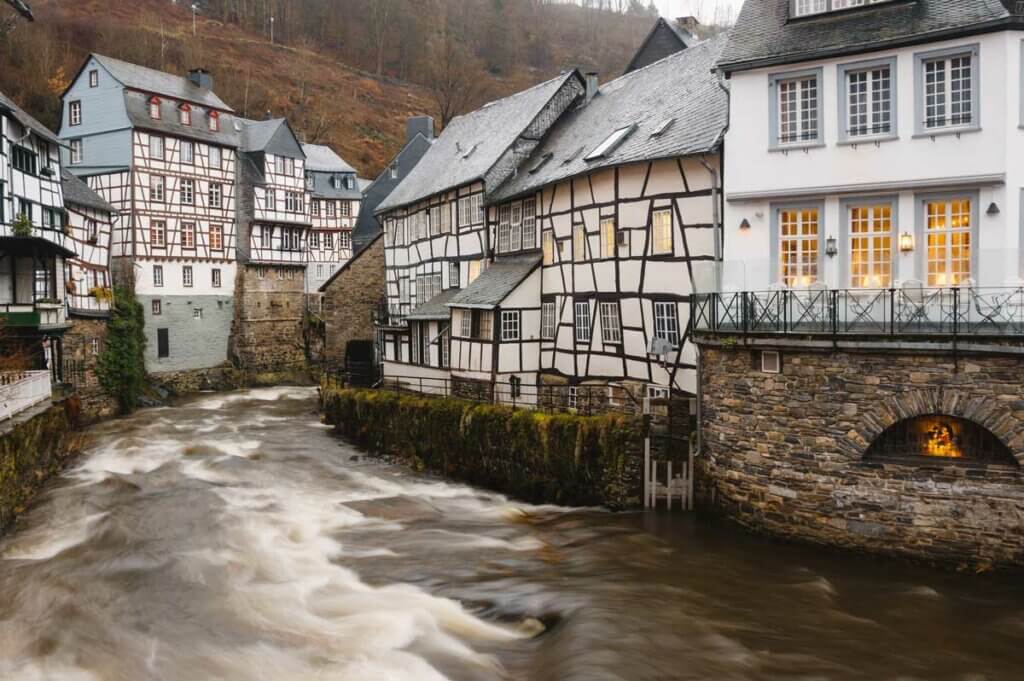 Often referred to as the "Pearl of the Eifel", Monschau is a small resort and medieval town in Germany's Eifel region close to the Belgian border. It is one of the better-preserved old towns in Germany and looks pretty much unchanged over the last three hundred years which makes it so special.
Its preserved nature makes it a well-visited tourist attraction and many people come to see its small, cobblestoned lanes and classic medieval half-timbered homes.
Overlooking this charming town in Germany is the Monschau Castle, just like out of a fairytale. And if you're looking for a bit of an outdoor adventure during your visit you can explore the breathtaking trails through the Eifel National Park.
9. Cottbus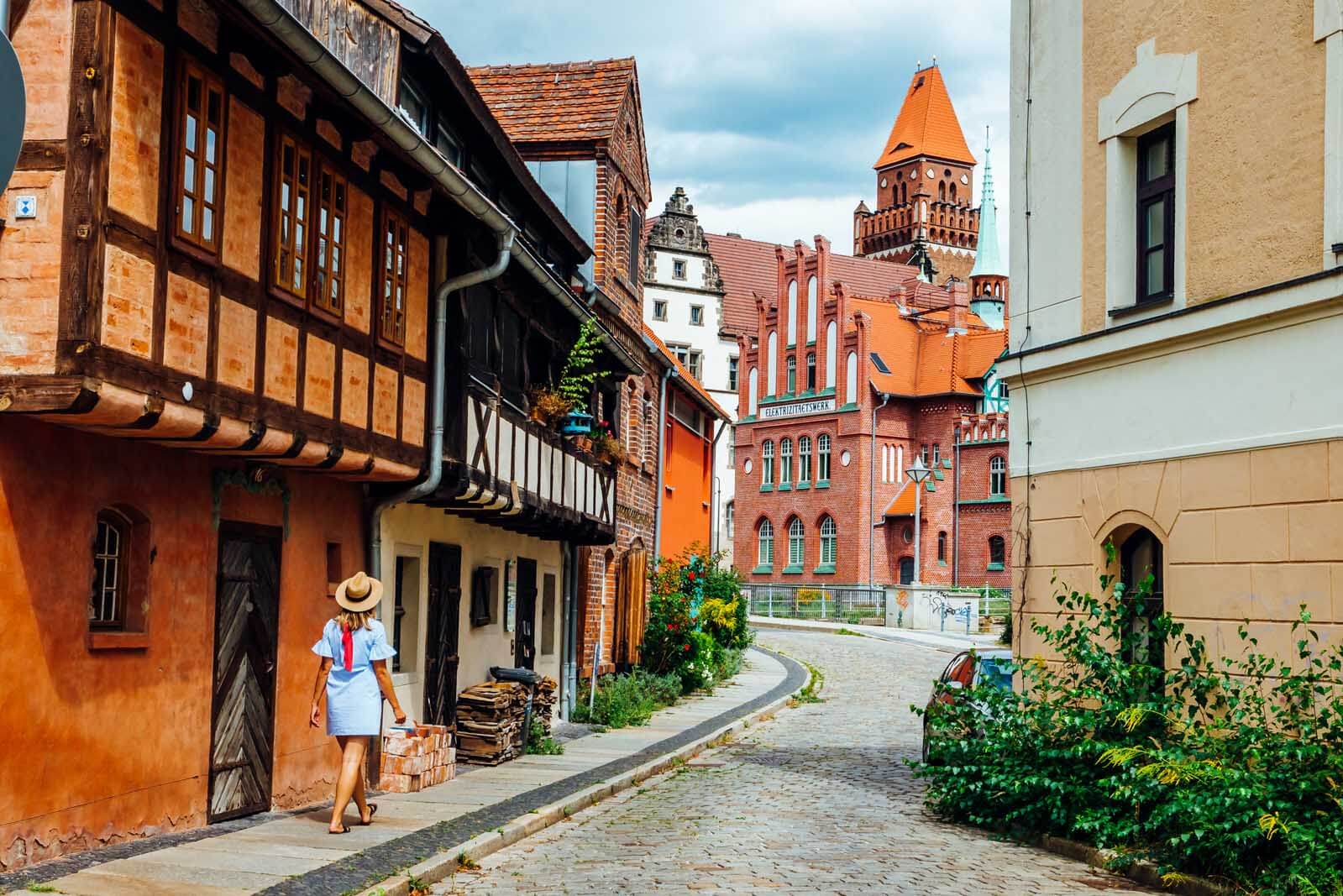 Our next pick for best small towns in Germany is what we consider under the radar. Even local Germans wonder what it is about Cottbus that we love so much as this beautiful village in Germany was under the Iron Curtain and isn't your typical storybook village or romantic town in Germany to most.
Located in the Brandenburg region, Cottbus is the easternmost of all the towns in Germany. Its history kicks off in the 12th century when it was the connecting hub for Germany's medieval trade routes and the town eventually became one of the biggest producers of textiles in Europe. It continued this way until the 17th century when a large fire destroyed much of the city's production capacity. Much of its working spaces were rebuilt into magnificently Baroque buildings.
Then the city was under the Iron Curtain during the days of the GDR and new buildings were being constructed in the communist-era style of architecture. Luckily, there still are some of the old medieval and historic buildings in the town center which makes this town in Germany so unique. You get a blend of the communist era architecture as well as the old beautiful historic architecture which all tells the history of this city through its buildings.
We truly enjoyed all the great things to do in Cottbus including wandering the parks, cobbled lanes, and strolling the streets in this small town in Germany. Cottbus is also famous for its world-class park, Branitzer Park, built by Prince Hermann Ludwig Heinrich von Pückler-Muskau.
10. Bacharach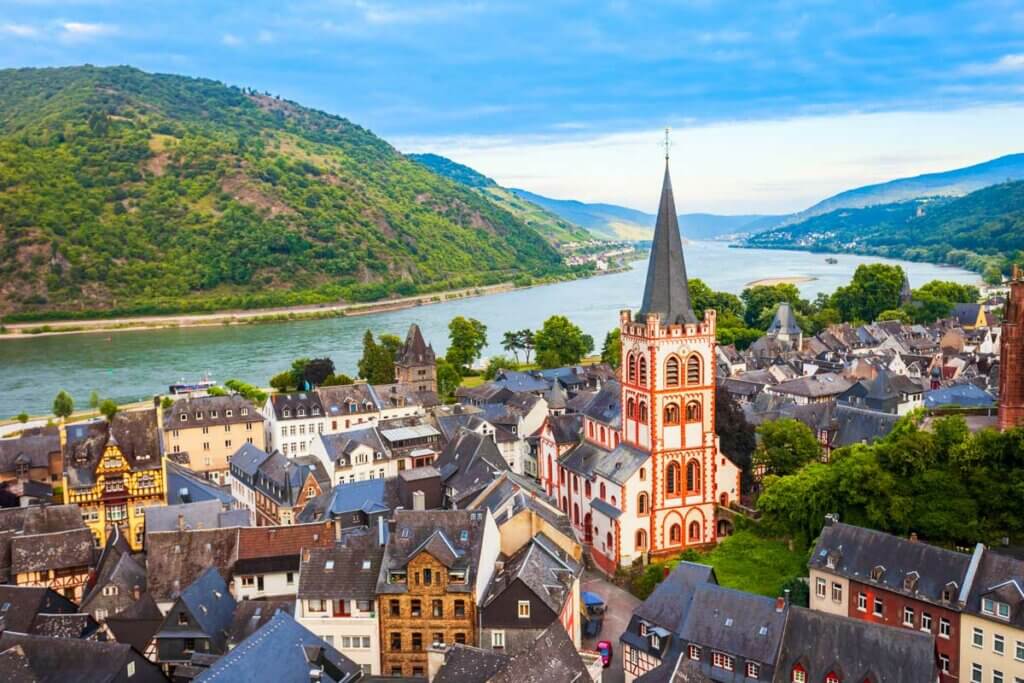 Our last pick for the most charming towns in Germany is Bacharach located in Rhineland-Palatinate. This historic destination will make you feel like you're living in a storybook with its gorgeous hilltop castle, beautiful river, ruins, and wine scene you can get swept up in all the romance of this place.
Located along the UNESCO World Heritage portion of the Rhine River that stretches from Bingen and Rudesheim, you can enjoy a scenic river cruise or just get lost weaving your way through the cobbled lanes and streets that make up this charming destination.
The Most Charming Villages in Germany Summary:
Würzburg
Regensburg
Potsdam
Rothenburg ob der Tauber
Bamberg
Lübbenau
Bayreuth
Monschau
Cottbus
Bacharach
---
Liked this post on the most charming and best towns in Germany? Bookmark for later or share the love below on Pinterest.