One of the most beautiful places to visit in the Northeast US is upstate New York at the Finger Lakes region. Famous for its wine and scenery including things to do in the Finger Lakes NY including visiting waterfalls, gorges, state parks, and the lakes this spot has become a great summer vacation spot for people in the neighboring states. We visited recently and realized the Finger Lakes is easily one of the most underrated destinations in the US. This region deserves alot more attention and once you see the beauty of this entire region from the natural scenery to the amazing small towns you'll understand why.
Check out our complete guide for best things to do in Finger Lakes NY. Also, don't miss our guide for where to stay in the Finger Lakes.

Wine Tasting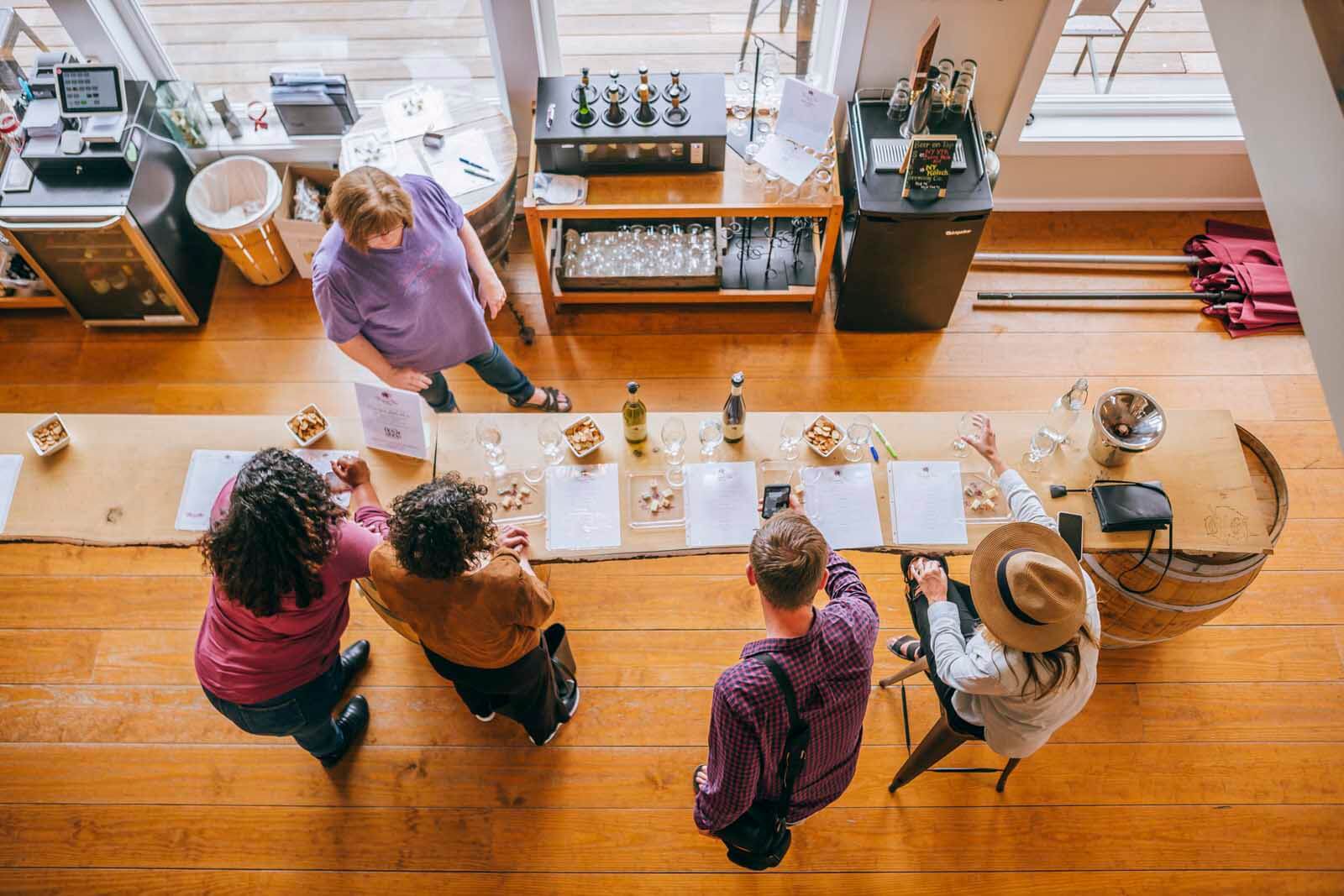 With over 100 wineries in the region, wine tasting is one of the best things to do in the Finger Lakes NY. There are several wine trails and on our week in the Finger Lakes we were able to check out two, the Keuka Wine Trail and the Seneca Lake Wine Trail.
While visiting every single winery on a single trip would be impossible you can definitely visit quite a few following the different wine trails all while enjoying the views and scenery along the way.
Here are a few of our favorites and best Finger Lakes wineries:
Keuka Wine Trail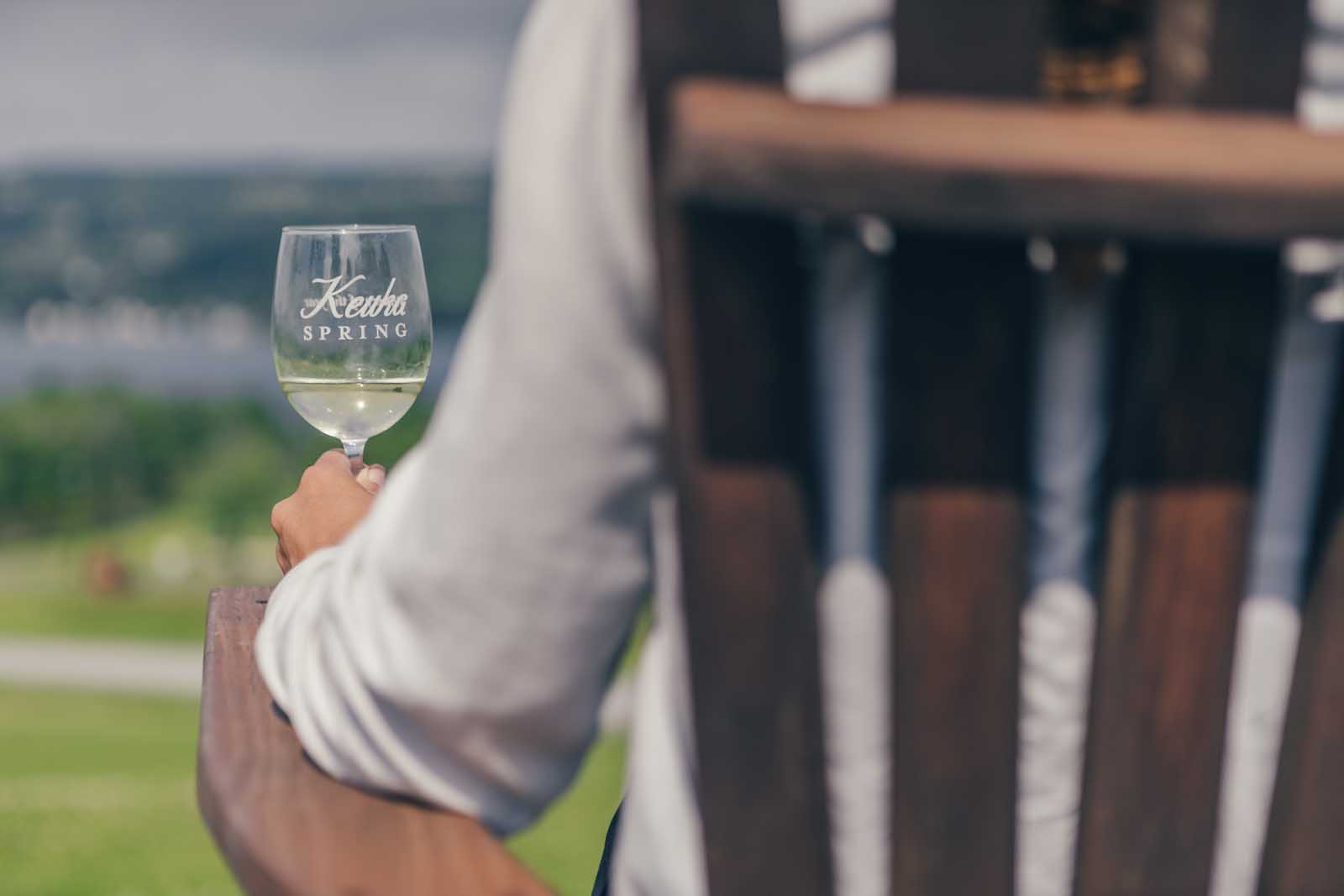 Keuka Spring Vineyards
This ended up being our favorite winery and one of our favorite things to do in the Finger Lakes. When you walk into the tasting room you are overwhelmed with how many awards there on display from their wines. We sampled an array of their whites including a few of their Gewurztraminers to their reds, all were so amazing we had to manage some space in our luggage to take a few bottles home.
Hunt Country Vineyards
Another favorite of ours on the Keuka Wine Trail with amazing wine and farm to table lunch on their beautiful farm. We especially loved the sustainable agriculture efforts of the Hunt family running their vineyard and farms on solar power energy and certified organic. It is worth a stop and asking about some of their sustainability efforts. We learned they use things like clove oil mixed with molasses for the weeds which was incredibly fascinating.
Dr. Konstantin Frank
Overlooking Keuka Lake is one of the best wineries in the region and Dr. Frank himself is responsible for making the Finger Lakes wine region what it is today. He introduced the vinifera grape varieties to the region which in turn introduced European wines to the Northeastern US. This is undoubtedly one of the best things to do in the Finger Lakes if you're really into wine. They offer a great food and wine pairing in their 1886 Food & Wine Experience as well a tour and the history of Dr. Frank.
McGregor Vineyard
Another one of the best things to do in Finger Lakes NY on the Keuka Wine trail. Known for their vinifera wines from the grapes they grow, McGregor has exceptional wine to choose from. Their tasting room is a fun experience and ordering the warm brie is a must when doing your wine tasting here.
Seneca Wine Trail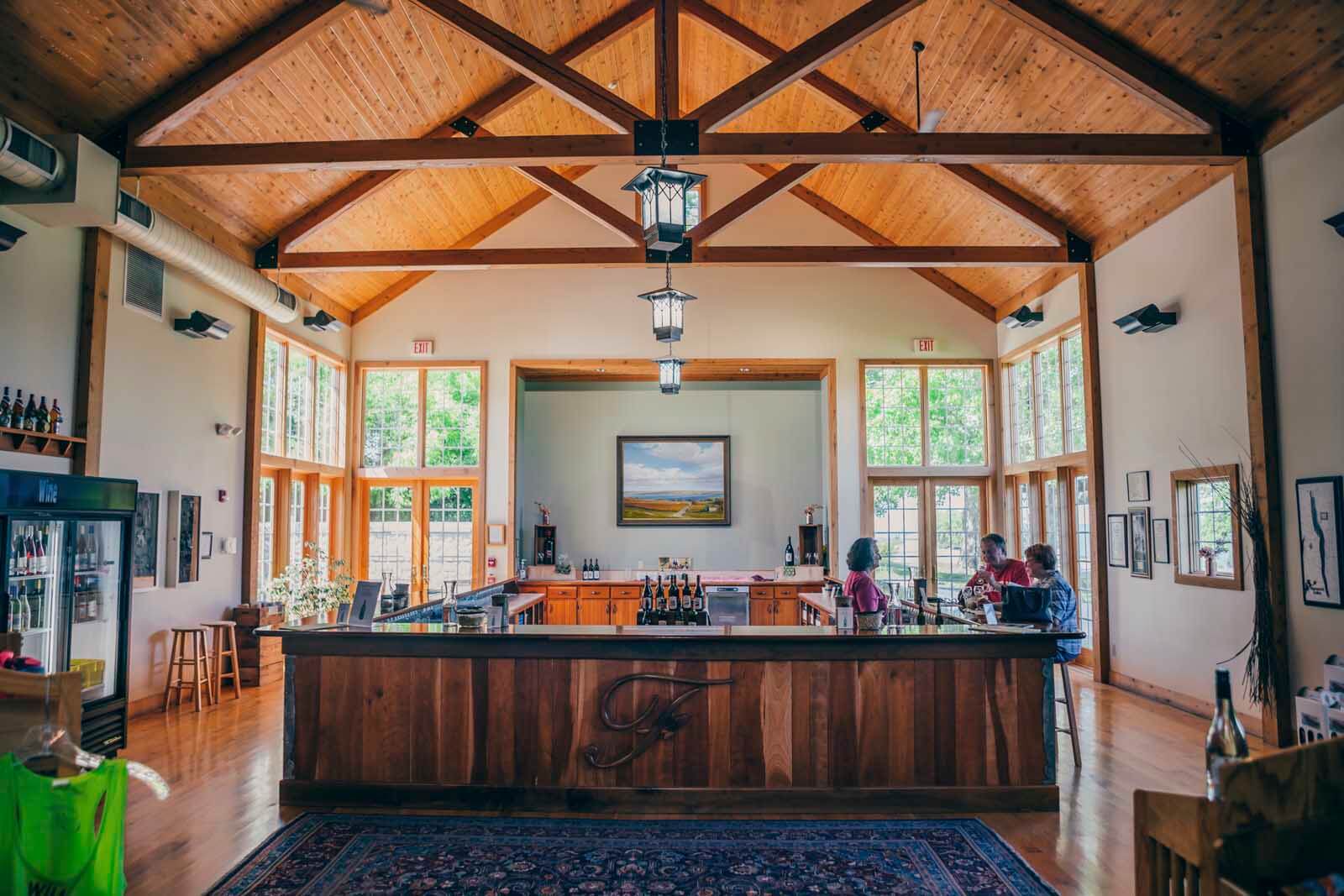 Wagner Vineyards
Besides being an amazing winery Wagner offers up their own craft beers as well. With a gorgeous location with a view of Seneca Lake and the vineyards, you can't help but just love this place. Visiting Wagner is especially one of the best things to do in the Finger Lakers on Friday nights during their Pub Night on the Brew Deck where there's live music, dancing, and a great barbeque meal that brings out all the locals.
Glenora Wine Cellars
Not just another winery at Glenora Wine Cellars, besides offering up a tasting room and vineyard to visit you can spend an evening having a romantic dinner at their on-site restaurant Verasions with a gorgeous view of the vineyards. We enjoyed the steak and seafood dishes here with the wine pairings and it was fantastic. If you're looking on splurging on a fancy dinner this is the place to do it.
Fulkerson Winery
Another fabulous vineyard to visit and awesome thing to do near Watkins Glen is Fulkerson Winery. With great wine their tasting room may make you want to try and make some of your own wine, which is why they sell the equipment in their gift shop! Located on a beautiful farm, you can sip on wine and even rent out their farmhouse for the week overlooking Seneca Lake.
Beer Trail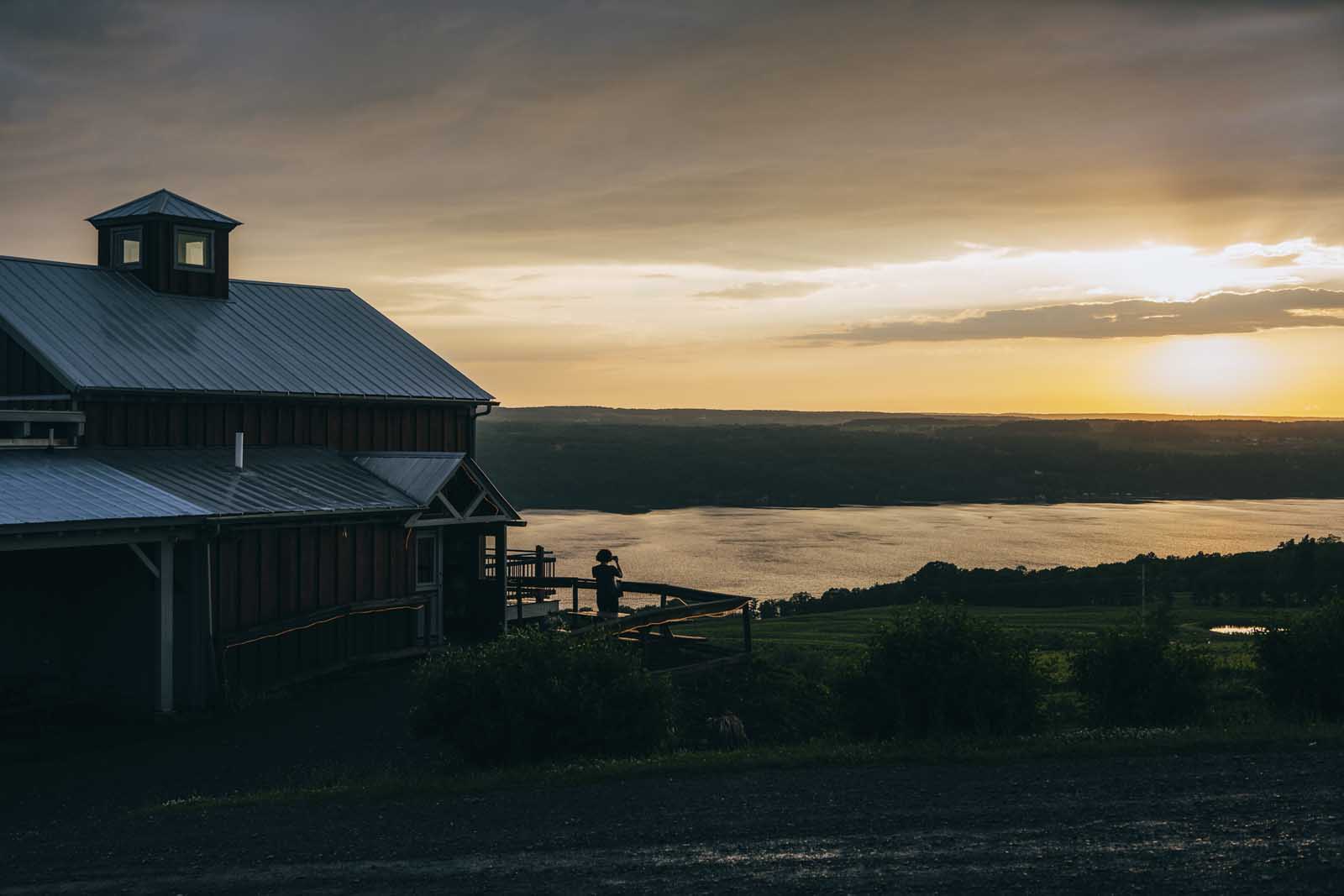 The region is not only known for its wine, but the emerging beer scene as well. One of the best things to do in the Finger Lakes is check out the beer trail too! With over 75 craft breweries you can easily fill an entire vacation with this. We sadly didn't get to check out the beer trail on our week trip to the region, but this is something we'd be more than willing to come back for.
You can find out more information on the Finger Lakes Beer Trail website.
One noteworthy brewery to stop at near Watkins Glen on Seneca Lake is Two Goats Brewery. Besides serving up amazing draft craft brews there is a killer sunset view overlooking vineyards and Seneca Lake and a fun atmosphere in a little red barn.
Ithaca
Find out why the slogan for Ithaca is Ithaca is gorges. With over 150 waterfalls within a 10 mile distance of downtown including Ithaca Falls in the heart of downtown and the impressive Taughannock Waterfall, which is technically 33 feet taller than Niagara Falls, you can easily see why this place is gorges, or gorgeous! We love the clever and true slogan. Located on Cayuga Lake you can easily see why so many think this is one of the best things to do in the Finger Lakes region.
Besides amazing waterfalls and gorges you can also visit the campus of Ivy League school, Cornell University while you're at it.
Watkins Glen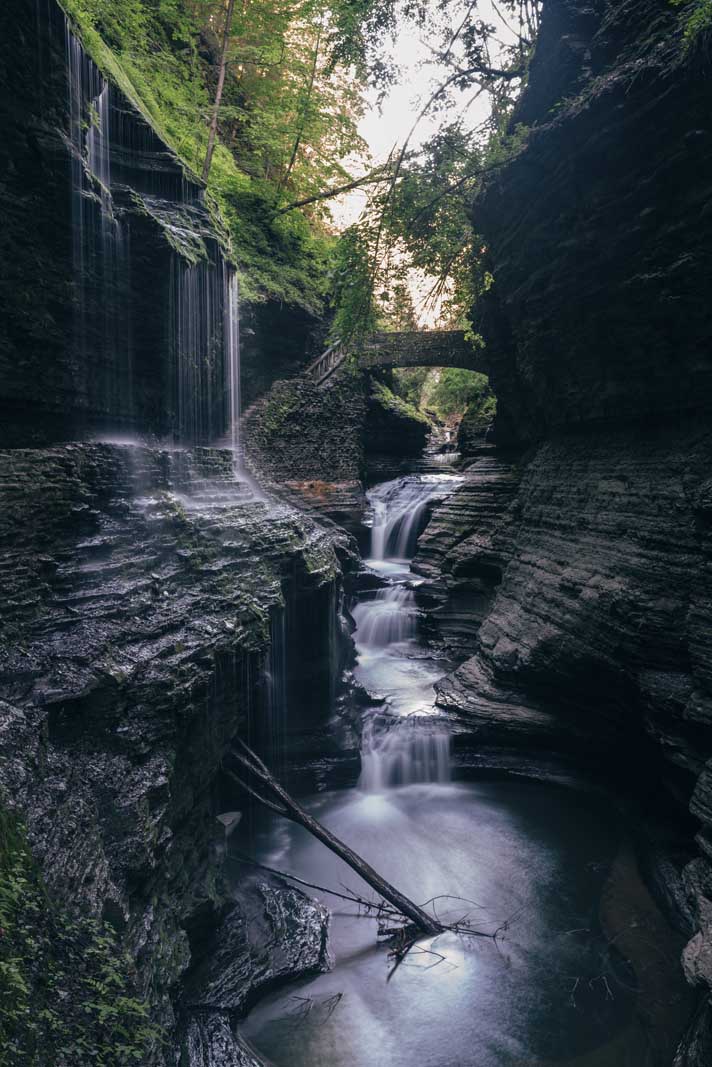 Another one of the best things to do in the Finger Lakes is visit Watkins Glen. We used this as a base for a few nights and loved the area so much we'd return in a heartbeat. Located right on the south tip of Seneca Lake, Watkins Glen has an adorable main street filled with places to dine and the scenic Seneca Harbor just footsteps away.
Spend a morning walking through Watkins Glen State Park gorge trail where you can witness one magical waterfall after another. The path takes you through 19 gorgeous cascading waterfalls that look straight out of Fern Gully, who knows what we are talking about here? The two-mile path doesn't take long to complete and is suitable for all ages. You seriously feel swept away in a fairy tale walking through the gorge under waterfalls, over bridges, and through the magical path. This was one of our most favorite things to do in the Finger Lakes and highly urge everyone to see this popular spot for themselves. Try to get there first thing in the morning to avoid the surge of midday tourists who all also want to enjoy the magic of this place.
Enjoy an unforgettable sunset from Watkins Glen at the Seneca Harbor aboard the schooner, "True Love." This beautiful schooner not only is a great way to enjoy Seneca Lake but also has a cool backstory. The schooner was used in a 1940 Hollywood Classic Film starring Cary Grant and Katherine Hepburn in, "A Philadelphia Story." We've never seen the film ourselves but found this incredibly interesting! Sit back and enjoy the two-hour sail while the crew passes out local wine and hand-picked berries and locally sourced cheeses until sunset which is accompanied by music. This is a great thing to do in the Finger Lakes for couples but also for a group of friends.
Letchworth State Park
Another one of the best things to do in the Finger Lakes that we regrettably didn't make it to due to time this trip is Letchworth State Park. Dubbed as the "Grand Canyon of the East," you could easily spend an entire vacation just enjoying the splendor of the area and renting a cabin for the week. With three large and impressive falls to see accompanied by as many as 50 more smaller waterfalls that flow through the Genesee River as well.
Spend your days picnicking, hiking on the 66 miles of trails, swimming, whitewater rafting, fishing, or kayaking within the park. There are endless outdoor activities to enjoy with gorgeous scenery.
Corning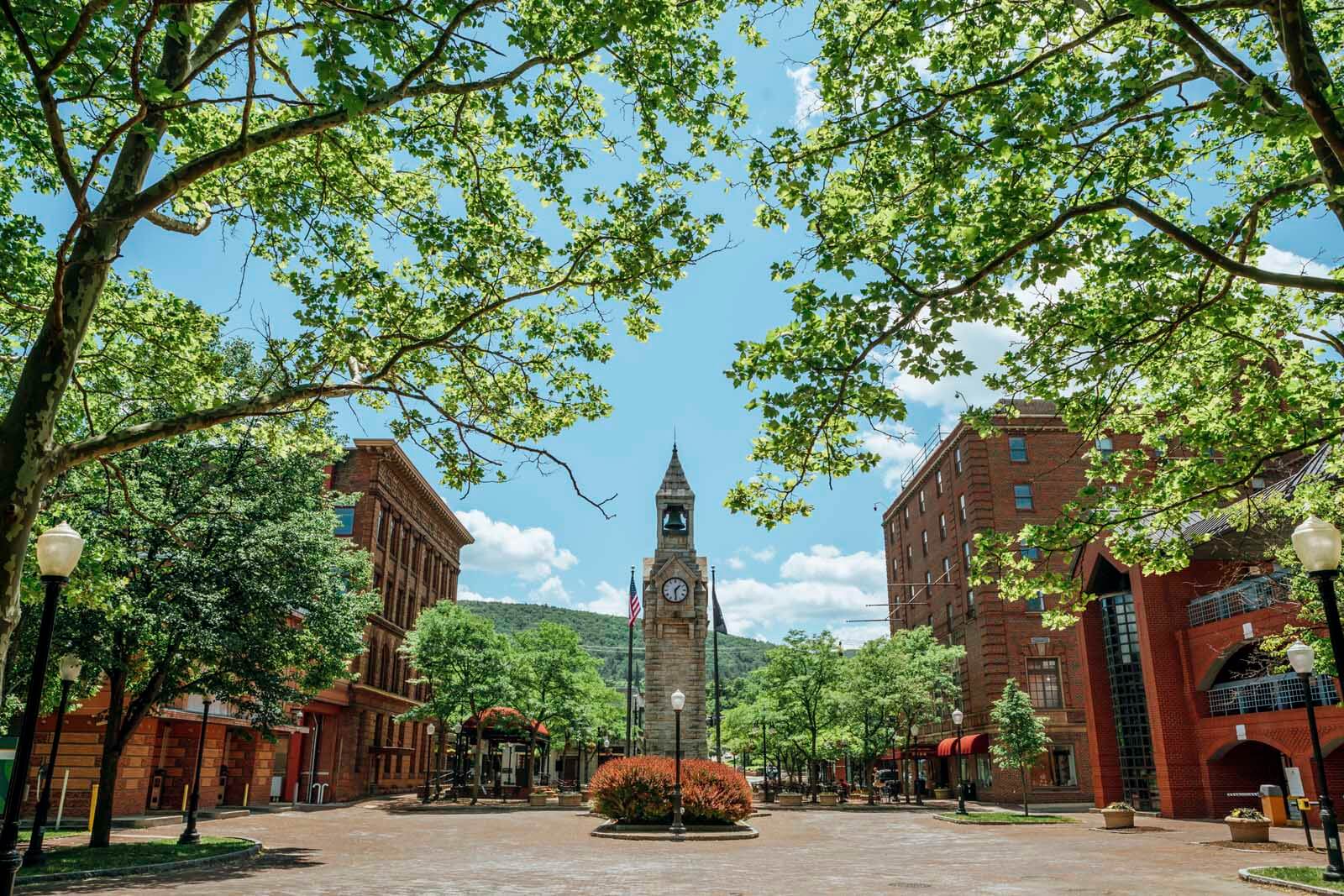 Another one of the best small towns and best things to do in the Finger Lakes is visit Corning. We used this as another one of our base points during our trip in the region and just fell in love with the small town charm and aesthetically adorable Market Street.
You'll want to stroll down Market Street when you're hungry for any meal of the day there's something great. One of our all time favorite meals was at Hand & Foot and is definitely worth a visit even if you are not staying in Corning during your trip to the region. Poppleton's Bakery is a great breakfast spot and Market Street Brewing Co is an awesome lunch choice with great craft beers on draft.
Don't miss out on all the great shops and boutiques in downtown Corning either. We popped in the feminist bookstore at Card Carrying Books & Gifts and window shopped at all the adorable boutiques.
A trip to Corning isn't complete without visiting the Corning Museum of Glass where you can easily spend an entire afternoon getting lost in the world of glass through glass blowing demonstrations, hands on glass blowing experiences, galleries of mind-blowing glass art sculptures, interactive optical illusion glass exhibits, and the world's largest collection of glass dating thousands of years back.
Also be sure to check out the Rockwell Museum housing a beautiful collection of American Art. The museum is a Smithsonian affiliate and has a beautiful terrace overlooking the town of Corning.
Soaring on Harris Hill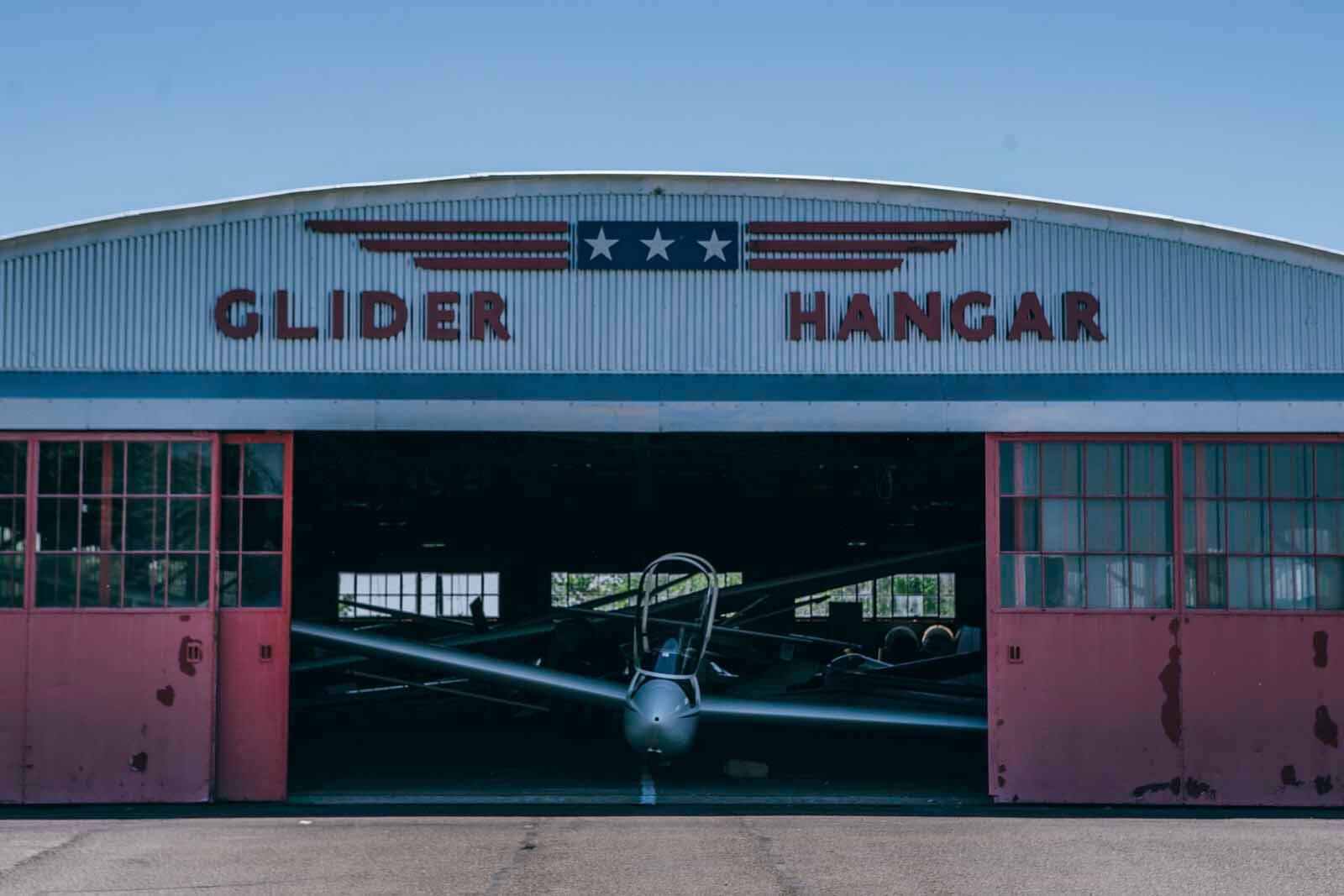 One of the more unique and adventurous things to do in the Finger Lakes is seeing the region from a bird's eye view. Take a glider motorless plane from Soaring on Harris Hill to see the beautiful scenery overlooking the Chemung Valley through the clouds as you soar through the sky. A tow plane will guide you up to the sky until you get to 4,000 feet before your glide plane is released. Don't worry, you have an experienced pilot with you to make sure nothing happens! The glider planes seat two people, a real pilot, and one passenger. So if you intend on going with a group you will want to plan on waiting and taking turns. We were scheduled to soar in the sky but the pick up in wind in our weather forecast changed our plans as the planes couldn't take off in wind. Womp womp.
Luckily all was not lost as there is also the National Soaring Museum next door showcasing the world's largest collection of motorless sailplanes dating all the way back to 1890 and have other cool aviation artifacts like cloth from the wing from the Wright Brothers Kittyhawk plane.
If you have kiddos in tow then down the hill there's a playground and park as well!
Hammondsport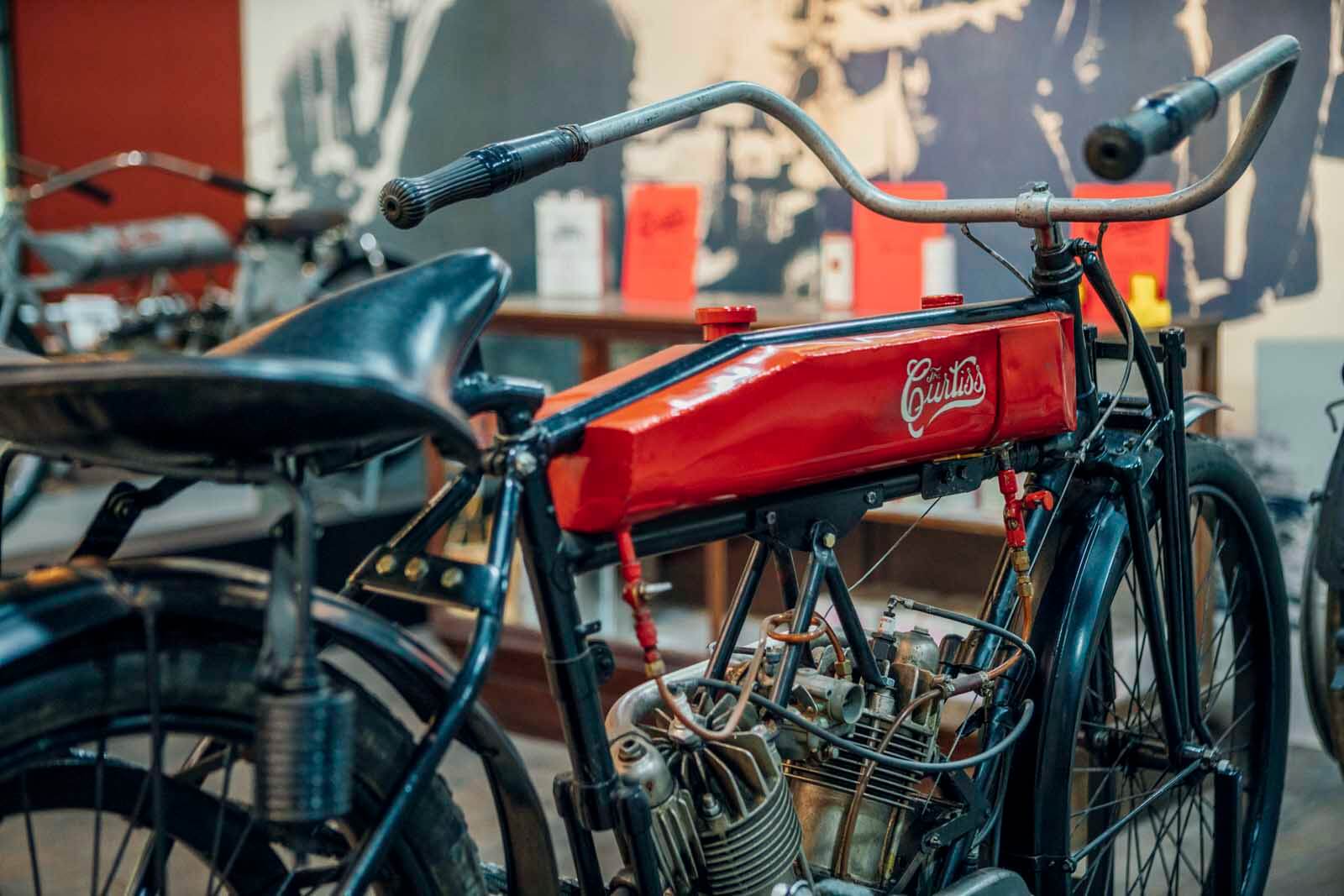 A stop in Hammondsport is another great thing to do in the Finger Lakes NY. This small town USA is located on Keuka Lake and is home to the Finger Lakes Boating Museum, Glenn H. Curtiss Museum, and near tons of wineries including Dr. Konstantin Frank mentioned earlier as another pick for best things to do in Finger Lakes NY.
We didn't get to do too much in Hammondsport except dip our toes in driving through the town and stopping at the Glenn H. Curtiss Museum where we learned about the Elon Musk of the late 19th and early 20th century. He was a transportation mogul known for his work in the aircraft and aviation industry as well as a motorcycle pioneer. He fought it out with the Wright Brothers for years disputing over patents. You can learn more about his intriguing history and see the amazing collection of his airplanes and motorcycles in this wonderfully curated museum.
Elmira
Another amazing stop and one of our picks for best things to do in Finger Lakes NY is taking a historical stop at Elmira. Not located on any of the Finger Lakes, Elmira is easily overlooked by tourists but shouldn't be. Elmira was the summer home for famous American writer, Mark Twain for over 20 years. He wasn't born in the area, but his wife was from Elmira and after they married they spent alot of time here and Twain professed his love of the area which inspired much of his work including The Adventures of Tom Sawyer and The Adventures of Huckleberry Finn which were written in his study that you can visit today. You can also visit his gravesite at Woodlawn Cemetery.
Besides geeking out on American Literature you can also check out the fabulous wine selection and great craft brews on draft at the Finger Lakes House. This is a great stop to taste and sample some of the areas best wines and brews.
Tioga Downs Casino Resort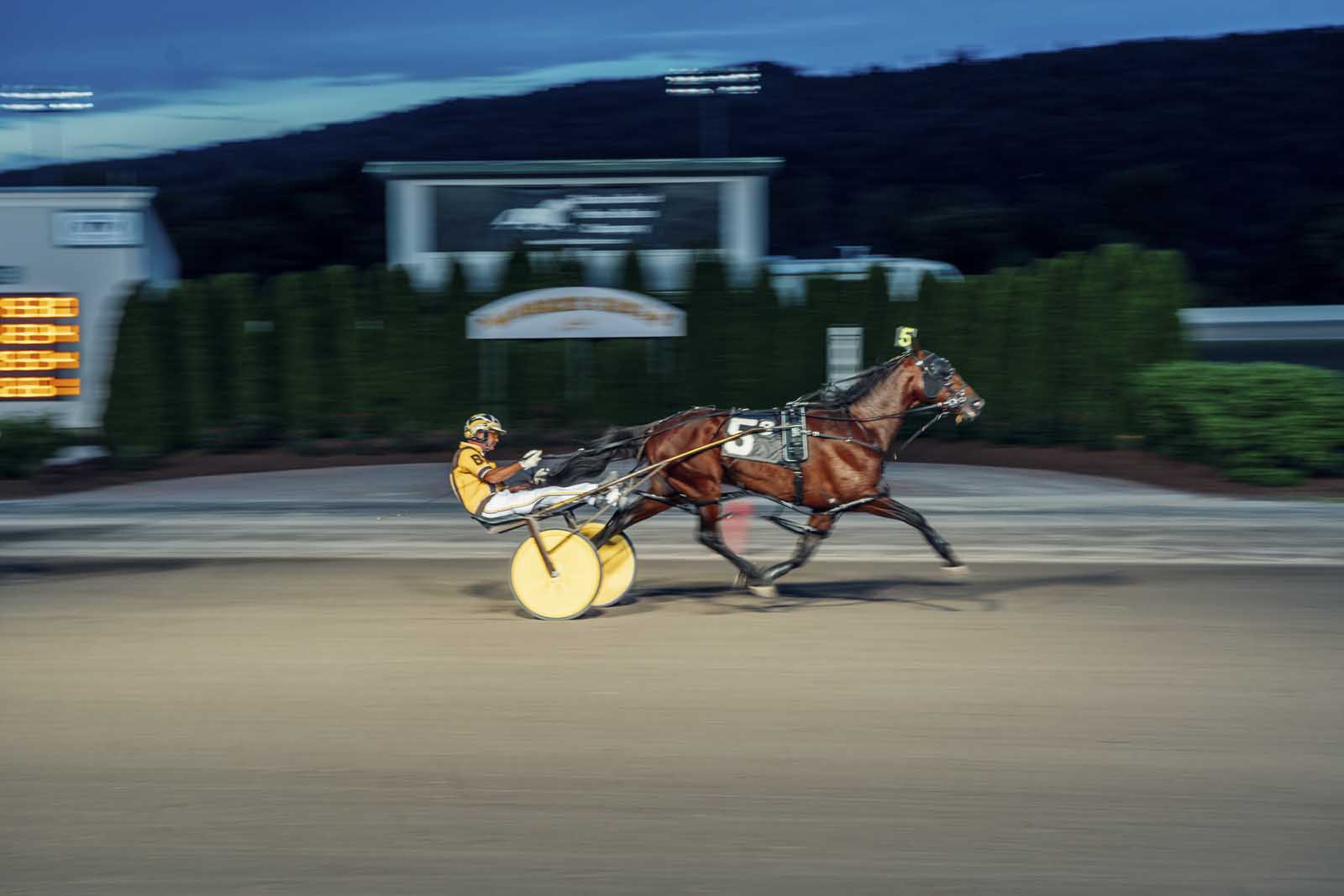 Feeling lucky? This next thing to do in Finger Lakes NY is for gamblers. Tioga Downs Casino Resort has a horse race track and a casino. We aren't huge gamblers but we like to play with a few bucks here and there. I was lucky enough to win double my bet on a horse race, even though it was only a $2 win it felt pretty good! If you're wanting to stay here there's a full resort on site as well.
Where to stay in the Finger Lakes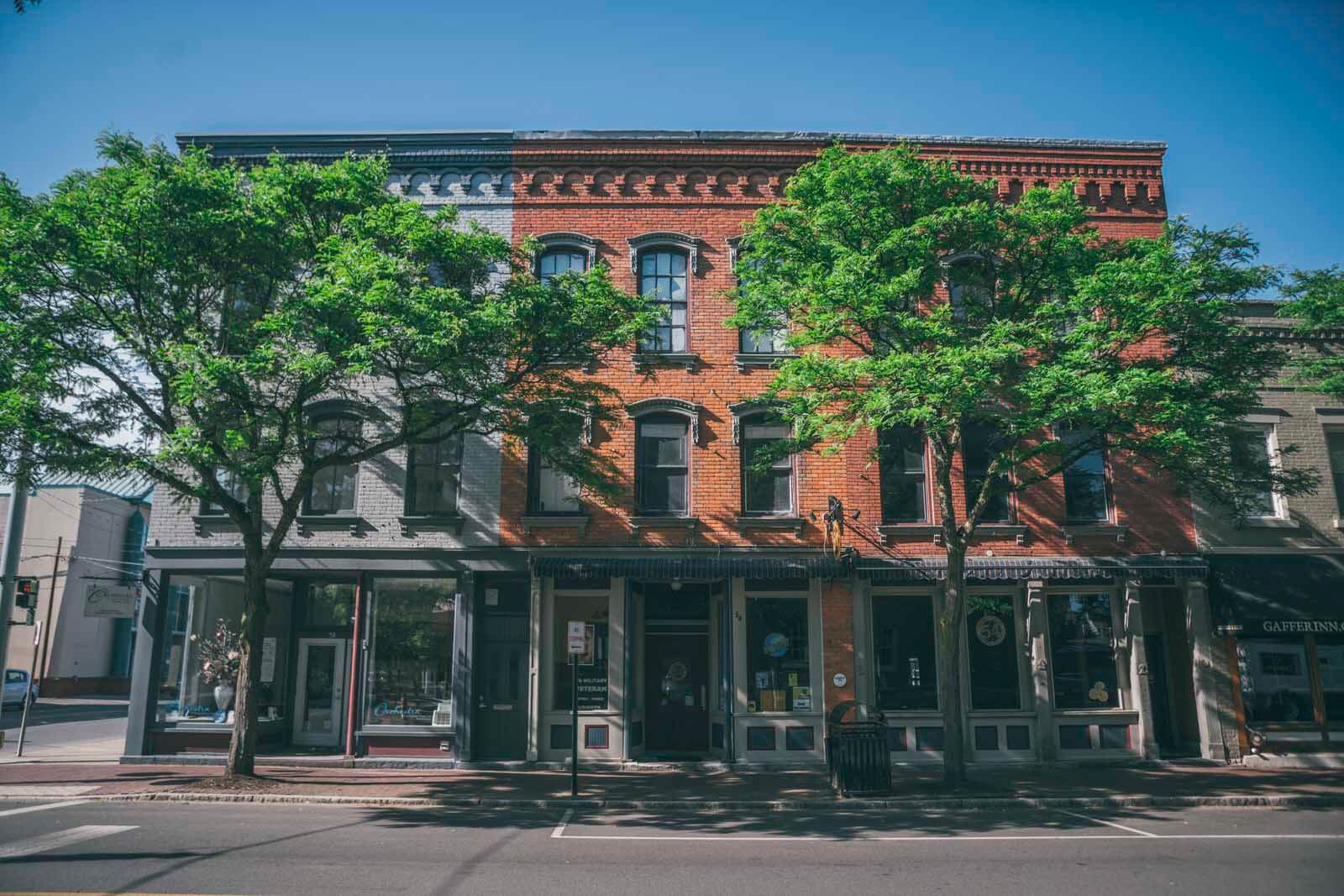 Corning
Both Watkins Glen and Hammondsport are about a 30-minute drive from Corning making it a great in-between point to explore these areas right on Seneca Lake and Keuka Lake. Radisson Hotel Corning is a great option for where to stay in Corning and a great base for traveling around the Finger Lakes region. The hotel is walking distance to all the attractions in Corning. The hotel has a terrific location, cozy rooms, great outdoor patio with fire pits, and just a few minutes walk to Market Street. There's a fitness center on the property as well as plenty of parking.
Book Now | Compare Prices for Later | Read Trip Advisor Reviews
Watkins Glen
Watkins Glen is an awesome place to stay in the Finger Lakes region if you're looking to do all the great activities around Seneca Lake. Watkins Glen is also about a 40-minute drive to Ithaca and a 30-minute drive to Hammondsport making it a good in between destination if you wanted to stray away from the Seneca Lake area. We stayed at the beautiful Harbor Hotel located right on the harbor at the south end of Seneca Lake. Some rooms even come with balconies overlooking the lake. Rooms are contemporary and have the most comfortable beds as well as a complimentary bottle of wine and cheese plate in your mini-fridge. Don't miss out on the outdoor fire pits in the evening with a drink or the complimentary morning coffee and tea stations around the hotel. This is the perfect location for where to stay close to all the incredible things to do in Watkins Glen.
Book Now | Compare Prices for Later | Read Trip Advisor Reviews
Ithaca
Ithaca is naturally a great choice for where to stay in the Finger Lakes region, not only is there plenty to do in Ithaca but your just a 40-minute drive to Watkins Glen and other amazing waterfalls in the region. With Cornell University here there are a few great options for accommodation here. We recommend The Hotel Ithaca in the heart of town. The rooms are brightly decorated and cozy, suites offer separate living rooms and parking is free. There's a heated indoor pool accessible year round and a lovely deck with lounge chairs.
Book Now | Compare Prices for Later | Read Trip Advisor Reviews
---
Found this complete guide to the best things to do in Finger Lakes NY helpful? Bookmark for later or share the love below on Pinterest.