Did you know there are several stunning waterfalls in the Finger Lakes in New York? The Finger Lakes is easily one of the most underrated destinations in the state and known for its celebrated vineyards and wine scene along with being a great escape and getaway thanks to the region's 11 lakes.
The terrain here includes several beautiful gorges and waterways that create dramatic waterfalls and in some cases, multiple waterfalls in one location. Use our guide to these incredible Finger Lakes waterfalls to schedule some in during your visit whether you plan on waterfall chasing or just want to hit up the ones closest to where you're staying.
If you need more help planning your trip, be sure to see our guide on where to stay in the Finger Lakes too!
Check out more amazing waterfalls in New York to plan a waterfall road trip around the state from the Adirondacks to the Catskills up to famous waterfalls like Niagara Falls too!
Warning! Do not plan on swimming in any of these Finger Lakes falls unless there is a designated swimming area! Some of these waterfalls have claimed lives over the years as they look fun and serene, but the undercurrent can be dangerous in some spots. The waterfalls in the Finger Lakes that have swimming areas are mentioned below, otherwise, they are just for looking! Stay safe!
Amazing Finger Lakes Waterfalls
Hector Falls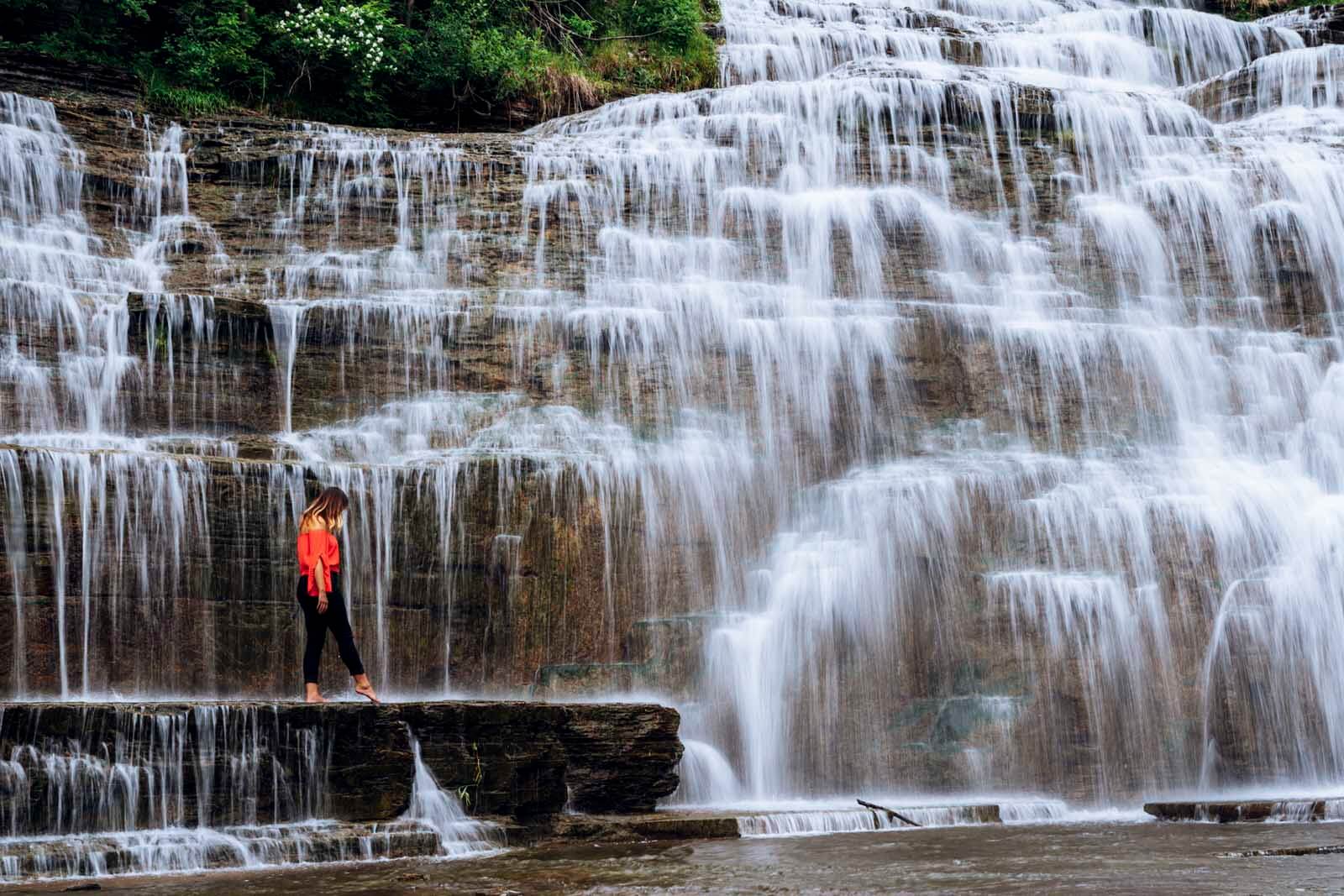 One of my personal favorites Finger Lakes falls is this gorgeous cascading roadside waterfall located on the east side of Seneca Lake on State Route 414 dropping a whopping 165 feet.
You can witness this cascading beauty from the road but we recommend pulling off at Hector Falls Point and carefully crossing the road to see the upper part of this Finger Lakes waterfall in all its glory.
This is one of those waterfalls in the Finger Lakes that can be enjoyed every season of the year. From the road, you will only see the upper falls, what you won't be able to see below you are a series of more drops and waterfalls that flow into Seneca Lake.
In the summer, we recommend taking a sunset schooner ride or renting a boat to see the lower waterfalls from the lake, its truly a stunning sight!
When visiting this Finger Lakes waterfall, use caution as you cross State Route 414 as cars travel at 45-65 mph speeds and you will want to take care and watch after your young ones when you cross.
Ithaca Falls & Fall Creek Waterfalls
It's no wonder Ithaca's tagline is "Ithaca is GORGES" as there are over 150 waterfalls in a 10-mile radius! If you're into seeing as many waterfalls in the Finger Lakes as possible, this is a great place to start, not to mention there are plenty of amazing things to do in Ithaca making it one of our favorite getaways from the city.
Probably the most well known of the Finger Lakes waterfalls of all the waterfalls in downtown Ithaca is the 150 foot Ithaca Falls in the heart of downtown located on Fall Creek.
This is just one of several waterfalls along Fall Creek and the largest and most dramatic, the others can be viewed from a trail from above Ithaca Falls.
Located on Lake Street just north of Downtown Ithaca you can find parking on either side of the street making it one of the easiest waterfalls in Ithaca to visit.
You will be visiting the base of the falls looking up at the 150-foot drop on this cascading gorgeous waterfall in New York. Visiting is easy and this one is accessible to visit year-round, unlike all the other Finger Lakes waterfalls and in Ithaca.
Other Finger Lakes falls that can be visited or viewed on Fall Creek include Forest Falls from the Stewart Avenue Bridge which overlooks the gorge, Cayuga Lake, and you may notice a cool looking Egyptian Revival home on the corner here overlooking this epic view that once belonged to famous planetary scientist Carl Sagan!
Further up Fall Creek along the walking trail is Horseshoe Falls with the picturesque stone hydro plant perched above the falls.
Once you're on the suspension bridge over Fall Creek, you can see Rocky Falls from the bridge upstream. And the last waterfall to witness on Fall Creek is right at Cornell University's campus next to the Martin Y. Tang Welcome Center is the 55ft, Triphammer Falls.
She-Qua-Ga Falls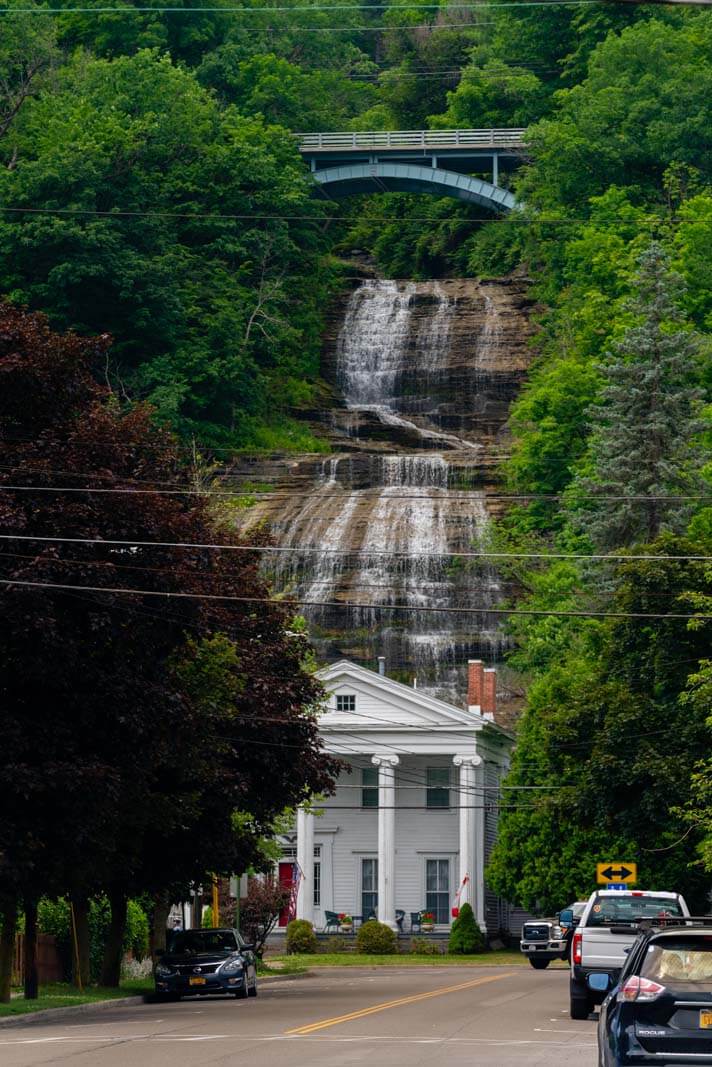 Located in the village of Montour Falls just outside of Watkins Glen where you can find more of our stunning waterfalls in the Finger Lakes is the jaw-dropping 165-foot She-Qua-Ga Falls that overlooks the village below and can be seen from your car driving through Montour Falls or by parking and walking to the viewing area.
The name of the waterfall means "tumbling waters" in the Seneca language as this area has a rich history with Native Americans including the Seneca tribe who lived here.
This is one of the best roadside Finger Lakes waterfalls and a really easy visit if you're already passing through the area because not only can you see it from your car, but the walk to the base literally steps away from your car if you can grab a parking spot nearby.
This waterfall also depends on water flow, if it's an especially dry season with little rain you may not get to see this waterfall in all its glory! We love how quick and easy it is to see this Finger Lakes falls is though!
Aunt Sarah Falls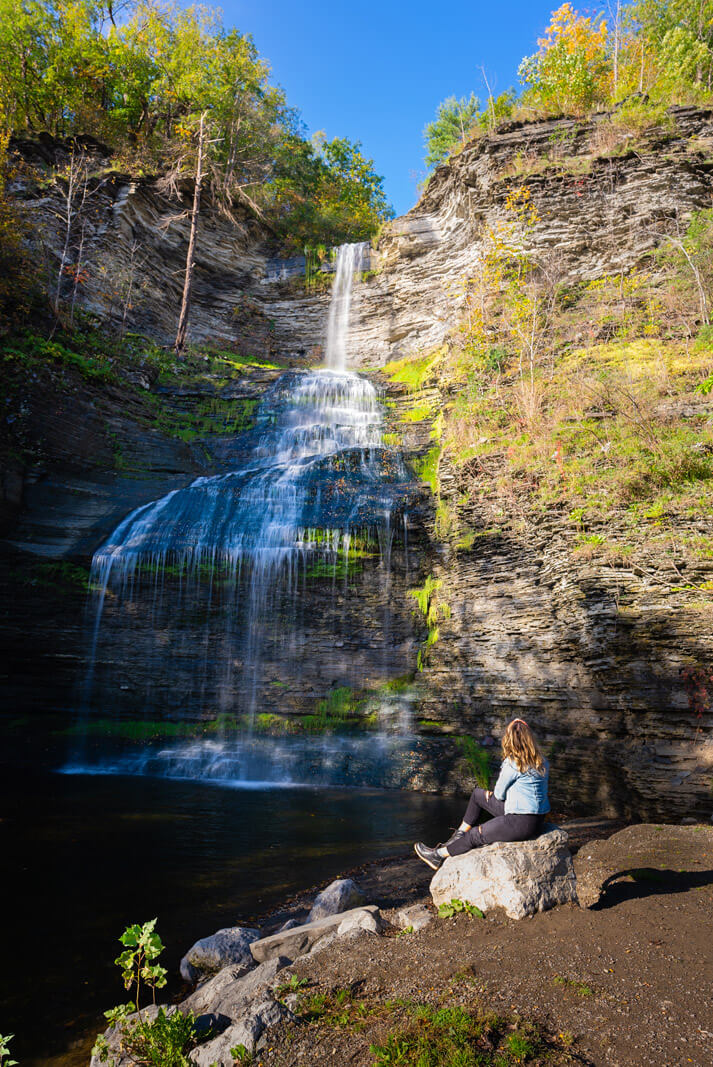 One of the most beautiful, seasonal waterfalls in the Finger Lakes is Aunt Sarah Falls near Watkins Glen. This uniquely shaped waterfall starts with a thin, free-fall cascade and fans out onto the shallow gorge and drops onto a third tier.
This third tier then fans out even more to a broader, free-fall cascade. This stunning waterfall is 90 feet high and is visible from the road, making it yet another great roadside Finger Lakes falls that you don't have to get out of your car to see.
One of the easiest and most accessible Finger Lakes waterfalls, it is perfect for a quick stop and is picture-perfect when the flow is high. Like most waterfalls, it is best visited during spring or after heavy rain. Otherwise, the water dries up, and you might only get to see a trickle of water on the rocks.
We recommend that you cross over to the small grassy area at the base of the waterfall for a better view. There are no trails so no need to plan for too much time here.
Watkins Glen State Park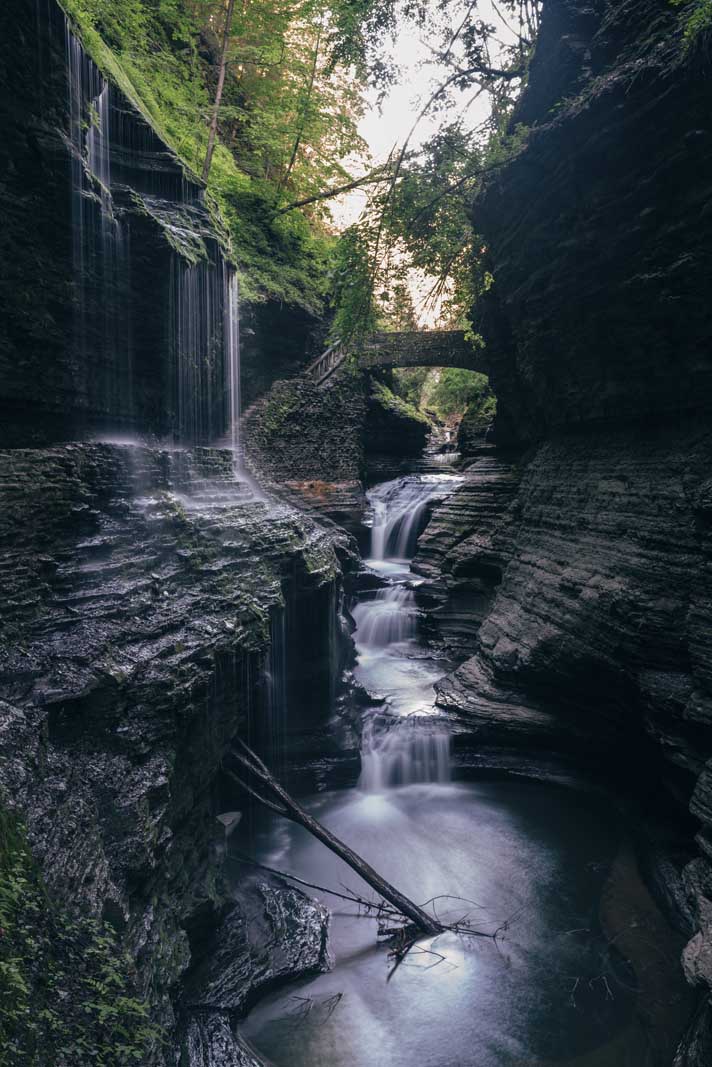 One of the most beautiful places to see waterfalls in the Finger Lakes is at Watkins Glen State Park just outside of downtown Watkins Glen on Seneca Lake.
Walk along the Gorge Trail where you will pass ethereal scenery and 19 cascading waterfalls on an easy 1.5-mile hike through the gorge. Each waterfall is mesmerizing and when you get to Rainbow Falls you're rewarded with the view in the photo above.
Be prepared to get splashed with some of the waterfall mist as some of the bridges and stone walkway that traverses the gorge have waterfalls trickling overhead or along the side.
The lower entrance is located just a 5-minute drive from downtown Watkins Glen making it easily accessible. The upper entrance is also an easy drive, you can start at either end and walk your way through the gorgeous narrow gorge pathway with one stunning long cascading waterfall after another.
We recommend starting at the lower entrance early in the morning to beat the crowds and just slowly climb your way up the gradual path that leads to one cascading waterfall after another surrounded by the forest and lush green foliage and moss if you're there in the summer.
We recommend making your way all the way up to Rainbow Falls, this is the iconic and most mesmerizing spot on the trail where there's a bridge, a wispy waterfall the trail leads behind, and one of the waterfalls that's part of the river that runs through the gorge making the entire gorge one long cascading waterfall.
The Gorge Trail at Watkins Glen State Park is closed in the winter season due to ice, but the Rim Trail which overlooks the gorge is open all year and passes Keyhole Falls.
Be sure to read the best towns in the Finger Lakes to visit.
Grimes Glen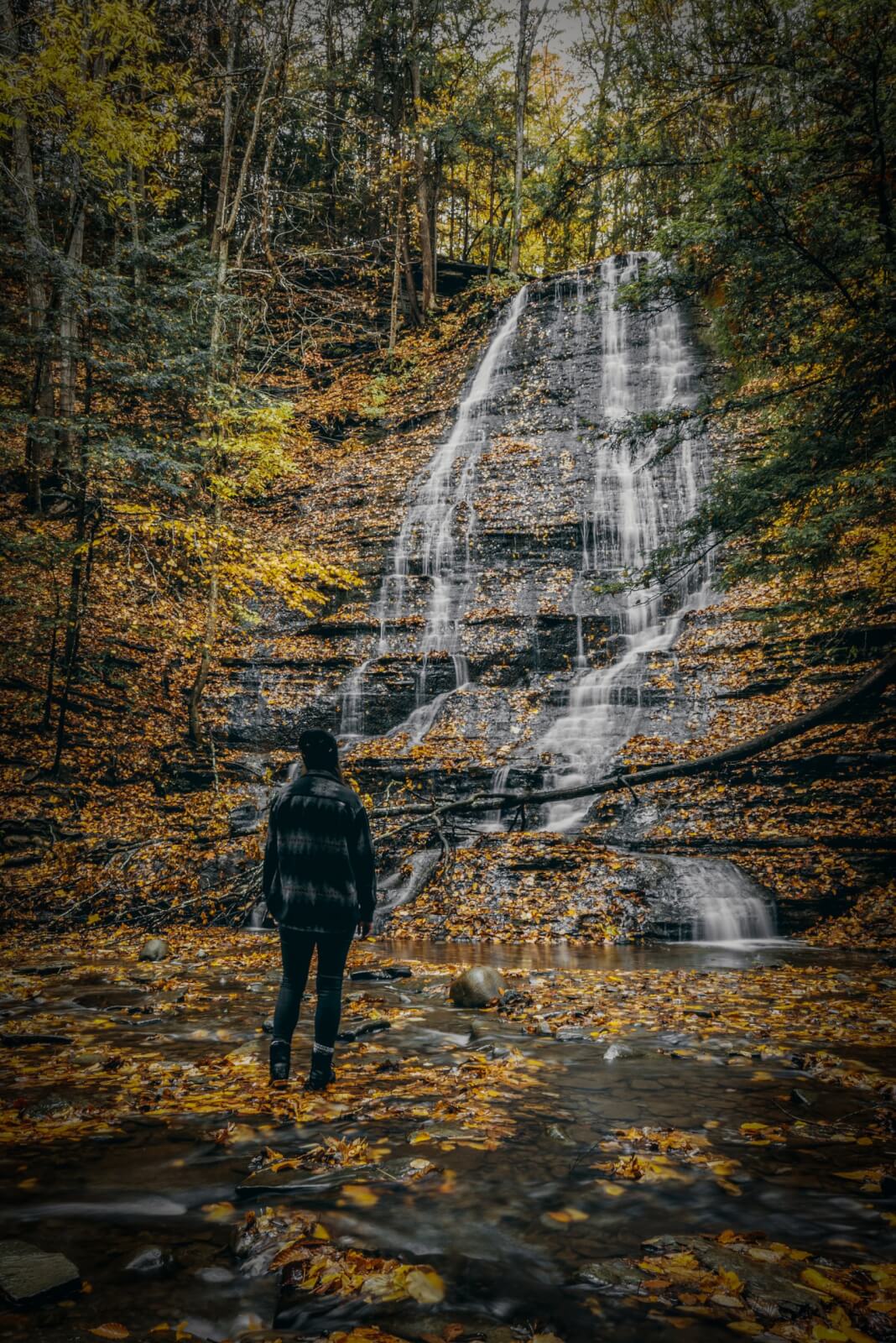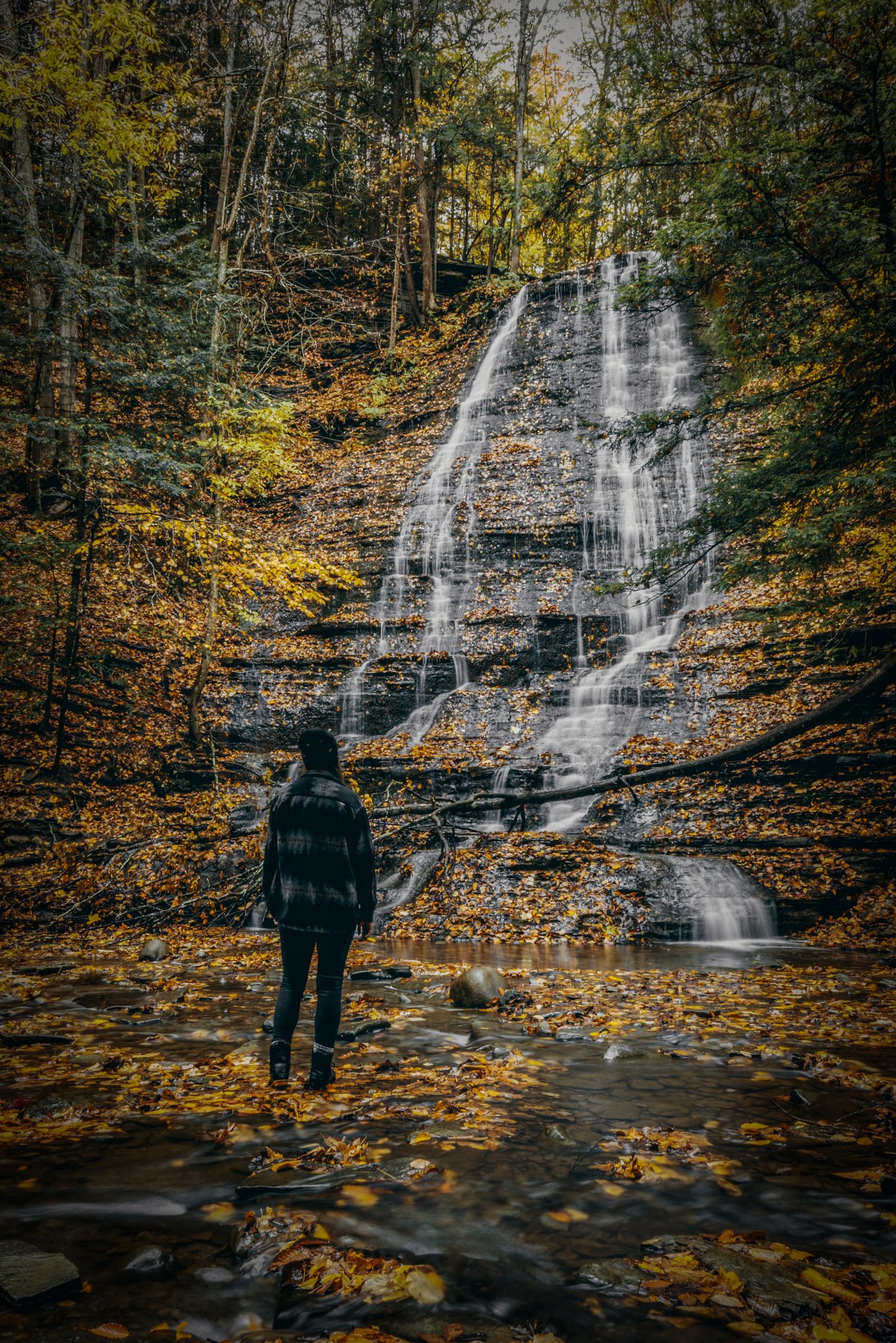 Located in Naples, not Italy, but off of Canandaigua Lake are the Finger Lakes waterfalls located in Grimes Glen Park, another scenic hike that greets you with gorgeous waterfalls.
I will warn you, bring water shoes, tall rain boots, or waders as you will be required to walk through the creekbed to access these gorgeous Finger Lakes waterfalls. Whatever shoes you choose though must have good tread as you will be walking on slippery rocks in the creek bed for part of your journey.
When accessing the trail, you will see a few small cascades at the footbridge but these are nothing compared to the rest of the trail. The other waterfalls are simply known as the first and second falls.
After about a 10-15 minute walk through the trail and eventually, into the creek you will find the first falls to your left feeding into the creek. This cascade pours over mossy shale layers and is a great stop, our visit was in the fall and it was so beautiful to see the contrast between the fall foliage and the flowing cascades.
Continue through the creek for another 8-10 minutes and you'll reach the second falls which is slightly smaller but has more water flow.
Technically there is a third waterfall here and you can get to it by using the ropes to the left-hand side of second falls. However, the few accounts I have read of people attempting this 'adventure' have turned back because it's too difficult and dangerous. The rope climb itself is really steep and can be slippery and muddy, but after this section you will have to scramble across a rock wall tall enough for one wrong move and you could have a seriously injured-if not fatal fall along with a little rock climbing.
Reading about advanced hikers turning away from this trail, we decided not to bother and advise you not to attempt unless you are very savy with rock climbing and its not wet or slippery up there.
While you're here, be sure to stop by and check out all the best things to do in Naples, New York too!
Letchworth State Park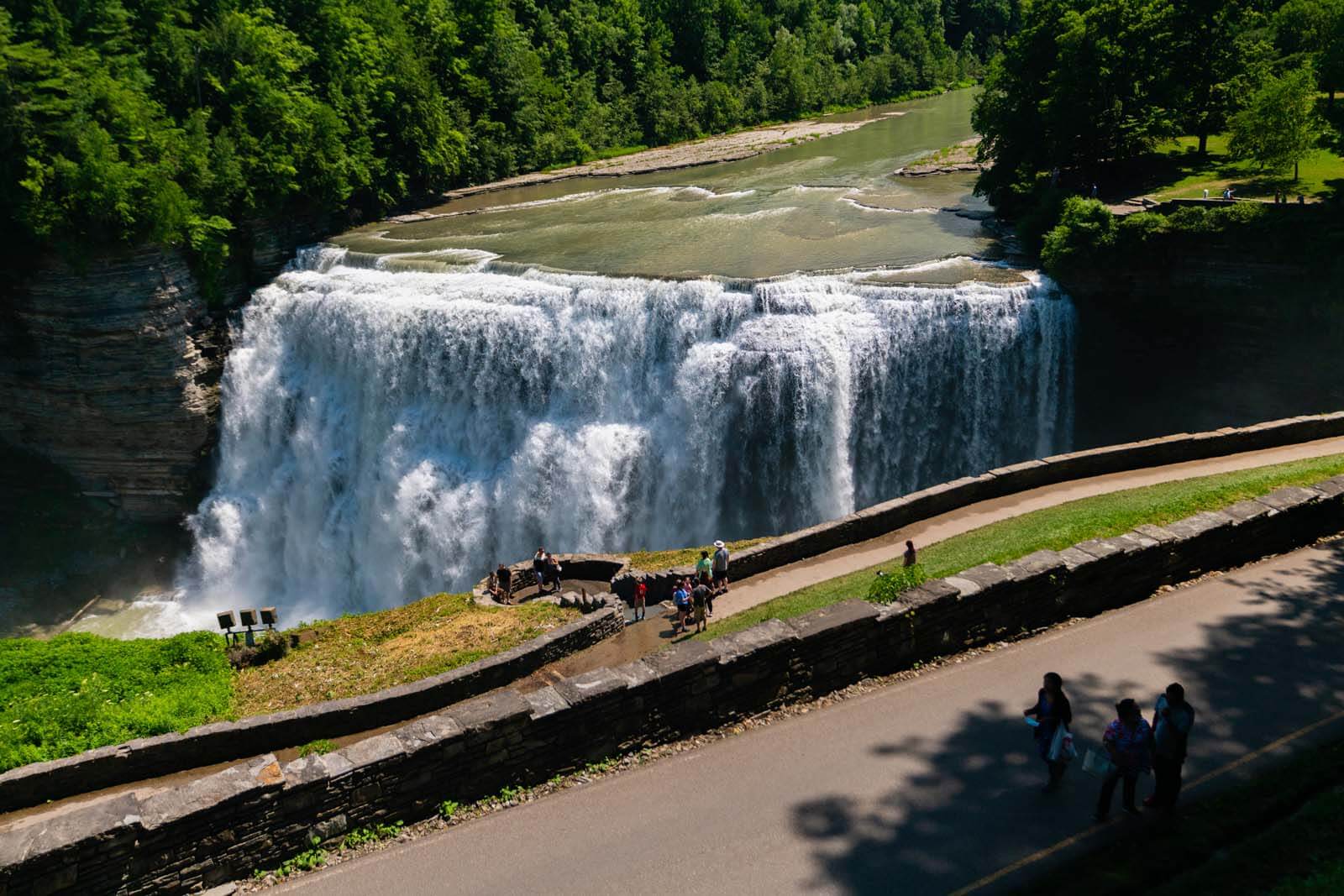 Some of the most gorgeous and dramatic waterfalls in the Finger Lakes region is at Letchworth State Park which is nicknamed the "Grand Canyon of the East."
You could spend a whole weekend getaway exploring the three large impressive waterfalls, the Lower, Middle, and Upper Falls here along with the 50 plus more smaller waterfalls that flow through the Genesee River.
What's interesting and what I personally like about Letchworth State Park is that this site was actually private land owned by industrialist William Pryor Letchworth and his Glen Iris Estate overlooking the impressive Middle Falls.
Mr. Letchworth donated the land to the state and now his former estate is used as accommodation for the lucky guests who are able to book and nab a reservation.
Spend your days picnicking, hiking on the 66 miles of trails, swimming, whitewater rafting, fishing, or kayaking within the park. There are endless outdoor activities to enjoy with gorgeous scenery as well as some of the best of the Finger Lakes waterfalls.
Keuka Outlet Trail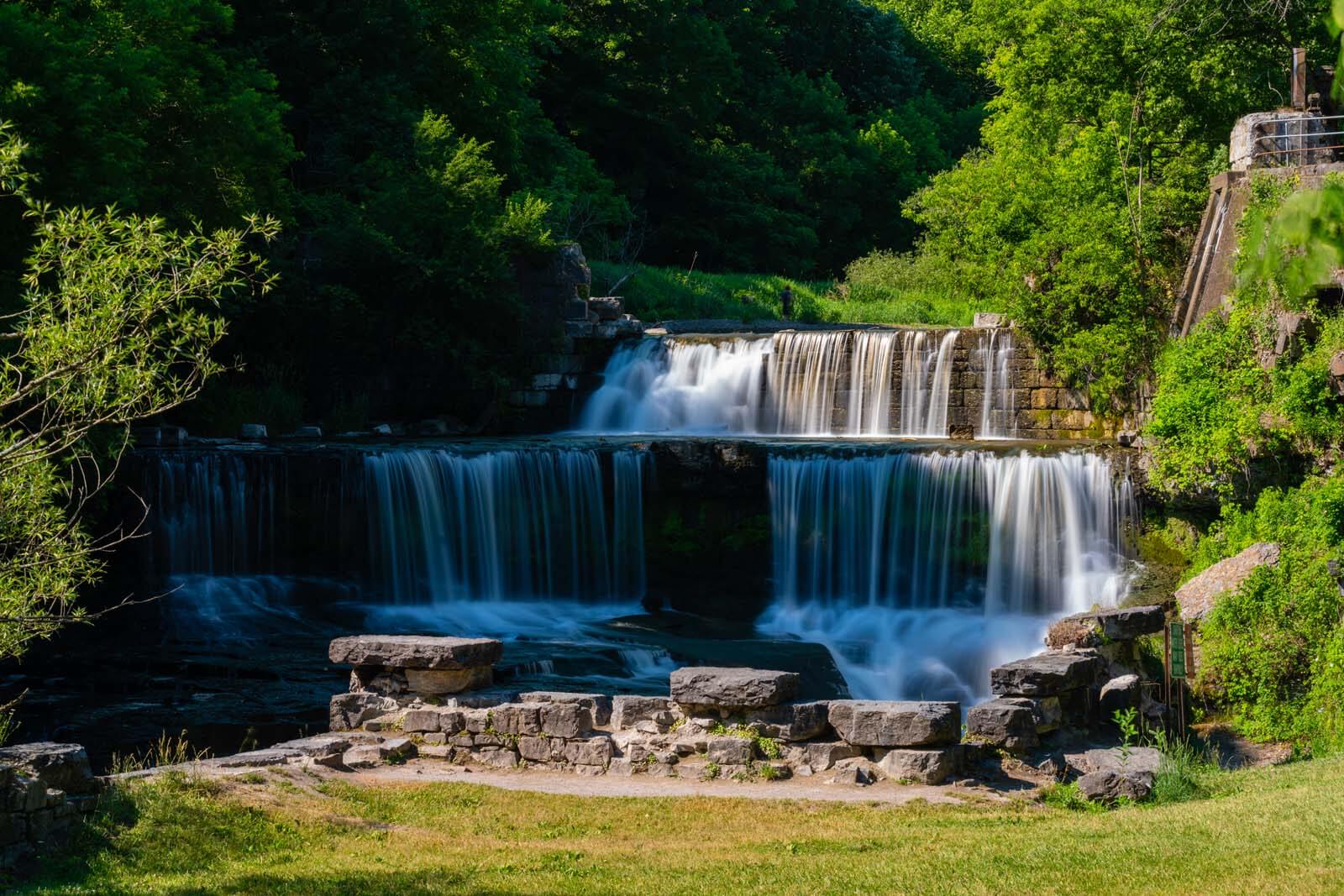 I feel like the waterfalls in the Finger Lakes that can be found on the Keuka Outlet Trail are some of the lesser known and hidden gems for Finger Lakes falls. Located just outside of the town of Penn Yan is Seneca Mills Falls and Cascade Mills Falls on the Keuka Outlet Trail.
The Keuka Outlet Trail is located along the 7-mile river that connects Keuka Lake to Seneca Lake, the only two lakes in the Finger Lakes that have a connecting body of water and even better, a quiet trail you can enjoy the pretty views and not one, but two Finger Lakes falls!
The easiest way to visit the waterfalls is to find the small parking area on Outlet Road about 3 miles outside of Penn Yan on the way to the town of Dresden. After you park, you can walk on the flat trail for about .3 miles until you approach the scenic Seneca Mills Falls cascading over old mill ruins.
If you wish to see Cascade Mills Falls, the second waterfall on the Keuka Outlet Trail, it will require about a mile walk from this parking area unless you have time to do the entire 6.8 mile hike!
Robert H Treman State Park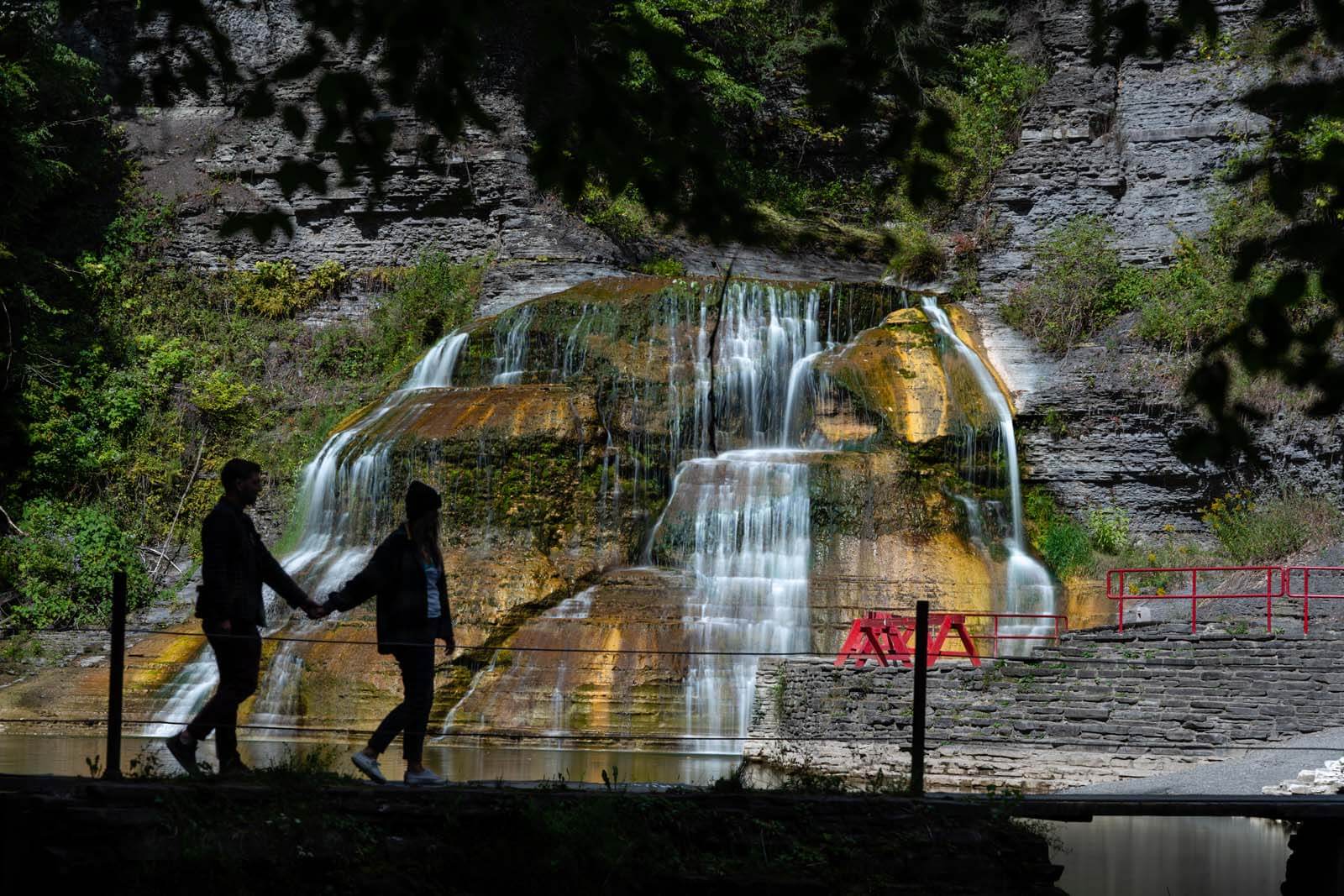 Another one of the greatest spots for waterfalls in the Finger Lakes is Robert H. Treman State Park in Ithaca. As we mentioned before, if you're serious about hitting up as many Finger Lakes falls as you can on your visit, Ithaca is a great place to go to as there are so many amazing cascades and waterfalls here!
This state park has an GORGES trail through the gorge with stone pathways and bridges passing some of the most impressive waterfalls in the Finger Lakes region.
There are a few ways to see waterfalls here, you can hike at the lower base of the park all the way up the gorge, or you can park at the top and descend on the Gorge Trail here circling back up on the Rim Trail to your car after the impressive 115 ft Lucifer Falls then visit the pretty Enfield Falls after at the base by car depending on time and fitness levels.
We recommend doing a version of the hike here even if you opt for the shorter version. Lucifer Falls, as mentioned, is 115 ft and the hike here passes as many as 12 waterfalls in the Enfiled Glen along with otherworldly scenes with the charming stones bridges and staircases along turquoise waters with the rich green mossy rocks and flora and fauna.
Another must-see waterfall is Enfield Falls, one of the few swimmable Finger Lakes waterfalls, and in the state, when a lifeguard is on duty! Enfield Falls has a 70 foot drop and a great swimming pool area at the base.
You can drive to this spot and do a quick, flat walk from the parking area or use this as the starting and ending point of your hike through Robert Treman State Park if you don't want to cheat with the car like we did!
Last but not least, if you start at the upper entrance you will see an Old Mill, take a peek at the historic working Gristmill and the waterfall behind it before starting your hike! It's a smaller waterfall, but if you're here, you might as well look!
Buttermilk Falls State Park
Another place to enjoy multiple Finger Lakes waterfalls in one place is at Buttermilk Falls State Park in Ithaca. Earlier, when I said Ithaca had 150 waterfalls within 10 miles, you better believe we are going to have alot of their waterfalls featured since Ithaca has prime real estate in the Finger Lakes on Cayuga Lake!
Buttermilk Falls cascades down 165 ft of rocks into a pool that is one of the few waterfalls in the Finger Lakes open to the public for swimming in the summer season when a lifeguard is on duty. The name comes from the cascade that foams formed by Buttermilk Creek.
If you want to just look at Buttermilk Falls you can do so steps from the parking area. The only thing that you should be aware of with Buttermilk Falls is that if it has been a particularly dry season, the falls may be dried out or barely running. This happened on our visit.
But the beauty of this spot, and why it's one of the best waterfalls in the Finger Lakes is that you can continue on the 5 trails that go through the state park that pass a few other cascading waterfalls upstream.
The scenic trails circle Lake Treman, just know that the Gorge and Rim Trails are one way only. You will ascend on the Rim Trail and descend on the Gorge Trail.
Cascadilla Gorge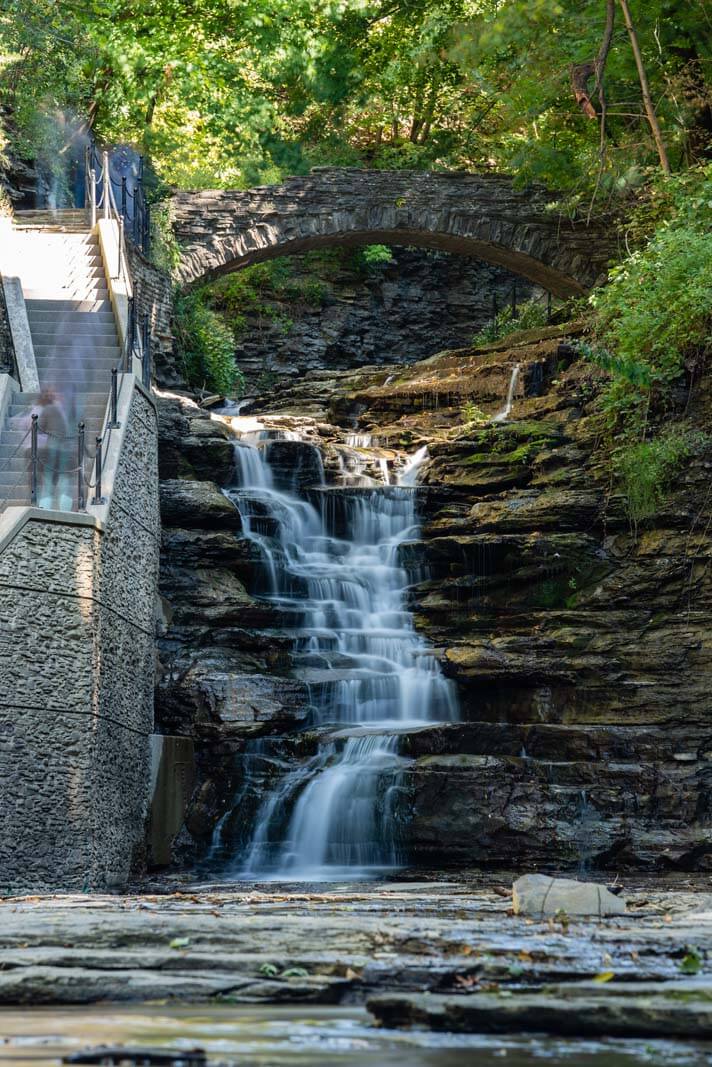 The Cascadilla Gorge is another great spot for Finger Lakes waterfalls in downtown Ithaca in the heart of the Ivy League Cornell University campus.
Besides passing 8 gorgeous cascading waterfalls, some of which have up to an 80 foot drop on charming stone bridges and steps through this picturesque gorge, but the trail is super easy and only .75 miles!
We recommend starting at the bottom at Treman Triangle Park in Ithaca, as you progress upwards the falls get more and more beautiful and then going back down is a breeze. You can find parking on one of the residential streets pretty easily, we did have to walk a few blocks but it was well worth it!
Six Mile Creek Waterfalls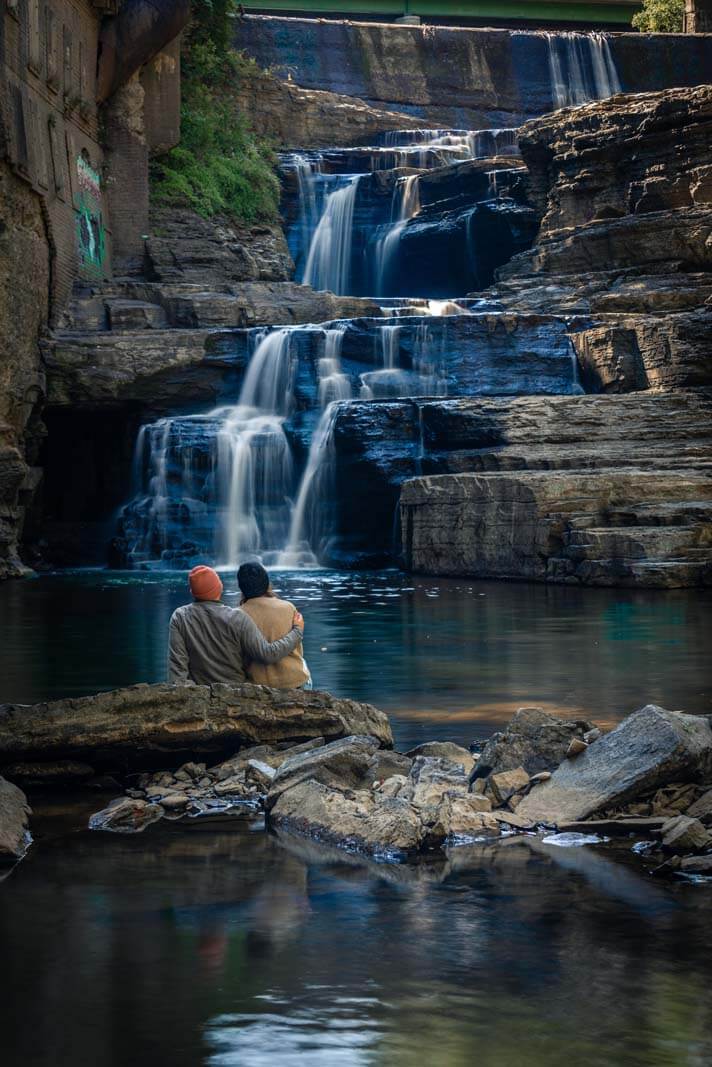 If you're looking for a few quiet waterfalls in the Finger Lakes to visit around Ithaca the waterfalls on Six Mile Creek are a great option.
On Six Mile Creek you'll want to check out Wells Falls, aka First Dam, aka Businessman's Lunch Falls. It depends on who you ask. This waterfall has a set of pretty cascading drops ranging from 5 to 30 feet with the ruins of an old mill right here in the scene.
We loved the view and juxtaposition of the old mill being overtaken by nature next to the flowing, cascading falls that total in 65 feet of dropping water that supplies Ithaca's drinking water!
Visiting Wells Falls can be done quick after a short 5 minute walk from your starting point, the Mullholland Wildflower Preserve. However, if you wish to see more waterfalls, you can by hiking along the trail here to Second Dam where you will find a man-made waterfall from a dam.
Continuing along you can reach Potters' Falls, aka Green Trees Falls, a 25ft waterfall, and start circling back for a total 3.3 mile loop.
Taughannock Falls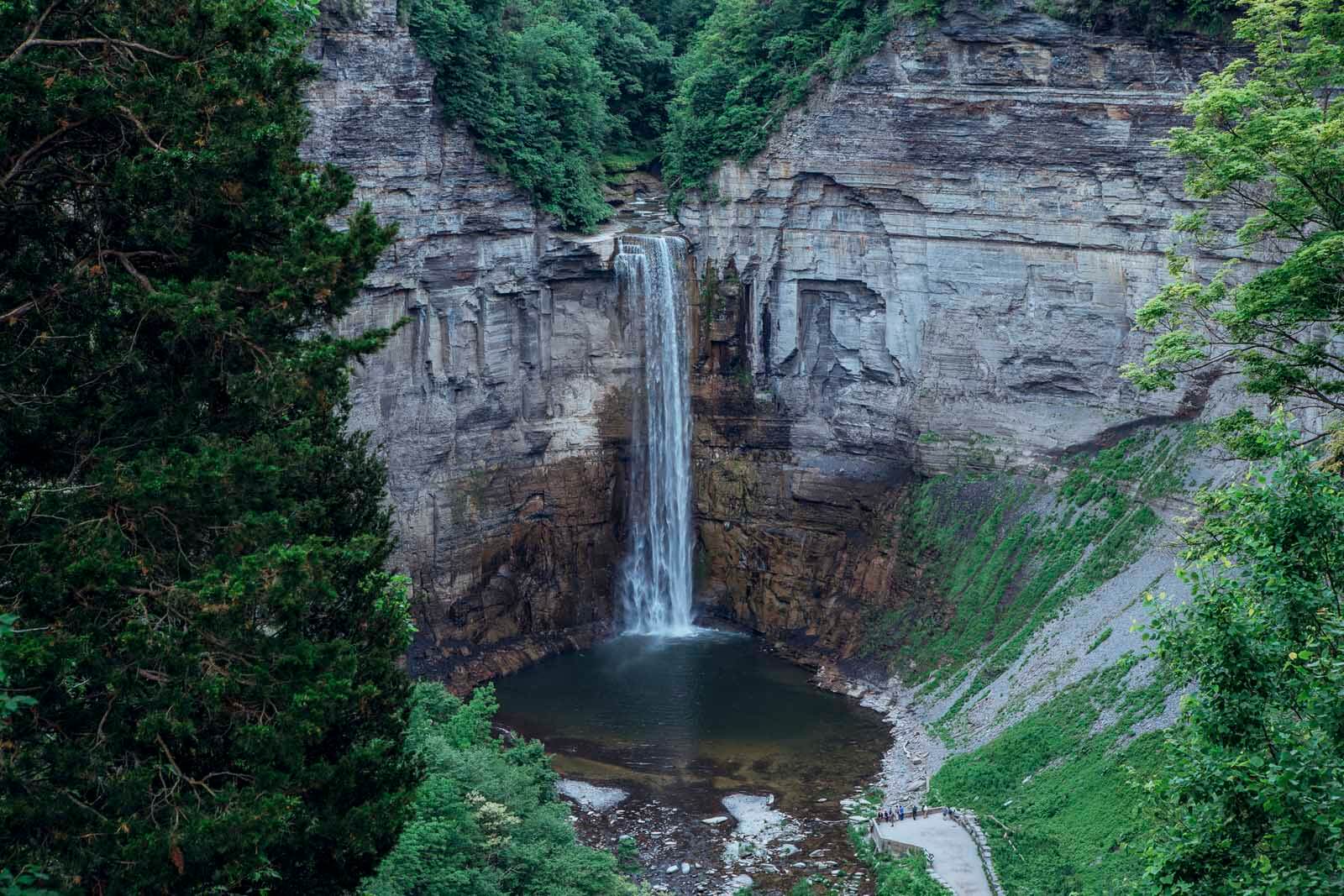 Easily one of the most famous Finger Lakes waterfalls is located just outside of Ithaca at Taughannock Falls State Park. A fun fact about this Finger Lakes falls is that it's 33 feet taller than Niagara Falls at 215 feet! That fact blew my mind as before learning more about waterfalls in the state and region, I assumed Niagara would be the tallest.
This is a popular waterfall in the Finger Lakes region as it is really accessible and easy to visit, the upper viewing deck and overlook area is located just steps away from the parking lot.
Visiting the base is also an option by trails, there are a few options including an easy 1.5-mile roundtrip hike that takes you past several smaller cascading falls and a nice tree-covered pathway.
The Gorge Trail & Taughannock Falls Overlook is open year-round. The other trails are only open from April – October.
Havana Glen Waterfalls
More amazing waterfalls in the Finger Lakes region near Watkins Glen, one of the best small towns in New York, are the waterfalls that can be discovered at Havana Glen. There are a few waterfalls here that are pretty close to one another and are a bit under the radar compared to other Finger Lakes falls in the area like Watkins Glen State Park.
Deckertown Falls is a two-tiered waterfall (it's actually 3 ledges the water tumbles over, but two are more sizable than the third) that can be viewed from a short trail from a small parking area off of East Catharine Street off of NY-224. The short trail takes no more than 5 minutes to get within sight of this Finger Lakes falls.
Another Finger Lakes waterfall located in Havana Glen is the 40 ft, Eagle Cliff Falls. This is another hidden gem in the area and has a more accessible hiking path than Deckertown Falls.
There is a wooden walkway with one set of stairs that takes less than 5 minutes to reach Eagle Cliff Falls with scenic gorge views along the way!
---
Enjoyed this guide to the best Finger Lakes waterfalls? Bookmark for later or share the love below on Pinterest! Sharing is caring!